74 Walt Disney World Vacation Hacks, Tips, and Tricks
This post probably contains affiliate links. You can read the details about what that means here.
Sometimes planning a trip to Disney World can be overwhelming, and the more people and age groups involved, the more overwhelming it can be.
After reading this post, you'll know a bunch of "insider secrets" and quick hack to help you save money, time, and aggravation on your family's Disney World trip.
✅ General Disney World Hacks
1. Check the Crowd Calendars before planning your trip.
This may seem obvious, but not everybody thinks to do this, and it can make a huge difference in how much time you spend waiting on line during your trip. Here is a detailed Crowd Calendar for 2019.
2. The Unofficial Guide to Disney World is a great reference for planning your vacation. I've bought 3 different versions of this book over the years, and have referred to them again and again. We've had times where our family sat together in the living room while I read sections out loud, and of course I've read it to everybody in the car as we're driving down to Florida. Not only is it easy to read and a great wealth of information, but it is laugh-out-loud funny in places.
Best Seller


Check Price on Amazon
Tons of detailed advice — and entertaining too!
You also might want to check out my post on the best Disney World guide books and planners.
3. You can request a free wake-up call each morning from either Mickey Mouse or Stitch on the resort hotel phone.
4. If you decline housekeeping service at a Disney resort, they'll email you a gift card for $10 each night of your stay. This has to be all nothing; you can't, for example, decline service for just one day.
(On our last trip, my teenage daughters both gave me horrified looks when I asked them if we should take advantage of this. Needless to say, we ended up getting the housekeeping service.)
5. Sit in the middle of the monorail for quick and easy access getting out.
6. Arrive at the park before rope drop. Not only does this make a huge difference in avoiding crowds, but at the Magic Kingdom there is a sort of "mini-show" at rope drop that is fun.
7. If you are celebrating a special occasion, like a birthday or an anniversary, make sure to pick up a free celebration button at your resort hotel or in the parks from Guest Services. You may get a little special treatment if wearing the buttons. Don't expect free food anywhere, though, unless you are really lucky.
8. Don't let closing time at the park keep you from getting on line for an attraction. Even if you get on line one minute before the park closes and the line is 90 minutes long you'll still get to ride.
9. If you accidentally break a souvenir you bought, Disney will replace it for free. Just go to the nearest store that carries the item and you'll get a brand new one.
10. Avoid going to a park on the day that they have Extra Magic Hours.
Extra Magic Hours sounds great … until you realize that it sounds great to everybody else too. Avoid Extra Magic Hours, and you'll avoid the worst crowds for that day.
11. Your shoes and socks can make or break your trip.
Believe it or not, you might walk up to 10 miles a day during your Disney vacation, and if you don't have shoes that are up for the job, your feet will be hurting before the end of the day.
Avoid cotton socks (I personally like to wear these sandals and avoid socks altogether, rub some Body Glide on your feet every morning, and wear some sturdy shoes that are not brand-spanking new.
Most Popular


Check Price on Amazon
This is THE most popular product among my readers!
If you really want to be kind to your feet, bring two pairs of shoes so you can switch out every day.
I go into a lot more detail in my post where I review the best shoes for walking in Disney World, but you can at a quick glance below some of the specific shoes that I recommend.
Saucony Women's Triumph ISO Running Shoe
Skechers Performance Women's Go Walk Sneaker
ASICS Women's Gel-Venture 5 Running Shoe
ASICS Women's Gel-Venture 5 Running Shoe
KEEN Women's Clearwater CNX-W Sandal
Teva Womens Women's W Original Universal Premier Sport Sandal
Skechers Performance Womens Go Walk Pizazz Flip Flop
Sanuk Women's Yoga Sling 2 Flip Flop
Sanuk Women's Yoga Sling 2 Print Vintage Flip Flop
12. If you're staying at a Disney-owned hotel, you can have merchandise you purchase in the park sent to your hotel. This is so convenient, because the last thing you want is to be giant stuffed animals and bags of mugs around the park all day.
You can also fill out a form and have the item shipped to your home — as long as it's not food or alcohol.
13. Go back to your hotel in the mid afternoon. I almost didn't include this one because I think of it as common knowledge, but I'm sure there is someone out there that hasn't heard this yet, and it's an important one. We almost always go back to our hotel at around 2:00pm for a nap and/or a swim, then head back out again for the evening. I'm sure there are people who stay at the park for 10+ hours straight, but I know I would be miserable if I tried it.
14. Consider using Uber instead of the Disney buses. We've never done this, but there were certainly times on our last trip where I wished we had. The buses can run late, take forever with all the stops, and you may have to stand up for the entire trip. If that sounds miserable to you, it might be worth paying for an Uber instead.
15. Bring a portable phone charger. You don't want to have to spend time looking for outlets — or worse, have your phone suddenly die when you're about to take a great photos.
Amazon's Choice


Check Price on Amazon
Excellent value for the cost
16. Take the time to learn FastPass strategies. Amazingly, there are people who go to Disney World without using FastPass at all, either because they don't know about it or because they think it costs money, or you have to "be someone special" in order to use it. Spending just 30-45 minutes learning about how FastPass works, which rides are better to get a FastPass for than others, and making the reservations before your trip can save you several hours of waiting on line.
17. Secure your Magic Bands. If you're worried about your (or your kids') Magic Bands popping off, you can get a pack of BitBelts to secure them.
18. Kids under 3 years old don't need a ticket OR a FastPass. This means if you're planning ahead to when or if you should go to Disney with little kids, the ideal situation would be to go about a month or two before their third birthday and do everything you can to get them toilet trained before then.
19. Be creative with the stuff in your hotel room. Touring Plans explains how a lot of simple items can serve double-duty:
An ironing board (with a towel over it) can be used as a snack table when the kids sit on the edge of the bed and watch TV, OR as a place to lay out the next day's clothes for everybody.
Hair conditioner can be used as shaving cream or to soothe a mild sunburn.
The ice bucket can be a place to corral things like your wallet, keys, phone, hair ties, and/or kid paraphenalia so they won't get lost.
The hair dryer can be used to un-stick price tags from souvenirs.
20. You can return items from any Walt Disney World store at your hotel gift shop as long as your have the receipt. (Although this isn't true for non-Disney shops like Anthropologie at Disney Springs.)
21. Bring your own gum and Pepsi. You won't find either one at any gift shops on Disney property.
22. Get a Frogg Togg Cooling Towel. These really do work, and there's great not only for staying cool, but also protecting your neck, back, and shoulders from the sun.
It's worth noting that on our last trip, Rob borrowed my Frogg Togg towel for a while and then decided he wanted to buy his own. The parks sell a different brand of cooling towel, and he said that, while it was better than nothing, it definitely did not get as cool as my Frogg Togg did.
Our Favorite


Check Price on Amazon
We never go to Disney World without these!
23. Consider doing some Pin Trading. My daughter Rebecca got really into this on one of our trips. We bought this pin starter set from Amazon before our trip, and she was constantly keeping her eyes open for trading boards and cast members with pins. It made the trip really fun for her, was a nice way to interact with Cast Members, and is much cheaper to do it that way that to just buy pins you like at the park.
Why are they so cheap? Because, technically, they are "scrapper pins."
Do we care? Nope.
24. Buy things on Amazon and have them shipped directly to your hotel. This is particularly helpful if you're flying and/or if you want to avoid paying a fortune for things on Disney property.
Some items you might want to consider having shipped are:
Groceries
Diapers
Lightweight Umbrella Strollers
Princess costumes
Stuffed animals (some parents like to surprise their child with a new plush friend on their pillow)
Make sure to include the word "Guest" with your name in the shipping address.
Snow Queen Costume
Princess Belle Layered Costume Dress
Princess Snow White Costume
Disney Pluto Plush
Disney Eeyore
Disney Baby Winnie the Pooh
Disney Mickey Mouse Plush Toy
Disney Bambi Plush
Disney Tigger Plush Toy
25. Be nice to all the Cast Members.
This may seem obvious, but I've heard stories (and seen a couple scenarios) where guests just let loose on a cast member.
(Of course, I know that you, one of my wonderful readers, would ever do such a thing … but let's take a moment to talk about it anyhow.)
There are a few good reasons to be nice to Disney cast members.
They work darn and are sure to appreciate your kindness.
Being nice to fellow human beings is a good thing in general
They probably have absolutely no control over whatever it is that you're upset about.
You can have interesting conversations and perhaps learn a few things. One time we waiting for Duffy Bear to take his break during a character meet and greet and I saw that the Cast Member was from Cuba.
I told him I been trying to learn Spanish and tried to converse with him a little (very little) in Spanish. He told me that when he was learning English fe found it helpful to practice by listening to the news. It was a nice way to pleasantly pass the time instead of being aggravated (or even just bored) by the wait.
Need help organizing your Disney vacation plans?
Click here
to get my 28-page printable vacation planning bundle!
✅ Hacks for Disney World Rides
26. You can request to sit in the front row of Soarin. These are the only seats where you can enjoy the view without seeing people's feet dangling in your face.
On the other hand, if you sit in the second row, there will be less distortion, so choose your seating based on your personal preference.
27. Consider WDWInfo's tips for riding Kilimanjaro Safaris in Animal Kingdom:
You can ask the ride attendant if you can sit up front and on the left (which is the side where you'll see cheetahs, lions, and hyenas).
Not only is the wait time short at night, but the animals are more active.
28. Get the coolest seat for the roller coasters. I remember my older brother had figured this out back when we were kids and going to Kennywood Theme Park in Pittsburgh: You'll get a more "wild," jerky ride if you sit in the very back.
Of course, wild and jerky may not be your thing, and you may prefer to sit up front where you can get a better view. Either which way, you can request your seating preference.
29. Take advantage of the single rider lines.
There are three rides with single rider lines:
Of the three rides, the Rock n Roller Coaster moves the slowest because of the way the ride loads.
If you're at least 7 years old and don't mind sitting next to a stranger, this is worth considering if you couldn't get a FastPass — or just want to ride a second time.
30. If you want to ride Flight of Passage in Pandora but don't enjoy standing in line for 3 hours, get to Animal Kingdom 80-90 minutes before the park opens. Yes, that's right — arrive over an hour before it open.
(BTW, someone might have told you that the Disney buses don't start running until an hour before the park opens. This is NOT true.)
31. Use these tips to get a higher score on Toy Story Mania. Disney Food Blog offers these 2 secrets>
Try to knock the roof off the hen house — if you do, it will release some hens, and you can get lots of points by hitting them.
In the ring toss game, try to ring ALL of the green men (you'll want your ride partner to help). A robot will pop onto the screen and give you an opportunity for tons of points.
In the first scene, focus on the barn walls, and when you see mice running up them, start shooting. This won't get you many extra points, but it will reveal a surprise.
✅ Magic Kingdom Hacks
32. The shops in the Emporium on Main Street are all connected. Walking inside through is a great way to travel down Main Street quickly, especially if it's raining or you're trying to beat the heat.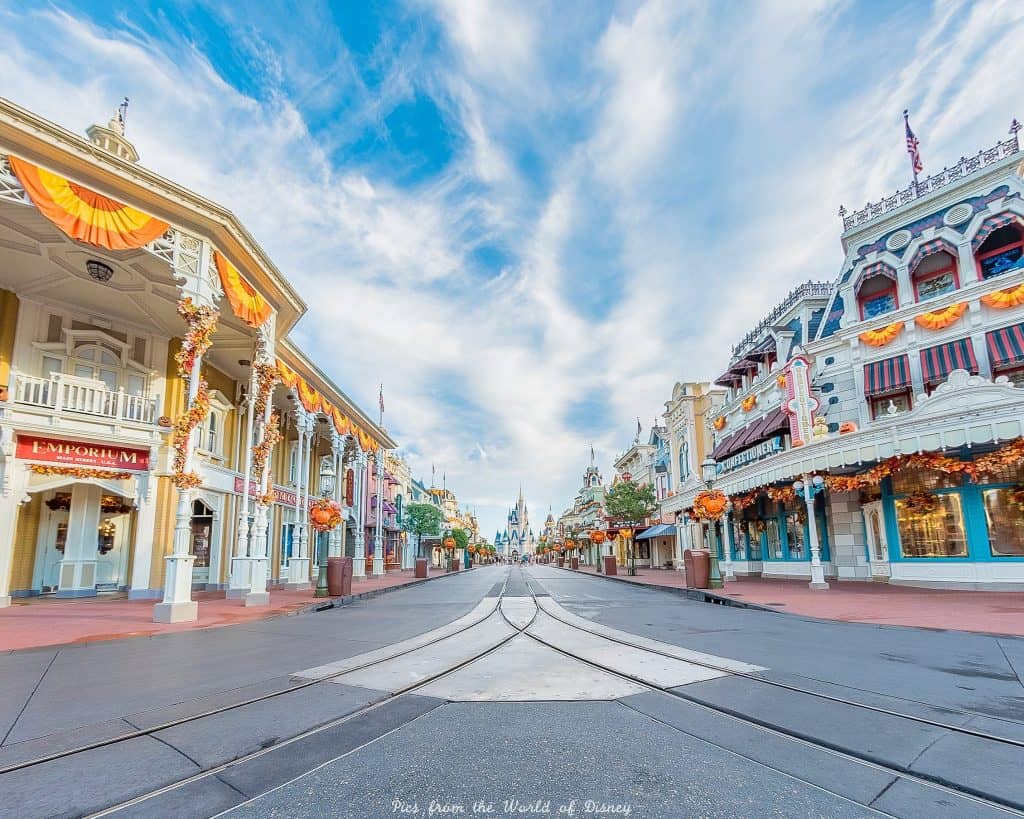 33. Consider skipping the fireworks. Not only will the lines for popular rides not only be non-existent, but if you're lucky you can get a really great view. On my last visit we were just reaching the top of the hill on Seven Dwarfs Mine Train when the fireworks went off, and it was the coolest thing ever.
34. Take advantage of the Walt Disney World Railroad. This is a nice change of pace from walking all over the park, and is a ride in itself. There are stops in Adventureland, Fantasyland, near the front gate. When my son Benjamin was a preschooler, riding the train was one of the highlights of the trip for him (along with riding the monorail).
35. The parade is a great time to ride the most popular rides. On our last trip, we rode both Splash Mountain and Thunder Mountain Railroad during the afternoon parade with hardly any wait time at all.
36. Ask the cast members at the Haunted Mansion what their bats are named. If gives you something to do while on line, and some of the names are clever, ie "Batness Everdeen.."
37. Go against the typical rope drop strategy. There's something about humans that naturally makes us want to veer toward the right, and most people make a beeline toward Tomorrowland and Fantasyland first thing when the park opens.
Instead, try waiting at the bridge next to the Adventureland entrance, where you can immediately hit Big Thunder Mountain Railroad, Splash Mountain, and Pirates of the Caribbean.
38. The "Lame Rides" are great for taking a break.
The Tomorrowland Transit Authority People Mover (um, let's just call it the People Mover) and The Carousel of Progress may not sound as exciting as some other rides in the Magic Kingdom, but they're both a nice way to rest, cool off, and take a tour of Tomorrowland. Plus the lines for them are almost non-existent.
This is a pretty funny video by Jenny Nichols that talks about all the "Lame Things" she loves to do at Disney World:
Video: Top 10 Lame Things To Do At Disney World

✅ Disney World Hacks to Save Money
A Disney trip is almost never going to be a "budget vacation," but there are several things you can do to make it less expensive.
39. See if you qualify for discounted tickets.
If you're active military, a AAA member, or a Florida resident, you may be eligible for certain discounts. You can read more details on discounts here.
40. Skip Memory Maker. The PhotoPass photographers will be happy to use your phone or camera to take a picture for you, which makes it hard to rationalize spending $169 on Memory Maker. If you're torn, check out my post Is Memory Maker Worth It?
41. Consider camping at Fort Wilderness. Um, yeah, I'm a city girl and am unlikely to do this any time soon (and one of my daughters would definitely raise holy heck if we even suggested it). But if you're into camping, you can save a bundle and still get all the benefits of staying on property.
42. Buy Disney gift cards entertainment cards at Target.
If you have a Target Red card, go to Target and buy up a bunch of Disney gift cards — you'll get 5 percent off with your Red Card. (Target classifies these as "entertainment cards," not actual gift cards. This can add up to quite a bit of money if you use the cards for merchandise, food, and parking.
43. Purchase your souvenirs at Disney's Character Warehouse. There are two locations: one at the Orlando International Premium Outlet and the other at Orlando Vineland Premium Outlet. This can be a huge money saver on Disney merchandise; I have heard of families literally saving of hundreds of dollars by doing their shopping here.
44. Collect pressed pennies for cheap souvenirs.
There are many pressed penny machines around the park that crush a Disney-themed design into pennies. Not only is it fun to keep your eyes open for them, but it's a way to get cheap souvenirs. You can use an empty M&M's mini tube to stack layers of two quarters and one penny so you're not fumbling around for change all day. If you like, you can buy a book to organize your pressed pennies after the trip.
Disney Parks Tinkerbell Pressed Penny Collection Book
Walt Disney World Pressed Penny Book Collection Album
45. Buy your park tickets from Undercover Tourist, an authorized seller of discount Disney World tickets.
46. Skip Park Hopper tickets. Don't get me wrong — Park Hoppers are great, but definitely not necessary. Skipping them and just getting the Base tickets can easily save your family over $200 without creating any real hardship.
47. Save on multi-day stroller rental by prepaying online.
There's a discount for prepaid multi-day Disney stroller rentals. Stroller rentals at Disney parks are $15 per day for single, or $31 for double. When you purchase online, your price drops to $13 per day single or $27 per day double.
48. Another alternative is to buy a cheap stroller and have it shipped to your resort. I know if I were flying to Disney World, I wouldn't want to be hauling a couple stroller around the airport. Buying an inexpensive umbrella stroller and having it waiting for you when you arrive is cheaper and easier than renting (and the stroller they rent at the parks are cumbersome and uncomfortable-looking, anyway).
Disney Winnie-the-Pooh Umbrella Stroller with Canopy
Disney Pink Umbrella Stroller with Basket
Kolcraft Cloud Plus Lightweight Stroller with Multi-Positon Reclining Seat
Wonder Buggy Jumbo Umbrella Stroller with Rounded Hood
49. Pack a picnic lunch to bring into the park. You can save a bundle (and probably eat better, too) if you take the effort to pack a lunch, especially if have a large family.
Foods that work well include:
String cheese
Fruit cups
Yogurt
Baby carrots
Bananas
Grapes
Apples
Crackers
Cucumbers
Peanut butter and jelly sandwiches
Hard-boiled eggs
Beef jerky
Don't forget to bring plenty of ziploc bags, wet wipes, hand sanitizer, and plastic utensils, and pack it all up in a sturdy, reusable grocery bag like the one below.
Amazon's Choice


Check Price on Amazon
Customers love the large size and variety of cute prints available
Some of the best spots to picnic at are Tom Sawyer Island in the Magic Kingdom (one of the most underrated attractions in Disney World), the picnic tables behind Flame Tree Barbecue in Animal Kingdom, and various spots in Future World in Epcot.
50. Plan A Non-Park Day.
If your vacation will be, say, 6 days long, consider getting park tickets for only 5 days and having a "non-park day" in the middle. There's plenty to do for an entire day without setting foot in a Disney park. In addition to hanging out at the hotel pool, you can go to Disney Springs, ride the monorail and visit various resorts, walk along the Boardwalk, and in the evening watch Wishes (the Magic Kingdom fireworks show) from the beach at the Polynesian Resort.)
✅ Disney World Dining Hacks
51. Counter service meals on the Disney Dining Plan come with a drink, but you can ask for side or a snack in its place. This is especially handy if you have your refillable resort mug with you.
52. Signature Restaurants are a poor use of Disney Dining Plan credits. A Signature meal costs two Table Service Credits, but it almost never going to be twice the price of a regular meal if paid out of pocket. Just something to keep in mind.
53. If you want to have the amazing milkshakes at 50's Prime Time Cafe but don't want to eat an entire meal there, you can get just a milkshake at the Tune In Lounge located in the same building as the restaurant. These milkshakes are fantastic, but also huge, so I would recommend getting just one for two or three people.
54. Try this ice cream hack. Inside the Magic shared this for create your own Beignet Ice Cream Sandwhich while in Epcot's France Pavilion:
Get a Beignet at Les Halles Boulangerie Pattisserie.
Head to L'Artisan des Glaces and get your favorite Ice Cream flavor.
Cut your beignet in half, fill it with ice cream.
55. Ordering a kid's meal or splitting a counter service meal between two people is a great way both to save money and avoid wasting food. There is no rule against an adult a kid's meal, so you don't have to be sneaky about it.
56. If you're on the Disney Dining Plan, you can order a regular OR a large fountain drink at counter service restaurants. They will automatically serve you a regular-sized drink unless you specifically ask for a large.
57. If you're on the Disney Dining Plan, don't feel limited to ordering soda for your drink option. Not only are alcoholic drinks included in the Dining Plan these days, but you can usually also get a smoothie or a shake, which is both more interesting and a better value.
58. Don't waste your snack credits on stupid things. I would personally define "stupid things" as bottled water, bananas, or Rice Krispie treats (although my kids might disagree with me on that last one.) Just a few of the much better choices would be a Napoleon at the France Pavilion, a Dole Whip in Adventureland, or a S'mores Cupcake at the Gasparilla Island Grill at the Grand Floridian Resort.
59. Some snack credit menu items are really more like a meal. You don't have to use a snack credit on something sweet. The Fried Rice at the Yak and Yeti, Ham and Cheese Croissant at the Boulangerie Patisserie, and the French Fries with Pulled Pork and Cheese at Flame Tree Barbecue each would make a decent lunch.
✅ Hacks and Tips for the Epcot Food and Wine Festival
The Epcot International Food & Wine Festival is an annual food festival that typically runs from August or September to mid-November. (At the time of this writing, the 2019 dates have not been set yet.) You do not need to pay extra or get a special ticket; entrance to Epcot automatically gets you entrance into the Festival.
The Festival includes food booths in the World Showcase, live concerts, and culinary and beverage demonstrations.
Our family was at the 2018 Food & Wine Festival, but my kids were more interested in riding Test Track and Soarin' for the second time and finding a good spot to watch Illuminations than they were in the Festival, so all I managed to grab were some Vegan Greek Nachos.
If, unlike us, you're planning to truly "do" the Festival properly, here are some tips:
53. Bring a tray. Yes, this sounds totally dorky, but if you are going to be doing some serious eating and drinking, you'll want a tray (something like this)so you don't have to constantly juggle all those little cardboard dishes all day long.
54. Make a plan of attack before you go. Get familiar with the layout of the Festival before you arrive, and consider going past the front, most busy booths and starting further back. Check out some of the menus beforehand and come up with a "must eat" list.
55. Use your snack credits if you're on the Dining Plan. Some of the food booth samples cost as much as $8, which makes using a snack credit here a great value.
56. Get a Festival Passport. These are free and available all over Epcot. They include a detailed menu for each booth and stickers that you can use to keep track of which booths you've visited. Not only is it a great guide, but it makes a nice free souvenir.
57. Try to avoid the heaviest crowds. Easier said than done, but there are a few strategies you can take that will help. Visiting the booths from around 11am-noon, and then again from 4-6pm is probably your best bet. Also, Monday, Tuesday, and Wednesday will most likely be the least crowded days to visit.
✅ Disney World Birthday Hacks
58. Make sure you get a Birthday Celebration Button. When you arrive at your Disney resort, one of the parks, or Disney Springs, stop by Guest Relations and pick up a free button. Now only does it make a nice souvenir, but it signals to Cast Members during your entire trip that it's your birthday. If nothing else, you'll get a little extra attention and some birthday wishes.
59. You might be able to get a free birthday dessert at a table service restaurant. There are no official guarantees or obligations here, but it's a worth a shot. Wear the above-mentioned Birthday Celebration Button to the restaurant and be polite and friendly with your server, and there's a decent chance you'll get a slice of cake, small sundae, or cupcake. (You definitely won't get a "normal dessert" from off the regular menu, though. Sorry, but you won't be able to score a free bread pudding from 'Ohana.)
60. You can order a customized birthday cake. If you call 407-827-2253 and give at least 48 hours notice, you get a customized cake at a Disney World restaurant or Disney World resort. You can also order a regular 6 inch celebration cake at the check-in podium of any Disney restaurant — no advance notice required.
Disney World Christmas Hacks
61. Take the time to visit the Christmas trees and other decor at the resorts. The Christmas decorations go up in the Disney resorts around mid-November, and you don't have to pay the bucks to be able to enjoy them. Two highlights are the 14-foot gingerbread house at the Grand Floridian and the Peter Pan themed gingerbread carousel at the Beach Club Resort.
62. Take a ride of the "Jingle Cruise." The Jungle Cruise in Magic Kingdom's Adventureland gets a new name and a new looks for the holiday season, complete with Christmas decorations, boats with Christmas-inspired names, and cheesy holiday jokes.
63. There's a special Christmas-themed character meal. Minnie's Holiday Dine is a buffet offered at Hollywood and Vine in Disney's Hollywood Studios. You'll get to meet Minnie Mouse and some of her friends, all decked out in their finest holiday attire.
64. Hollywood Studios has its own holiday fireworks show. I haven't seen it personally, but I've heard that a better way to describe it is a "nighttime multi-media spectacular" with lasers, lights, special effects, and a soundtrack.
65. Don't go to the Magic Kingdom and Mickey's Very Christmas Party on the same day. Wait, what? Isn't the party in Magic Kingdom?
Yes it is, which is why I'm suggesting not using both a park ticket and a party ticket for that day.
Of course this is just a personal preference and other people will strongly disagree with me — especially if they are the kind of people who like to be at the parks from rope drop to park closing.
Which I definitely am not. And certainly people that I'm married to definitely, definitely are not.
Anyway, the "hack" here is that you can arrive at MVMCP at 4pm, hours before the party actually starts. So paying for a park ticket on top of that seems like a waste, in my opinion.
What we did on our last trip was use the party as a "sleep in" day, then had a leisurely character brunch at Cape May Cafe at Beach Club Resort. We toured the resorts some, went back to our hotel to get ready for the party, then arrived at Magic Kingdom at almost exactly 4:00.
Be sure to check out my separate post about Mickey's Very Merry Christmas Party.
66. Follow these tips at Disney Springs.
I found these tips for Disney Springs at Undercover Tourist:
If Disney Visa card holder, Disney World annual passholder, and Disney Vacation Club member, make sure you ask your cashier or server if there's a discount.
There are two great places to buy personalized gifts: Disney's Wonderful World of Memories has a "Create Your Own Ears Hat" boutique, and Days of Christmas lets you personalize ornaments and other keepsakes.
Heading to Disney Springs for a day of shopping may sound like one of the best things to do at Disney World when it rains, but it kinda isn't. It's a huge place with no shade or overhead roofs, so unless you're going to duck inside the nearest store and stay there for over an hour, you are probably going to get very wet. Reconsider shopping on a rainy day, or at the very least, be prepared with ponchos or umbrellas.
Disney Springs parking hack: Park in West Side past the La Nouba tent, then walk the length of Disney Springs, then hop on the boat at the Marketplace to go back to your starting place.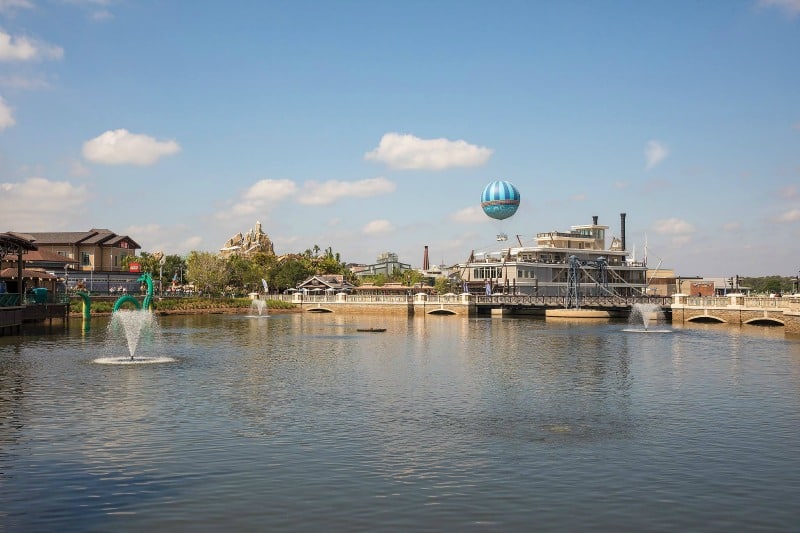 ✅ Disney World Tips & Hacks for Seniors
I hesitated to include this section because it seems a little condescending, as if all seniors are decrepit and incapable of either walking through the park or riding anything other than "It's a Small World." (Personally, I hope I'm still screaming my head off on the Rock n Roller Coaster in 20 years.)
I'm sure there are senior that can easily leave 30 year olds in the dust during a day at Disney. Being 65 years old (which, of course, is seeming less and less old to me as the years go by) doesn't mean that you need a motorized car and a hearing aid — and, at the same time, there are plenty of 25 year old who needs to refrigerate their medicine and use the handicapped parking.
Still, with that caveat, I'm sure these tips will be helpful for someone out there, so take them for what they're worth, regardless of what age you are.
67. Consider signing up for a behind-the-scenes tour, especially if you anticipate spending a lot of time waiting for the other people in your family to ride roller coasters. You find more information on them here.
68. Handheld captioning devices are available for the hearing impaired. You can pick up your handheld device at Guest Services and enjoy the captioning device free with a refundable credit card charge upon its return. You can even hang it around your neck for convenience.
69. Get a scooter if you need it. If you require a bit of assistance getting around the park – Disney rents electric scooters to park guests. There are also independent scooter rental companies in Orlando that will deliver a scooter right to your hotel, both on or off Disney property. If this sounds silly or unnecessary , keep in mind that you may be walking 10 miles a day in the Florida heat.
70. If you do bring a wheelchair or ECV of your own, most of the Disney buses can accommodate them. If a bus arrives that is not equipped, the driver will contact transportation on your behalf.
71. Special parking at Disney World's theme parks is available for those with disabled permits.
72. All Disney Resorts have a small fridge in the room, which is helpful if you have medication that needs to be refrigerated.
73. All Disney Resorts have handicapped accessible rooms. If you have a special request, be sure to make it before arriving at your resort.
74. Take the heat seriously. The Florida sun can be brutal, especially in the summer months. Get plenty of water, take breaks, wear hats, and use plenty of sunscreen.
EltaMD Sunscreen Broad-Spectrum SPF 46 for Sensitive Skin
Blue Lizard Australian Sunscreen – Water Resistant Sport Sunscreen SPF 30+
Neutrogena Ultra Sheer Dry-Touch Sunscreen Lotion with Broad Spectrum SPF 100+
What are some of your favorite Disney vacation hacks and tips?
Now I want to hear from you. What are your favorite tips to share?
Ultimate Walt Disney World Trip and Travel Hacks List!


---
---