74 Walt Disney World Vacation Hacks, Tips, and Tricks
Sometimes planning a trip to Disney World can be overwhelming, and the more people and age groups involved, the more overwhelming it can be.
After reading this post, you'll know a bunch of "insider secrets" and quick hacks to help you save money, time, and aggravation on your family's Disney World trip.
✅ General Disney World Hacks
✅ Hacks for Disney World Rides
✅ Magic Kingdom Hacks
✅ Disney World Hacks to Save Money
A Disney trip is almost never going to be a "budget vacation," but there are several things you can do to make it less expensive.
See if you qualify for discounted tickets.
If you're active military, a AAA member, or a Florida resident, you may be eligible for certain discounts. You can read more details on discounts here.
Skip Memory Maker.
The PhotoPass photographers will be happy to use your phone or camera to take a picture for you, which makes it hard to rationalize spending $169 on Memory Maker. If you're torn, check out my post Is Memory Maker Worth It?
Consider camping at Fort Wilderness.
I'm a city girl and don't know much about camping … but isn't that photo beautiful? If you have camping equipment, seriously consider this option. You'll save a bundle and have a great time.
Buy Disney gift cards entertainment cards at Target.
If you have a Target Red card, go to Target and buy up a bunch of Disney gift cards — you'll get 5 percent off with your Red Card. (Target classifies these as "entertainment cards," not actual gift cards. This can add up to quite a bit of money if you use the cards for merchandise, food, and parking.
Purchase your souvenirs at Disney's Character Warehouse.
There are two locations: one at the Orlando International Premium Outlet and the other at Orlando Vineland Premium Outlet. This can be a huge money saver on Disney merchandise; I have heard of families literally saving of hundreds of dollars by doing their shopping here.
Collect pressed pennies for cheap souvenirs.
There are many pressed penny machines around the park that crush a Disney-themed design into pennies. Not only is it fun to keep your eyes open for them, but it's a way to get cheap souvenirs. You can use an empty M&M's mini tube to stack layers of two quarters and one penny so you're not fumbling around for change all day. If you like, you can buy a book to organize your pressed pennies after the trip.
Disney Parks Tinkerbell Pressed Penny Collection Book
Walt Disney World Pressed Penny Book Collection Album
Buy your park tickets from Undercover Tourist, an authorized seller of discount Disney World tickets.
Skip Park Hopper tickets.
Don't get me wrong — Park Hoppers are great, but definitely not necessary. Skipping them and just getting the Base tickets can easily save your family over $200 without creating any real hardship.
Save on multi-day stroller rental by prepaying online.
There's a discount for prepaid multi-day Disney stroller rentals. Stroller rentals at Disney parks are $15 per day for single, or $31 for double. When you purchase online, your price drops to $13 per day single or $27 per day double.
Another alternative is to buy a cheap stroller and have it shipped to your resort.
I know if I were flying to Disney World, I wouldn't want to be hauling a couple stroller around the airport. Buying an inexpensive umbrella stroller and having it waiting for you when you arrive is cheaper and easier than renting (and the stroller they rent at the parks are cumbersome and uncomfortable-looking, anyway).
Disney Winnie-the-Pooh Umbrella Stroller with Canopy
Disney Pink Umbrella Stroller with Basket
Kolcraft Cloud Plus Lightweight Stroller with Multi-Positon Reclining Seat
Wonder Buggy Jumbo Umbrella Stroller with Rounded Hood
Pack a picnic lunch to bring into the park.
You can save a bundle (and probably eat better, too) if you take the effort to pack a lunch, especially if have a large family.
Foods that work well include:
String cheese
Fruit cups
Yogurt
Baby carrots
Bananas
Grapes
Apples
Crackers
Cucumbers
Peanut butter and jelly sandwiches
Hard-boiled eggs
Beef jerky
Don't forget to bring plenty of ziploc bags, wet wipes, hand sanitizer, and plastic utensils, and pack it all up in a sturdy, reusable grocery bag like the one below.
Amazon's Choice


Check Price on Amazon
Customers love the large size and variety of cute prints available
Some of the best spots to picnic at are Tom Sawyer Island in the Magic Kingdom (one of the most underrated attractions in Disney World), the picnic tables behind Flame Tree Barbecue in Animal Kingdom, and various spots in Future World in Epcot.
Plan A Non-Park Day.
If your vacation will be, say, 6 days long, consider getting park tickets for only 5 days and having a "non-park day" in the middle. There's plenty to do for an entire day without setting foot in a Disney park. In addition to hanging out at the hotel pool, you can go to Disney Springs, ride the monorail and visit various resorts, walk along the Boardwalk, and in the evening watch Wishes (the Magic Kingdom fireworks show) from the beach at the Polynesian Resort.)
✅ Disney World Dining Hacks
Counter service meals on the Disney Dining Plan come with a drink, but you can ask for side or a snack in its place.
This is especially handy if you have your refillable resort mug with you.
Signature Restaurants are a poor use of Disney Dining Plan credits.
A Signature meal costs two Table Service Credits, but it almost never going to be twice the price of a regular meal if paid out of pocket. Just something to keep in mind.
You can easily get an amazing milkshake.
If you want to have the delicious milkshakes at 50's Prime Time Cafe but don't want to eat an entire meal there, you can get just a milkshake at the Tune In Lounge located in the same building as the restaurant.
These milkshakes are fantastic, but also huge, so I would strongly recommend getting just one for two or three people.
Try this ice cream hack.
Inside the Magic shared this for create your own Beignet Ice Cream Sandwhich while in Epcot's France Pavilion:
Get a Beignet at Les Halles Boulangerie Pattisserie.
Head to L'Artisan des Glaces and get your favorite Ice Cream flavor.
Cut your beignet in half, fill it with ice cream.
Ordering a kid's meal or splitting a counter service meal between two people is a great way both to save money and avoid wasting food.
There is no rule against an adult a kid's meal, so you don't have to be sneaky about it.
If you're on the Disney Dining Plan, you can order a regular OR a large fountain drink at counter service restaurants.
They will automatically serve you a regular-sized drink unless you specifically ask for a large.
If you're on the Disney Dining Plan, don't feel limited to ordering soda for your drink option.
Not only are alcoholic drinks included in the Dining Plan these days, but you can usually also get a smoothie or a shake, which is both more interesting and a better value.
Don't waste your snack credits on stupid things.
I would personally define "stupid things" as bottled water, bananas, or Rice Krispie treats (although my kids might disagree with me on that last one.) Just a few of the much better choices would be a Napoleon at the France Pavilion, a Dole Whip in Adventureland, or a S'mores Cupcake at the Gasparilla Island Grill at the Grand Floridian Resort.
Some snack credit menu items are really more like a meal.
You don't have to use a snack credit on something sweet. The Fried Rice at the Yak and Yeti, Ham and Cheese Croissant at the Boulangerie Patisserie, and the French Fries with Pulled Pork and Mac and Cheese at Flame Tree Barbecue each would make a decent lunch.
✅ Hacks and Tips for the Epcot Food and Wine Festival
The Epcot International Food & Wine Festival is an annual food festival that typically runs from August or September to mid-November. (At the time of this writing, the 2019 dates have not been set yet.) You do not need to pay extra or get a special ticket; entrance to Epcot automatically gets you entrance into the Festival.
The Festival includes food booths in the World Showcase, live concerts, and culinary and beverage demonstrations.
Our family was at the 2018 Food & Wine Festival, but my kids were more interested in riding Test Track and Soarin' for the second time and finding a good spot to watch Illuminations than they were in the Festival, so all I managed to grab were some Vegan Greek Nachos.
If, unlike us, you're planning to truly "do" the Festival properly, here are some tips:
Bring a tray.
Yes, this sounds totally dorky, but if you are going to be doing some serious eating and drinking, you'll want a tray (something like this)so you don't have to constantly juggle all those little cardboard dishes all day long.
Make a plan of attack before you go.
Get familiar with the layout of the Festival before you arrive, and consider going past the front, most busy booths and starting further back. Check out some of the menus beforehand and come up with a "must eat" list.
Use your snack credits if you're on the Dining Plan.
Some of the food booth samples cost as much as $8, which makes using a snack credit here a great value.
Get a Festival Passport.
These are free and available all over Epcot. They include a detailed menu for each booth and stickers that you can use to keep track of which booths you've visited. Not only is it a great guide, but it makes a nice free souvenir.
Try to avoid the heaviest crowds.
Easier said than done, but there are a few strategies you can take that will help. Visiting the booths from around 11am-noon, and then again from 4-6pm is probably your best bet. Also, Monday, Tuesday, and Wednesday will most likely be the least crowded days to visit.
✅ Disney World Birthday Hacks
Make sure you get a Birthday Celebration Button.
When you arrive at your Disney resort, one of the parks, or Disney Springs, stop by Guest Relations and pick up a free button. Now only does it make a nice souvenir, but it signals to Cast Members during your entire trip that it's your birthday. If nothing else, you'll get a little extra attention and some birthday wishes.
You might be able to get a free birthday dessert at a table service restaurant.
There are no official guarantees or obligations here, but it's a worth a shot. Wear the above-mentioned Birthday Celebration Button to the restaurant and be polite and friendly with your server, and there's a decent chance you'll get a slice of cake, small sundae, or cupcake. (You definitely won't get a "normal dessert" from off the regular menu, though. Sorry, but you won't be able to score a free bread pudding from 'Ohana.)
You can order a customized birthday cake.
If you call 407-827-2253 and give at least 48 hours notice, you get a customized cake at a Disney World restaurant or Disney World resort. You can also order a regular 6 inch celebration cake at the check-in podium of any Disney restaurant — no advance notice required.
Disney World Christmas Hacks
Take the time to visit the Christmas trees and other decor at the resorts.
The Christmas decorations go up in the Disney resorts around mid-November, and you don't have to pay the bucks to be able to enjoy them. Two highlights are the 14-foot gingerbread house at the Grand Floridian and the Peter Pan themed gingerbread carousel at the Beach Club Resort.
Take a ride of the "Jingle Cruise."
The Jungle Cruise in Magic Kingdom's Adventureland gets a new name and a new looks for the holiday season, complete with Christmas decorations, boats with Christmas-inspired names, and cheesy holiday jokes.
There's a special Christmas-themed character meal.
Minnie's Holiday Dine is a buffet offered at Hollywood and Vine in Disney's Hollywood Studios. You'll get to meet Minnie Mouse and some of her friends, all decked out in their finest holiday attire.
Hollywood Studios has its own holiday fireworks show.
I haven't seen it personally, but I've heard that a better way to describe it is a "nighttime multi-media spectacular" with lasers, lights, special effects, and a soundtrack.
Don't go to the Magic Kingdom and Mickey's Very Christmas Party on the same day.
Wait, what? Isn't the party in Magic Kingdom?
Yes it is, which is why I'm suggesting not using both a park ticket and a party ticket for that day.
Of course this is just a personal preference and other people will strongly disagree with me — especially if they are the kind of people who like to be at the parks from rope drop to park closing.
Which I definitely am not. And certainly people that I'm married to definitely, definitely are not.
Anyway, the "hack" here is that you can arrive at MVMCP at 4pm, hours before the party actually starts. So paying for a park ticket on top of that seems like a waste, in my opinion.
What we did on our last trip was use the party as a "sleep in" day, then had a leisurely character brunch at Cape May Cafe at Beach Club Resort. We toured the resorts some, went back to our hotel to get ready for the party, then arrived at Magic Kingdom at almost exactly 4:00.
Be sure to check out my separate post about Mickey's Very Merry Christmas Party.
Follow these tips at Disney Springs.
I found these tips for Disney Springs at Undercover Tourist:
If Disney Visa card holder, Disney World annual passholder, and Disney Vacation Club member, make sure you ask your cashier or server if there's a discount.
There are two great places to buy personalized gifts: Disney's Wonderful World of Memories has a "Create Your Own Ears Hat" boutique, and Days of Christmas lets you personalize ornaments and other keepsakes.
Heading to Disney Springs for a day of shopping may sound like one of the best things to do at Disney World when it rains, but it kinda isn't. It's a huge place with no shade or overhead roofs, so unless you're going to duck inside the nearest store and stay there for over an hour, you are probably going to get very wet. Reconsider shopping on a rainy day, or at the very least, be prepared with ponchos or umbrellas.
Disney Springs parking hack: Park in West Side past the La Nouba tent, then walk the length of Disney Springs, then hop on the boat at the Marketplace to go back to your starting place.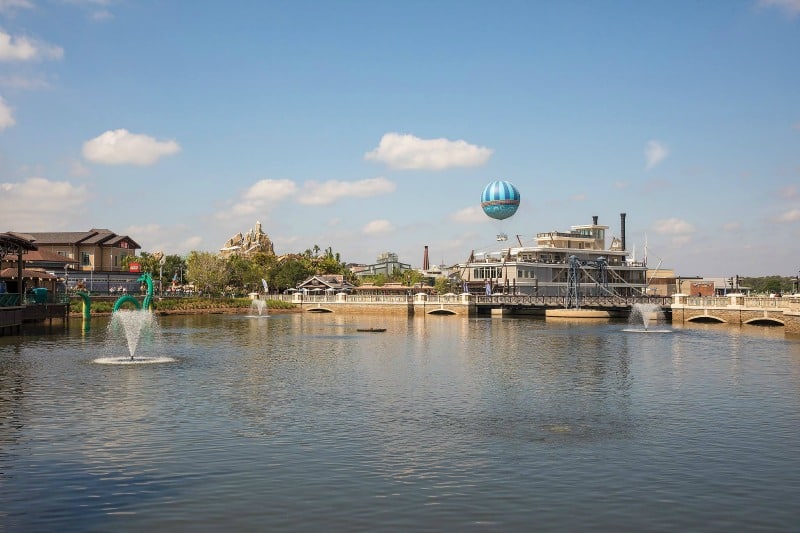 ✅ Disney World Tips & Hacks for Seniors
I hesitated to include this section because it seems a little condescending, as if all seniors are decrepit and incapable of either walking through the park or riding anything other than "It's a Small World." (Personally, I hope I'm still screaming my head off on the Rock n Roller Coaster in 20 years.)
I'm sure there are senior that can easily leave 30 year olds in the dust during a day at Disney. Being 65 years old (which, of course, is seeming less and less old to me as the years go by) doesn't mean that you need a motorized car and a hearing aid — and, at the same time, there are plenty of 25 year old who needs to refrigerate their medicine and use the handicapped parking.
Still, with that caveat, I'm sure these tips will be helpful for someone out there, so take them for what they're worth, regardless of what age you are.
Consider signing up for a behind-the-scenes tour, especially if you anticipate spending a lot of time waiting for the other people in your family to ride roller coasters.
You find more information on them here.
Handheld captioning devices are available for the hearing impaired.
You can pick up your handheld device at Guest Services and enjoy the captioning device free with a refundable credit card charge upon its return. You can even hang it around your neck for convenience.
Get a scooter if you need it.
If you require a bit of assistance getting around the park – Disney rents electric scooters to park guests. There are also independent scooter rental companies in Orlando that will deliver a scooter right to your hotel, both on or off Disney property. If this sounds silly or unnecessary , keep in mind that you may be walking 10 miles a day in the Florida heat.
If you do bring a wheelchair or ECV of your own, most of the Disney buses can accommodate them.
If a bus arrives that is not equipped, the driver will contact transportation on your behalf.
Special parking at Disney World's theme parks is available for those with disabled permits.
All Disney Resorts have a small fridge in the room, which is helpful if you have medication that needs to be refrigerated.
All Disney Resorts have handicapped accessible rooms.
If you have a special request, be sure to make it before arriving at your resort.
Take the heat seriously.
The Florida sun can be brutal, especially in the summer months. Get plenty of water, take breaks, wear hats, and use plenty of sunscreen.
EltaMD Sunscreen Broad-Spectrum SPF 46 for Sensitive Skin
Blue Lizard Australian Sunscreen – Water Resistant Sport Sunscreen SPF 30+
Neutrogena Ultra Sheer Dry-Touch Sunscreen Lotion with Broad Spectrum SPF 100+
What are some of your favorite Disney vacation hacks and tips?
Now I want to hear from you. What are your favorite tips to share?
Ultimate Walt Disney World Trip and Travel Hacks List!

---
---