Disney Memory Maker: PhotoPass Locations, Cost, and Is it Worth It?
Memory Maker is yet another thing you can add to your Disney World vacation to make it even more expensive.
So is it worth it? What even is it?
Let's find out!
Photopass vs Memory Maker
You've probably heard the terms "PhotoPass" and "Memory Maker" almost interchangeably and wondered if they're the same thing — and if not, what the difference is.
Here's the best way to explain it:
PhotoPass is a free service and Memory Maker is a paid, digital download product that you can buy after using that service.
PhotoPass is the service Disney offers of having cast members take your photos.
You can have them take the photos on your own camera or device, or they can take the photos on their camera. Either way, you don't pay for this service, unless you decide later that you want to purchase a photo they took on their camera, or have it made into a mug or something.
Memory Maker is a package that you can purchase which contains all the photos taken by the PhotoPass service during your trip.
Make sense?
I should clarify that even though Memory Maker is a product, it isn't a physical product. If you like, though, you can purchase a Memory Maker archive disc with all of your account's photos for $29.95 plus shipping.
How Much Does Disney Memory Maker Cost?
Memory Maker costs $199, but you can save $30 and get it for a total of $169 if you purchase it at least 3 days before your vacation begins.
(I actually think of this the opposite way: That the cost is $169, but you have to pay an extra $30 fee if you wait til the last minute to purchase it. However your brain works, the numbers are the same.)
There is also an option (but probably not a very cost-effective one) where you can buy Memory Maker One Day for $59. You cannot buy this one in advance, but only once you have PhotoPass photos in your account. It's fine to buy it after you get home, if you need to time to think it over, as long as you purchase it before the photos expire.
Memory Maker is automatically included with no extra charge if you're an Annual Passholder.
Are there any Memory Maker Discounts?
If you're a Disney Vacation Club (DVC) Member and are wondering if you get a discount on Memory Maker, the answer is no.
MouseSavers says that active or retired US military personnel can purchase a Walt Disney World Memory Maker Package for only $98 from January 1 through December 19, 2019, or from January 1 through December 18, 2020.
This offer is only available at Walt Disney World Resort ticket windows. Valid military identification required for purchase.
Mickey Chatter describes a way to create your own discount, in a sense:
Find another family (or two) that are traveling to Disney World within 30 days of the end of your vacation
Go to Friends and Family List in My Disney Experience, "Add a Guest," and have them accept. Then they are connected with you
All PhotoPass photos, from all involved families, will appear in everybody's My Disney Experience accounts. (NOTE: The only person who can download the photos is the person who actually purchased Memory Maker.)
Personally, this sounds like a huge pain to me, unless the other families involved are either your best friends or your relatives (and possibly it would be a pain even then, depending on which relatives they are). I wouldn't want to be searching people out, collecting money from them, hoping I get it, and then either downloading photos for them or giving them my login information.
However, if you're having a Disney family reunion with all your "sisters and your cousins and your aunts," (kudos to you if you got that reference), this would be the perfect time to split the cost and share the photos … if your sisters and your cousins and your aunts are the kind of people you can actually count on to pay you back their share.
Does Memory Maker Ever Go On Sale?
Occasionally Disney does offer promotions where you can get Memory Maker for free. But if you think about it, $169 isn't really a lot of money to save on a family vacation package, especially if you're not even convinced that you really want Memory Maker to begin with.
It would be better to pass on that one and keep your eyes open for another promotion which is almost certainly going to save you more money.
Does Memory Maker Include Ride Photos
Yes. In fact, some people consider that Memory Maker's biggest benefit, since:
You can't get those photos without paying for them
They cost $15 per photo when bought individually
This is the list of the rides that take photos:
Magic Kingdom
Space Mountain
Splash Mountain
Buzz Lightyear's Space Ranger Spin
Pirates of the Caribbean
Seven Dwarfs Mine Train
Another fun plus is that Seven Dwarfs Mine Train offers not only a ride photo, but also a video:
Seven Dwarfs Mine Train Memory Maker Video

Epcot
Test Track
Frozen Ever After
Animal Kingdom
Expedition Everest
Dinosaur
Hollywood Studios
Twilight Zone Tower of Terror
Rock 'n Roller Coaster
Slinky Dog Dash
What are Disney Magic Shots?
Magic Shots is another benefit to Memory Maker that you can't get with your own camera.
It's when the photographer has you pose a certain way for the shot, then digitally add an image — usually a character — to the photo.
You can also get Animated Magic Shots, where a short animation is overlaid on your still photo, accompanied by music.
You can see several examples in the video below:
Video: Disney World Animated Magic Shots
If you like the idea of Magic Shots, it's a good idea to get in the habit of asking every PhotoPass photographer that you stop for if there are any Magic Shots available at that location.
However, if you like to plan things ahead of time, you don't have to be at the mercy of just wandering around and asking photographers if they have Magic Shots.
Instead go to the Disney PhotoPass Service Facebook Page, click on "Photos," then click "See All" under Albums.
You'll see photo examples of all the Magic Shots currently available at each park. Pretty cool, right?
Is Disney Memory Maker Worth It?
Ah, that's the question everybody wants the answer to, isn't it?
I'm so sorry to have to inform you that I don't have the magic answer to this question. (I can barely figure out the answer for myself.)
However, I can share some facts with you that will hopefully help you make the right decision.
Before I go any further, however, let me tell you about our experience with Memory Maker (or rather, the lack of it.)
At the time of this writing, our family has never purchased Memory Maker, and we've never even purchased a single PhotoPass photo.
In fact, over the years we never even really considered it, and just dismissed it as an unnecessary expense.
However, in a few weeks I'll be going to Disney World with my adult niece, Anna, and we will be purchasing Memory Maker because:
I need as many good Disney photos as I can get for this blog
I know the two of us will have fun going to as many photo spots as we can (as opposed to certain family members with Y Chromosomes who would find that annoying)
So in about 3-4 weeks, I'll update this post a little with my personal experience and lots of new photos.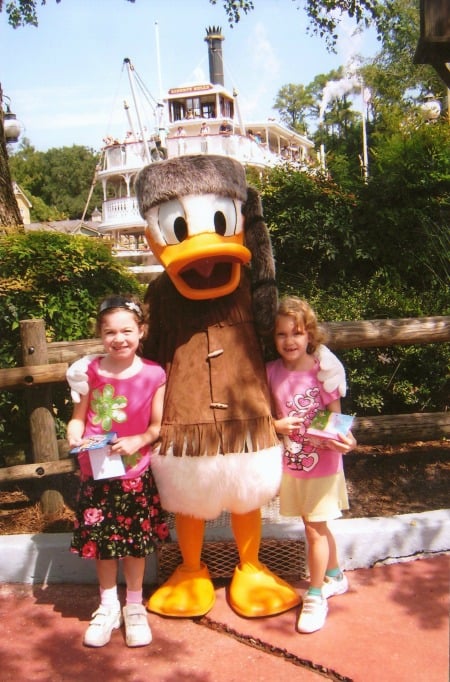 So now let's go on: Is Memory Maker worth it?
First, there are two possible misconceptions to clear up about the PhotoPass service (and, therefore, the Memory Maker product):
PhotoPass Photographers are not "professional photographers" in the truest sense of the word.
Yes, it's their job to take photos all day, and I'm sure they are better at it than I am (which is not hard to do), but they don't have any professional-level training or skills when it comes any special training, skills, or knowledge when it comes to cameras and photography. They're just some schmuck like me who happened to get a job taking photos of people at Disney World.

That's not intended as an insult. Nor is it a problem for most people (including myself).

But when you're deciding whether to plunk down almost $200, it's important to know the facts about what you're getting. I just want to make sure that nobody is not disappointed later because you were under a false impression of what, exactly, they were paying for. I have heard people say that some (definitely not most) of their Memory Maker photos have been out of focus, not properly exposed, or otherwise not great quality.

However, it's certainly arguable that you will get better photos from a PhotoPass Photographer that you will from some stranger that you harass and ask to take your family's photo (especially if that stranger should happen to be me). After all, they do this every day.

There are not PhotoPass photographers at all character meals.
The only meals with PhotoPass photographers are:

1900 Park Fare
'Ohana breakfast
Spirit of Aloha Dinner Show
Cinderella's Royal Table
Akershus Royal Banquet Hall
Be Our Guest dinner

And even with the restaurants listed above, many of the photographers are only at the entrance, not at your table, so you will still probably want to have your own camera or phone on hand for taking photos.

Okay, now that we've cleared up those two issues, here are some questions to ask yourself if you're trying decide if Memory Maker is worth the cost:
Does the idea of looking for PhotoPass photographers, possibly waiting on line, and posing for a few photos sound like fun, or like an unnecessary hassle?
Is it a particularly special trip, like your honeymoon or your children's first visit to Disney? Are you one of those weird people who enjoy running and you're doing a Disney 10k Run?
Do you plan on going on the rides where photos are taken?
Do you have character meals for the restaurants listed above, where there will be PhotoPass photographers?
Will you be at the parks for several days and therefore have time for lots of photos?
Do you like the idea of doing "Magic Shots"? (See more about them below.)
Are you tired of always being the family photographer and would like to take a break and actually be in the photos for once?
Are you excited about the idea of coming home from your vacation with hundreds of digital photos, or does the very thought give you an anxiety attack?
Will those photos sit forgotten on a flash drive somewhere (or worse, completely disappear because you never downloaded them), or will you actually share them and display them?
Along those same lines, do you like the idea of taking several different shots and poses when you meet a character, or is one or two plenty?
Are you planning on doing Jedi Training Academy, Bibbidi Bobbidi Boutique, or Pirates League (where there will be lots of PhotoPass photos)?
Do you hate begging strangers to take a photo of you?
SlPeters from the Disboards shares why Memory Maker was definitely worth it for her, even though they were vacationing without kids:
I think especially for a couple trip you should do it. For us it became like an extra attraction everywhere we went. Seriously we stopped at almost every photographer we saw, never waited more than a couple minutes (because there were so many of them!) and pretty much all the shots are amazing. We got magic shots and posed shots we never would have thought of.

The photographers were really good at sort of breaking down our natural reserve in public and so not only were the shots better technically than we could have done, they were better content-wise than we would have done. The meet and greets were like little photo shoots.

I was a little concerned that since there weren't any children that we would sort of get a perfunctory shot and an invitation on our way. But it wasn't like that at all–there was one where we met Mickey, Minnie and Goofy all in one attraction but separately (I think it was the Epcot Character Spot) they must have taken at least fifty photos and because of that every wonderful little moment we had with a character was there on film.

And then, and this is why I say especially for a couple trip you should do it, we have more pictures of the two of us together during one week in Disney World than in the other twenty years we've been together. Seriously, the year before we went to Paris and we have hundreds of photos (not as many as Disney but a lot)–about five of them are selfies of the two of us and about two of them are actual shots of the two of us together–the rest are either one of us or none of us. For us it was well worth it!
How Do I Purchase Memory Maker?
Just go to My Disney Experience and click on "Buy Memory Maker."
When Does Memory Maker Expire?
Your Memory Maker purchase is activated when you download your first PhotoPass photo, and it's good for 30 days after that.
Your photos are online and available for download for 45 days from when each photo was taken. After that, they will be deleted from the system permanently.
If 45 days isn't long enough for you, then you can pay an extra $19.99 to get a 15-day extension.
If the idea of your photos disappearing freaks you out, then you can purchase a Memory Maker archive disc, containing all of your account's photos, for $29.95 plus shipping.
A copyright release will be included in your zip files when downloading your pictures. I've heard that It's a good idea to keep a copy of this in case you go to the local drug store or something to have your photos printed.
Do I Need a Magic Band for Memory Maker?
You don't need a Magic Band, but the extra convenience is enough that I think it's worth getting them.
Otherwise, you're have to constantly be getting out your PhotoPass card or worrying about who has the PhotoPass card and whether you forgot to get it back from them before you split up and went in difference directions because Avatar Flight of Passage makes them motion sick, or whatever.
Of course this is all a "moo point" (ooh, an even better reference) if you're staying on Disney property, because you'll automatically get a Magic Band.
If you're not staying on Disney property, then yeah, I would either go digging around in your drawers hunting for the Magic Bands from your last trip (like I am currently doing) or go ahead and spring for buying new ones. They're kind of fun anyway, and you can think of them as a souvenir.
Minnie Mouse Bow MagicBand 2.0 – Link it Later
MagicBand 2.0 – Link It Later – Belle
MagicBand 2.0 – Link It Later Magic Band (Pink)
Sorcerer Mickey Mouse MagicBand – Fantasia
MagicBand Monsters University
If you choose not to purchase Magic Bands, I would recommend taking a digital photo of the code on your PhotoPass cards as soon as you receive them, just in case they get lost.
Also, consider storing your PhotoPass card in a clear plastic sleeve attached to a lanyard around your neck. (The photographer can just scan the card through the plastic.)
Cool Lanyards and Key Chain Holder
Black Flat Lanyards
Disney Mickey & Gang Black Lanyard with Card Holder
Minnie Mouse Pink Lanyard
How to Get the Most Out of Disney Memory Maker
I don't know about you, but if I'm going to be paying $169 (or $199) for something, I'm going to make it my Mission in Life to get my money's worth.
Here are some tips that I've heard from others to get the most "bang for your buck" out of Memory Maker:
Change clothes often. If you don't want to haul extra clothes around with you in the park, at least consider keeping a different pair of earrings or mouse ears in your bag. And have enough outfits packed that you can go back to the hotel and change at some point in the day (which is highly recommended anyway, just to avoid feeling gross.) You don't want 200 photos of yourself in the exact same outfit.
If you're ready to go shopping for your photo shoots, check out my post on cute outfits and accessories to wear to Disney World.
Have fun with different poses. Your photographer may or may not be creative with how they have you pose, so sometimes you have to take the initiative.
Consider trying things like being back to back with your thumbs up, and having your back turned the photographer, then turning your heads to face him.
For character meet and greets, I have a post with fun ideas how to interact with Disney characters.
Ask for Magic Shots. We've already mentioned this, but don't forget to ask the photographers if they they have any Magic Shots available.
Mix it up a little. As you can see from our photos, we have not been too great at this over the years. But don't feel like you have the entire family stand for every shot in the same way. Get some shots with just the kids. Kneel next to your kids in some of the shots, instead of standing. Get some shots of just you and your spouse. You paid almost $200 for this, dangit. Get every variation, combination, and permutation you can think of.
Don't be afraid to ask. Along the same lines, this is a good time to be [politely and kindly and graciously] assertive. Don't be afraid to ask the photographer for what you want, or ask for another shot with just the kids.
Look for photographer set up with tripods and lighting. Most likely, these photos will be the ones that turn out the best.
Keep an eye out for photographers without lines. Train your eyes to be alert for people wearing brown vests and holding cameras. Even if they're standing around looking like they're on break, go ahead and ask them to take your photo.
Don't forget about Disney Springs. Disney Springs has a Photopass Service Studio located between World of Disney and Ghirardelli. They have both standard backdrops and a green screen with virtual backdrops of themes like Peter Pan, Star Wars, Cars, Beauty and the Beast, Monsters Inc, and many more.
Pick a shot to pose for on every trip. Sadly, we never thought of doing this, but I heard someone suggest it and thought it was brilliant. Pick a not-in-front-of-the-castle spot and arrange yourselves in the same formation, and get the photo. Then do it again on your next trip, and the next, and the next.
Have fun embellishing your photos when you get home. Does anyone else out there ever do Scrapbooking? If so, you'll love this. Not only can you save the original photos, but you can also save versions of them where you've added fun borders, enhancements, and characters.

Where are Disney Photopass Photographers Located?

Like most things, finding photographers will go more smoothly if you prepare a little in advance instead of just wandering around and hoping for the best.

You can go here and scroll down to the bottom for Disney's photo op maps, which look like this:

I got this comprehensive list of park locations from Mouse For Less:

Magic Kingdom Locations

Agrabah Bazaar Meet and Greet
Aladdin, Jasmine and the Genie
Ariel's Grotto Meet and Greet
Ariel
Bibbidi Bobbidi Boutique
Be Our Guest
Beast
Cinderella Castle, near Crystal Palace
Enchanted Tales With Belle
Belle
Fairytale Garden Meet and Greet
Merida from Brave
Fantasyland Bridge
Fantasyland Teacups
Alice and Wonderland characters
Fantasyland Thoughtful Spot
Pooh and Tigger
Gaston's Tavern
Gaston
Journey of the Little Mermaid Bridge
Liberty Square
Mary Poppins
Liberty Square Bridge
Town Square Theater
Emporium on Main Street, USA
Guest Information Board on Main Street USA
Main Street Bakery
Main Street USA Train Station
Partners Statue
Pete's Silly Sideshow
Daisy/Minnie or Goofy/Donald
Princess Fairy Tale Hall
Rapunzel or Cinderella, each joined by a Princess friend
Tinker Bell's Magical Nook
Tinker Bell
Tomorrowland Bridge
Space Ranger Spin
Buzz Lightyear
Tangled Restroom Area

Epcot Locations

China
Mulan
Epcot Character Spot
Mickey, Minnie, and Goofy
Epcot Entrance
France
Belle or Aurora
France Fountain
France Fragrance Gardens
Fountain of Nations Courtyard
International Gateway Bridge
Germany
Snow White
Mexico
Fiesta Donald Duck
Morocco
Aladdin and Jasmine
Norway
Anna and Elsa
United Kingdom
Alice in Wonderland, Mary Poppins
World Showcase Overlook

Animal Kingdom Locations

Main Entrance
Tree of Life
Adventurers Outpost
Mickey and Minnie
Bus Stop Marquee
Bradley Falls between Asia and Africa
King Louie & Baloo
Dinoland USA Service Station
Discovery Island Trail
Pocahontas and friends
Expedition Everest Overlook
Cretaceous Trail in Dinoland USA
Donald Duck
Wilderness Explorer
Russell and Dug from Up

Hollywood Studios Locations

Disney Junior Meet and Greet
Disney's Hollywood Studios Arch
Hollywood Banner
Hollywood Blvd
Donald, Goofy, and Chip n' Dale
Hollywood Studios Entrance
Jedi Training Academy
Darth Vader
Red Carpet Dreams
Mickey and Minnie
Celebrity Spotlight
Olaf
Star Tours Speeder Bike
Star Wars Launch Bay
Kylo Ren or Chewbacca
Sunset Blvd
Toy Story Land Entrance
Toy Story Land Meet and Greets

What are your thoughts on Disney Memory Maker

Now it's your turn.

What are your experiences with Memory Maker? Do you think it's worth the cost? Were the PhotoPass photographers helpful? Were their pictures good quality?Do you have a favorite photo spot? Let us know below in the comments!
---
---