1900 Park Fare Grand Floridian Buffet: Dinner Menu & Characters
This post probably contains affiliate links. You can read the details about what that means here.
1900 Park Fare is a character dining buffet restaurant with high ceilings and a carnival and carousel theme.
I had dinner there for the first time last week on my adults-only trip to Disney World with my friend Loraine.
After reading this post, you'll know about how to get to 1900 Park Fare, the menu, price, and what characters are there when. You'll also learn about my experience there last night, and how I think 1900 Park Fare stacks up to other similar Disney restaurants.
What time does 1900 Park Fare open?
Restaurant hours are:
Breakfast — Daily from 8-11 am
Dinner — Daily from 4:30-8:30pm
Is 1900 Park Fare a Buffet?
Yes, both breakfast and dinner are buffet-style meals.
What characters are at 1900 Park Fare?
1900 Park Fare is a little weird in that the characters are distinctly different at dinner from what they are at breakfast. I sometimes wonder how many people are disappointed because they show up excited to see a Disney princess and are instead greeted by a big yellow bear.
Breakfast Characters
The Supercalifragilistic Breakfast features:
Alice in Wonderland
The Mad Hatter
Winnie the Pooh
Tigger
Dinner Characters
Cinderella's Happily Ever Dinner features:
Cinderella
Prince Charming
Lady Tremaine
Anastasia
Drizella
(If you don't recognize those last 3 names, they're Cinderella's stepmother and stepsisters.)
We actually ended up with a slightly different cast of characters when we had dinner there, which I'll get to in a moment.
Is 1900 Park Fare in Magic Kingdom?
No.
It's located at the Grand Floridian Resort & Spa, one of the nicest (and the most expensive) Disney World resorts.
The Grand Floridian is next door to the Magic Kingdom on the monorail loop.
How long does it take to get from Magic Kingdom to 1900 Park Fare?
At the time of this writing, a walkway is being built from Magic Kingdom to the Grand Floridian. The walk will be a little less than a mile.
Otherwise, you can reach the Grand Floridian from outside the Magic Kingdom gate entrance via:
Since the monorail has to make 3 other stops before it arrives at Grand Floridian, the length of time for taking the monorail or taking the boat tend to be roughly the same.
Either way, allow yourself about 20 minutes for the entire process of waiting and then actually traveling.
Since the monorail is on a loop, getting back to the Magic Kingdom after eating will be quicker, as it's the next stop.
What floor is 1900 Park Fare On?
1900 Park Fare is located on the first floor of the Grand Floridian, next to the Grand Floridian Café. That translates to "go downstairs" when you arrive at the monorail platform.
Can you see fireworks from 1900 Park Fare?
No … probably due to the fact that 1900 Park Fare has no windows.
However, if you plan things so that you finish dinner before the fireworks, there are a few viewing spots that you can easily get to.
If you want to stay close by, you can walk over to the marina area, between Gasparilla Grill and the boat launch dock.
You could also hop on the monorail, head over to the Polynesian resort, and watch from the beach or the nearby paved area. I've never done this, but I've heard several people claim this is a great spot. You can even get a Dole Whip (regular, with coconut rum OR in a Souvenir Tiki Bowl) at Pineapple Lanai.
Alternatively, if you really want to see the Magic Kingdom fireworks while eating at a Grand Floridian restaurant, consider making dinner reservations at Narcoossee's, a Signature Dining restaurant featuring coastal cuisine.
Does 1900 Park Fare Have a Dress Code?
Yes and no — but mostly no.
The only Disney restaurants that have a true dress code are the Signature Dining restaurants (for example, Narcoossee's, also located in the Grand Floridian).
The other restaurants, 1900 Park Fare, are what's called "resort casual."
This means you can't:
Be barefoot
Wear a bathing suit
Wear torn clothing
Wear a shirt with offensive graphics
Since I assume you weren't planning to dress like that anyway, I tend to think it's not really really a dress code.
What is 1900 Park Fare named after?
Since the Grand Floridian Resort opened in 1988, 1900 Park Fare has always existed by that name and (unlike Magic Kingdom's Crystal Palace) has always been a character restaurant.
I was surprised that I couldn't find a definitive answer as to where 1900 Park Fare got its name. The best I could find was this description from someone on the DisBoards. I have no idea whether or not it is true, but …
Supposedly the Grand Floridian was a homage to a man named Henry Morrison Flagler.
Mr. Flagler developed a the Ponce de Leon Hotel in St. Augustine, which was credited for tourism increases for both St. Augustine and the state of Florida in general.
Both the hotel promenade and hotel eatery at Ponce de Leon were called "Park Fare".
The Grand Floridian Resort & Spa is meant to portray the Victorian Era of around the year 1900.
Thus … "1900 Pare Fare."
Is 1900 Park Fare 2 Dining Credits?
Nope.
Unlike Cinderella's Royal Table in the Magic Kingdom, 1900 requires only 1 Table Service credit on the Disney Dining Plan.
Breakfast Menu
Strawberry Soup with fresh Strawberries and Whipped Cream
Sticky Buns or Croissants
Biscuits with Sausage Gravy
Maple French Toast
Plain or Onion Bagels
Hickory-smoked Ham with a Brown Sugar-Maple Honey Glaze
Smoked Salmon Lox with Capers, Chopped Hard-boiled Eggs, and Diced Onions
Classic Eggs Benedict with Hollandaise Sauce
House-made Corned Beef Hash
Cheese Blintz with Warmed Blueberry Sauce and Whipped Cream Toppings
Bacon or Sausage
Cheese Grits
Oatmeal
Potatoes O'Brien
Crushed Avocado
Mandarin Oranges, Watermelon, Pineapple, Honeydew, and Grapes
Kids' Menu Items:
Mickey Waffles
Cheesy Scrambled Eggs
Breakfast Pastries
Bacon or Sausage
Potato Puffs
Dinner Menu
Strawberry Soup with Fresh Strawberries and Whipped Cream
Peel-n-Eat Shrimp
Fried Sustainable Mississippi Catfish with Remoulade
Salmon Tapenade
Herb-crusted Ribeye with Chimichurri
Butternut Squash Ravioli
Buttery Mashed Potatoes
Coconut Vegetable Curry
Mongolian Beef Stir Fry
Fruit Salad
Roasted Cauliflower
Roasted Carrots
Farro Salad
Kids' Menu Items
Macaroni & Cheese
Turkey Meatballs
Pizza
Chicken Bites
Does 1900 Park Fare Serve Alcohol?
Yes.
Since the only time I really drink alcohol is when the drink resembles dessert, I had a Godiva Chocolate Martini:
Loraine got the Beso del Sol Red Sangria, which also looked quite good:
Some other alcoholic drinks on the menu include:
Blood Orange Margarita
Watermelon Margarita
Rum Swizzle
Raspberry Mojito
Ultimate Long Island Iced Tea
Bahama Mama
Captain's Mai Tai
Cabernet Sauvignon
Pale Lager
Amber Lager
They also offer these non-alcoholic drinks:
Lemonade topped with Wildberry Foam
Grapefruit Spritzer
Sparkling No-Jito
Watermelon Lemonade
Buffet Prices
Breakfast
Ages 3-9: $27.69
Ages 10 and over: $46.86
Dinner
Ages 3-9: $37.28
Ages 10 and over: $62.84
How long does it take to eat at 1900 Park Fare?
We had no plans after dinner, so we were in no rush and I didn't pay any attention to how long we were there.
However, for people who have plans to head to the Magic Kingdom or watch the fireworks after eating, this is a good question.
I would say to allow yourself about an hour and a half. You definitely don't want to feel rushed. And note that this only includes your time at the restaurant, not the time spent traveling.
My 1900 Park Fare Dinner Review
This was first time at 1900 Park Fare, and I was really excited because I had heard that watching the step-sisters in action was worth the price of admission.
I was even planning to ask them to sing, and maybe even sing with them (depending, I suppose, on whether I met them before or after my martini).
When our server arrived at our table and introduced herself, she said, "I have some unfortunate news … not all of our characters are here tonight. We have Cinderella, Lady Tremaine, and Suzi Mouse."
And I was like:
"Not the stepsisters?" I yelped. "But that's the whole reason we came!"
The server nodded empathetically and explained that there was an upper respiratory infection or something going around. She said she would be happy to re-schedule or give us a 20% discount.
After discussing it, we reluctantly decided to stay and take the discount, because
I was hungry, and we had to eat somewhere
It was too messy to try to adjust our future plans to re-schedule
We still had a really good time, but of course I don't feel like I got the real 1900 Park Fare experience — because I didn't. I guess I will just have to go back, ha.
(Side note: Notice that I couldn't care less that Prince Charming wasn't there. He doesn't sound very exciting to me.)
However, Suzi Mouse was a nice surprise, and I always like the "cute and cuddly" characters.
And Lady Tremaine was pretty entertaining.
"I'm so sorry your daughters aren't here tonight," I told her.
"Oh, really? I'm not," she said dryly, with a frown and an eye roll. I'm enjoying the piece and quiet."
"Cinderella told us they were practicing their singing. She said they needed the practice."
"Oh, did she say that? Did she also say that she needs to practice her chores?"
Lady Tremaine also taught us how to pose properly:
The food was a lot better than I expected. That sounds funny — why would I go to a restaurant where I don't expect the food to be good — but my expectation at a character buffet is for the food to be "fine" and not much more.
But Loraine and I were both quite impressed. We kept saying to each other, "You've got to go back and try the salmon!" "You've got to try the butternut squash ravioli!" There wasn't a single thing we tried that either of us disliked.
I had heard amazing things about the strawberry soup. Other than it being unique, it didn't get me too excited, and it certainly wasn't my favorite thing at the buffet. Like I said to Loraine, "It would be better if it had a cake underneath it."
I didn't have much room left for dessert because I filled up on everything else, but I made a little sampler platter and took one bite of everything. Loraine loved the pumpkin cheesecake.
1900 Park Fare vs. Other Restaurants
People often are trying to narrow their dining choices down to two somewhat similar restaurants.
Here are my thoughts on 1900 Park Fare versus two other table service restaurants on the Magic Kingdom monorail loop:
1900 Park Fare or Ohana Dinner?
This one is a pretty tough call. I would highly recommend either one.
Here are my thoughts:
If you have a huge appetite and love meat, have dinner at Ohana in the Polynesian.
If you want an amazing dessert, go to Ohana.
If you want an experience unique to Disney and/or want to meet characters, go to 1900 Park Fare.
If you have young children, go to 1900 Park Fare.
1900 Park Fare or Chef Mickey?
Ha ha ha ha ha ha ha ha ha ha ha … that's a good one!
Oh, I'm sorry. You know how one of my favorite pastimes is to rag on Chef Mickey's.
Seriously, though … if you're trying to decide between those two restaurants, here are my thoughts:
The food is better at 1900 Park Fare
The atmosphere at the Grand Floridian is much better than at Disney's Contemporary Resort
If your kids are under age 7 or so, they'll probably like Chef Mickey's better
You will like 1900 Park Fare better
Do not eat ever eat dinner at Chef Mickey, because I've heard awful things about it.
Video — Disney's Strawberry Soup Recipe
If you want to enjoy some of 1900 Park Fare's famous strawberry soup, it's not too hard to make. I still maintain it would be perfect if you poured it on top of a pound cake.
Share your thoughts on 1900 Park Fare
Now it's your turn.
What has been your experience with 1900 Park Fare? Did you enjoy the food as much as I did? And just out of curiosity, have you ever been to a character meal and been told told the character wasn't going to be there? Let us know below in the comments!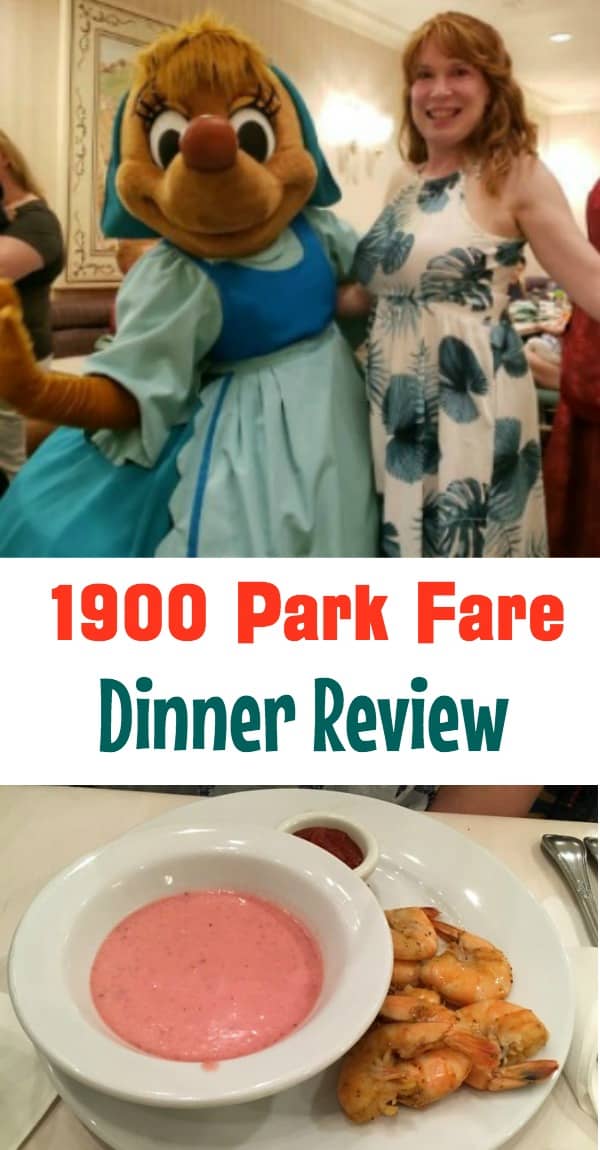 ---
---