Chef Mickey's Breakfast Review: Menu, Prices, & Characters
This post probably contains affiliate links. You can read the details about what that means here.
Chef Mickey's in the Contemporary Resort is considered by many (including myself) to be one of the best Disney World restaurants for kids.
It's been a long time since we've been to Chef Mickey's, and it was before I had this blog, so I wasn't taking photos of the food or contemplating the atmosphere or anything blogger-like. I was just trying to juggle the kids, eat, and take a few photos like a normal person.
So I brought in my friend and fellow Disney blogger Jana Seitzer from Whisky + Sunshine to do a guest post review of Chef Mickey's.
*******************
Chef Mickey's in an American breakfast & dinner buffet with character visits from Mickey & friends at Disney's Contemporary Resort. You do not need park tickets to access this restaurant, but reservations are highly recommended.
Chef Mickey's ranges in price from $35 to $59.99 per adult. and is on the dining plan for one table service credit.
Chef Mickey Prices
(Pricing information is from Touring Plans.)
Breakfast Price
Ages 10 and over: $44.73
Ages 3-9: $26.63
Brunch Price
Ages 10 and over: $44.73
Ages 3-9: $26.63
Dinner Price
Ages 10 and over: $54.32
Ages 3-9: $31.95
Chef Mickey Reservation Tips
As you can imagine, Chef Mickey's is a popular place and books up fast. The best tip is to make your reservations as early as possible (180 days in advance, first thing in the morning).
Another suggestion if you're having trouble is to try again 45 days before your trip. Since this when final payments are due, this is around the time people might cancel.
If you'll be celebrating a birthday or other special event, let them know when you're making the reservation. You might be lucky enough to get a birthday card or cupcake, although there are no guarantees.
If you need to cancel your reservation, you need to do so the day before to avoid the cancellation charge.
What time does Chef Mickey's stop serving breakfast?
Breakfast ends at 11:30am, at which time it goes immediately into brunch (which is similarly to breakfast, but has more "lunch food," as you'll see in a moment).
Breakfast — 7:00am-11:30am
Brunch — 11:30am-2:30pm
Dinner — 5:00pm-9:30pm
Can You Walk From Magic Kingdom to Chef Mickey's?
Yes! It's about a 10-12 walk, and there is a path to walk along. It's a nice option if the weather is nice and you're not in a hurry. Here's a video showing you exactly what the walk looks like.
Video — Magic Kingdom Walk to Contemporary Resort
Atmosphere
The dining space is located adjacent to the monorail and views of Bay Lake with a gorgeous 90-foot high mural by Disney Legend Mary Blair.
My kids love that you can ride the monorail in and out of the Contemporary Resort to get to breakfast, and the proximity to Magic Kingdom and Epcot is convenient for park days.
There's a photo opportunity just inside the restaurant where you can take a photo while you wait for your table to be ready.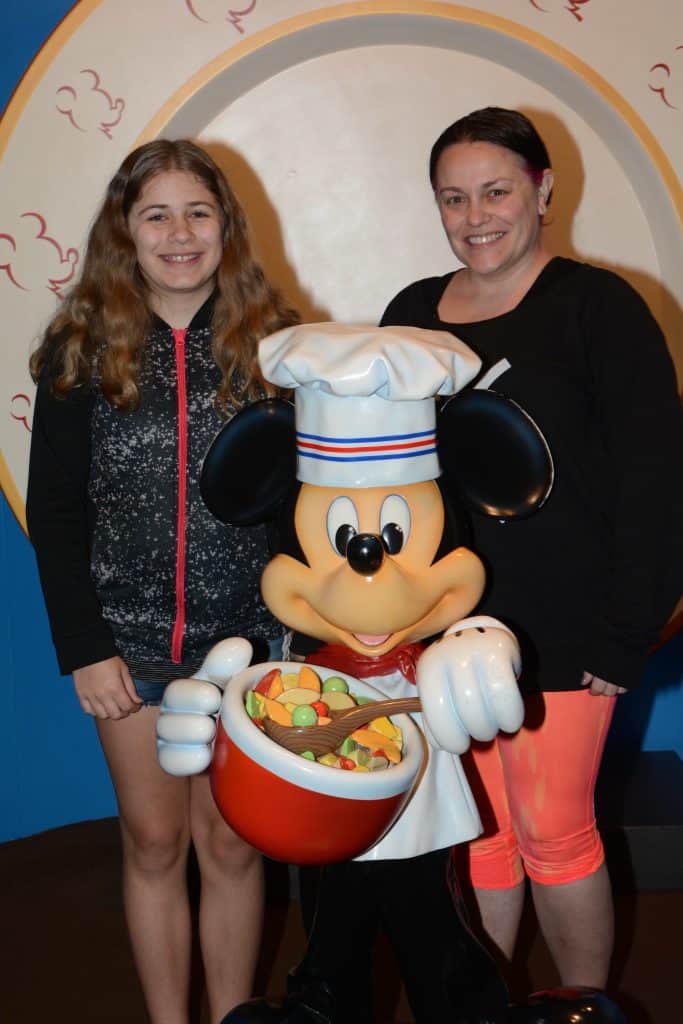 ✅Chef Mickey's Menu
(Menu information is from Touring Plans.)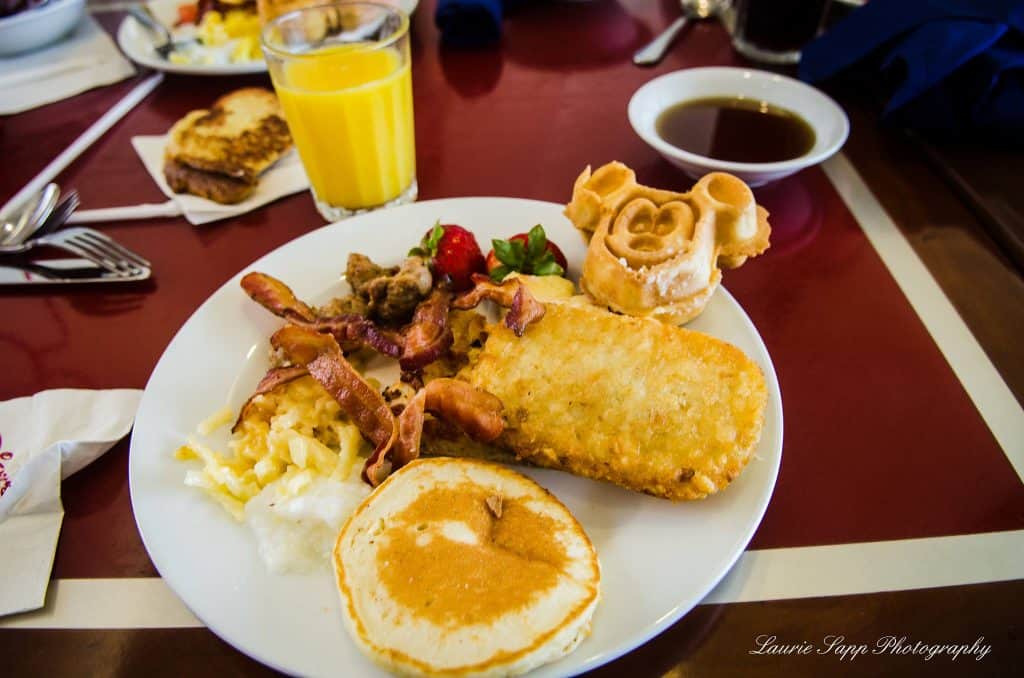 Breakfast Menu
Oatmeal
Cheesy Grits
Smoked Salmon Bar
Carving Ham with Honey Mustard
Biscuits and Gravy
Corned Beef Hash
Bacon
Sausage Links
Scrambled Eggs
Western Scramble & Egg White Scramble
Tofu Scramble
Pastries
Make Your Own Waffle Bar (with syrup, chocolate sauce, sprinkles, whipped cream, chocolate chips, etc)
Fruit
Yogurt Parfaits with Assorted Toppings
Brunch Menu
The brunch menu is [mostly] the breakfast menu with "more stuff," including:
Peel & Eat Shrimp
BBQ Pork Ribs
Ham and Cheese Scramble
Seafood Newburg
Seasonal Salad Selections
Seasonal Vegetables
Create Your Own Sundae Bar
Mickey Mouse Domes (see Pinterest photo below)
Dinner Menu
Prime Rib with Horseradish Cream Sauce
Roasted Chicken
Pot Roast
Glazed Salmon
Chili Cornbread Casserole
Chicken Nuggets
Charcuterie Board of salami, cheese, olives, and pickles
Daily Soup and Pasta Specials
Assorted Breads and Spreads
Caesar Salad
Salad Bar
Create Your Own Sundae Bar
Mickey Mouse Domes
Bread Pudding
Our Review of the Food
We love the choices for the breakfast buffet. We always eat eggs, sausage, bacon, Mickey Waffles (because Disney!), fruit, and pastries for dessert.
In general I don't have picky eaters, but they definitely have preferences as to how they like their eggs. So even though Chef Mickey's serves scrambled eggs by default at the buffet, you can ask your server for fried eggs if you'd prefer to have them prepared that way. My kids are always very happy with that option.
Does Chef Mickey's Serve Alcohol?
Yes. Mimosas are served at breakfast and brunch and there is a specialty cocktail menu that includes, beer, wine, margaritas, and other drinks available for dinner.
✅Which Characters are at Chef Mickey's?
If you love the Fab Five, Chef Mickey's is the perfect all-you-can-eat buffet where you can meet:
Mickey Mouse
Minnie Mouse
Pluto
Goofy
Donald Duck
All 5 characters are available during breakfast, brunch, and dinner.
One thing that's nice about Chef Mickey's is that you can make your rounds of the huge buffet right away while you wait for the characters to make their rounds. This is particularly nice if you're dining with young children and/or Very Hungry People.
✅Chef Mickey's: Breakfast or Dinner?
I've never eaten dinner at Chef Mickey's, but I've heard a lot of strongly negative comments about their dinner buffet. For example, here's what Goofy4Prez on the DisBoards had to say:
Dinner? "Forget About It." The most absolutely, pathetic, most unpleasant dining experience I have ever had the misfortune of trying. The food was below average to disgusting. The buffet station was filthy, often empty and poorly kept up with and the food was the worst in WDW, even beating out ABC Commissary as my personal worst. Never again, even if this place was free …
And Minnie Mum adds:
Dinner at Chef Mickey's is plain awful. I get that people go for the characters. But dinner is noisy, chaotic and the buffet line can get gawdawful messy. And the food quality is probably the lowest of all the buffets ( although it may be tied with Hollywood & Vine).
Another thing to consider, especially if you are paying out of pocket as opposed to using dining plan credits, is that breakfast is cheaper. And let's be honest … at Chef Mickey's, you're really paying more for the characters than for the quality of the food, so you might as well keep the price down as much as possible.
✅Chef Mickey's vs Garden Grill
When people make decisions about their Disney dining, they often try to decide between two someone similar restaurants.
Garden Grill in Epcot is an obvious "competitor" with Chef Mickey's because a) both are character meals featuring Mickey Mouse and his friends, and b) they have similar menus.
Here are a few things to consider if you're trying to decide between the two restaurants:
1) Instead of the "Chef Mickey Fab Five" of Mickey, Minnie, Pluto, Goofy, and Donald Duck, Garden Grill stars "Farmer Mickey," Pluto, and Chip and Dale.
2) Garden Grill is a "family-style" restaurant, which is sort of a buffet in reverse. You stay at your table and they bring the food to you. You can request seconds or thirds of anything you like.
3) Garden Grill slowly rotates and you get a view inside Living With the Land.
✅Chef Mickey's vs Tusker House
Tusker House, located in the Africa section of Animal Kingdom, is another obvious "competitor" of Chef Mickey's. Both restaurants star Mickey and friends, and both restaurants are buffets.
People who think Chef Mickey's is overrated are usually quick to suggest Tusker House as the better alternative.
Here are the basic differences between the two restaurants:
1) Again, you're not getting the "Fab Five," but you do get Donald and Daisy Duck, Mickey, and Goofy (dressed in safari clothes).
2) While Tusker House serves "basic" foods like eggs and bacon for breakfast and roast chicken for dinner, they also serve most adventurous foods like Beef Bobotie and Basmati Rice and Curry Chicken.
3) The theming is quite different, as Tusker House is set in an African harambe market.
Chef Mickey Waffle Recipe
If you enjoyed your waffles at Chef Mickey's, good news! It's easy to make your own at home.
According to the Disney Food Blog, the secret to replicating Disney's waffles is to use Carbon's Golden Malted Waffle Mix.
Carbon's Golden Malted Pancake & Waffle Flour Mix, 32-Ounces
Then you can pour the batter into a Mickey waffle maker, cook, and load up with your favorite toppings!
Disney DCM-9 Mickey Mini Waffle Maker
Disney DCM-12 Mickey Mouse Waffle Maker
By the way, If you enjoy making Disney food at home, check out this cookbook. It includes recipes from food at Disney World, Disneyland, and the Disney Cruise Line.
Chef Mickey: Treasures from the Vault & Delicious New Favorites
So … Is Chef Mickey's Worth It?
That is a popular question, and … well, it depends on who you ask, and what you're looking for.
Do be aware that Chef Mickey's can be noisy, even chaotic, and it is usually crawling with little kids. If the scene you are picturing in your head right now gives you the heebie-jeebies, you might want to reconsider Garden Grill or Tusker House as an alternative.
For us, as far as Character Dining goes, this is one of our favorites for value. You get 5 characters and the breakfast buffet is a better value than many of the other restaurants. We can eat a big late breakfast and get by on a snack and not eat another big meal until dinner.
I'd much rather do Character Dining to see characters than wait in line at the park, so to me, Chef Mickey's is definitely worth it!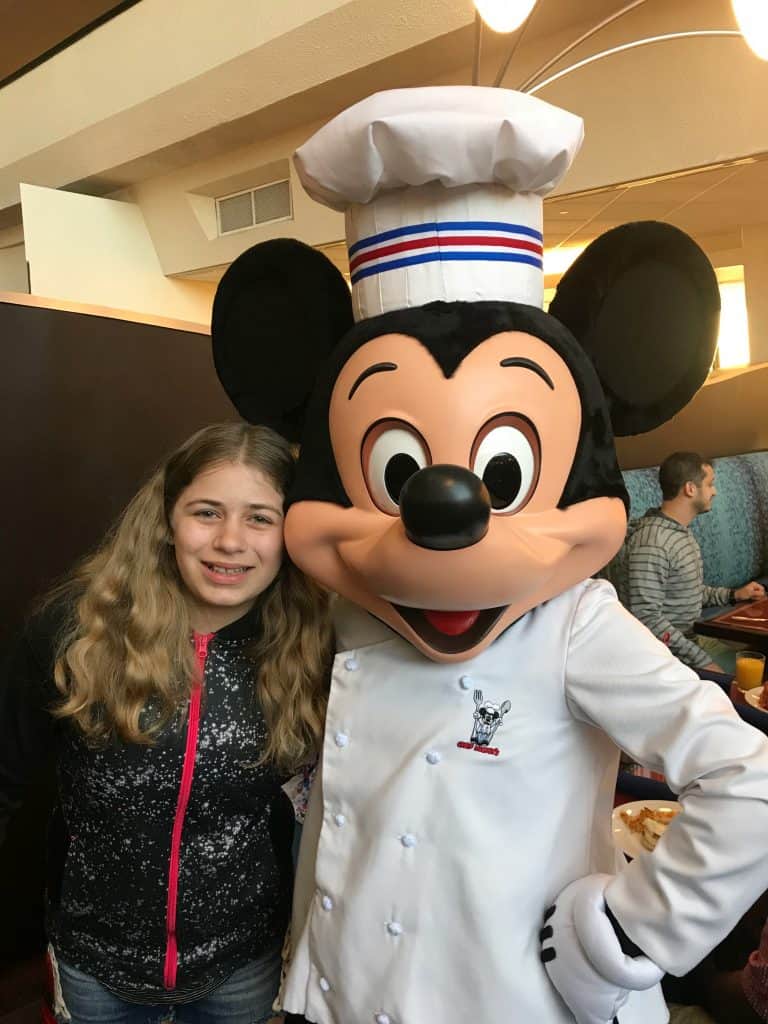 Now it's your turn.
What has your experience at Chef Mickey's been like? Is dinner as awful as some people say it is? Do you think Chef Mickey's is worth the price?
Jana Seitzer is founder and editor-in-chief of Whisky + Sunshine. She's a full-time mom to 4 amazing kids (11×2, 13, 15)—including two with special needs; married to her husband for 16 years; writer; speaker; photographer; marketer; designer; former Disney podcaster; and social media maven. She loves to travel all over the world—solo and with her family—and tell stories about her travel adventures—adventures that often involve a glass of wine or bourbon.
Click here to follow Jana on Instagram.