13 Best Quick Service Restaurants at Magic Kingdom
This post probably contains affiliate links. You can read the details about what that means here.
Are you planning a trip to Disney World soon and wondering about the best counter service locations at Magic Kingdom? There are plenty of different options throughout the park where you can a great meal and/or snack without needing reservations or spending much time before you hop back on the rides.
I asked my friend Lauren from The Palmetto Mom to write a guest post for me all about Magic Kingdom's counter service restaurants.
In this post you'll learn
The different is between counter service and table service restaurants
The location of the best counter service restaurants
Popular menu items at each restaurant
What are counter service locations at Disney World?
If you are new to Disney world dining, the term "counter service" may be new to you. Counter services locations refer to dining locations that do not require prior reservations and generally fall at a lower price point. The menus vary, but typically, you can find family-friendly options that appeal to most members of your party. You can also refer to these locations as "quick service" locations.
In contrast, table service restaurants in Disney World require reservations. For example, restaurants like Crystal Palace and Cinderella's Royal Table are considered table service restaurants. They fall at a higher price point, require more dining service credits (when the dining plan returns), and do not fall into the counter service category.
You can make dining reservations 60 days in advance of your Disney World vacation. For those staying at a Walt Disney World resort, you can make dining reservations for up to 10 days of your vacation. For that staying off-property, you can make one day of dining reservations at a time, sixty days before your trip.
What are some counter-service restaurants at Magic Kingdom?
Magic Kingdom is home to over 20 counter service locations. These include:
Casey's Corner
Cheshire Cat
Columbia Harbour House
Cosmic Ray's Starlight Cafe
The Friar's Nook
Gaston's Tavern
The Lunching Pad
Main Street Bakery
Pecos Bill Tall Tale Inn and Cafe
Pinnochio Village Haus
Sleepy Hollow
Storybook Treats
Sunshine Tree Terrace
Tortuga Tavern
Westward Ho
Does every Disney park have counter-service options?
Yes, all Disney parks offer counter service or quick service options.
My current favorite at Animal Kingdom is Satuli Canteen. Their beef and chicken bowl is absolutely delicious.
At Hollywood Studios, I head to Ronto Roasters or Woody's Lunch Box. Woody's homemade pop tart is one of my favorites!
Heading to Epcot? My favorite counter service options there include Tangierene Cafe in Morocco and Sunshine Seasons if we need more of a food court alternative.
The Best Counter Service Restaurants in Magic Kingdom
Here are my family's favorites, including what we like to order when we're there
Casey's Corner
Casey's Corner is a great place for a quick stop while in the parks. Best known for its hot dogs and French fries, Casey's Corner is located right on Main Street USA near the Hub area.
If you're in a Disney park craving an All-American food experience, Casey's is probably the place for you. They're known for their all-beef hot dogs, but my kids are also big fans of their corn dog nuggets. This is also a great spot to find some delicious chili cheese fries. But don't worry — vegetarians can also find some plant-based options here as well!
Casey's is one of the best counter-service restaurants for an evening option if you want to grab something before you stake out your spot for the nighttime fireworks.
Casey's can develop quite a long line around lunch and dinner times, so consider using your My Disney Experience app for mobile ordering.
Columbia Harbour House
Columbia Harbour House is one of the best restaurants in the quick service restaurants category to me. In terms of Magic Kingdom restaurants, it definitely ranks highly, in my book.
Located in Liberty Square, their menu items include plenty of good options like delicious lobster rolls, New England clam chowder, and grilled salmon with rice and green beans. If you are in a Disney park and want something other than typical fast food like burgers and fries, Columbia Harbour House can be a great choice.
Another great thing about Columbia Harbour House is its location and the restaurant itself. After you get out of a crowded ride like Peter's Pan Flight or Small World, place your mobile order at Columbia Harbour House and head upstairs to the second floor.
It's a great spot to enjoy your food and a good place to relax and enjoy the relative quiet. The dark paneled walls make it feel like you have escaped to New England for a bit and away from a typical food court atmosphere. Be sure to add this one to your favorite quick service options at the Walt Disney World resort.
Pecos Bill Tale Tale Inn and Café
Pecos Bill Tall Tale Inn and Cafe is a great quick-service location in the Magic Kingdom. It's a rather large quick-service dining location and it is reasonably priced.
This quick Tex-Mex style option is in Frontierland and features menu items like a fajita platter, Southwestern salad, and a fantastic bacon cheeseburger. I usually go for the chicken rice bowl while my kids opt for the taco trio platter. Be sure to add some mini churros with chocolate dipping sauce to your mobile order here. It's a great dessert option at this quick-service location.
One of the best things about Pecos Bill is that they offer a great allergy-friendly menu option, so be sure to check it out if you have several members of your party with specific dietary needs.
Pinnochio Village Haus
Pinnochio Village Haus is a quick service option located right in the middle of Fantasyland, next to Small World and right outside of the Prince Charming Regal Carousel.
Many visitors can get a quick glance into the restaurant when boarding the boat at Small World, as the second floor of the restaurant looks out onto the loading area of Small World. These are the most popular tables in the restaurant!
Pinnochio Village Haus' full menu includes flatbreads, pizzas, and simple chicken strips. One of the most popular options in the choice of side options includes their tomato basil soup.
If you are looking for a quick service location that will appeal to most wanting a fast food option in the parks, it probably fits the bill. The restaurant is large and has both indoor and outdoor seating.
Be sure to take advantage of mobile orders at Pinnochio's Village Haus to cut down on your wait times. It can get quite crowded during lunch and dinner times, so consider dining either before noon or after 2 and before 5:30 PM or after 7:00 or so to avoid the biggest wait times.
Sleepy Hollow
If you find yourself craving a quick bite of sweet treats, stop by the little quick-service option called Sleepy Hollow. Sleepy Hollow is located right outside of Haunted Mansion in Liberty Square near the Hall of Presidents.
This quaint quick-service dining option has limited menus including the fresh fruit waffle sandwich, Mickey waffles, funnel cakes, and Joffrey's coffees. You can also grab a quick corn dog, turkey leg, or a sweet & spice chicken waffle sandwich (pictured above) during lunchtime.
Sleepy Hollow is in a little cottage near Cinderella's Castle, and it can be easy to miss. Don't be afraid to ask a cast member if you need a little help finding it.
Gaston's Tavern
Another great place to grab a delicious sweet treat in Magic Kingdom is Gaston's Tavern. This adorable quick-service location is tucked into Fantasyland, near the Be Our Guest restaurant. Gaston's features some delicious snacks, with the most popular being Gaston's warm cinnamon roll. This thing is as big as your head, so be sure to share it!
You can also find other snacks like the Pluto Dome Cake and a Ham and Provolone sandwich here. LeFou's Brew, another popular snack item, is housed at Gaston's. The brew is a mixture of icy apple juice with a little toasted marshmallow and passion-fruit mango foam.
Hours are generally limited from around 8:00 AM-3:00 PM, so be sure to check the My Disney Experience app for the most updated info.
Cosmic Ray's Starlight Café
Cosmic Ray's Starlight Cafe is such a fun counter-service option in Magic Kingdom. It is a bit of a cult classic, with plenty of guests returning year after year. The biggest draw for guests saying it is their favorite place is probably Sonny Eclipse, the figure who sits in the middle of the restaurant playing the Astro Organ. This Audio-Animatronics figure plays his show for about 25 minutes and is fun entertainment, especially for the kids in your party.
Video — Sonny Elipse

One of the biggest hits at Cosmic Ray's Starlight Cafe is the "toppings bar" for your burgers. The bar contains the standard items you would expect to find: mustard, mayo, ketchup, shredded lettuce, tomatoes, onions, relish, green peppers, cheese, and mushrooms. Our crew likes designing their own burgers and taking in Sonny's performance.
There is plenty of seating in Cosmic Ray's Starlight Cafe, making it a favorite on the list of the best quick-service restaurants. If you want a good quick option of sit-down restaurants in the parks for chicken nuggets or burgers, after a ride on Space Mountain or the People Mover, Cosmic Ray's may be the place for you.
The Lunching Pad
Also in Tomorrowland, in the People Mover area, you can grab a quick snack at the Lunching Pad. Here, you can find a limited menu featuring snacks like hot dogs, chicken strips, a Mickey pretzel, or a churro. If you need a quick snack after a ride on Buzz Lightyear, this might be the stop for you.
Tortuga Tavern
Tortuga Tavern is a quick service option located in Adventureland, close to Pirates of the Caribbean.
Open for lunch and dinner, you can find chicken strips, hot dogs, burgers, and peanut butter and banana sandwiches. Hours may be limited at Tortuga Tavern, so be sure to check your My Disney Experience account for their hours before you head that way.
Friar's Nook
The Friar's Nook is located in Fantasyland and is themed to the classic movie Robin Hood.
You can grab a quick breakfast, lunch, or dinner at this location. They're best known for the breakfast sandwich or sausage and gravy-covered tots for breakfast. Lunch and dinner include a Wild Toad Brat Burger, bacon and macaroni-covered tots, and a macaroni and cheese hot dog. If you have tater tot lovers in your party, this might be a good quick stop for them!
Main Street Bakery
If you have a Starbucks craving, the Main Street Bakery in the Magic Kingdom is the stop for you. Located right on Main Street, you can find your favorite Starbucks drinks, along with Disney treats like Mickey cupcakes, cookies, breakfast sandwiches, and a Mickey cinnamon roll.
Lines can get quite long in the mornings, but they generally move pretty quickly at the Main Street Bakery.
Golden Oak Outpost
Golden Oak Outpost is a Western-style quick snack stop located in Frontierland. Here, you can find lunch and dinner quick service options like Walt's Chili-Cheese fries, Pecos Pico Tenders (chicken tenders with sour cream, cheddar, and pico), and chocolate chunk cookies. This is a great quick stop when you need a pick-me-up before a ride on Splash Mountain.
Sunshine Tree Terrace
Sunshine Tree Terrace is a quick service option located in Adventureland. When you need a fantastic ice cream-like treat, you have to place a mobile order here!
The Citrus Swirl, vanilla soft serve with orange juice, is the real reason to visit Sunshine Tree Terrace. If you need a savory snack, try their delicious fried pot stickers.
Sunshine Tree Terrace can develop a little bit of a line in the afternoons, so be sure to take advantage of the My Disney Experience mobile option order on the app here.
I hope this post gives you some great ideas on the best counter-service options at Magic Kingdom. Another great tip is to do some research before you travel and make a list of what you want to try in the parks. Try reading lots of articles and checking out some videos on YouTube to find out what is most appealing to your family. This will help you make a good plan in the parks, as well as save on your budget for dining.
Today's guest author is Lauren from The Palmetto Mom. Lauren loves to write about traveling, teaching, and cooking for the family. She hopes to encourage other moms in their daily lives as they manage their households.
She especially loves to write about Disney World, as I also work as a travel planner specializing in Disney and Universal.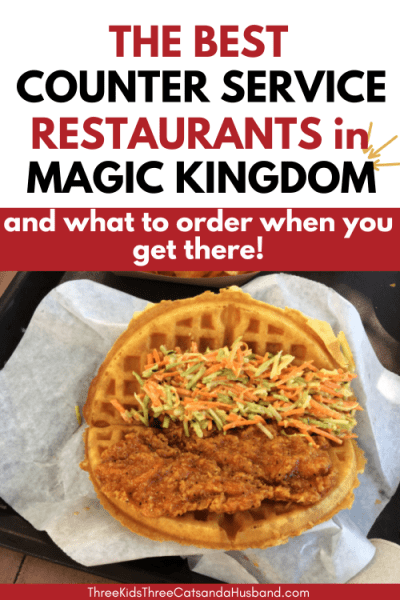 ---
---