Satu'li Canteen Review: Menu, Gluten Free Options, and Copycat Recipes
This post probably contains affiliate links. You can read the details about what that means here.
A few months ago I wrote a round-up post where I had various Disney bloggers vote on their favorite
quick service meals in Disney World
. While several different restaurants got a lot of love in that post, Animal Kingdom's Satu'li Canteen was one of the most popular choices. Since I've never eaten at Satu'li Canteen myself (and since I was "busy" hanging out at the beach in St. Augustine with my family last week),
I asked my buddy Nicole to write a guest post
reviewing Satu'li Canteen and sharing why she, too, considers it to be one of the best quick service restaurants.
************************
Hi there, guys!
My name is Nicole Graber from The Disney Journey
. Jen asked me if I could tell you all about one of
my favorite Quick Service restaurants in all of Disney World
. Satu'li Canteen reached favorite restaurant status because of the excellent food quality and the variety of options for
people with gluten sensitivities
like myself. Satu'li Canteen is a Quick Service restaurant located in the Pandora area of Animal Kingdom. The restaurant is open for lunch and dinner only, opening at 10:30am and staying open until park closing. Guests are able to use Disney mobile ordering through the My Disney Experience app, which can be a real time saver. Satu'li Canteen is an ideal place to grab an early lunch after a busy morning spent
enjoying rope drop at Animal Kingdom
.
Is Satu'li Canteen on the Dining Plan?
Yes. A meal at Satu'li Canteen uses
one quick service credit
if you are on the Disney Dining Plan. It also offers some snack credit options, including two desserts (which we'll talk about shortly) and several drink options. Unfortunately, there are no discounts for Annual Passholders or Disney Vacation Club members.
Restaurant Atmosphere and Theme
As with all other aspects of Pandora, the theming of the restaurant is top notch. The basic idea is that the facility is a former RDA mess hall that is now owned by Alpha Centauri Expeditions and allowed to embrace the Na'vi culture.
The building itself is quite large and fits a good number of tables. In addition to this, there is
substantial covered outdoor seating
as well. There are fans outside to cool you down in the hot weather, and heaters built into the ceiling that throw a surprising amount of heat in the cooler weather. Following Pandora's overall theme of environmental conservation, Satu'li Canteen:
Does not have lids for their cups
Uses paper straws
Uses real plates and flatware
While this is great in terms of conservation and keeping a smaller footprint, it has the secondary bonus of creating a dining experience that is a step up from "fast food".
Satu'li Canteen Menu
The food offerings at Satu'li Canteen are truly unique. You will not find another restaurant around that has similar food. The bonus of Satu'li Canteen being a newer restaurant is they seem to have planned the menu with food allergies in mind.
Create Your Own Bowl
The basic idea behind the majority of the menu options at Satu'li Canteen is to create your own bowl. As such,
you choose a protein, a base (i.e. potatoes, rice, etc.), and a sauce
. This allows you to personalize your bowl exactly how you want it, and also gives you a lot of different combinations to try out on all those return trips to Disney World you'll end up planning.
The type of protein that you pick will be the determining factor in the overall price of your meal.
You have a choice of beef, chicken, shrimp, tofu, and a beef and chicken combo bowl.
The combo bowl is the most expensive, with the chicken and tofu bringing up the rear as the cheapest options. The bases give you the opportunity to make vastly different meals. If you are a meat and potatoes type of person, you can try the red and sweet potato hash. For those who like salads, there is a hearty salad base. Rice lovers can gravitate towards the rice and beans. And finally, noodles round out the four base options. There are
3 different sauces
to choose from to top off the meal:
Charred green onion vinaigrette
Black bean vinaigrette
Creamy herb sauce
If sauce just isn't your thing, you can always opt to go without sauce as well. As you can see from these combinations, Satu'li Canteen offers up some of the healthier food options in any of the parks. Considering this a Quick Service restaurant, that is very impressive.
Satu'li Canteen Menu Changes
Once upon a time, there were other menu options, but those have since been removed. There used to be an entrée size version of the cheeseburger steam pods. Also, there was a shrimp and noodle bowl. While this second option is no longer directly stated on the menu, you can make your own version if it via the create your own bowl using shrimp as your protein and noodles as your base.
Satu'li Canteen Breakfast
At one point, Satu'li Canteen offered a scrumptious looking breakfast menu. However, this was pretty short lived, officially ending in September 2017, lasting only a few months. Let's face it, during breakfast hours, anyone who is in Pandora is trying to get on Flight of Passage, not eat breakfast. There were murmurings that breakfast would be offered seasonally, specifically during very busy times like Christmas and Easter. However, I have not seen any reports of this so am unable to verify whether or not this is true. Considering the lack of information, I'm guessing this never happened.
Satu'li Canteen Kids' Menu
The kids' menu is more varied than the adult menu, likely to accommodate the picky palates of most children. The kids are able to order kid size versions of the protein bowls if they so choose, but they also have the opportunity to have
cheeseburger steam pods, cheese quesadillas, and hot dogs wrapped in dough
. The more traditional meals come with
vegetable chips and grapes on the side
. The create your own bowls do not come with any other sides.
Satu'li Canteen Desserts
The menu at Satu'li Canteen is rounded out by a couple of dessert offerings, one of which is VERY Instagram friendly. The most popular dessert is the
Blueberry Cream Cheese Mousse
. This is perhaps the most colorful and prettiest dessert I have ever seen. However, if chocolate is more your thing, then look no further than the
Chocolate Cake
. This cake has a crunchy cookie layer with banana cream topping. But don't be fooled, this looks like no other chocolate cake you've ever seen.
Satu'li Canteen Allergy Menu
One of the things I like best about Satu'li Canteen is how easy they make it for people with food allergies to enjoy their delicious food. As soon as you enter the restaurant there is a cast member there to hand you the menu. Simply ask for an allergy friendly menu and they have them right there for you to peruse. The allergy menu for Satu'li Canteen is quite detailed for the top 8 food allergies. You will find a wide variety of options to choose from because of the different combinations you can make. I promise, you won't be disappointed.
✅Satu'li Canteen Gluten Free Menu
In terms of gluten free options for the entrees, all of the protein choices are available as an option, and
all the bases except noodles are gluten free
. From there you can choose from 2 of the sauces: creamy herb dressing or charred green onion vinaigrette. I'm not going to do all the math of exactly how many choices this gives us, but you choose from 4 proteins, 3 bases, and 2 sauces. For those of us who are gluten free, having this many options is a game changer.
The removal of the boba balls is the only thing necessary to make this combination bowl gluten free.
I have no idea what is in the boba balls that makes them a gluten risk, but I'm OK with the absence.
Satu'li Canteen Review
In the past year I have eaten at Satu'li Canteen 4 times over the course of 3 trips, so clearly, I'm a fan. On the 3
rd
trip to Satu'li I forced myself to get a slightly different bowl just for the sake of trying something else for blogging purposes, but then went right back to my usual by the 4
th
trip, because it's just that good.
Chopped Wood Grilled Chicken Bowl
The favorite combination for my family so far is the Chopped Wood Grilled Chicken bowl with red and sweet potato hash base with the creamy herb sauce. All of this is then topped with a slaw, and for those who can eat gluten, boba balls.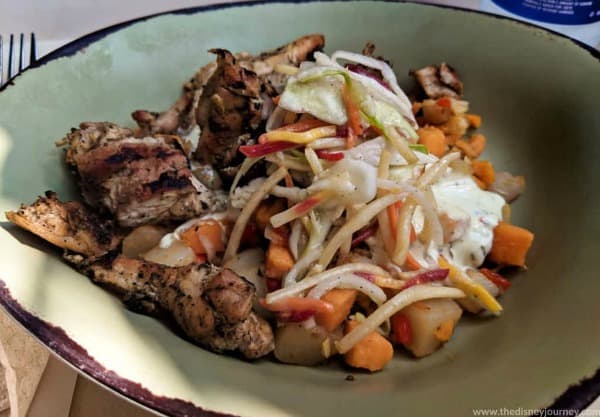 Between the Chicken and the Beef bowls, I prefer the chicken. I think the flavors of the base and sauce blend better with the chicken than with the beef.
Slow Roasted Sliced Grilled Beef Bowl
The quality of the beef is very good, nice and tender, not overcooked, which is always a risk when ordering beef from what is essentially a fast food restaurant. You can see from the picture that there is still a nice amount of redness to the meat, which is how I prefer my beef.
My only potential criticism for both the beef and chicken bowls, and I'm assuming all of the others, is regarding the quantity of the sauce that is put on the bowl. As someone who loves sauces and rarely seems to have enough, I found that they are very liberal with their sauce application. For me this is fine, though even I would say that it would probably taste better with just a little less sauce.
The flavor of the creamy herb sauce is great, but it is strong.
As a result, it can overpower some of the other awesome flavors in the dish. If you are someone who tends to like less sauce on things,
I would highly recommend that you ask for the sauce on the side
or specify that you only want a little.
"Teylu" All Beef Hot Dog Wrapped in Dough
Both of my kids chose to get the hot dogs wrapped in dough. They really enjoyed the hot dogs, even requesting to go back to Satu'li Canteen for lunch on our second Animal Kingdom day.
For kids, the presentation of the hot dog is pretty interesting and novel. The dough the hot dog is wrapped in is a nice golden brown, while remaining soft and fluffy. But whatever it was they liked about it, both of the kids ate the whole thing, so that's a win in my book. The chips that come with the hot dogs were also a nice touch instead of the standard French fries. They are made with a mix of potato varieties and are pretty darn tasty. Because I absolutely had to sample them, for the sake of blogging, of course!
Blueberry Cream Cheese Mousse
And finally, we reach perhaps one of the most unique and Instagram worthy foods around: The Blueberry Cream Cheese Mousse. Even though I couldn't eat this, I ordered it for my hubby and the kids simply because I wanted to take pictures of it and hear their opinions. They were totally on board with being the guinea pigs on this one. It appears that the only thing which makes this not gluten free is a thin layer of cake at the very bottom. This is a real bummer. If they had just left that part out, more people could enjoy it. So here it is! Feast your eyes upon the Blueberry Cream Cheese Mousse!
Pretty cool looking, right? So … did it taste as good as it looks? When I asked my husband how it was, he said he liked the passion fruit curd the best. Granted, both of us tend to like lemon curd, so this isn't surprising, but perhaps not a ringing endorsement for the dessert as a whole. In the end, it seems like
the Blueberry Cream Cheese Mousse was a decent dessert, but taste wise not one to go out of your way to get
. However, I would still suggest you get it, simply for the novelty of the dessert itself. Let's face it, it just looks cool.
Satu'li Canteen Copy Cat Recipes
Do you want to get a feel for what the food at Satu'li Canteen tastes like from the comfort of your own home? Here's a video I found that shows you how to make the grilled beef bowl. The recipe is Whole 30 compliant, paleo, low-carb,
and
gluten free!
Grilled Beef & Sweet Potato Bowl with Chimichurri Sauce
Final Thoughts on Satu'li Canteen
It's no surprise to you by now that I am clearly a fan of Satu'li Canteen and encourage everyone to give it a try. The pickiest eaters will no doubt be turned off by the rather unique choices here, but you might end up surprised by how much you like it. On top of the food just flat out tasting good, the portion size that you get with each bowl is huge. With the
prices coming in at around $13-$17 a bowl
, that makes Satu'li Canteen a good value for your money. The quality of the food and the sheer amount of it makes this a very filling meal, which is key in my world. And when you combine the value with the ease that Mobile Ordering offers, it's a win-win.
---
Nicole is a mom, a Disney lover, and a social worker all rolled into one. Her passions for planning Disney trips and helping people collided to create the blog, The Disney Journey. The goal of The Disney Journey is to help people plan the ultimate Disney vacation, without the stress and anxiety. Come
follow the Disney Journey on Facebook
to stay up to date on the latest happenings.
---
---