What to Wear to Disney World in the Summer (June, July, & August Tips)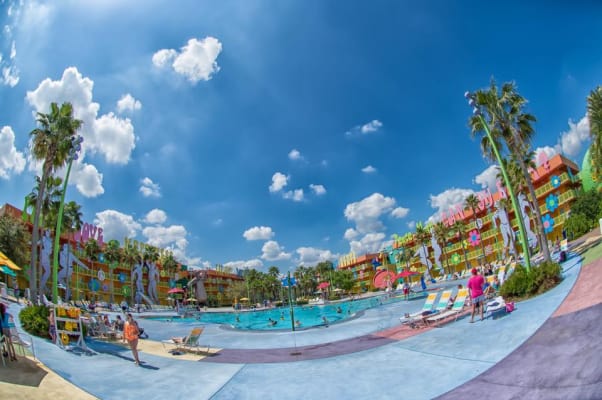 For years I said that I would never go to Disney World in the summer.
I mean, I actually said it out loud to people. It was one of those smug declarations people sometimes make when they believe they made a decision based on their superior wisdom and knowledge, and they want to announce this Grand Decision to other people.
But then I got a new teaching job that was going to start in a few weeks, and was not going to have the week-long September break that my old teaching job had.
And my daughter suddenly told me that she really really wanted to go back to Disney World again, and I thought, "Well, it's either now or go during Christmas break, which I really really will never do [no, I really mean it this time!], or wait a really long time, so … okay, let's suck it up and make a short trip in July."
And it was … okay. I definitely preferred our September and November trip and early December trips, but it wasn't unbearable.
In this post you're going to learn about what the summer weather is like in Disney World, good clothing clothes for the summer months, and why you need to pack multiples of certain clothing items.
You'll also learn about how to structure your day, and some nifty accessories that can make you more comfortable at the parks. And frankly, these two things are probably more important than whether you wear this pair of shorts versus that pair of shorts versus capris.
What the Weather Like at Disney World in the Summer?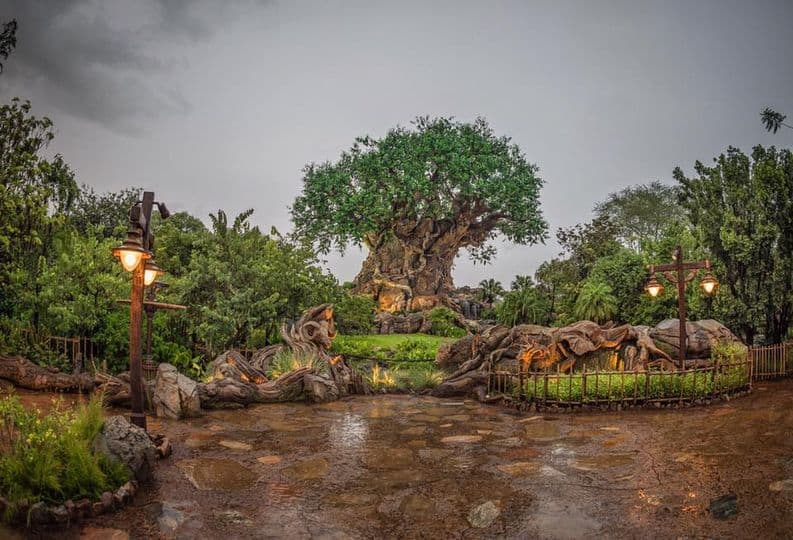 There are two main issues with Florida weather in June, July, and August:
Rain
Oppressive heat and humidity
1) Rain
The rainy season in Orlando is from June through September.
Rainy season in Orlando runs from June through September.
If your Disney trip is during the summer, you're almost certainly going to get rain, possibly every day, very likely with thunder.
And this is good news … in a way … because you're going to get so hot that you might welcome some rain.
However, you might not be in the mood to suddenly get drenched — and yes, it can be very sudden. Make sure you have some rain jackets or ponchos.
Also, it may sound weird, but some people (I am not one of them) bring travel umbrellas to Disney World.
2) Oppressive heat
Just to give you an idea of what I mean by "heat," the average high temperature in July is 90 degrees and the average low is 75 degrees.
And the problem isn't even just the discomfort of the heat — although that is definitely a problem — but also the need for sun protection.
So for example, it may sound like a great idea to wear a tank top so you can stay cool. But then if you're not careful, the sun will fry your neck and shoulders (especially if your skin is anything like mine).
Some clothes and accessories in this post will address both these issues.
Proper Planning is More Important that What You Wear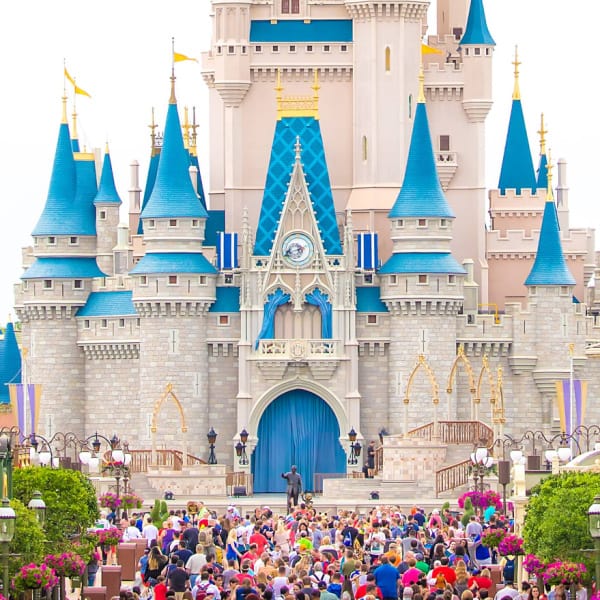 Well, only to some extent. Obviously I'm not saying that you should wear jeans and a hoodie to Disney World in July and things will go great if you planned your day well.
But specific clothing choices — like whether you this shirt or that shirt — are probably not terrible important as long as you're dressed for hot, humid weather (and prepared for some rain).
And how you plan your day will make a big difference.
During the summer months, it's super important that during the middle of the day you're either:
Inside or
In water, like a pool or water ride (with plenty of sun protection)
The middle of the day, when the heat is bad that it's literally dangerous, is a great time to go resort hopping, take a nap at your hotel, or visit some air-conditioned attractions. (I've heard some people say one of their favorite parts of their trip was riding the WEDWay Tomorrowland Transit Authority People Mover on repeat for a while.)
So if your family can stand it, get to the parks before rope drop, and get in all the outdoor and long line rides before both the crowds and heat get really bad.
Also, make stay you stay hydrated, ideally with water. The caffeine, sodium, and sugar in soda all contribute to dehydration
I know that drinking plain old boring water can be a bummer, especially when you're on vacation. Gatorade isn't a bad idea (although I wouldn't recommend drinking tons of it), or you can try adding something like this.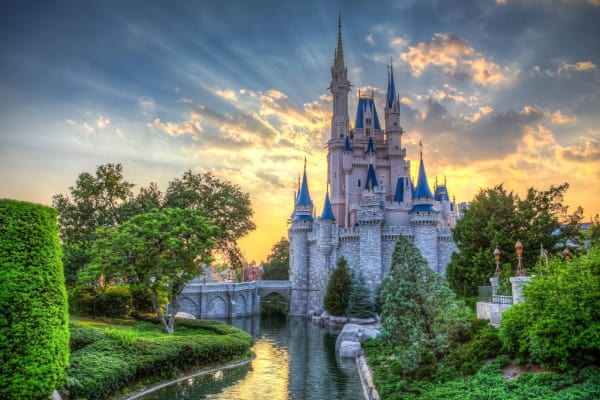 Bring Extra Clothes
I highly recommend that you pack two outfits per person per day (including underwear). Your clothes are either going to get rained on and/or get noticeably sweaty by the middle of the day,
If you need to, you can always do laundry during your trip.
What NOT to Wear to Disney World in the Summer
Before we dive into some smart options for what to wear, here are a few things you shouldn't (or can't) wear:
Costumes, unless you're under the age of 13. (That's not a personal judgement on my part; it's the rule.)
Crop tops (it's possible they won't let in
Jeans (too hot and cumbersome)
Strapless tops (who needs one more thing to worry about when you're on a roller coaster)
Maxi dresses (years ago I used to wear these to the parks, but they're not a good choice for the summer, unless you're just going to dinner)
High heels (do I really need to explain this one?)
Makeup (Well, I guess this is a personal preference. I do like to wear lipstick if I'm going to have my picture taken, and I do wear a little makeup if we're heading to dinner from our hotel.

But I wouldn't recommend spending time or energy worrying about makeup at the parks, especially foundation that will sweat off or eye makeup that's will smear or run.)
Clothes to Wear to Disney World in the Summer
Here are several options, with some added specifics, about what to wear to Disney World in the summer.
Dresses
It may sound counter-intuitive get dressed up so you walk for miles outside in the heat. But depending on the dress and your personal preference, a dress can be a nice, cool option that makes you feel cute and looks great for photos.
Make sure that you wear something like this under your dress for extra comfort and better coverage.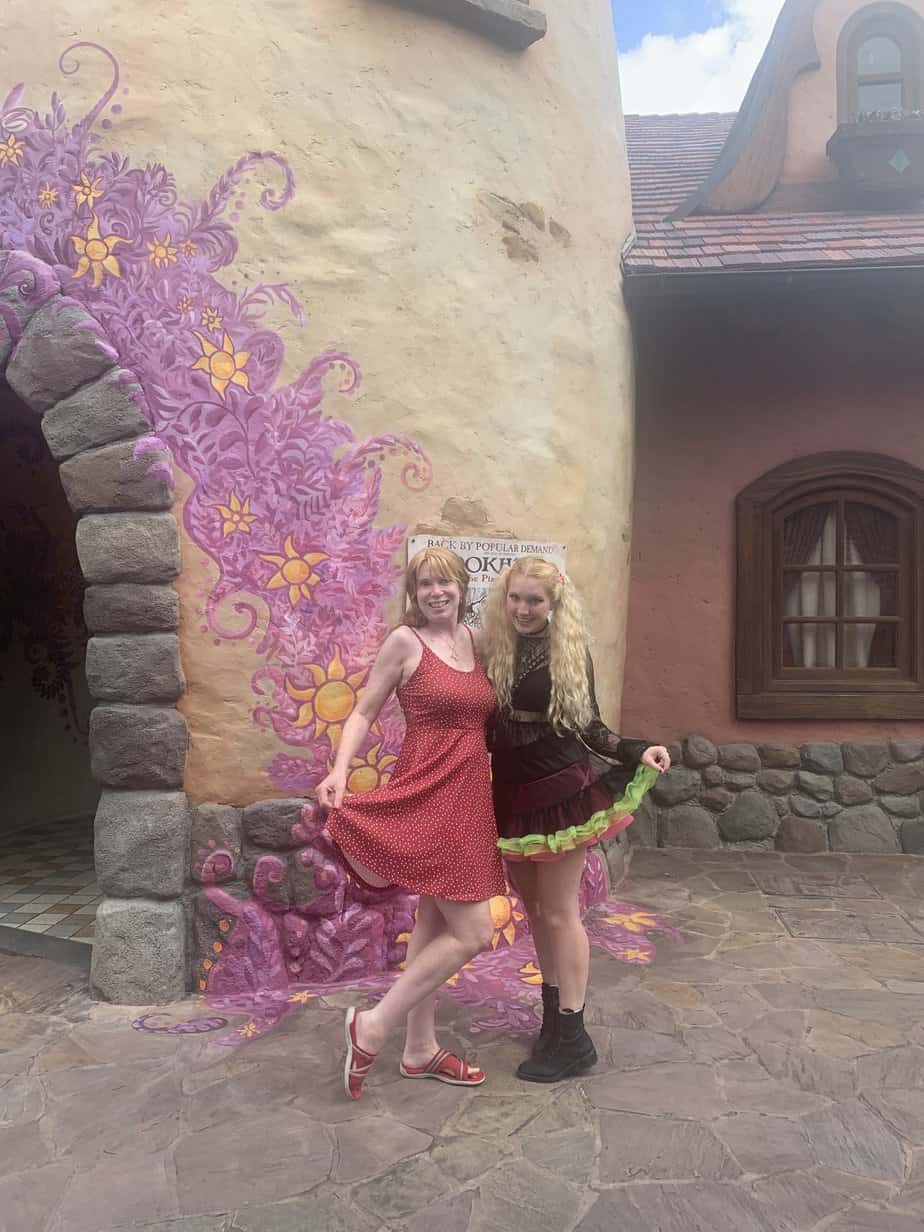 Another option (although I've never done it) is to wear an athletic dress like this one.
Shorts
Shorts seem like an obvious choice, because they're cool and non-constrictive. And they are a very very good choice.
But. Some people don't like shorts. At all. Ever.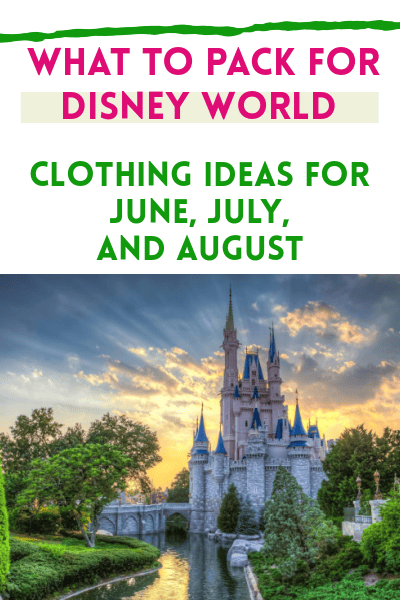 Athletic Skorts
I don't wear skorts because I never feel like they look right on me. (I think I'm too much of an apple shape.)
However, I do think skorts look awfully cute on other women.
These skorts have some great colors and a real convenient side pocket to slide your phone into.
Shirts
My husband loves basic moisture wicking t-shirts like these.
Here are some really cute Disney-themed sleeveless shirts for girls.
I would suggest wearing whatever shirts you normally feel comfortable wearing in the summer, and staying away from dark colors.
Disney Men's Mickey Mouse T-Shirt
Disney Goofy Washout T-Shirt for Men
Custom Retro Disney Family Shirts
Mickey Mouse and Friends T-Shirt
Swimwear
Here's a tip you may not know — pack at least two bathing suits per person so you always have a dry one to put on.
Also, I never swim without a rash guard shirt over my bathing suit. It's so nice to not have to worry about getting sunscreen on my back, chest, and shoulders. (Not to mention that it will just wash off in about ten minutes anyway.)
Don't forget to bring rash guards for your kids too!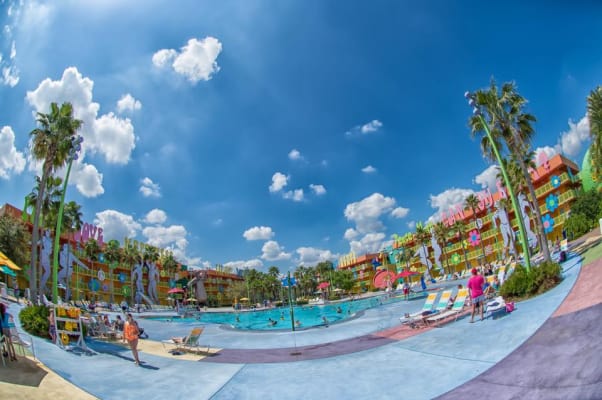 Long Sleeved Shirt
This is optional, and may sound crazy, but if you are someone who gets uncomfortably chilly, you might want to have a lightweight long-sleeved shirt like this that you can throw on if you need to.
Also, if you are very sun sensitive, it wouldn't be too crazy to bring at least one SPF 50 long-sleeved t-shirt that are specially designed for outdoor activities in the sun
Accessories to Wear in the Summer
Here are a couple things you should wear in the summer that aren't exactly clothes:
Cooling Towels
If you're not familiar with cooling towels, they are cloths that — after you soak them, then wring them out — use evaporation to transfer heat away from your body into the air. (Sorry, I don't really understand the science behind it.)
I know they sound kind of gimmicky, but they really do make a difference. We also like their side benefit of protecting your heck and shoulders from the sun.
Portable Neck Fans
My husband discovered bladeless battery-operated fans a year or two ago, and he instantly became a big, uh … fan of them. (Which isn't surprising, since they're basically a high-tech version of a cooling towel.)
Hair Ties or Scrunchies
There's nothing worse than wishing you could get your long, sweaty hair off your hot and sweaty shoulders, but having nothing to tie your hair up with.
If you want to be really cute, you can wear these Minnie Mouse hair scrunchies.
Shoes
You want at least one pair of comfortable, supportive shoes, no matter what time of year it is.
A good pair of sandals iike these will keep your feet happy and also hold up well during the inevitable summer downpour that you'll experience.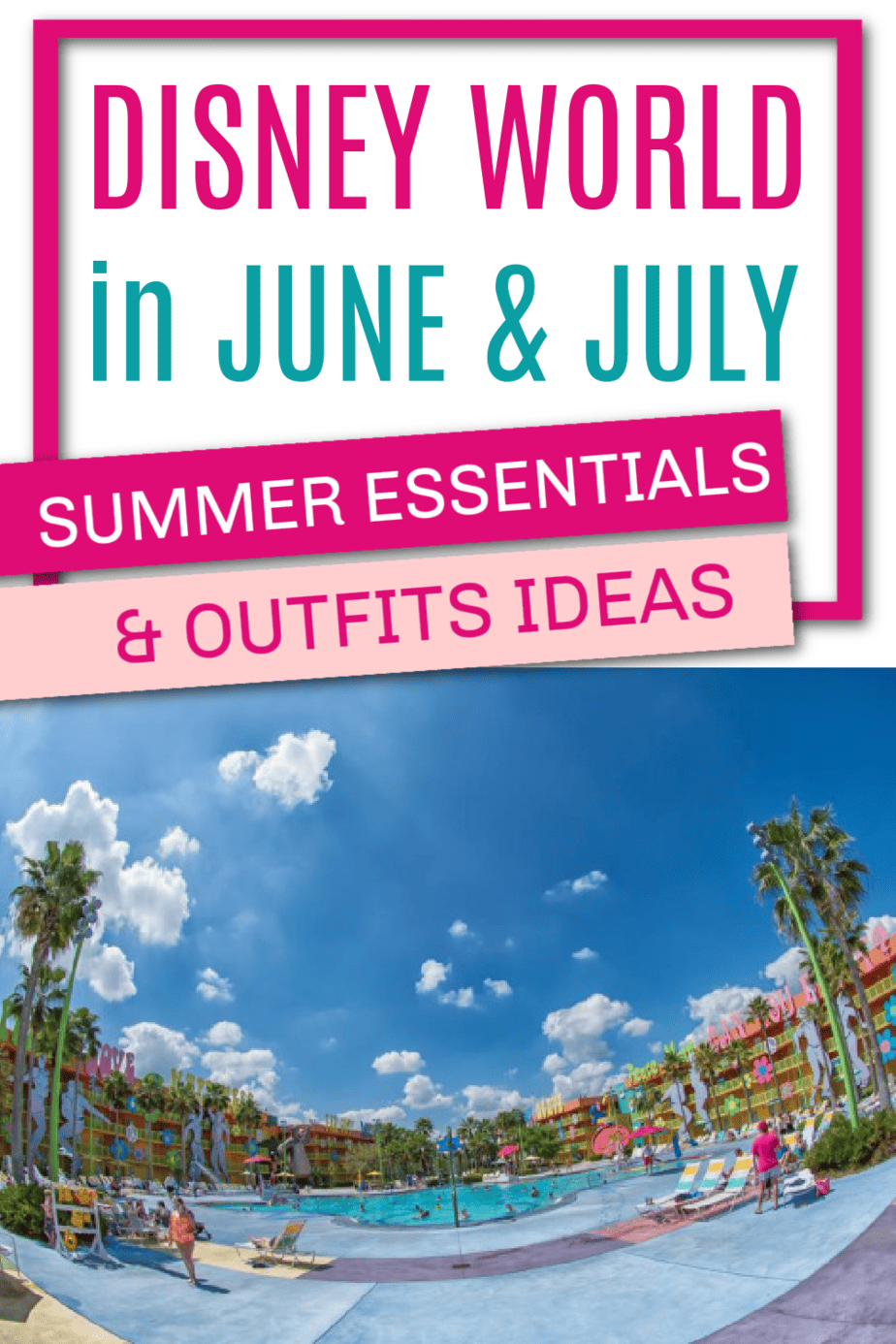 Socks
You might already know that I'm pretty anti-sock at Disney World. (Although, somewhat ironically, I wear these to bed every night, no matter where I am or what season it is.)
To me, socks are just one more thing to worry about, and there's too big a chance (100%) of them getting wet somehow, which is not only yucky, but makes blisters more likely.
If you do choose to wear socks to the parks (and plenty of people do), I would highly recommend:
If you have either circulatory issues or leg pain when you stand or walk for a long time, you might want to consider wearing compression socks for at least part of the trip.
And while I've never tried these myself, some love people love toe socks because they keep your toes from:
Getting sweaty
Rubbing together (and therefore causing blisters
Hats and Sunglasses
You need at least one of these, preferably both.
Mickey & Minnie Hats Baseball Caps
Mickey Mouse Toddler Bucket Hats
Mickey Mouse Comics Baseball Cap
Women's Minnie Mouse Visor with 3D Ears
ilo and Stitch Adjustable Baseball Hat
Cars Kids Sunglasses
What do you wear to Disney World in the summer?
Now it's your turn.
What is your favorite type of clothing to wear to the parks when it's super hot? Do you use either neck fans or cooling towels? What's your best piece of advice for a summer trip?
Let us know below in the comments!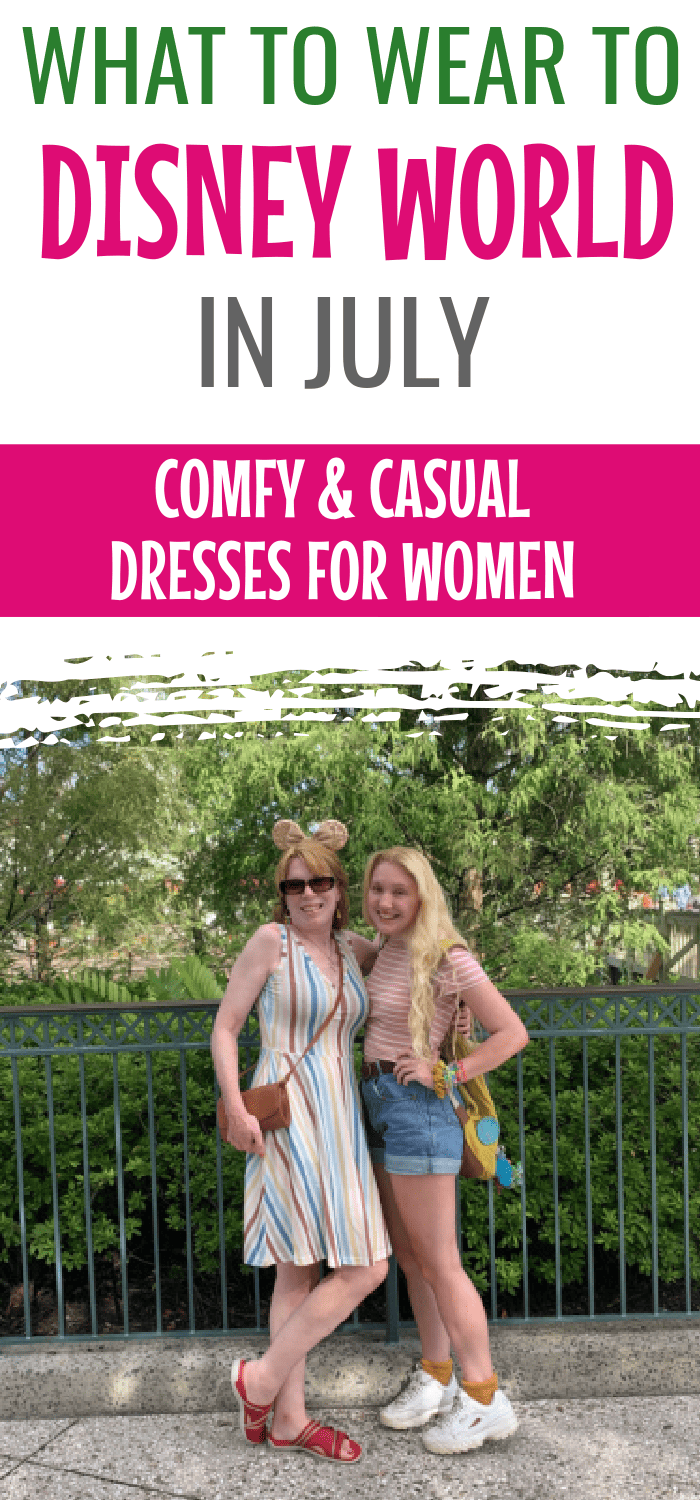 ---
---