7 Ways to Stay Cool at Disney World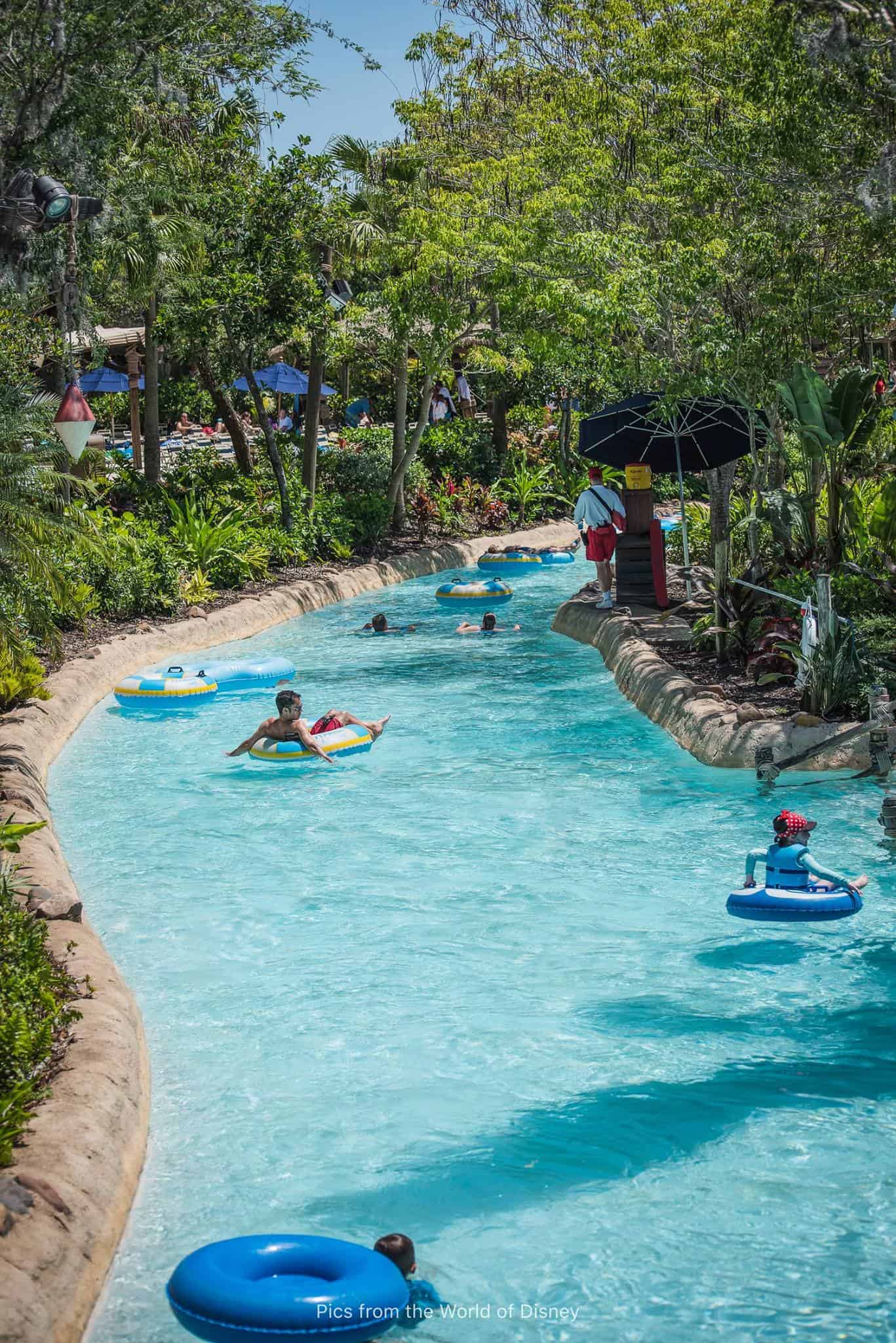 Staying cool — and keeping your kids cool — is at upmost importance during your Disney, not only for your comfort and sanity, but also for you and your family's health and well-being. Here at 7 ways to heat the heat and not let the Florida sun ruin your vacation.
1. Don't Go to Disney World in the Summer.
Yeah, I know. some of you are rolling your eyes at me right now. I don't say this to be snarky, but to make sure you re-think the obvious first.
If you haven't already scheduled your trip yet, is there any other time that could work for your family? Personally, I would do anything in my power to avoid going to Disney World in June, July, or August — not just because of the heat, but also because the crowds are usually worse during those times. I remember literally dripping sweat the last week in September as I stood near the entrance of Epcot with my girls waiting to get Daisy Duck's autograph and thinking, "If it's this hot now, I can't imagine what it must be like in July."
Having said that, I know a lot of families don't have the luxury to consider non-summer vacation times. And heat is almost guaranteed to be at least somewhat of an issue no matter when you go. So let's move on to:
2. Wear Oool Clothes
What you wear to Disney World can make a huge difference.
My husband swears by these shirts.
Green Moisture Wicking Short Sleeve T-Shirt-
Men's Short Sleeve Moisture Wicking Athletic T-Shirt
Men's Short Sleeve Moisture Wicking Athletic T-Shirt, Red
Over the years, I've discovered that I like wearing dresses in the Disney parks. They are cooler than shorts — certainly cooler than denim shorts — allow for more air flow, and I feel prettier in them. That may sound silly, but hey, if I'm going to have my picture taken all day long, I don't want to be wearing something that I feel dumpy in.
Find a cotton sundress, dress it up with some cute Disney accessories, and you've got a cute, comfortable outfit for the day!
Women's Sleeveless Knee Length Flared Tank Dress
Summer Floral Midi Dresses
Women's Sleeveless Casual Swing Flowy Sundresses
Women's Summer Casual Sleeveless Floral Printed Swing Dress with Pockets
Casual Sleeveless Mini Printed Vest Dress
Casual Plain Short Sleeve Simple T-Shirt Dress
Cold Shoulder with Pockets Casual Swing T-Shirt Dress
Another reason why I prefer dresses is that they go nicely with sandals. To me, sandals are a better choice to shoes because they breathe easier, are less prone to cause chafing, and you don't have to worry about your socks getting sweaty or soggy.
These are the sandals I've worn on my last three Disney trips, but I would also recommend any of the ones below:
Skechers Performance Go Walk Pizazz Flip Flop
Nike Womens Ultra Celso Thong
Teva Women's Original Universal Premier-Leather Sanda
KEEN Women's Whisper Sandal
3. Find the Best Places to Cool Off in Each Park.
Fortunately, there are plenty of opportunities to get wet at the Disney parks. Some involve you getting wet (sometimes very wet), while others are just a nice place to sit in an air conditioned building.
Best Places to Cool Off in the Magic Kingdom
WedWay Tomorrowland Transit Authority PeopleMover — Take a relaxing tour through Tomorrowland. It's almost guaranteed there won't be a line, and if you want, you can ask the Cast Member if you can stay on and ride it a second (or third) time.
Mickey's PhilharMagic — A 3D film starring Donald Duck and featuring songs from some of your favorite Disney movies.
Casey Jr. Splash 'N' Soak Station — This is a circus-themed water play area in Fantasyland, next to Pete's Silly Sideshow. You might want to be prepared by having bathing suits and/or extra clothes for the kids in your Disney backpack, because your kids might, in fact, get soaked. Restrooms are conveniently located nearby.
Splash Mountain — If our family had to vote on our favorite ride in Magic Kingdom, I think this would be the winner. It's fun, it's peaceful, and the drop at the end gives you a great view of the park and is exciting without being terrifying. You may get a little wet … or a lot wet!
Totem Poles in Adventureland — My kids had a great time playing at these one year, and even made a couple friends. Another plus is that it's right by Aloha Isle, so you pick up a Dole Whip or Dole Whip Float, which I highly recommend.
Best Places to Cool Off in Epcot
Club Cool — This is a must if you have a soda fan in your family. It's an air-conditioned kiosk in Future World that has unlimited samples of Coca-Cola products from different countries.
Epcot Splash Pad — An oval splash pad on the main path from Future World to the World Showcase that has both leap frog and vertical fountains. It's likely your kids will get drenched, so again, be prepared with extra clothes. (If you need plastic bags for your wet things, just stop inside a souvenir shop and ask for a large plastic Walt Disney World Resort Bag.
The Land Pavilion — Spend some time indoors, ride Living with the Land and Soarin'. If you're hungry, grab a meal or snack at Sunshine Seasons, which has a great selection to choose from.
Best Places to Cool Off in Animal Kingdom
Kali River Rapids — The line for this can be long, but if you have an afternoon Fastpass, it's a great way to cool off. Warning: depending on your luck, you may get absolutely drenched on this ride. Some people like to ride it wearing rain ponchos.
Festival of the Lion King — Located in Africa, this 30-minute, Broadway-style show is filled with songs, acrobatics, and puppetry.
Finding Nemo: The Musical — A 40-minute musical featuring original songs, vibrantly-colored puppets, and underwater special effects
Best Places to Cool Off in Hollywood Studios
Toy Story Mania — Once Rob and Rebecca were in Hollywood Studios together and ducked in here and got on line, having no idea what it even was, just to escape the heat. The queue is indoors, attractive, and entertaining, and the actually attraction (a 4D arcade game starring Toy Story characters) is really fun too.
For the First Time in Forever: A Frozen Sing-Along Celebration — A 30 minutes karaoke-style performance of songs from Frozen in an indoor theater. If you want to get a chance to catch paper "snow," be sure to sit near the front. Also, be aware that this is not a meet and greet.
Voyage of the Little Mermaid — A 15-minute musical using live action, puppets, and movie clips.
4. Bring Frogg Togg Cooling Towels (yes, they really work!)
I discovered Frogg Togg Chilly Pad Cooling Towels two Disney trips ago, and now I would never go without one.
I like how, in addition to keeping me cool, the towel also gives me added sun protection for my neck, shoulders, upper back, and arms. (My Irish/Polish redheaded self needs all the help it can get.)
I don't quite understand the physics of it, but the way the towel works is that you wet and then squeeze it out. It somehow stays dry to the touch, but as it evaporates, it gives off a cooling effect. Once it's fully evaporated and doesn't feel cool anymore, you simply head to a nearby bathroom or water fountain and wet it again.
Click here to watch a video about how the Frogg Togg Chilly Pads work.
On our last Disney trip, we only had two cooling towels and Rob decided to buy another on when we were at Animal Kingdom. It was a different brand, by Coolcore, and Rob said it definitely didn't get as cool as the Frogg Togg towel did.
5. Drink Plenty of Water
Drinking water is really important at all times, but especially when you're outside in the heat. If you haven't already heard, you can get a free cup of ice water at any counter service restaurant. I personally prefer to take advantage of that rather than lug around water bottles for everybody, but the younger your kids are, and the the more of them you have, the less I would rely on that being your only means of having drinking water.
Try to stay away from caffeine and alcohol, which both have dehydrating effects. And sad as it is, sugar doesn't do you any favors when you're trying to stay hydrated, either. Water, water, water.
O2COOL Classic Mist 'N Sip with Classic Top 20 oz., Grey
6. Visit the Pools and Water Parks
Visiting the hotel pool has always been an important part of our Disney trips, whether we were staying on or off Disney property. It's relaxing, the kids love it, and it's a nice change of pace from being in a hot theme park. And if you're lucky enough to be staying at a Disney resort, you're in for a real treat.
One of the best ways to beat the Florida heat is to have a smart schedule: Hit the park before rope drop, go back to your hotel for a nap and swim in the afternoon, and then head back to the park in the evening.
There's also the option to spend the day at one of Disney's two water parks, Blizzard Beach or Typhoon Lagoon.
We've never been to either water park (our vacations have never seemed long enough to fit it in!) but the general consensus seems to be that Blizzard Beach is little better for kids and more fast-paced, while Typhoon Lagoon has a better wave pool and more shaded areas.
Not sure which one to go to? If you're using Disney transportation, just hop one whichever bus arrives first!
7. Bring a Misting Fan
We've never used one of these, but for a few bucks, it seems worth getting one to tuck into your Disney park bag if you're going during the summer. If nothing else, it'll give you something to distract you with a little while you're waiting in line.
I've seen some people report being very happy with the O2COOL Carabiner Misting Fan, which is also available at Wal-Mart.
BUT I've also read some blog posts saying that it's worth it to pay double to get the Disney Squeeze Breeze, the hand held pans that they sell at the parks. They claim that the O2COOL is a piece of junk and that they Squeeze Breeze, with the Disney characters on it, makes a nice souvenir.
If you're like me and kind of obsessive about reading reviews before making a buying decision (or you just find it somewhat entertaining), you can check out the reviews for the O2COOL or read this discussion about various misting fan on DISBoards.
Now it's your turn!
So what about you? Do you have a favorite gadget or piece of clothing that keeps you and your family cool? Do you have a "spot" where you like to duck into when the heat is getting you down? Which water park do you prefer, Blizzard Beach or Typhoon Lagoon? Let us know below in the comments!
---
---