Best Shoes to Wear to Disney World: Sandals, Sneakers, and Flip-Flops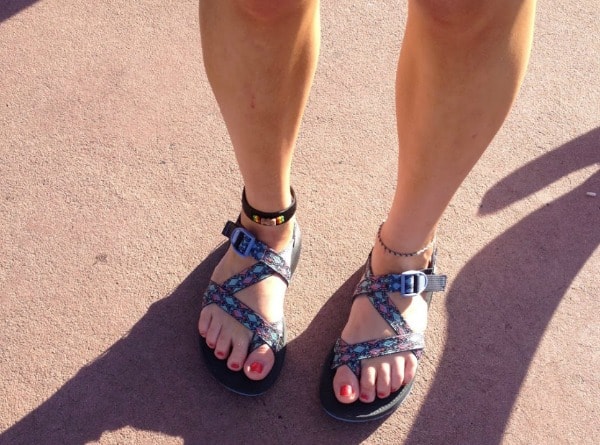 This post probably contains affiliate links. You can read the details about what that means here.
Did you know that the average distance walked at Disney World is ten miles a day!?!
That's a lot of walking, and if you're not prepared with the right shoes — comfortable walking shoes that are high quality and have great arch support — then you're probably going to have sore, tired feet at the end of a full, hot day.
In this post you'll learn about the best footwear for Florida theme parks — for men, women, and kids.
Because you don't want to leave the Disney theme parks a minute earlier than you have to — OR spend any part of your magical vacation being in pain.
Can you Wear Flip Flops to Disney World?
Let's start off by discussing the best women's walking shoes for Disney World. A lot of first-timers ask whether there is an "closed-toe policy" regarding shoes at the Disney Parks.The answer is no — there is no closed-toe shoe policy. Open-toe shoes, like flip-flops, are just fine.
The only shoe restriction at Disney World is that you can't roll around on skate shoes.
The only time flip-flops will be an "issue" (if you can even call it that) is at the ride Saorin' at Epcot. Since your feet "dangle" during that ride, it's a good idea to take your flip-flops off and store them in a pouch under your seat beforehand.
Of course, no way do you want to wear the same thin, cheap flip-flops that you wear to the beach. But there are some flip-flops out there that are perfect for a day of walking around the Disney Parks:
Sanuk Women's Yoga Sling 2 Flip Flop,Gray
Sanuk Women's Yoga Sling 2 Flip-Flop, Opal
Sanuk Women's Yoga Sling 2 Prints Flip Flop, the Ranch Aqua
Nike Women's Comfort Thong Black/Vivid Pink/White Sandal
SKECHERS Performance Womens Go Walk Flip Flop
Sanuk Women's Yoga Sling 2
The Most Popular Shoe Among Readers


Check Price on Amazon
One reviewer calls these "a dream to walk in!"
The Sanuk Women's Yoga Sling 2 Flip-Flops have a yoga mat material for a footbed and cloth straps. They come in over 20 different colors and are odor-resistant and machine machine-washable.
Amazon reviewer Scano the Mano, who suffers from Plantar Fasciitis, happily reports:
These sandals are perfect! They look dressy enough to wear with a nice summery dress out to dinner, and yet not so stuffy that I couldn't throw on a pair of short and a t-shirt and head out to the park. They are a DREAM to walk in!!!

The "strap" material is stretchy enough to accommodate moving around and walking, and yet supportive enough to feel like these shoes won't fall off.
I really wanted the Sanuk Yoga Sling to work for me, because I think they're the most stylish shoes on this list and people rave about them.
I tried on several pairs before my last Disney trip, but they just did not feel good to me. I guess I'm weird, but my toes just cannot handle having a little thing between them.
Sketchers Go Walk Pizazz Flip-Flop

Skechers Go Walk Pizazz Flip-Flop

The Skechers Go Walk Pizazz is "sporty flip-flop" featuring a textured rubber sole footbed and printed straps.
Amazon reviewer Xendula explains why the Skechers are perfect for her feet:
I have naturally splaying toes, and most women's flipflops are too narrow and my feet hang over the sides.

[Skechers Go Walk Pizazz] are shaped like normal feet, yet the band at the top is not so loose that you have the claw onto the shoe with your toes to keep them on while walking.

They are so comfortable! The fabric between the toes is very soft and does not cause any irritation, the insole is made out of a foamy material that keeps your foot in even if you sweat, and the arch support is not crazy (sometimes I have trouble with exaggerated arch support which I do not want – arches are supposed to support themselves, thank you very much).
Vionic Women's Toepost Sandal
I was surprised to see these suggested as a good shoe for Disney because they look too … dressy to be walking around outside in them.
But yes, in addition to having 30 beautiful designs, the Vionic really is a supportive walking shoe.
Amazon reviewer Nana calls them "comfortable and durable":
This is my fifth pair of these over 3 years. I wear these as my daily walking shoes. Replaced tennis shoes.

I had originally bought a pair after reading positive reviews and decided to give them a try. I had foot pain and plantar fasciitis. I have a high arch. These shoes are so comfortable. I've had no foot problems since. Wear them at Disney, MK walking 10 miles plus and my feet are happy at the end of the day.

I'm 60 and get asked all the time how can you power walk in those (hilly terrain) and I say they're Vionics. I can't say enough about how great these shoes are, firm arch support and cute too.
✅ The Best Cute Comfortable Sandals for Disney World
Ever since I was kid, I've never liked flip-flops because having something between my toes like that drives me crazy. (Weird, I know.) Like I mentioned above, I tried on the Sanuk Yoga Sling in the hopes that I had outgrown that … but alas, my toes still complained.
However, I do love regular sandals, with no toe-thingy.
These sandals have been my go-to shoe for our last two Disney World trips, and they were amazingly comfortable. They're not amazingly cute, but they're okay.
I prefer wearing sandals because they're:
Lightweight
Quick-drying
Roomy — this may sound strange, but standing and walking for long periods of time can cause your feet to swell, which can cause blisters if your feet don't have plenty of room. (I'll talk more blister prevention later in this post.)
Cute! I like to wear sundresses to the Disney parks, and obviously sandals work with a dress better than sneakers would.
When choosing a sandal for a Disney trip, make sure they have plenty of cushioning and a bit of lift to give your feet the great support that they they'll need. In addition, make sure they have traction on the bottom so you don't slip when you're walking on a wet area of concrete.
Here are some comfy and mostly-cute sandals that fit the bill:
Merrell Women's Terran Slide II Sandal, Taupe
Merrell Women's Terran Slide II Sandal, Sleet,
Chaco Women's Zcloud 2 Sport Sandal, Trace Eclipse
KEEN Women's Clearwater CNX Sandal
Teva Women's W Original Universal Sandal, Boomerang White/Grey
Teva Sandals for Women
The Teva Women's Sandal has a synthetic sole and durabrasion rubber outsole, plus a hook and loop closure and universal strapping system. I like how they have a kind of "Bohemian" look to them, and I particularly like the Coral Sand design.
Amazon Reviewer Helena P. says that "she never knew she could love a shoe so deeply":
I'll just say this: I'm NEVER going to buy another brand of outdoor sandal.

These are so simple, and the lack of random extra straps (looking at you, Chaco) definitely contributes to their comfiness. I love the way they look, I love the way they feel, and I love how durable they seem to be. I've only had them for a few weeks but have definitely gotten some mileage out of them already, and they still look brand new.
Keen Women's Whisper Sandal
I've heard sooo many great things about Keen that I'm seriously considering getting a pair for myself. My only hesitation is that they are little more "sporty-looking" for my usual look.
If you tend to be an outdoorsy type, this would be a great shoe for you. Reviewers raved about how it was great for river rafting, rappelling, and hiking on rugged terrain.
You'll see more Keen below when we talk about mens' and kids' shoes.
Chaco Women's ZX2 Classic Athletic Sandal

Chaco Women's ZX2 Classic Athletic Sandal

I didn't know what Chacos until one of my daughters informed me that she "needed Chacos" before our last Disney trip. (That's her feet in the photo at the top of this post.)
When I saw them, I thought they were awfully cute, but was worried that all those straps could cause a lot of chafing. She said it wasn't a problem, but we both rubbed Body Glide on our feet every morning before heading to the parks, which helped. (More about Body Glide later in this post.)
The Chaco Women's Athletic Sandal comes in a ton of colors with earthy, hippie names like "Cutgrass," "Bars Orchid," and "Light Beam." They have 100% polyester jacquard webbing and a rubber sole.
The Classic Z Sandal "was built for class 5 whitewater and great for every adventure," so it's a good shoe for people who like to go rafting, hiking, and camping when they're not at Disney World.
It takes some time to get all the straps adjusted and buckled, but most reviewers did not consider this to be a big problem.
Amazon reviewer Mom2Kea said Chacos were great for people with Plantar Fascitis:
I waited to write a review for these until after I got a chance to really wear them. I have suffered from nagging plantar faciitis for over a year now. I am constantly looking for the "Perfect" shoe that will support my foot all day.

I live in Florida and wear sandals year round. I also have ceramic tile throughout my entire home. Shoes need to not only be supportive, but also shock absorbing because of the tile. (which is why I don't care for my Birkinstocks, despite the support)

After reading about Chacos on a few websites, I decided to order a pair. One feature I liked about them is that they have support in the ankle. With plantar fasciitis, it is very important to keep the ankle supported to avoid it rolling and continuing to re-injure the site of damage. These fit every requirement! They are extremely supportive, shock absorbing, and I can wear them all day long. We are Disney pass holders and I look forward to wearing them on a 10 hour day at Epcot.

They are also cute, I have even received random compliments. They don't look like orthotic shoes.

I give them 4 instead of 5 stars only because where the straps meet the footbed near the ankle they bother me a little. They don't rub, but I can feel it there. I think this has more to do with the fact that that is where my swelling is worst on my foot from the plantar faciitis, and if it wasn't swollen I probably wouldn't notice.

It took me a while to get them adjusted right. I highly recommend going on Youtube. there are some great videos that do a much better job at explaining it than the piece of paper they came with …
Merrell Women's Terran Slide II Sandal
The Shoes I Wear to Disney World


Check Price on Amazon
I've tried other shoes in this post, but always come back to these
I saved my personal favorite shoes for last.
I've been through 2 pairs and 3 Disney trips with these. They have a rubber sole, Nubuck leather upper, and an air cushion in heel.
One thing I like about these sandals is that they're easy to kick on and off. When I'm not at Disney World, I also use them for pool or beach shoes, or for quickly throwing shoes on to run a quick errand or to run out and get the mail.
What I don't like about them is that they aren't the cutest, more stylist shoe around. They do come in 10 different colors, mostly neutrals like taupe, black, and olive.
By the way, these don't come in half sizes. I normally wear a 9 1/2, and I got a size 10, which worked well for me.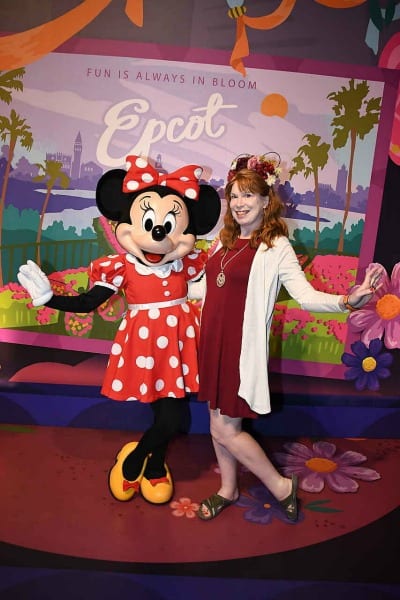 Amazon reviewer Carrie B. says "you don't even know you're wearing them":
Merrell slides and shoes are the best. Since developing plantar fasciitis many years ago, these shoes are the only ones that keep it from returning because of the arch support. Going barefoot is not an option for me.

These are my house shoes, my slippers, my all the time indoor shoes. I also have other Merrell styles for outdoor and winter use. Love 'em.
Are Birkenstocks Good for Disney World?
I had a period of a couple years — before I had kids — where I wore Birkenstocks ALL the time. (Including at my job as a teacher, where I was on my feet all day.)
Although I loved them, it never would have occurred to me to wear Birkenstocks to Disney World — until I saw this discussion.
The big advice for Birkenstocks at Disney World is: Break them in WELL beforehand.
The footbed molds to the shape of your feet, and that may take some time — and might even cause a little pain in the process, which is something you definitely don't wait whil you're walking several miles around Epcot.
Another caution about Birkenstocks is that you really don't want to get them soaking wet.
A few people in the above discussion said they got their Birkenstocks wet at Disney World and ultimately they were okay. But if you know you're going to be walking through the rain, or riding Kali River Rapids a couple times that day, I'd choose another shoe.
Birkenstock Arizona Sandals (Unisex)
Birkenstock Arizona Sandals (Unisex)
These unisex Birkenstock sandals are designed for both men and women and come in a huge variety of colors, including red, copper, black, pink, emerald green, and ginger brown.
The contoured cork and latex footbed offers arch support, while the the lightweight, flexible outsole provides durability and shock absorption. They also claim that the raised toe bar encourages a gripping motion that helps exercise your legs and improve circulation.
✅Best Sneakers and Athletic Shoes for Disney (and other theme parks)
If you choose to wear sneakers to Disney, I have two suggestions:
Make sure you wear these kinds of socks so your feet don't get all sweaty
If at possible, bring two pairs of sneakers. Your sneakers might get really wet, either from a water ride or getting caught in a downpour, and your sneakers may not be fully dry by the morning
ASICS Women's Gel-Venture 6 Running-Shoes
Saucony Women's Triumph ISO 4 Running Shoe
Skechers Performance Women's Go Walk Joy Walking Shoe,
Skechers Performance Women's Go Walk Joy-15615 Sneaker,pink/multi,7 M US
Skechers Performance Women's Go Walk 2 Hypo Walking Shoe,Navy,9 M US
Skechers Performance Women's Go Walking Shoe
ASICS Women's GEL-Venture 5 Running Shoe

ASICS Women's GEL-Venture 5 Running Shoe

The ASICS Women's Running Shoe has a mesh upper, a rubber sole, and a forefront and rearfront gel cushion.
Amazon reviewer sj773 goes into great detail of why these shoes are a good option:
My sell points for determining that these are "good" sneakers:
1.) Toe Space – I have problems with my toes going numb if I don't have adequate room in the toe box. To accommodate, I usually order a size 10 and lace up tightly (when I wear a 9 or 9.5) in regular shoes. This causes my shoes to typically wear faster in the heels because they side around a little, but my toes don't go numb after my daily 4 mile trail hike.
2.) Comfort – This includes arch support and overall cushioning. I have bad knees, so I can tell when the cushioning starts to go in sneakers. Mine last almost 3 months exactly when worn for 4 miles daily.
3.) Cuteness – Sorry to be vain but I want sneakers to be cute and have pink on them. These are the only kind I buy. Judge me if you must 😉
4.) Easy to put on / take off – I hate untying my shoes, so I love that these have a loop in the back so I can slip them on with minimal unlacing (lazy).
5.) Doesn't cake-in dirt/mud – When on loose dirt trails, I often encounter dirt & mud that gets caked into my soles, so I favor the Asics styles over, say K-Swiss because the soles don't have a lot of "hiding places" for mud to get packed into.
Skechers Women's Go Walk Joy-15615 Sneaker

Skechers Women's Go Walk Sneaker

The Skechers Go Walk Sneaker is lightweight and flexible has a soft fabric lining. It comes in three cute designs in really pretty colors. Reviewers liked this shoe because they were a nice combination of comfy and attractive.
Saucony Women's Triumph ISO Running Shoe

Saucony Women's Triumph ISO Running Shoe

The Saucony Women's Triumph ISO Running Shoe is synthetic with a rubber sole and boasts an "ISOFIT sock-like conforming upper." One reviewer called these shoes "the Cadillac of cushioning."
Amazon reviewer PeanutsMom2005 describes how these shoes solved her unique problem:
I have been searching quite some time for a shoe that works for me. I have achilles tendonitis in my left ankle andI supinate really bad (feet roll outwards when walking). The outer part of my feet are flat, but I have a pretty high arch. I went to several different shoe specialty stores and was told to buy the same type of shoe over and over, however it was an average guy in sporting goods store who helped me the most. He recommended this shoe and I love it. I can finally walk all day with no major issues.
Are Crocs a Good Shoe for Walking in Disney World?
Crocs Classic Clog
Crocs Men's and Women's Classic Printed Clog
Crocs Disney Clogs for Men and Women
Crocs Girls' Mickey Mouse Clog,
Crocs Unisex Crocband Mickey Clog
People tend to have many strong emotions about classic Crocs.
Some people seem to have an irrational hatred toward them (which, oddly, sometimes even extends to people who wear them).
Other people love them dearly and swear that they're the best shoes for walking in Disney World and Disneyland.
No one in my family has ever owned a pair of Crocs, so I have no real opinion about them (or the people who choose to wear them) one way or another.
However, I do know that if I ever wore Crocs, either to Disney World or anywhere, I would hear quite a bit about it from one of my daughters.
Here are some comments I found from Croc wearers WDWMagic Forums:
ExtinctJenn is both a convert and an evangelist:
I switched to Crocs over sneakers a few years ago for our park trips. Both me and my DH always thought they were just silly and couldn't possibly be all they were cracked up to be. I gave in and got a pair one trip when I was having some foot pain and just needed to get my foot out of the restrictive sneaker.

After telling my DH over and over again how my feet weren't dying at the end of the day (an issue I'd always had) he finally gave in and got a pair and hasn't gone back. Since we only really wear them for our trips and not anything else, we opted for the lovely themed Mickey Crocs of course. 🙂

I still prefer sneakers for when I'm exercising but the thing with Crocs is they support your feet even when you're standing still. That was what killed me every time. Walking is one thing but when you add in the time you spend in lines just standing around, moving very little, Crocs make a huge difference… or at least they did for us.
And BMarkelon wears them to Disney only, and somewhat reluctantly:
The only place I ever wear my Crocs is Disney, and they are not cute…they are the Mickey Mouse ones! But they come in handy when my aching feet need a break from sneakers and just want to breathe.

It's also a place more than anywhere else in the world where I do not care about the fashion choices I'm making. I even wore them with socks one day when I had an extremely painful blister on one of my feet.
If you're interested in a medical opinion when choosing a shoe, then check out this article on WebMD about whether Croc are "healthy."
According to the article, Crocs have an Rx line of models that were designed specifically to eliminate plantar fasciitis pain and achy feet in general. They're also lined with antibacterial material that will prevent fungal and bacterial infections.
Doctors often recommend Crocs to their patients with bunions, hammer toe, and even diabetes.
However, calling Crocs a "medical" shoe" may be a stretch.
Bob Baravarian, MD, chief of foot and ankle surgery at Santa Monica UCLA Medical Center, is quoted as saying:
"[Crocs] are very stable, they don't bend and twist side to side much, and they have a good heel cup and arch contour compared to other shoes … [but] because the shoe is considered medical, it gets overused by people who need more support …

… It's not as good as an orthotic or a medical type shoe; it's made out to be better than it is.

It's a good shoe for going to the beach, kicking around the house, going to the corner market, but they're not made to be worn at Disneyland all day long."
Best Men's Walking Shoes for Disney World
The last our entire family went to Disney World, Robert's feet really hurt him by about the third day. I told him I won't let that happen to him again, and that for our upcoming trip he should buy one of these:
Skechers Performance Men's Go Walk 4 Incredible Walking Shoe

Skechers Performance Men's Go Walk 4 Incredible Walking Shoe

The Skechers Performance Men's Incredible Walking Shoe is a mesh shoe that describes itself as "radically lightweight" and has a tapering midfoot design for improved arch support and a bamboo-lined footbed for anti bacterial odor control. It comes in charcoal, black, and navy.
Amazon reviewer Nathan says the Skechers are "like walking on air":
I had major back surgery a few weeks ago and these shoes have been a real lifesaver. Trying to put on shoes after back surgery is a major problem lets not mention if you had to tie them too!

I was skeptical about buying because I didn't want the old man shoe look, lol. But actually they are pretty stylish and I have gotten great compliments on them. I ordered 2 pair one in black and the other in grey and I absolutely love them. The memory foam is like walking on air. They are very lightweight too. If your looking for a stylish slip on and a comfortable shoe this is the perfect pair of shoes! I highly recommend this product to anyone looking for a nice pair of walking shoes without the hassle of having to tie them!
Skechers Men's Afterburn Memory-Foam Lace-up Sneaker

Skechers Men's Afterburn Memory-Foam Lace-up Sneaker

The Skechers Afterburn Memory-Foam Sneaker is a lace-up sneaker featuring a cushioned mesh tongue and memory foam insole. They come in eight different designs. Reviewers said it was a good option for men with wide feet who have trouble getting shoes to fit them. That is definitely Robert.
New Balance Men's MW877 Walking Shoe

New Balance Men's MW877 Walking Shoe

The New Balance Men's Walking Shoe is made of suede and mesh, has a rubber sole, and ABZORB midesole cushioning. It's specifically a walking shoe, as opposed to a running shoe. (Apparently walking shoes are lower in the heel than running shoes are, because of the way you lean forward slightly when you run.)
Reviewers praised this shoe for fitting wide feet and for not cramping or mashing their toes.
KEEN Men's Newport H2 Sandal
The Newport H2 is Amazon's Choice in the category of Keen sandals for men.
It's described as a classic water shoe that has the "airiness of a sandal and the toe protection of a shoe."
It can be machine washed on the gentle cycle and then air dried.
It's recommended that you buy a half size larger than your usual shoe size.
This shoe is a great choice for me who aren't into wearing sandals, but also don't want to have to wear socks at Disney World.
Amazon reviewer Wesley O. Davis says:
I was very skeptical about buying sandals that cost this much since I am not a sandals wearer. I bought them to wear to Walt Disney World in June.

Well, I must say that these have become my favorite summer shoe ever. Like I said, I was not a sandal wearer, but I wear these every chance I get.

My feet don't rub and once I was used to them, they feel just as natural as my tennis shoes. They are comfortable and I would recommend them to anyone.
✅Best Kids' Shoes for Disney
The last thing you want on your vacation is a child (or two) who is complaining that their feet hurt — or worse, that their shoes are giving them blisters.
Here are some shoes that are likely to keep your children's feet happy:
KEEN Seacamp II CNX Sandal

KEEN Seacamp II CNX Sandal (Toddler/Little Kid/Big Kid)

Keens is a winner yet again, even being called "The perfect Disney shoe" on some Disney forums. They have the coolness of a sandal, good walking support, and you don't have to worry about them coming off.
I chose to feature the Keen Seacamp as opposed to the Keen Newport because the Seacamp is a lighter shoe.
RoseiMadison on the DisBoards conducted a highly scientific experiment at her house to see which Keen sneakers were best:
Last night we did a test at my house to decide which pair [of Keens] to keep and which pair to send back to Zappos.

I have an 8 y.o. girl who is picky about what is on her feet. She has always had the Newport H2 and loved it, but this year she saw Seacamp with snazzier colors and stripes and wanted to give it a try.

She tried both pairs in size 2 …

… Seacamp is lighter weight. But after wearing one of each around the house for the whole afternoon/evening, my 8 y.o. chose the Newport H2, declaring it "more comfortable, but not as cute."

According to her … the Velcro makes it easier to adjust the tightness of the foot opening and the little plastic toggle thing rests on the top of the Velcro rather than digging into your foot if you cinch them up tight.
Juan Valenzuela at Fitting Children's Shoes has some expert advice to give about Keens:
Keens can start to smell bad after a couple months of your kids wearing them. The secret to getting rid of the smell is to rub a mixture of baking soda and vinegar throughout the sandal, especially in the neoprene part.
Since Keen sandals are only available in whole sizes, you'll need to round up to get the best fit
If your child has narrow or extra-wide feet, Keen sandals might not work well for them. Instead, Juan recommends the following as an alternative:

KEEN Unisex-Kids Uneek O2 Dress Sandal

UNEEK is a shoe style that is actually made by KEEN, but that looks totally different from their traditional sandals, and they're a good choice for kids with narrow feet.
They provide less support than traditional Keen sandals, but they can still be worn as everyday summer shoes.
They come with a toggle shoe lace and a velcro strap to secure your kids' feet.
Stride Rite Sneaker Sandal Water Shoes

Stride Rite Sneaker Sandal Water Shoe

If you're particularly concerned about your children's feet staying dry on a rainy day at Disney World, the Stride Rite Sneaker Sandal Water Shoe is a great option.
They come in 20 different colors, are machine washable, and have a slip-resistant sole.
Parents described these as being great summer shoes, perfect for water parks, playgrounds, and running through sprinklers in the backyard. They also liked how they were durable and easy to clean.
Amazon reviewer B. Miller calls this the "best shoes ever":
Great shoes!! We bought them for my 5 year old to wear at Disney. He was comfy, his feet didn't get hot and sweaty and he could run through water or go on water rides and his feet dried right away. LOVE these shoes!
Native Kid's Jefferson Slip-On Sneaker

Native Unisex Kid's Jefferson Slip-On Sneaker

Native Jefferson is a unisex, waterproof slip-on shoe with a rubber sole and breathable perforations.
Parents liked how these shoes were:
Light and breathable
Easy to get on
Easy to clean
Waterproof
Amazon reviewer Therese Edwards describes (quite humorously) some additional reasons why she loves these shoes:
My daughter is the literal worst at

Finding her shoes
Keeping her shoes from looking like they were dragged through a pile of hog manure

So, these hot pink, wash-off plastic bits of brilliance help me:

Not drown myself in a sea of despair when she again announces that she can't find her shoes. Instead, I just scan my gray-scale home for the singular pop of pink and reward my keen eyesight with a handful of chocolate chips
While these babies can still SMELL like hog manure (Take heed – I have particularly odorous children. Yours may not cause these shoes to smell like steamed piles of sulfur-y hell.), I can toss them in the shower with said stinky child and all emerge smelling fresh and looking clean.
Native Shoes are only available in full sizes. Since they tend to run on the larger size, it's recommended that you round down to get your best fit.
Vans Canvas Sneakers
Vans canvas sneakers come in over 30 different designs, including a few that are Disney-themed.
So they're cute.
However, I'm a little hesitant to recommend them as a walking shoe for Disney World.
I've never worn them myself, and I've heard mixed reviews about them. Some people say they wore them to Disney World and were just fine, while other say that Vans definitely don't have the support needed for walking all day.
So if you want to get some Disney-themed Vans for your child, make sure you bring along another pair of shoes for them as well, just in case.
>Disney Print Shoes for Kids
Disney Toddler Boys' Lightning McQueen Sneaker, Light-Up (6 M US Toddler)

Vans Kids K Classic Slip-ON Disney Wonderland Pink Size 2.5

Crocs Unisex-Kids CB Princess Ariel Clog K , carnation , C10 M US Toddler

Vans Kids Disney Dalmatians/Red Skate Shoe – 2 M US Little Kid

Vans Kids Authentic Disney Skate Shoes-Multi Princess-2.5

Vans Kids Classic Slip-on (Toy Story) Bzzlgtyr/Trwht Skate Shoe 3 Kids US

How To Avoid Blisters at Disney World
Even if you have the best shoes in the world, getting blisters on your feet is a real possibility after all that walking around in the parks.
Is there any way to prevent them? And how do you treat existing blisters?
The first thing to understand is that blisters are almost always caused by one of two things:
Shoes that don't fit correctly
Moisture
So if you're wearing sneakers, especially, make sure your shoes is big enough to allow your feet to expand (because it will).
As far as moisture causing blisters, here are some tips:
Do NOT wear Cotton Socks!
If cotton gets wet, it stays wet … which means that if you get caught in the rain, or ride Splash Mountain or Kali River Rapids, you will potentially be walking around in damp socks for hours.
This will not make your feet happy.
Instead, consider trying one of these brands of socks:

Feetures Socks for Men and Women

Not only do these Feetures socks do a great job of wicking moisture so that your feet stay cool and dry, but they also claim to have a "unique anatomical design" that gives specific protection by eliminating blisters.
Amazon reviewer JMc explains why these socks are perfect for hot, humid weather:
These socks are amazing. The material on the inside is almost like tiny velcro that sticks to your skin. This, along with the nice elastic fit, ensures that they don't slide around on your feet while running.

I live in Houston, Texas where swampy heat is the norm during most months. I can lose 8 lbs on water on a long run. My shoes literally fill with water after about mile 4 and sound like I jumped in a river.

Even with soaked feet, I have been able to continue running with no blisters or issues. They are also super absorbent but are very easy to dry … I highly recommend.

Balega Hidden Contour Socks For Men and Women

Balega is another brand of socks that I've heard Disney fans swear by. These socks are made of elastane and mesh and have a reinforced toe and heel. They also have an elastic material going around the midfoot, creating a more snug fit.
Amazon reviewer E. Thierauf says:
These socks may be expensive compared to others, but they are sooooo worth it!

Support, padding, no slipping – still breathable. My husband even said he can't go back to regular socks now.

Bought some for the whole family prior to Disney World trip, ensuring we all had good foot care while walking 10-12 miles/day. They did make a difference in conjunction with good shoes.
These socks come in 10 different colors, including bubble gum pink, aqua, and light grey.
Change Socks in the Middle of the Day
Changing your socks, especially if they somehow got very wet, can go a long way in preventing blisters. You might want to throw an extra pair into your Disney park bag just in case.
Related Post:
The Best Socks for Disney World
Two Words: Body Glide

Body Glide Original Anti-Chafe Balm

Body Glide is the single most popular item among my readers.
Similar to a stick deodorant, you rub it on any parts of your body where you think you might experience friction or chafing.
We like to rub it on the tops and sides of our feet before putting our shoes on. I use it at home, too, any time I'm going to be walking for an extended amount of time.
This Amazon reviewer and Disney fan shares why she loves it, but also offers a caution:
I'm an avid Disney visitor. Considering Florida is basically Hell on Earth, shorts are ideal for walking in heat from 9am to 12am. In the past I've tried baby powder and deodorant for chafing, but they have never lasted more than a few hours.

This body glide stuff actually lasted and I literally felt NO tenderness in my inner thighs by the end of the day. I'm talking being able to wear shorts 2 days in a row at the parks with no injury, which I haven't been able to do before! I recommend this to anyone.

IMPORTANT TO NOTE THOUGH: I did put this on and immediately put on a chiffon dress after. Sadly, the grease(?) of the body glide got on the dress.

I don't fully fault the product, I should have waited or been more aware, but it's definitely something to keep in mind. It hasn't gotten on other clothes so far, but some fabrics are most susceptible to those stains. Also, "greasy" may not be the best word. It's not like oil on your legs, but it's not exactly like dry powder deodorants.
And reviewer Eric H. calls Body Glide a "life saver":
Well, life saver may be a stretch, but it is AWESOME!

My family and I had a 7 day trip planned for Disney World… Being a bigger guy, oh how I was dreading the chub rub and the painful rashes I was going to get from that hot humid Florida air and walking 5 – 7 miles per day.

Then I stumbled upon Bodyglide and this stuff was AWESOME!! I can't stress enough how great Bodyglide was for this trip.

I opened this little bottle of what looks like deodorant and thought "well, this will only last a couple of days." Was I ever wrong. I applied what I felt like was a lot of this product each morning and I think I only advanced the stick once, maybe twice over 7 days.

This stuff worked so well, that I could actually tell where I missed because those were the only spots which were in pain the next morning.

However, I put Bodyglide over those painful areas, and the Bodyglide actually allowed them to heal as I was walking because there was no chaffing while I walked!

… If you're on the fence about Bodyglide, DO IT! I can tell you, you won't be disappointed.
Use Moleskin on any "Hot Spots"
I have never used Moleskin and am a little hesitant to try it. Partly because … well, honestly, I'm a little confused about how to use it and I can just picture me cutting it in the wrong way and applying to the wrong place. (I am one of those people that struggles with wrapping gifts without making them look like a nightmare. So "wrapping my feet" sounds it could be more of a challenge than I could handle.)

Moleskin for preventing blisters, calluses, and chafing

From what I understand, though, it can go a long way in preventing blisters if you put it on spots on your feet which are starting to feel sore. It can also ease the pain of existing blisters.
Oh! Here's a photo that shows a cut piece adhered to the inside of a shoe. Okay. I think I get it now.
One mistake that people tend to make with Moleskin is cutting a small piece that barely covers more than the blister itself. Instead, it should be cut into big, long swatches so that it won't come off.
I've also heard that:
Tt's important to use thin Moleskin, so that it can bend around your feet and toes.
It can lose its stickiness, especially after a water ride, so it's a good idea to carry some extra pre-cut strips with you
While many people say moleskin was a lifesaver for their feet while they were at Disney, someone on the Disboards explains why they're not a fan, and what they use instead:
I'm not a fan of moleskin for a few reasons:

It gets hot from friction
It doesn't stick well and the ends curl off
The curly ends give you another blister

I prefer to get the hard core sticky cloth bandaids (buy bandaid brand for this, generics aren't as thick or sticky) and stick them both in my shoe and on my foot. They don't get hot and don't curl up.

If I only have moleskin [with me], I stick it to my shoe.
Don't Forget about Disney's First Aid Centers
If you do get foot blisters, sprain your ankle, or anything else that hurts, don't forget that every Disney park (including the water parks) has plenty of things at their First Aid Centers that can help you, from bandages to Bactine to Tylenol.
First Aid Locations
Magic Kingdom – On Main Street between Casey's Corner and the Crystal Palace
Epcot – Outside the Odyssey building, which is between Test Track and the Mexico Pavilion
Hollywood Studios – Next to Guest Relations at the entrance
Animal Kingdom – Behind the MyMagic+ Service Center in Discovery Island, near the bridge to Africa
Blizzard Beach – Next to Lottawatta Lodge
Typhoon Lagoon – Behind Leaning Palms
One last thing important thing about shoes …
Whatever shoes you choose for your trip, make sure you break them in before your trip. You don't want the first or second time you wear your shoes be the day that you trek ten miles around the Magic Kingdom.
In fact, you might want to have "training" be a fun part of getting your family ready for your Disney vacation.
Get a FitBit and go for a walk together every evening to get ready! And don't just walk — make sure to get in some regular stretching too. (I love these Yoga videos, whether I'm getting ready for a trip to Disney World or not.
How to Have Happy Feet at Disney World
To sum it all up:
Wear a comfortable, supportive, lightweight shoe
If your shoes are new, break them in before your trip
Start going on regular walks a few weeks before your trip
Consider packing a second pair of shoes
If you must wear socks, make sure they're moisture-wicking — No cotton!
Rub Body Glide on your feet before putting your shoes on
Have some moleskin handy if case you do get blisters
What's your experience with shoes at Disney World?
Now I want to hear from you:
Do you have a favorite Disney World shoe?
Do you prefer wearing sneakers or sandals?
Do you have any blister protection tips that you swear by?
Do Crocs repulse you?
Have you figured out how to use Moleskin without making a huge mess?
Let us know below in the comments!
---
---