What to Pack and Wear for Disney World in December
This post probably contains affiliate links. You can read the details about what that means here.
Close your eyes and picture yourself at Disney World in sunny Florida … where you're pulling your jacket around you tightly, wishing that you'd thought to pack gloves, and are debating whether or not to buy a hot chocolate just so you'll stop shivering.
Wait, what?
Yes, that was me as we walked through the World Showcase in Epcot several years ago.
It may seem incongruous if you're never been to Disney World in the winter before, but it can get cold in the month of December, especially at night. If you don't pack correctly, you'll be in for a rude surprise.
In this post you'll learn about the weather at Disney World during the month of December and what clothes and accessories you need to pack.
You'll also learn about the crowds, prices, special events, and holiday decorations at the Disney parks and resorts in December, and the pros and cons of visiting during that time.
Note:
This post is going to focus specifically on what you need to pack and wear for a
December
Disney World trip.
If you want more general advice on packing for Disney World (things like water bottles, sunglasses, wet wipes, using packing cubes for your suitcase, etc click here for more packing advice and to get a free printable packing checklist.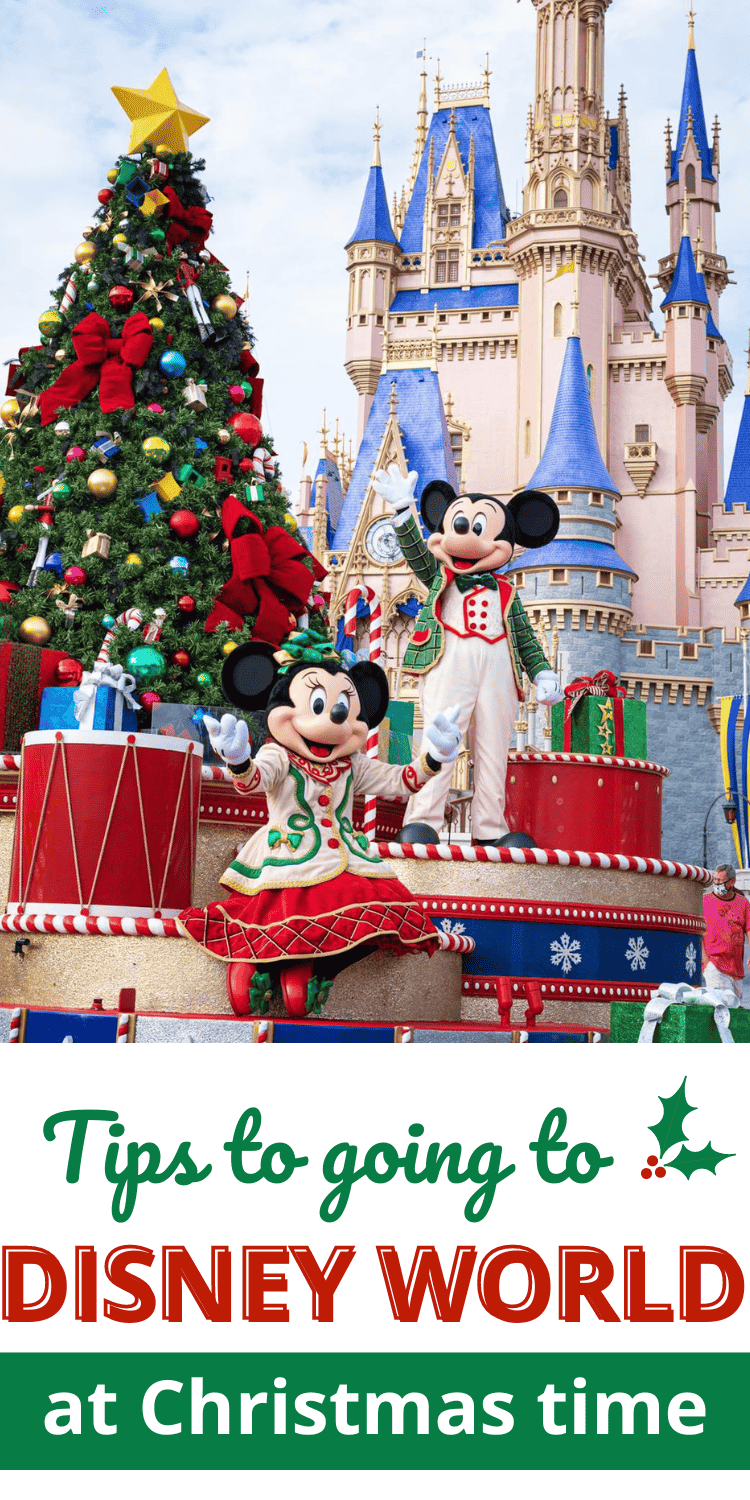 What is the weather at Disney World in December?
It's a wide range, and if you don't pack correctly, you could be very unhappy at some point (or spending money you weren't planning to on clothes at the park).
Temperatures range between the mid-50s to the low-70s on average — but it could get hotter, and it could get colder. Plus it can get pretty windy, especially at night.
The good news is that December is one of the least rainy months in Disney World, with only an average of 2.6 inches. Also, you'll miss hurricane season, which is from June 1 through November 30.
Can you swim at Disney World in December?
Probably. The good news is that the pools are heated.
However, depending on the weather and your personal preference, it's possible that you won't want to swim very much — or might even want to skip it altogether.
I've had winter Disney trips where I didn't visit the pools once, and one where I was determined to swim, so I braved the pool for a little while even though it was definitely more chilly than I would have liked.
What to Wear to Disney World in December
The weird thing about December World in December is that is that you need to pack two types of clothing:
The type of clothes you'd expect to wear in Florida
Clothes for cold weather
Because trust me — evenings can be cold.
And to be perfectly honest, the days can be chilly too. Last November we went to Universal Studios in Orlando and wore long pants all day, every day.
Here are some clothing and accessories you want to make sure you pack for your December Disney trip:
Sweatshirts & Hoodies
Disney Women's Classic Mickey Pullover
Women's Hoodie Mickey & Minnie Mouse
Disney Princess Girls' Half Zip Up Hoodie
Belle Little Girls Zip Up Hoodie
Girls Minnie W Bow & Ear Hoodie
Disney Boys' Pullover Hoodie
Layers are a necessity for a winter Disney vacation. You will absolutely want to have something you can throw on (or take off) later as the temperature changes.
Puffer jacket
Johnny MBJ WJC2144 Women's Light Weight Down Jacket
THE NORTH FACE Women's Aconcagua Jacket
Womens Lightweight Hooded Down Jacket with Storage Bag
Men's Lightweight Water-Resistant Hooded Puffer Jacket
Girls' Hooded Puffer Jacket
Eddie Bauer Kids' Weather Resistant Down Coat
If you really don't want to risk being cold during the fireworks, you might want to bring a puffer jacket.
They're a great option because they're warm, but also lightweight. (And you can smush them to fit into a suitcase pretty easily.)
Fleece Jacket
Dolcevida Women's Soft Fleece Jackets
Trendy Queen Womens Zip Up Fleece Jacket
Women's Classic-Fit Long-Sleeve Quarter-Zip Fleece Jacket
Columbia Men's Granite Mountain Fleece Jacket
THE NORTH FACE Teen North Peak Hagues Fleece Jacket
Columbia Youth Girls Fire Side Sherpa Full Zip
Fleece jackets are another good option for when it gets chilly.
Cardigans
Cardigans won't keep you as warm as, say, a down puffer jacket or a fleece jacket, but on this particularly trip I thought they were just right, and they felt a little more stylish to me.
Rain Poncho or Jacket
This is a given no matter what time of year you go. This post tells you everything you need to know about rain ponchos.
Some people (who are not me) also choose to pack a travel umbrella.
Pants
I would bring at least a couple pair of long pants, like jeans or leggings, and then at least a couple pairs of either shorts and/or lightweight pants like capris.
Personally, I'm not a fan of convertible pants, where the legs can zip off and become shorts, but you can certainly make a case that they would be a practical choice. Shorts and long pants in one!
Long-Sleeved Shirts
Qaffier Women Lightweight Long Sleeve Fleecewear Top
Indera Thermal Long-Sleeve
Mickey Mouse Raglan Baseball Tee
KINGFEN UPF 50+ Dri Fit Moisture Wicking Shirt
Disney Princess Girls T-Shirts
Boys' Toy Story Long Sleeved Top
Yes, it's very possible that in the evenings you'll want both a long-sleeved shirt and a jacket or sweatshirt over it. Trust me.
T-Shirts
Monsters University Graphic T-Shirt
Men s Mickey Mouse Gray T Shirt
Mickey Floral Fill T-Shirt
Little Girls' Minnie Mouse T-Shirt
Men's Mickey Mouse Short Sleeve T-Shirt
Monsters University Sulley & Mike T-Shirt
You'll probably want at least a couple short-sleeved shirts. You can always throw a jacket or sweatshirt on over it if you need to.
Dresses (optional)
I always wear at least a couple dresses during a Disney dresses, and there no reason that you can't wear one even in December.
Shoes & Socks
I wrote a very thorough post on the best shoes to wear for walking in the Disney parks (plus another one focusing just on the best toddler shoes, so I'm not going to repeat all that here.
I will say that these shoes and these shoes are very popular shoes among my readers.
Normally I'm not a big fan of wearing socks to Disney World, because
They're one more thing to worry about
They get either sweaty or soaked, neither which is pleasant
However, you might want to pack some socks for the winter nights, just in case. (I may or may not have very fashionable photos of me wearing socks with sandals at Epcot.)
Gloves and a Warm Hat
Yup, you very well may need these at night.
Since you need to use your cell phone for so many things at the parks, I highly recommend gloves like these.
And here's A cute knit beanie hat.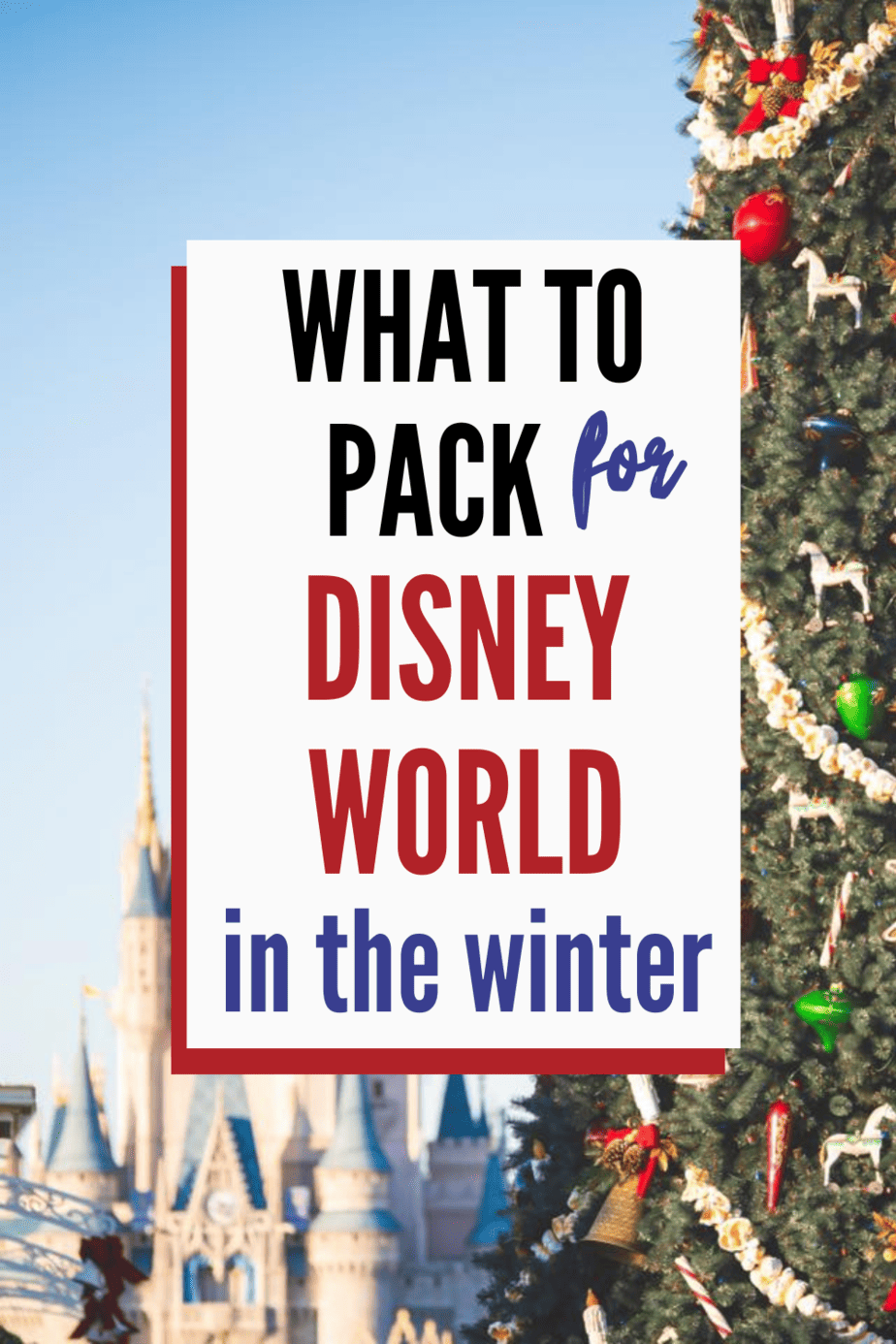 Swimwear
Don't get so caught up thinking about winter hats and fleece jackets that you forget about your bathing suit, swim diapers for toddlers, and so on. It is still Florida, after all.
And don't forget your sunscreen! This is the sunscreen my dermatologist recommends.
Fun Christmas-y Stuff
LED Light Up Christmas Bulb Necklace
Reindeer Antlers Headband
Fair Isle Winter Knitted Scarf
Men's Christmas Mickey Mouse Santa T-Shirt
Minnie Mouse Christmas Girls Fleece Legging Se
Christmas Minnie Ears
Life is always more fun with Holiday Stuff, especially if it's Disney Holiday Stuff. Something Christmas-themed is a particularly nice touch when you get for photos at Mickey's Very Merry Christmas Party.
Okay, I think I've covered the clothings and accessories that you need to pack for a December Disney trip.
Now let's talk about what Disney World is like in December.
Is December a good time to go To Disney World?
It can be the best time, or it can be the worst time, depending on which week in December you go.
Having said that, though, no matter which week you go, there are two awesome things about going to Disney World in December:
The Christmas decorations (which we'll talk about in a minute)
The fact that you don't have to deal with unbearable heat
What's the best time to go to Disney world in December?
If at all possible — and I know how difficult this is for most people — go during the first two weeks if you're going to Disney World in December.
Let's talk about why …
✅ Is Disney World too crowded at Christmas?
It is very, very, very crowded at Christmas.
I've never personally been to Disney World during this time, but the week of Christmas, all the way through New Year's Eve, is a 10 out of 10 grading on our Orlando crowd calendar.
In other words, it's the most crowded it can get at Disney World, which is really saying something.
By the middle of the day, wait times for the more popular rides will be close to two hours, and can even get as high as four hours for some rides.
Over the years I've chatted with a few people who went to Disney World on Christmas Day, and the two comments I remember the most are:
"The entire day is like when you're leaving an arena right after a huge sports event just finished."
"You couldn't pay me to do it again."
All that to say: Yes, it's very crowded on Christmas Day, the entire week of Christmas, and the entire week after.
✅ Is Disney World worth it at Christmas?
Honestly, for me — no, it would not be worth to deal with the 10/10 Christmas crowds.
(That's assuming that "at Christmas" means Christmas Day, and the entire two weeks in December that kids generally get off for school.)
The thought of being constantly surrounded by that many people and waiting in two-hour long lines doesn't sound at all fun to me.
Plus, our family just likes to home on Christmas Day no matter what, so it just would't appeal to us at all, no way, no how. The most magical place of earth for us on Christmas Day is the living room, in-between the Christmas tree and fireplace, surrounded by presents and in our pajamas.
However, there are certainly some people who say it's totally worth it, as long as you plan well.
If you're trying to decide if Disney World during the weeks of Christmas vacation are worth it for you, you have to consider:
Your family's tolerance for crowds and long lines
Your willingness to shell out money for Genie+ and Lightning Lanes
What other alternatives you have
How fun it sounds to be at Disney World during Christmas time
✅ Does Disney World decorate for holidays?
Yes, and it's one of the very best things about going to Disney World in December.
Each of the parks has its own iconic tree as well as park-specific decor.
✅ Do all Disney resorts decorate for Christmas?
Yes, all the Walt Disney World hotels get some sort of unique Christmas decorations during the holiday season — so it's a great idea to book some meals at resort restaurants, or at least do a little resort-hopping.
Here are a few examples of what you'll find:
Grand Floridian — Life-size gingerbread house (made with 700 pounds of chocolate and 800 pounds of flour
Beach Club — Gingerbread carrousel with a different theme each year
Polynesian — Tropical-themed tree wrapped with colorful leis, pink hibiscus flowers, pineapples, and starfish ornaments
Yacht Club — Trees, garland and wreaths decorated with boats to match the nautical theme
✅ What date does Disney World decorate for Christmas?
The 2023 Christmas season officially begins at Walt Disney World on November 11.
However, at Magic Kingdom it starts a little earlier — November 9 — because that's the night of the very first Mickey's Very Merry Christmas Party at Magic Kingdom.
✅ How long is Disney World decorated for Christmas?
The Christmas decorations in all of the parks and at the resorts typically begin coming down during the first week in January.
They're usually completely gone after the Disney Marathon Weekend, which is from Jan. 3 to 7, 2024.
✅ What are the dates for Mickey's Very Merry Christmas party 2023?
Mickey's Very Merry Christmas Party is a seasonal event that takes place on select nights at the Magic Kingdom from November 9 to December 22, 2023, from 7:00 PM to midnight.
Yes, you do need to buy a ticket for it. The Magic Kingdom closes for non-party guests at 6:00pm.
Some of the highlights of the party include:
Once Upon a Christmastime Parade (complete with Santa Claus and toy soldiers)
Minnie's Wonderful Christmastime Fireworks
Dance parties like Club Tinsel and Disney Junior Jingle Jam.
Photo opportunities with characters in holiday outfits
Complimentary cookies and hot chocolate
Ticket prices will range from $159 to $199. Typically tickets in mid-November are the cheapest, then the prices being to increase the closer you get to Christmas.
Is Disney World more expensive at Christmas?
Yup. It's basic economics and supply & demand:
Supply is the amount there is of something.
Demand is how much people want it.
When there's more supply than demand, prices go down.
When there's more demand than supply, prices go up.
So of course it's no surprise that Disney World prices go up during the week of Christmas.
In fact, the week before Christmas through New Year's is typically the most expensive time to visit Disney World, for both ticket and hotel prices.
---
---