Mickey's Very Merry Christmas Party 2019: Tickets, Prices, and Characters
One of the great things about having this blog is that sometimes I can plan my own vacation while banging out a helpful article at the same time.
In a few weeks, I'll be attending Mickey's Very Merry Christmas Party in the Magic Kingdom for the first time. In the past — being a family of 5 — we've never even considered it, simply shuffling out of the Magic Kingdom at closing time as the Wealthy and More Fortunate were arriving and getting ready for some magical Christmas partying.
However, next month I'll be traveling to Disney World with my adult niece, Anna, and since I'm only paying for myself, I decided to spring for the Christmas party. (We are not, however, "double-dipping" by also paying for a regular park ticket that same day.
The more research I did for this article, the more happy I was that we'll be going.
I will, of course, come back and revise this post after we attend.
Mickey Very Merry Christmas Party Dates
The dates for 2019 are:
November:
8, 11, 12, 14, 15, 17, 19, 21, 22 and 24
December:
1, 3, 5, 6, 8, 10, 12, 13, 15, 17, 19, 20 and 22
Mickey's Very Merry Christmas Party Hours
MVMCP officially starts at 7pm, but you can enter the Magic Kingdom with a party ticket as early as 4pm.
In addition, Disney Vacation Club (DVC) Members​ can enter as early as 2pm, along with as many as 7 other guests who have party tickets.
How Much Does Mickey's Very Merry Christmas Party Cost?
Here are the 2019 ticket prices​, which as you can see, vary according to date:
​
November 11, 12, 14, 17 & 21​
Advance Purchase: $99 adult, $94 child (Ages 3-9)​
Day of Purchase: $109 adult, $104 child​
​
November 8, 15 & 22 and December 3, 5, 8, 10, 12 & 15​
Advance Purchase: $109 adult, $104 child (Ages 3-9)​
Day of Purchase: $119 adult, $114 child​
​
November 24 and December 1, 6, 13 & 17​
Advance Purchase: $115 adult, $110 child (Ages 3-9)​
Day of Purchase: $125 adult, $120 child​
​
December 19​
Advance Purchase: $129 adult, $124 child (Ages 3-9)​
Day of Purchase: $139 adult, $134 child​
​
December 20 & 22​
Advance Purchase and Day of Purchase: $139 adult, $134 child (Ages 3-9)​
Annual Passholders can get $5 discount on the advance pricing listed.
Do You Need a Park Ticket to Go to Mickey's Christmas Party?
You do not need a regular park ticket if all you want to do is attend the party. This is our strategy. We're going to have a resort character breakfast that morning, do some resort-hopping, visit the pool, and then show up at the Magic Kingdom for the party around 4pm.
Some (most?) people have a regular park day and then just add the Christmas party at night. Personally, I can't justify spending that much money for a single day.
Either way, you do need a "special event ticket" to attend the Christmas party iself. The Magic Kingdom closes at 6:00pm for "normal people" who have only a regular park ticket, but who do not an additional ticket specifically for the party (which is usually us).
And yes, they do check if you're wearing a party wrist band, so no, you can't just hide in the crowds and hope no one notices that you're crashing the party.
You can add your MVMP Ticket to your MyDisneyExperience account and it will be on your MagicBand, so you don't need a paper ticket.
Do MVMP Tickets Sell Out?
They certainly can sell not, although not all of them do, so don't wait too long to get your tickets.
According to Touring Plans, last year the first party of the year sold out one day in advance, and 3 of the December parties sold out, between 1-6 days in advance.
Is MVMP Busy?
While I cannot speak from experience, I've heard that it's, unfortunately, a lot busier than it was a few years ago.
Other than the opening party or two, November parties are less crowded than December parties, and Tuesday parties are less crowded than other nights.
Touring Plans lists these as the 5 best party dates for 2019:
Tuesday, November 19, 2019
Sunday, November 17, 2019
Tuesday, November 12, 2019
Thursday, November 21, 2019
Thursday, November 14, 2019
The worst 3 party dates for 2019 are expected to be:
Sunday, November 24, 2019
Sunday, December 01, 2019
Sunday, December 22, 2019
These estimates are based only on attraction wait times — not lines for character meet and greets, or anything else.
Is Mickey's Very Merry Christmas Party Worth It?
I don't know yet … I'll tell you in a few weeks! 😀
Seriously, though … I was asking the same question a few months ago when I was trying to decide whether or not to get tickets.
Here were the general results I got:
Reasons for "Yes"
You have to experience it at least once
The parade is amazing
We love Christmas, so for us it was fantastic
My kids enjoyed meeting all the characters
Reasons for "No"
Crowds are ridiculously huge
Lines for rides were longer than expected
"Free" refreshments are underwhelming
Families could use that money to do a lot more holiday-related activities
The Halloween party is better — there is more to do, and more characters
Several people say the party isn't what it used to be. This comment from the Disboards is somewhat typical:
Years ago, it was definitely worth it but I believe that they sold a lot less tickets then and I felt it actually had more of a party type atmosphere.

We have gone in recent years, however, and it was very overcrowded; we experienced longer waits during the party than there were earlier that day. It was absolutely not worth it to us, the prices do not justify the experience, in our opinion.

The only things that we went for were the parade and the fireworks, otherwise we felt you could do everything else during regular park hours. And, if you think about it, even the fireworks can be seen from somewhere outside the park.
What is the Weather Like at Disney World at Christmas?
Some people (including us) have been taken be surprise to discover that Florida can get awfully cold in winter evenings. The average low temperatures are 58 for for November and 51 for December.
As funny as it may sound, I would recommend not only wearing long sleeves, but also bringing a lightweight, packable jacket, earmuffs and/or a fleece hat, and gloves.
GliderGloves Copper Infused Touch Screen Gloves
Winter Beanie Knit Hats for Men & Women
Thick Warm Winter Beanie Hat Skully Knit Hats Ribbed Cap for Women
= Women's Lightweight Water-Resistant Packable Hooded Puffer Jacket
Foldable Fleece Ear muffs
Of course, wearing some fun Christmas-y stuff is also a good idea.
Mickey Mouse Christmas Lights T-Shirt
Minnie Mouse Christmas T Shirt
Christmas Snowflake Reindeer Family Vacation Shirts
Mickey Mouse Ears Headband (Red Green)
Also, keep in mind that the party will be held even if it rains, so be sure to have some disposable rain ponchos on hand so you don't risk getting drenched.
20 Pack of Family Rain Ponchos
What does Mickey's Very Merry Christmas Party Include?
Here's pretty much everything you get with your ticket that you wouldn't get with just a "normal day at Magic Kingdom."
After the list, I'll cover each one in detail.
Mickey's Once Upon A Christmastime Parade
A Totally Tomorrowland Christmas Show
The Edge Effect
Mickey's Most Merriest Celebration
Reindeer Wranglers
Character Dance Parties
Minnie's Wonderful Christmastime Fireworks
Complimentary Refreshments
Character Meet and Greets, some with rare characters and/or characters in holiday attire
In addition, there are 2 "parties within a party" that you can pay even more money for, if you enjoy spending as much money as possible:
Fireworks Holiday Dessert Party at Tomorrowland Terrace
Tony's Most Merriest Town Square Party
Mickey's Once Upon A Christmastime Parade
The Once Upon a Christmas Time Parade is shown 2 times each night during the party – usually at 8:15 and 10:30.
The parade is supposedly really, really good. A lot of people make a point of watching it both times. It includes reindeer, gingerbread men, Disney characters in holiday outfits, marching toy soldiers, and, of course, Santa.
The parade begins in Frontierland and continues through Liberty Square, circles Central Plaza in front of Cinderella's Castle, then heads down Main Street. So if you decide to watch from Frontierland, make sure you don't arrive late.
Not surprisingly, the later parade is much less crowded than the first parade. If you choose to go to the earlier parade, you should get get a spot 45-60 minutes before the parade begins. The best place to watch is on Main Street. Not only is the ambiance the best there overall, but it includes fake snow!
Video: Mickey's Once Upon a Time Christmas Parade

A Totally Tomorrowland Christmas Show
This show takes place in, um …. Tomorrowland, on the Rockettower Stage between Space Mountain and the Carousel of Progress.
The show lasts for about 20 minutes and stars Buzz Lightyear, Stitch, and Mike Wazowski from Monsters, Inc, as well as several humans. I've heard it described as "goofy," "bizarre," and "silly," as well as "intended for people under the age of 8 years old."
I've never been above enjoying something intended for 8 year olds, (much to my teen children's embarrassment), so I plan to see this one. There are 5 nightly performances and it sounds like it's never too crowded, so that will make it easy.
Video — Totally Tomorrowland Christmas Show

The Edge Effect
In between showings of A Totally Tomorrowland Christmas, an a capella singing group called the Edge Effect appears on the same stage to sing Christmas music.
Being a musician myself (and recently, a member of a female a capella group — yes, really!), I definitely plan to watch this one.
A good strategy is to grab a couple cookies at Auntie Gravity's right after A Totally Tomorrowland Christmas, then heading back to watch The Edge Effect.
Mickey's Most Merriest Celebration
This show takes place on the Cinderella forecourt stage. The premise is that it's days before Christmas, and Mickey is throwing a Christmas party at his house and inviting all of his friends.
Guests include Donald and Daisy, Clarabelle Cow, Goofy, Jessie and Woody, Peter Pan and Wendy, and many others.
The show includes dancing and singing and general holiday cheer. A close viewing spot is recommended.
Video — Mickey's Most Merriest Celebration

Minnie's Wonderful Christmastime Fireworks
It was announced in June that the 2019 Mickey's Very Merry Christmas Party would replace the Holiday Wishes fireworks show with something new called Minnie's Wonderful Christastime Fireworks.
This new show will have medleys of songs like "Deck the Halls," "Joy to the World," and "We Wish You a Merry Christmas."
Disney is advertising that these new fireworks "can be enjoyed across the park!" which suggests that, at least to some extent, you don't to get a "great viewing spot" to enjoy it.
Reindeer Wranglers
The Reindeer Wranglers are a country music string group that performs their own variations of Christmas songs in Frontierland. I heard that sometimes the Country Bears will join them as well.
Video — Reindeer Wranglers with the Country Bears

Character Dance Parties
Dance parties?!?
As Amy Poehler would say, "Yes, please!"
There are two of these:
Junior Jingle Jam in Storybook Circus
Club Tinsel in Tomorrowland's Cosmic Ray's Starlight Cafe
Check the schedule, because the dance parties sometimes end before the entire Christmas party ends.
Between the fact that the characters rotate about 15 minutes and the fact that hot chocolate and cookies are served, I definitely predict it will difficult to drag me away from this one.
Video: Dance Party at Club Tinsel

Complimentary Refreshments
My father would be quick to remind me (repeatedly) that the cookies at MVMCP are not "free," but rather about $20 each, depending on how many of them you eat.
Here are the free-but-not-really-free refreshments that are available at different locations, wherever you see a large, inflatable peppermint stick:
Tortuga Tavern (Adventureland):
Snowman Soft Pretzel and Shaved Ice​
Liberty Square Ticket Office:
Ginger Molasses Cookie and Eggnog​
The Friar's Nook (Fantasyland):
DOVE® Chocolate and Chilled Apple Cider​
Storybook Circus Snacks Cart in Fantasyland:
Peppermint Crunch Cookie

​

Pinocchhio's Village Haus:
Hot Chocolate, Fanta Fruit Flavored Soda and a Variety of Cookies​

Cosmic Ray's Starlight Café:
Snickerdoodles and Hot Chocolate​
Auntie Gravity's Galactic Goodies (Tomorrowland):
Chocolate Chip Cookie and Sno-Cone​
In addition to the free-not-free treats, there are also "Exclusive Treats" that you can pay extra for, like Red Velvet Mickey Waffles at Sleepy Hollow and Chocolate Yule Log at Pecos Bill.
​
In typical Disney fashion, there are alternative healthy and gluten-free options are available upon request.
Fireworks Holiday Dessert Party at Tomorrowland Terrace
If you like the idea of spending even more money than you already did to attend MVMCP, you can also pay an extra $84 per adult and $50 for children ages 3-9 to attend this party-within-a-party.
The dessert party includes a fireworks viewing area and a buffet with desserts and non-alcoholic beverages. It does not include parade viewing.
I have no idea why someone would want to do this unless they have an unlimited vacation buffet and enjoy throwing their money around.
Tony's Most Merriest Town Square Party
This is a similar idea, but a little more understandable (and, or course, more money).
For $99 per person, you can get reserved parade viewing for the 11pm parade and a buffet with savory appetizers, desserts, beer, wine, and non-alcoholic beverages. It runs til 12:30 am, later than the Christmas party itself.
I guess this might possibly be worth it if you plan on drinking yourself under the table, enjoy staying out late, and hate searching for a good parade-viewing spot. But then again, this is for the later parade, which is never terribly crowded anyway.
Either which way, this is certainly not something that I will ever be paying extra for.
What Rides Are Open During Mickey's Very Merry Christmas Party?
Most rides are open during the party. (In fact, it might be easier to have a list of which rides aren't open.)
Here's a list of what's available to ride:
Fantasyland
Prince Charming's Regal Carousel
Dumbo the Flying Elephant
It's a Small World
Princess Fairytale Hall
Mad Tea Party
Mickey's Philharmagic
The Barnstormer
Casey's Splash and Soak
Under the Sea
Enchanted Tales with Belle
Ariel's Grotto
Peter Pan's Flight
Seven Dwarfs Mine Train
Liberty Square
The Haunted Mansion
Frontierland
Splash Mountain
Country Bear Jamboree
Big Thunder Mountain Railroad
Adventureland
Pirates of the Caribbean
The Magic Carpets of Aladdin
Swiss Family Treehouse
Jungle Cruise
Tomorrowland
Stitch's Great Escape
Buzz Lightyear's Ranger Spin
Monster's Inc. Laugh Floor
Tomorrowland Transit Authority
Astro Orbiter
Space Mountain
Tomorrowland Speedway
The Disney Parks Blog that these rides would have special "holiday enhancements" just for the Christmas parties:
Tomorrowland Speedway
Monsters Inc. Laugh Floor
Space Mountain
Mad Tea Party
Can You Use Fast Pass During the Party?
In a word, no.
However … since you can arrive for the party at 4pm, you can get Fast Pass reservations from then until the party officially starts at 7pm.
What Characters Are At Mickey's Very Merry Christmas Party?
This character list was taken from the Disboards's Official MVMCP thread, which as of this writing has not been updated for 2019 yet, but is probably "mostly still true."
Main Street, U.S.A.​
Santa Claus at Town Square (Meets During the Day)​
Mickey Mouse (Christmas Outfit) at Town Square Theater​
Jack Skellington as Sandy Claws and Sally at Town Square Theater (Starts Meeting @ 4:30pm & Wristbands distributed in line if you're already in the park.)

​
Adventureland​
Captain Jack Sparrow​
Aladdin (Prince Ali) with Abu (Scarf)​
Jasmine with Genie
Moana (Starts Meeting @ 5:45pm)​
Peter Pan (Scarf) – Roaming​
​

Liberty Square​
​

Fantasyland​
Tigger and Friends (Scarves) —Near Many Adventures of Winnie the Pooh (Starts Meeting @ 6:20pm)​
Ariel w/Prince Eric (Across from Ariel's Grotto)​
Princess Tiana w/Naveen and Rapunzel w/Flynn Ryder (Princess Fairytale Hall)​
Cinderella w/Prince Charming and Elena of Avalor (Princess Fairytale Hall)​
Aurora w/Prince Phillip and Snow White w/Prince (Near Princess Fairytale Hall) — Line up at 6:30pm​
Belle​
Tweedle Dee & Tweedle Dum (Next to the Mad Tea Party) — Started making an appearance w/o 12/3)​

​
Frontierland​
Storybook Circus​
Seven Dwarfs (Holiday Scarves) — Very popular! Line up by 5pm to meet them. (Starts Meeting @ 6:15pm)​
Scrooge McDuck w/Donald (Lumberjack/Holiday Plaid Hat & Coat) — Casey Jr.​
Minnie Mouse (Peppermint Dress) & Daisy Duck (Holiday Dress w/Snowflakes)​
Santa Goofy (Near Barnstormer)​
Timon, Doc McStuffins & Vampirina (Disney Junior Jingle Jam)​

​
Tomorrowland​
Nick Wilde & Judy Hopps (Starts Meeting @ 6:15pm)​
Reindeer​
Polar Bears​

​
Characters that are exclusive to MVMCP:
Seven Dwarfs
Sandy Claws
Captain Jack Sparrow
Nick & Judy
Princes with their Princesses (Prince Charming, Prince Eric, Flynn Ryder, Prince Phillip & Prince)
Moana
Characters at MVMCP that are normally hard to find:
Is there a long wait for characters?
I heard the average wait time is 30-40 minutes.
The Seven Dwarves and Jack & Sally are the most popular characters, with waits up to two hours long.
If meeting characters will be an important part of the evening for you, then look closely at the schedule and have a plan of attack.
Chip 'n Dale Holiday Bean Bags Set of 2
Mickey Mouse Holiday Plush
Disney Holiday Minnie Mouse
Kurt Adler 10-Inch Mickey Mouse Tree Topper or Tablepiece
Now it's your turn.
Have you been to MVMCP? If so, do you think it's worth it? Have crowds gotten worse over the years? What do you like best about the party? Let us know in the comments below!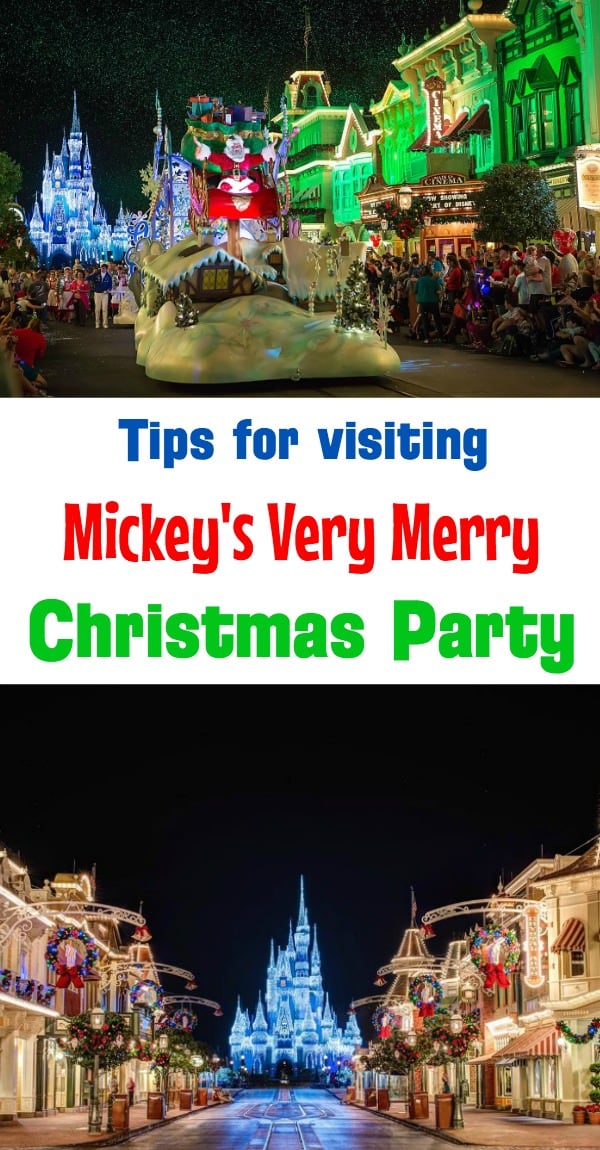 ---
---