Disney Fastpass: Secrets, Strategies, and Tiers
This post probably contains affiliate links. You can read the details about what that means here.
Honestly, a part of me kinda miss the old days of FastPass at Disney World.
I have fond memories of striding into the Magic Kingdom in September 2005 with my parents, husband, and two little girls all obediently following me, since I was the only one who had even a clue or what was going on.
Channeling my inner Monica Geller, I ancounced, "Everybody get in line for Dumbo while I run over to that kiosk and get FastPasses for Peter Pan!"
Once we were finished riding Dumbo, our FastPass for Peter Pan was ready to be used, so I would order everybody to get on line while I ran over to snatch FastPasses for Winnie the Pooh … and so it went.
It was a beautiful thing if you knew how to work it, and there was something strangely satisfying about having the kiosk spit special tickets to VIP lines out at you: It gave the sensation of having "won" something.
Of course, in 2014 all that changed when Disney World rolled out FastPass+.
Now there are no paper tickets and no kiosks, and instead of collecting passes throughout the day, you book them weeks in advance.
(Note: For the sake of simplicity, I still use the term "FastPass" to refer to the current system which is technically called FastPass+.)
So What is FastPass?
Oh, I'm sorry. In my nostalgia I'm getting a little ahead of myself.
FastPass is basically a ride reservation system at Disney World. (Disneyland has it's own, somewhat different, system.)
When you have a FastPass reservation, you get a specific one-hour timeframe where you can enter through the FastPass line.
Your wait in the FastPass line will be shorter than it would be if you went through the regular, or StandBy" line. (Waits in the FastPass line tend to be 15 minutes max.)
You can make FastPass reservations either on the My Disney Experience app or website before your visit, or via in-park kiosks at the parks when you arrive. But we'll get to that more in a minute.
How Much Does a Fastpass at Disney World Cost?
The first couple times we went to Disney, we were slightly puzzled (but very delighted) by how many times we strolled past huge amounts of people waiting in the StandBy line to get on the ride within minutes.
Why would anyone not use FastPass?
A couple years later I discovered many people assume that you need to pay extra to get a FastPass.
Don't make this mistake. FastPasses are completely free.
What's the Price of a Disney Fastpass Bracelet?
Those bracelets are called "Magic Bands" and the first thing you need to know is that you do NOT need a MagicBand in order to use the FastPass system.
If you are staying at a Disney Resort Hotel, everyone in your family over the age of 3 automatically gets a Magic Band.
(Kids under age 3 get a complimentary one, but it' more for show, because they don't need either tickets or FastPasses.)
And Magic Bands are awesome.
No more fumbling in your pocket for your park ticket again or again, or fighting with your spouse about where the second hotel key went. Just wave your wrist and you do can everything from riding your favorite rides to ordering a Troll Horn at Norway.
Of course, not everyone is staying at a Disney resort, and you can buy a MagicBand online or at various retail locations onsite for $12.95 plus tax. But you do not need one.
Personally, we did not choose to get them the last stayed time we stayed offsite. Because even though Magic Bands are awesome, we thought it was more awesome to spend that $65 toward, say a character meal. Your mileage may vary.
If you're really into Magic Bands, you can order a Disney Parks exclusive band and link it to your account. There are plenty of really cute ones to choose from!
Minnie Mouse Bow Disney Parks Magic Band
Disney Parks Elsa Magicband
Disney Parks MagicBand 2.0 – Belle
Disney Parks Princesses MagicBand 2.0
Grumpy Disney Parks MagicBand 2.0
Pongo & Perdita 101 Dalmatians Disney Parks MagicBand 2.0
12 Pack (one of Every Color, 3 That Glow in The Dark!) — Protect Your Disney Magicband!
When Can I Make FastPass+ Reservations?
This question has two different answers, depending on where you'll be staying:
1. If you're staying at a Walt Disney World Resort hotel:
You can log into My Disney Experience at at 7:00 AM U.S. Eastern Time 60 days before your arrival. (I recommend getting your account set up before then, so that you can go right to choosing your FastPasses that morning.)
You can get FastPasses for your entire trip at that time. Well, at least you can get them for the first 14 days of your trip. (Seriously, are there people who stay at Disney World for more than 14 days at a time?)
2.. If you're NOT staying at a Walt Disney World Resort hotel:
You can start making your FastPass+ selections 30 days before your arrival, beginning at 7:00 a.m. Eastern Standard Time.
BUT you cannot get FastPasses for your entire trip at that time.
So for example, if your trip begins on December 1, then you can log into My Disney Experience on November 1 (30 days out) and make your FastPass selection — but only for December 1. You have to wait until November 2 to make FastPass reservations for December 2, and so on.
Yet one more example of how Disney is trying to force encourage people to stay onsite.
Can you give me a quick rundown of all the Fastpass Rules?
Here are the basics of how FastPass reservations work, and what you can and cannot do with them:
* Every guest can make 3 FastPass reservations per day. Once you use those 3 FastPass reservations (or the time period for all of them has passed). then you can get additional FastPasses, assuming they are available.
* All 3 scheduled FastPasses must be for the same park but for different rides. For example, since my kids love Test Track so much, I tried to schedule two FastPasses for it in one day. The system wouldn't let me.
* FastPassess cannot be scheduled during Extra Magic Hours or hard-ticket events such as Mickey's Not So Scary Halloween Party, Mickey's Very Merry Christmas Party, or Night of Joy.
* Your entire party does NOT have to get the same FastPasses. For example, two of you can get a FastPass for Space Mountain while the other two get a FastPass for Buzz Lightyear's Space Ranger Spin during the same time period.
* You can move or cancel your FastPass reservations up to the start of your arrival window time.
* You must have a valid FastPass to enter that ride's FastPass queue (unless you're under the age of 3).
* FastPasses can be used in conjunction with child swap.
* FastPasess are NOT available at the water parks (Typhoon Lagoon and Blizzard Beach).
* The FastPass gives you a 60-minute window of time, with a grace period of 5 minutes before and 15 minutes after. However, Cast Members do have the ability to override the system and deny entry during the grace period, so don't be overly reliant on it.
* When you scan your Magic Band or ticket at the "Mickey Head" at the entrance of the FastPass queue, it will either accept you with a green light (if you're within the time window) or reject you with a blue light (if you aren't).
* FastPass return windows cannot overlap. So if you have a FastPass in the 10:00-11:00am window, you cannot schedule another FastPass in the 10:45-11:45am window.
* You can use kiosks in the park to schedule FastPasses, but only for that park and for that day. For example, you cannot schedule a Magic Kingdom FastPass at a kiosk in Epcot, and you cannot to to a kiosk on Monday to schedule a FastPass for Thursday.
* If an attraction is temporarily closed due to weather or technical issues during your scheduled FastPass window, you can come back and use your FastPass any time later in the day (assuming it reopens).
What the heck are Fastpass Tiers?
The FastPass Tiers are one of those things that make me miss the pre-2014 paper ticket system. It's also one of the many things that makes you feel like you need to take extended leave from your job and spend every day popping Tylenols every four hours in order to properly plan your family's Disney World vacation.
Well, actually, it's not that bad, but it does make things more confusing than they used to be.
The idea behind Tiers is that some rides are very very popular, and if everybody grabbed FastPasses for all those rides … well, I guess at least in theory, the FastPass lines could become almost as long as the Stand By lines.
So you can choose only one Tier 1 FastPass per day (until you've used all 3 of your FastPasses for the day and can add more).
These are the 2018 Tier 1 Rides for each Park:
Magic Kingdom Tier 1 Rides:
There are no Tier 1 rides in Magic Kingdom.
Hollywood Studios Tier One Rides:
Alien Swirling Saucers
Slinky Dog Dash
Toy Story Mania!
Epcot Tier One Rides:
Frozen Ever After
Soarin'
Test Track
Illuminations: Reflections of Light
Epcot Character Spot
Animal Kingdom Tier One Rides:
Flight of Passage
Na'vi River Journey
So you cannot get, for example, a FastPass for both Test Track and Soarin'. And you cannot get a Fastpass for both Flight of Passage and Na'vi River Journey, or … well, I think you get the idea.
* At the time of this writing, Slinky Dog Dash, Frozen Ever After, and Flight of Passage are the three most difficult Tier 1 attractions to get, and therefore your best choices (assuming you want to ride them).
Disney World Fastpass Strategies
With literally dozens of rides that offer FastPass, you might be overwhelmed. Here are some good strategies for getting the most out of your FastPass reservations:
* Schedule your FastPasses during the time span of 10am-3pm.
The ideal, and most basic, strategy for your day is this: Be at the park before rope drop, enjoy the shorter lines in the morning, then start using your FastPasses in the middle of the day when the park is hot and the lines are long. Then when you've used up your 3 Fastpasses, you still have time left in the day to get more.
* Don't get Fastpasses for stupid things.
As strange as this may seem, a lot of rides at Disney World that do not have long lines still offer a FastPass.
Why?
So they can offer enough FastPasses for everybody.
However, many of these FastPasses are completely useless.
Are there really hordes of people waiting in line for two hours to ride Mad Tea Party or The Magic Carpets of Aladdin? (Spoiler: No, there are not.) A FastPass for some of these attractions would save you very little time — perhaps none at all — and be a total waste.
At the end of this post I've included a complete list of rides that offer FastPass, along with my recommendations of the best choices.
* When "Park Hopping," schedule the FastPasses for the second park you're going to.
* Consider using the Single Rider line instead of getting a FastPass.
Expedition Everest, Test Track, and Rock 'n Roller Coaster all offer a Single Rider line for riders who are at least 7 years old. If you take advantage of this, you can move through the line must more quickly and can save your FastPasses for other rides.
* Keep refreshing your app.
If you have a "must-do attraction" that's super-popular, refresh the app regularly on the day of your visit. You might lucky and be able to snag a FastPass reservation that someone else just canceled.
The "Tap, Grab and Modify" Fast Pass Strategy for Hard-Core Folks
I discovered this strategy from MouseHacking, who got it from my buddies Shane and Ted and over at Parkeology. We will be trying this strategy on our upcoming trip, and I'll report back.
Here's the secret behind "Tap, Grab and Modify":
Once your FastPass has been redeemed by tapping the "Mickey head at the FastPass queue entrance, it is consider "used" and you can immediately start making changes to your other FastPass selections.
So what does this mean?
Let's say you have these FastPasses for Hollywood Studios:
Rock 'n' Roller Coaster — 10:00am-11:00am
Tower of Terror — 11:30am-12:30pm
Toy Story Mania — 2:00-3:00pm
Without the Tap Grab and Modify Strategy:
You enter the FastPass queue for Rock 'n' Roller Coaster at 10:05am, and finish the ride by, say, 10:35am.
Now you have almost a full hour to kill before you can ride Tower of Terror.
By the time you finish riding Tower of Terror, it's 12:15pm and you have almost another two hours to fill. And you can't get any more FastPasses until after 3:00pm or after you've finished riding Toy Story Mania, whichever comes first.
With the Tap, Grab and Modify Strategy:
You enter the FastPass queue for Rock 'n' Roller Coaster at 10:05am, same as before.
But now, instead of just standing around trying to find the Hidden Mickey on the floor, you get on the My Disney Experience app and see that there is a Tower of Terror FastPass available at 10:45am.
You couldn't get it originally, because it would have overlapped your RNRC FastPass … but once you cleared the "Mickey Head" at the queue entrance, that Fastpass got "erased," so to speak, so now you can grab it.
So now when you finish riding RNRC at 10:35am, you can go straight to Tower of Terror and you … you guessed it. Once the Mickey Head "clears" that FastPass, you jump back on the app.
Let's consider two possible scenarios here, both of which are good:
Scenario One is that you see a Toy Story Mania FastPass available at 1:00. Great! You can change your time, and now you'll be finished with your 3 FastPasses about two hours earlier than you would have originally, which gives you more time to pick up additional ones.
Scenario Two is, that, lo and behold, you see a FastPass for Slinky Dog Dash and decide that it's worth dumping your Toy Story Mania FastPass to snag that one. Now you have a FastPass that you didn't think you could get, and you might also be ready to get new FastPasses earlier in the day.
The Complete Disney World Fastpass Rides List
In summary, here's a complete list of all the Disney World rides that offer FastPass, sorted by tiers. The ones in bold are the best choices.
Magic Kingdom Rides That Use FastPass
Tier 1:
There are no Tier 1 rides in the Magic Kingdom.
Tier 2:
Seven Dwarfs Mine Train
Space Mountain
Splash Mountain
Big Thunder Mountain Railroad
Peter Pan's Flight
Pirates of the Caribbean
Enchanted Tales with Belle
Jungle Cruise
Buzz Lightyear's Space Ranger Spin
Dumbo the Flying Elephant
Haunted Mansion
Mad Tea Party
Meet Anna and Elsa and a Visiting Princess – Princess Fairytale Hall
Meet Ariel at her Grotto
Meet Cinderella and a Visiting Princess – Princess Fairytale Hall
Meet Mickey Mouse – Town Square Theater
Meet Rapunzel and a Visiting Princess – Princess Fairytale Hall
Mickey's PhilharMagic
Monsters, Inc. Laugh Floor
It's a Small World
The Barnstormer
The Magic Carpets of Aladdin
The Many Adventures of Winnie the Pooh
Tomorrowland Speedway
Under the Sea ~ Journey of The Little Mermaid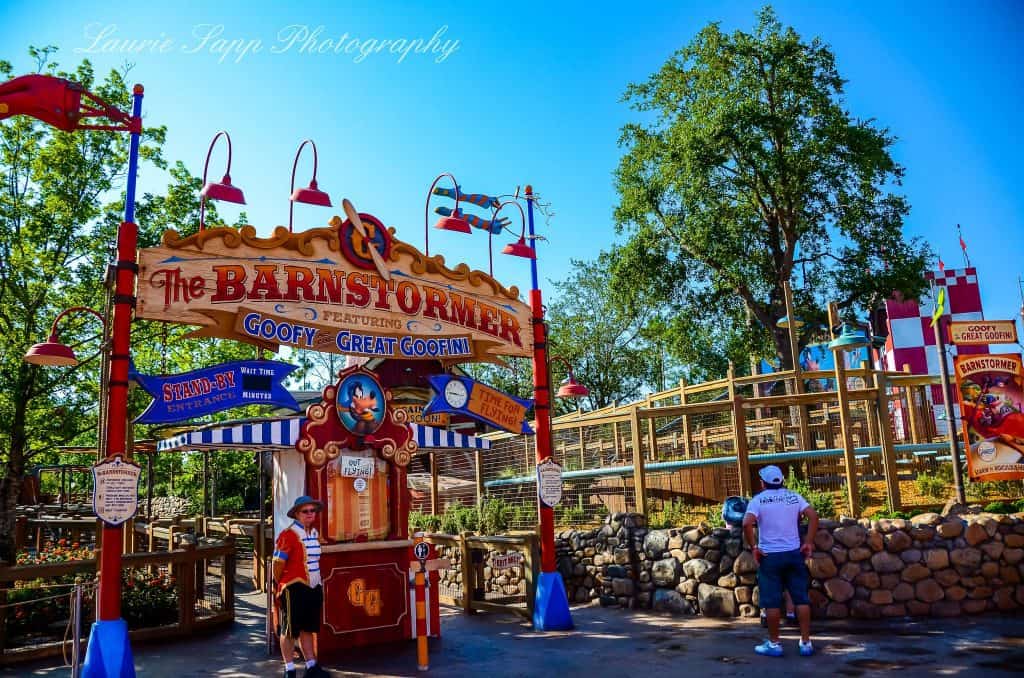 Epcot Rides that Use Fastpass
Tier 1:
Frozen Ever After
Soarin'
Test Track (consider using Single Rider Line instead)
IllumiNations: Reflections of Earth
Epcot Character Spot
Tier 2:
Mission: SPACE
Spaceship Earth
Disney & Pixar Short Film Festival
Journey Into Imagination
Living with the Land
The Seas with Nemo & Friends
Turtle Talk with Crush
Hollywood Studios Rides that Use Fastpass
Tier 1:
Slinky Dog Dash
Toy Story Mania!
Alien Swirling Saucers
Slinky Dog Dash at Toy Story Land

Tier 2:
Star Tours
Rock 'n' Roller Coaster
The Twilight Zone Tower of Terror
Beauty and the Beast – Live on Stage
Fantasmic!
For the First Time in Forever: A Frozen Sing-Along Celebration
Disney Junior – Live on Stage!
Voyage of the Little Mermaid
Indiana Jones Epic Stunt Spectacular!
Muppet*Vision 3D
Animal Kingdom Rides that Use Fastpass
Tier 1:
Flight of Passage
Na'vi River Journey
Tier 2:
Dinosaur
Expedition Everest
Kali River Rapids
Kilimanjaro Safaris
Finding Nemo – The Musical
Flights of Wonder
It's Tough to be a Bug
Meet Favorite Disney Pals at Adventurers Outpost
Primeval Whirl
Rivers of Light
Video — Top Fastpass Secrets & Tips at Disney World
Disney Parks Chip 'n Dale MagicBand 2
Disney Parks MagicBand 2.0 – Inside Out
Disney Parks MagicBand 2.0 – Peter Pan
Disney Parks Toy Story Buzz Lightyear and Woody
Disney Parks Toy Story Land Slinky Dog Zig Zag MagicBand 2.0
Mickey Mouse It's My Birthday Disney Parks MagicBand 2.0
So what about you?
What has your experience with FastPass been like? Do you have any of your own secret strategies to share? Do you have any questions? Let me know in the comments!