Fantasmic! (Dining Package, Dessert Party, and FastPass)
Fantasmic! is an outdoor "mixed media nighttime spectacular" at Hollywood Studios in Walt Disney World. It includes, among other things fireworks, characters, live actors, water effects, music, decorated boat floats, and mist screen projections.
Basically, the show stars Mickey Mouse (in his "Sorcerer's Apprentice" role) using in his imagination in a good-versus-evil battle against the Disney Villains.
Or, as people who don't like the show sometimes describe it, "Mickey Mouse on a bad acid trip."
Here's an interesting tidit of info that I found from Disney Tourist Blog:
Up until its late stages of development, the show was known as Imagination! Disneyland even made up marketing posters with Imagination! in its name. However, the name was eventually changed to the made-up word of "Fantasmic" because they were concerned that the word "Imagination" couldn't be trademarked.
[Note: I am now officially going to drop the exclamation point at the end of the name for the rest of this post. Even though it's technically incorrect, it would drive me crazy to write (or read) an article with constant exclamation points in the middle of sentences.]
When Did Fantasmic Open?
Fantasmic originated at California's Disneyland in 1992. The show at Disney's Hollywood Studios debuted in 1998, and a third version debuted at Tokyo DisneySea in 2011.
When are Fantasmic Show Times?
Unlike Epcot's Illuminations, which is pretty much at the same every night, Fantasmic show times can vary. It is typically offered two to three times a week, some time between 7:30 to 10:00pm, During peak seasons they often have two shows a night.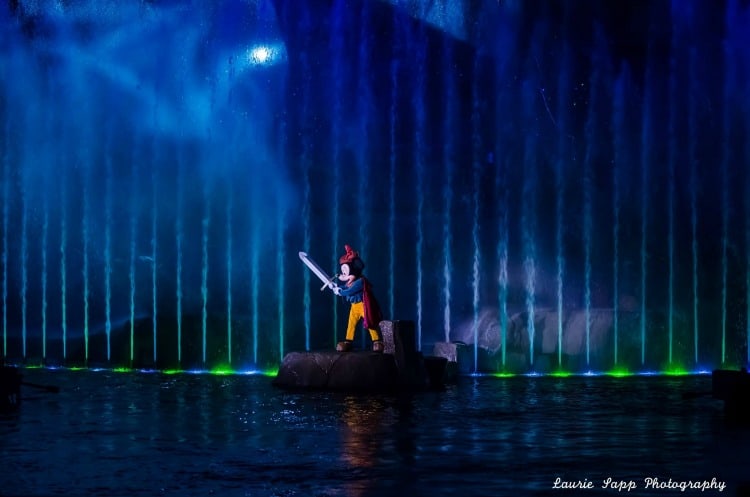 How Early Should You Arrive for Fantasmic?
Fantasmic takes place in the Hollywood Hills Amphitheater in Sunset Boulevard, near The Tower of Terror. The amphitheater opens 90 minutes before the show begins, and most people seem to recommend arriving between 30-60 early, depending on how badly you want to get a really good seat. (In a minute we'll discuss ways you can get into the reserved seating areas.)
When there are two showings of Fantasmic, the second show is always less crowded, so if you're attending one of those, you can arrive 25-30 minutes early.
In you're seated in the first dozen or so rows of seats, you're likely to get wet from the sprays of mist and/or splashes during certain scenes, so keep that in mind.
One important thing that people rarely mention is that the seating at The Hollywood Hills Amphitheater is, uh … not real comfortable. It's your basic bleacher seating — no back, and hard as a rock. If the idea of sitting on that for almost an hour and a half sounds miserable, you might want to consider bringing something like this:
ONIVA Reclining Stadium Seat
Rio Gear My Pod Seat
2 Pack Coleman Stadium Seat
Is Fantasmic Scary?
Fantasmic can be pretty intense at times. There are loud, unpredictable explosions and bright lights. Maleficient turns into a huge dragon with glowing eyes. Flames leap out of the water. Mickey appears to be in serious danger at times.
We didn't see Fanstasmic until my kids were over the age of ten, but I imagine that, yes, they would have been scared by it as toddlers. One of my children in particular was very sensitive and I can almost guarantee he/she would have been bawling if he/she saw it under the age of six.
However, there are plenty of little kids are not at all scared by Fantasmic, so don't assume you have to skip it just because my kid(s) would have been scared.
If you're having trouble deciding what to do, you might want to watch clips of the show on YouTube (although kind in mind that seeing it live at an outdoor venue is very different than watching it on a small screen).
** The video clip below starts right around the part where it starts to get creepy.
Video Clip: Fantasmic! at Disney's Hollywood Studios
Also, you might want to have an "exit strategy" just in case: For example, maybe you scoop up the sobbing kid and hightail it back to the park to get some ice cream, while your spouse stays with kids who are enjoying the show.
Do they Cancel Fantasmic for Rain?
The decision to cancel Fantasmic due to weather has less to do with the guests' comfort and more to do with the performers' safety.
At least one of the times we saw Fantasmic, we sat in the rain for a while wondering if the show would be cancelled or not. (It wasn't.) It just depends on the forecast and the amount of rain. Sometimes they delay the show. Sometimes they cancel it (especially when lightning is involved).
If they cancel the show at the last minute, they still need to shoot off the pyrotechnics, so at least you'll get a mini-show that way.
Should I Get a FastPass for Fantasmic?
You can get a FastPass for Fantasmic, but we never have, and I wouldn't recommend it.
In fact, for a while I was a little confused about how FastPass for Fantasmic even worked? Did you get a guaranteed seat? No. Do you get the best seats? No. Um, so what does a Fastpass do for you, exactly?
Robo at the DisBoards explains it well:
What a FastPass for Fantasmic offers is more CHOICE in seating.

If you DO get a Fantasmic Fastpass, you can choose to sit in either the FastPass section (virtually the entire left half of the theater) or the Standby section (virtually the entire right half of the theater.)
So, whatever section has the better seating at the time you arrive, you can go there.

Without a FastPass, you can only choose a seat in the Standby section.

There is a very good chance that you can get a FastPass for Fantasmic as a 4th or 5th Fastpass of the day because they issue SO MANY of them (enough to cover nearly the entire left half of the seating.) On many nights, it is possible that you can gat a FastPass for Fantasmic as you are walking to the theater.

As to when to arrive at the theater, I'd get to there 45-60 minutes before the show-time. Even WITH having a FastPass or Dining Package. reservation, don't wait too late.

On busy nights, the cast members can stop holding the reserved sections within 20-30 minutes before show-time, and turn over any available seats to waiting walk-in guests …

If you're interested in being able to get reserved center seating for Fantasmic without having to stress out about arriving early, forget about FastPass, but consider getting the Dining Package.
So to sum it up:
FastPass means you get to choose from seats on the left or right side, as oppssed to just the right side
You still have to show up early, even with a FastPass
There's a decent chance you can get a FastPass for Fantasmic at the end of the day, possibly even at the last minute
Map of Fantasmic Seating
This map makes things a lot more clear (at least it did for me). See how if you have a FastPass, you can choose to sit in either the green or blue section?
Those great center seats in the orange section are what we're going to talk about next.
The Fantasmic Dining Package
If you really want to be guaranteed good seats to Fantasmic without showing up an hour early, the Fantasmic Dining Package is the way to go.
The Dining Package includes an entree, dessert, non-alcoholic beverage, and a VIP seating voucher for Fantasmic. (If there are two shows that evening, your voucher will be for the earlier show.)
It is important that you book the Dining Package specifically. You can't just make reservations for lunch at the Hollywood & Vine and then waltz in that afternoon and ask for VIP seating for Fantasmic. It doesn't work that way.
One possible downside to getting the Dining Package is that you might have to eat at weird times, like lunch at 3:00pm. You can book your package 180 beforehand, so as usual, booking early will probably give you more options.
Note that you don't get a reserved seat with the Dining Package; you just get the privilege of sitting in a reserved area. So you still should arrive about 20-30 before the show is scheduled to start.
If the show is canceled due to rain or technical difficulties, you can get a voucher from Guest Relations to return to a show sometime within the next 5 days. [I think this has changed recently; it used to be that you were just out of luck if the show got cancelled.]
You'll still need a park admission ticket to come back for another show, though. That means you'll either need to have Park Hopper tickets or to commit to a second day at Hollywood Studios if you want to use the voucher on a return visit.
Fantasmic Dessert Party
The "Dessert Party" is basically an opportunity to get good seating at Fantasmic without getting the Dining Package.
The actual name for it is the Fantasmic! Dessert & VIP Viewing Experience, and as you'll see, it's not a "party" at all.
The cost is $39 per adult and $19 per child (ages 3 to 9). Just to put that in perspective, it would cost a total of $195 for my family.
So what comes with this $195 party viewing experience?
Basically, you're handed a box of prepared snacks and a specialty drink in a souvenir cup, plus a glowing lanyar. Then you get to sit in the VIP reserved seating area and eat your snacks while you watch the show.
The adult box consists of things like strawberries, cheese, apple crisp, rice chips, a chocolate cupcake, cheesecake, and trail mix.
The kid box contains "Build Your Own Worms and Dirt" (chocolate pudding, chocolate cookie crumbs, and gummy worms), vanilla cake, confetti popcorn, and grapes.
When I first read about this, I thought it was an insane rip-off, and I was ready to go on a rant about how ridiculous it was. Almost $200 for our family to get a box of pre-packaged snacks and "better" seats to a free fireworks show?
But the thing is … some people really enjoy it. It's less expensive and less time-consuming than getting the Dining Package, the desserts are supposedly very good, and for some people it's worth the price to get center seating without having to stress out or arrive super-early.
It's worth noting that if you get the Dining Package for Mama Melrose, the price is $43 for adults and $18 children, which is only a few dollars more per person than getting the "Dessert and Viewing Experience." So if you're debating whether or not to get the "dessert experience," you might want to consider paying a little more and getting the full meal deal, so to speak.
By the way, you are allowed to bring food and drinks into the amphitheater, so you could make your own "dessert party," if you're willing to arrive early and/or aren't too picky about where you sit.
Disney Fantasia Sorcerer Mickey Mouse Plush Toy
Which Fantasmic is Better: Disney World or Disneyland?
Like Space Mountain, it sounds like the Disneyland version of Fantasmic is generally considered to be much better.
Fantaluminishes from the DisBoards says:
I've seen Fantasmic! at both parks, many times. Disneyland's is HANDS DOWN better than the version they have at Disney Hollywood Studios. Sure, there is no seating at Disneyland, but you can often walk right up (especially for a second showing) and have a very good viewing area …

I don't like the Hollywood Studio show because they have way too many issues, and the content is NOT the same. For example, the show at Hollywood Studios relies way too much on the use of the water projection screen … Disneyland's version has a little more live action, and the Peter Pan sequence alone makes this show an easy winner.

Weather is also a problem at Walt Disney World. They can cancel the show literally seconds before it is set to begin, and I've seen abbreviated shows several times due to technical malfunctions. I've only seen one malfunction at Disneyland in more than twenty years.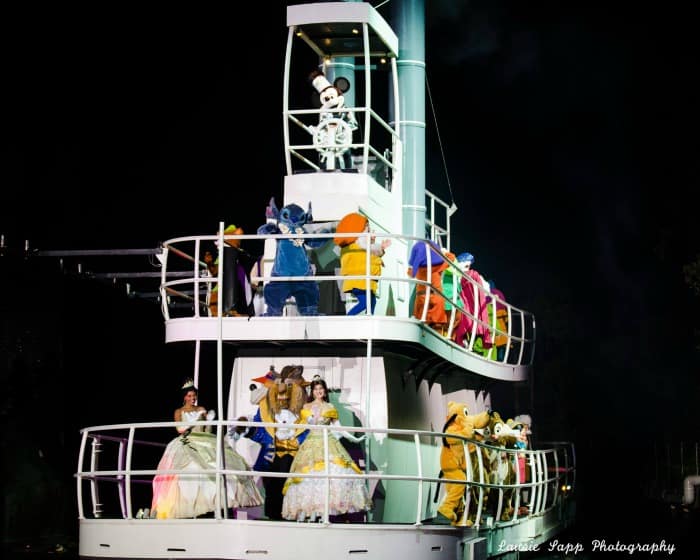 BrianL compares the two shows point by point:
I would say Disneyland is a better show, but they both have their pros and cons:

Disneyland Pros:
-Peter Pan Sequence
-Bigger Dragon
-Seems Closer (though if I ever got to sit in front at WDW it might be equal)

Walt Disney World Pros:
-MUCH better seating
-Better backdrop of the mountain
-Steamboat Willie done in "black & white" (I actually like better than the larger boat because it is like the cartoon short)

Disneyland Cons:
-Poor seating/viewing area
– Wilderness fort backdrop seems out of place

Walt Disney World Cons:
-Pocahontas sequence
-Smaller Dragon
-Line forms EARLY for good seats
-That AWFUL pre-show you have to sit through every time!!!!
Now it's your turn.
What are your thoughts on Fantasmic? Did your children think it was scary? Have you ever done the "Dessert and VIP Viewing Experience," and if so, did you think it was worth it? Which of the three Dining Package restaurants do you think is the best? Let us know below in the comments!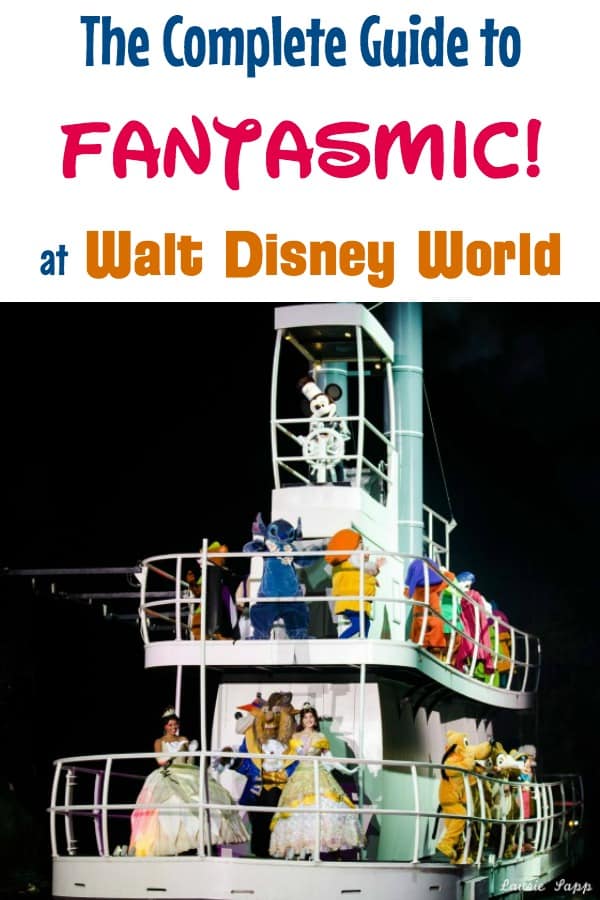 ---
---