Review of 50's Prime Time Cafe in Disney's Hollywood Studios
This post probably contains affiliate links. You can read the details about what that means here.
In my post about the best Disney restaurants for first time visitors, I recommended the 50's Prime Time Cafe in Hollywood Studios even though our personal experience was not that great (because our waiter was not that great).
I still wanted to give 50's Prime Time Cafe the proper praise that I think the restaurant deserves (after all, the people at the nearby table with a different server were having a great time).
So I asked my friend Gini over at MickeyIsLife.com to do a guest post review of her own experiences there.
By the way, if you're heading to 50's Prime Time Cafe and want to avoid having the lame experience we did, when you arrive ask the host for a good server who "really gets into it."
Unless, of course, you don't want a server who's going to play around you … in which case, I suggest you eat somewhere else. (More on that later.)
And now, here's Gini!
*****************
The 50's Prime Time Cafe is a family-friendly diner that takes you back in time. Located in Disney's Hollywood Studios, the restaurant is known for its old decor, which serves as a fabulous throwback to the 1950s.
Open for lunch and dinner, the vintage joint offers reservations for those who'd like to skip the line (it can get quite busy sometimes!). Planning ahead is easy—just use the My Disney Experience app!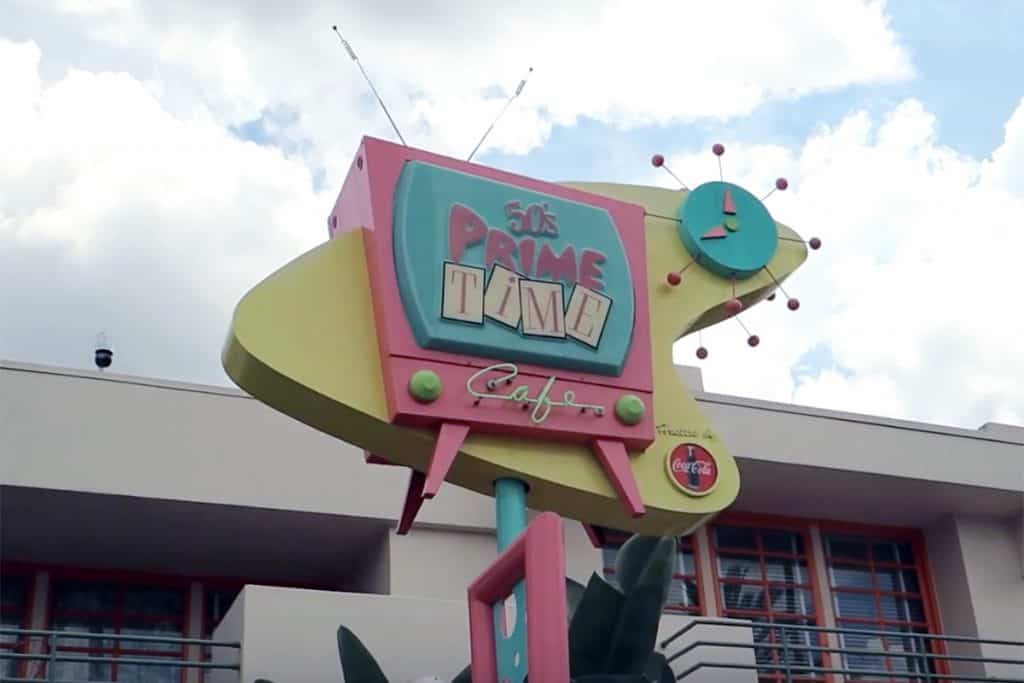 Theming
The American eatery is a blast from the past with its retro theme. Not only are there old school TVs scattered throughout (be sure to watch the black and white clips!), but each table is designed to resemble "mom's kitchen" from the 50s. Did I mention that the floor is covered with black and white tiles?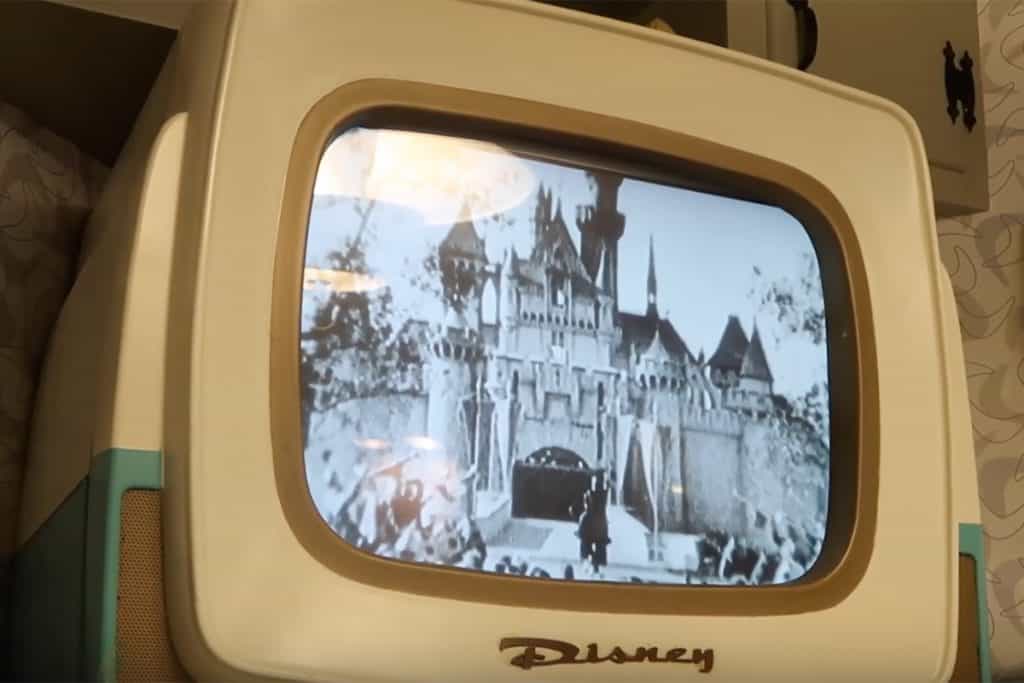 The theme extends to the staff as well; most waiters and waitresses will be sarcastic and sassy—50s style. If anything, they play the part well. Many will be happy to pull out all of their "tricks" so that you can enjoy the experience.
A sense of humor is highly recommended!
Where is the 50s Prime Time Cafe?
The 50's Prime Time Cafe is one of the many restaurants at Disney's Hollywood Studios. Located in Echo Lake, a themed land that features a small oval-shaped lagoon, it sits between the Tune-In Lounge and the Indiana Jones Adventure Outpost.
Cafe Hours
The restaurant is open from 11:00 am to 9:15 pm on most days; they close early at 9:00 pm on Fridays and Saturdays. As far as their lunch menu goes, it runs until 3:15 pm. From there, they serve dinner until closing.
Know what day you'll be visiting? You can look up their hours for that day on the Disney website.
Is the 50s Prime Time Cafe Quick Service or Table Service?
The cafe offers table service. In other words, you get to sit down and enjoy the meal that's brought out to you by your waiter. You might not feel that they're your waiter, though—after all, they're in character. Some of them might even refer to you as their cousin! Don't worry, it's just part of their role play.
Just sit back and have fun with the experience!
Is 50s Prime Time Cafe on the Disney Dining Plan?
The Disney Dining Plan is available for those who are staying at a Walt Disney World hotel. Essentially, it's a prepaid meal plan that allows guests to budget their dining costs in advance.
There are three types:
Disney Quick-Service Dining Plan
Standard Disney Dining Plan
Disney Deluxe Dining Plan.
You'll be happy to know that the 50's Prime Time Cafe does accept two of them—that is, the Standard Disney Dining Plan and the Disney Deluxe Dining Plan.
In both cases, it will require one credit. (you get one of these per night during your stay at the resort).
The 50s Prime Time Cafe Rules
Once you're seated at your table, your waiter will let you know about "Mama's Rules".
These rules include:
– No elbows on the table
– No cellphones (that didn't stop me from sneaking in a few photos, though!)*
– Use your manners at all time
* Note: Your waiter won't hesitate to call you out if they see you on your phone! Just something to keep in mind, you know?
The Menu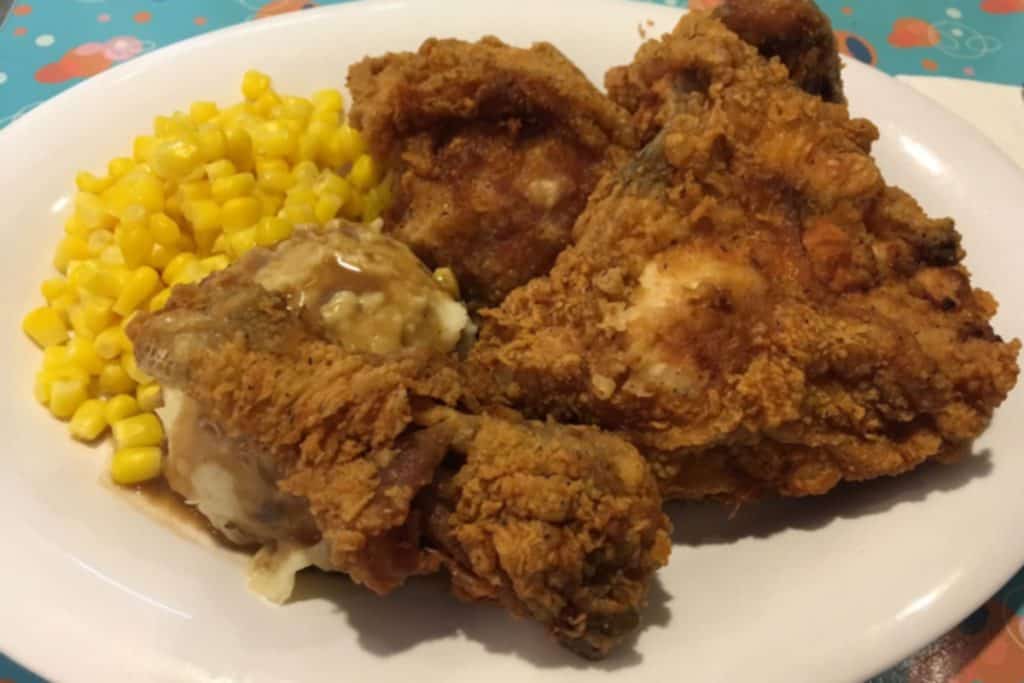 The 50's diner offers six different types of appetizers:
Beer-battered Onion Rings
Fried Herb and Garlic Cheese (served with apples, grapes, and raspberry sauce) Chicken Noodle Soup
Cousin Amy's Iceberg Lettuce Wedge
Grandpa's Crab Cake (with bacon and chili sauce)
I was feeling a little under the weather that day so I opted for a bowl of chicken noodle soup. As much as I'd hate to admit it, there was nothing spectacular about the dish. It tasted exactly like what I'd eat at home—I suppose chicken noodle soup will be chicken noodle soup no matter where you are, hah!
Entree-wise, they have:
Pork Chops
Pot Roast
Chicken Pot Pie
Meatloaf
Caesar Salads
Vegetable Lasagna
Blue Plate Special (more about that in a minute)
Personally, I went for Aunt Liz's Golden Fried Chicken (because you can never go wrong with fried chicken, right?). It came with a scoop of garlic mashed potatoes, gravy, and corn. (see photo above.)
My first impression was that it came with a lot of chicken—"there's no way that I can finish all that!" I thought.
The fried chicken was flavorful, yet not to the point of being too salty. While the meat was slightly dry, it was nothing a little gravy couldn't fix.
Being the small eater that I am, I got pretty stuffed after eating two large pieces (don't forget, there were the sides as well!). What did I do with the rest? I offered them to the BF, who happily devoured them.
Note: Don't worry if you can't make it to the restaurant for dinner. Their lunch and dinner menus are pretty much the same!
Vegan Menu
As with most Disney restaurants, the 50's Prime Time Cafe does offer a few vegan options:
Cousin Ryan's Vegetable Lasagna—Order it without cheese.
Fruit Salad
Garden Salad
Spaghetti (unfortunately, the vegetarian meatballs are not vegan, as they are made with eggs)
Vegetable Platter
I have heard mixed info about whether or not you can get vegan ice cream (made with either Tofutti or Rice Dream). Some people say you can get ice cream, but not milkshakes. Some people say they've gotten both, some people say they no longer offer either one. So you might want to call ahead and ask.
Allergy Menu
The 50's Prime Time Cafe does have allergy-friendly offerings. Do note, however, that you'll have to ask for the special menu. It covers the top 8 common allergens (gluten/wheat, milk/dairy, egg, soy, peanut, tree nut, fish and shellfish.
They'll be happy to work with you as long as you let them know about your allergies!
Children's Menu
One of the great things about the restaurant is that they have several options for kids under the age of 9.
They offer three types of kids' appetizers:
Garden salad
Vegetable Platter
Chicken Noodle Soup
Children's entrees include:
Goofy's Salmon
Grandma's Macaroni & Cheese
Grandpa's Grilled Chicken
Aunt Betty's Chicken Tenders
All the entrees come with two sides (green beans and carrots, mashed potatoes, corn, fruit salad, cupcake) and a drink (milk, water or apple juice).
They also have a specialty drink for kids that's served in a cool-looking souvenir Character Cup—one that comes with a glowing clip-on light!
Dessert
The 50's Prime Time Cafe boasts a variety of desserts, including
Apple Crisp
Dad's Favorite Chocolate-Peanut Butter Layered Cake
Ice Cream Sundaes
Cheesecake
Mom's Brownie (everybody's favorite!)
Unfortunately, we didn't get a chance to try the brownie (mainly because I was too full from the soup and chicken), but judging from how fast the people next to us ate it, it must have been pretty darn good!
If I ever go back, I'll be sure to save some room for dessert.
Milkshakes
The 50's Prime Time Cafe has two types of milkshakes on their menu:
Standard Milkshake (Chocolate, Vanilla, or Strawberry)
Peanut Butter & Jelly Milk Shake
They are Big.
And they are Good.
Blue Plate Special
Aside from their regular entrees, they also offer a Blue Plate Special. As per their menu, it's a "healthy seasonal alternative with all the fixings." Just keep in mind that they'll charge you the market price.
Some examples of the Blue Plate Special are:
Mahi Mahi
Osso Bucco
Braised Pork Shank
The 50's Prime Time Sticker
Once you're done your meal, your waiter will give you a nice little souvenir to take home—a 50's Prime Time Cafe sticker. Be sure to ask for one if they forget to give it to you (sometimes they're a little busy)!
50s Prime Time Cafe or Sci-Fi Dine-In?
When people are making their Disney dining reservations, there are often two similar restaurants they have trouble deciding between.
In the case of 50's Prime Time Cafe, the obvious "comparison" is with Sci-Fi Dine-In, because
1) They are both in Hollywood Studios;
2) They both have a unique theme;
3) They serve similar types of food
I've never been to Sci-Fi Dine-In (and neither has Jen), but it seems to get pretty good reviews (for people who like a themed restaurant and are not expecting fine dining).
So which to choose if you can only do one?
As usual, Disney expert Tom Bricker nails it when he says:
The question is whether your party is primarily introverts or extroverts. If you have a bunch of introverts, or people who simply want to decompress and be left alone while eating, 50's Prime Time Cafe is a bad idea. The 'relatives' serving you won't break character if your party isn't into it, either. They still pick on you and insist you clean your plate (etc.), and we've witnessed some awkward encounters at adjacent tables that inexplicably didn't 'get' the concept through their entire meal.

Extroverts and older guests who were children of the 1950s through around the 1970s tend to love 50's Prime Time Cafe. It's a situation where you get out of it what you put into it, and the interactions can be a hoot if you roll with them and engage in a bit of banter with the servers …

By contrast, Sci-Fi Dine-In Theater is the ultimate restaurant for introverts or decompressing. Not only is the entertainment entirely passive (and the service low-key as Cast Members stay 'out of the way' of the movies), but you are seated in rows of a car, meaning you pretty much only have to interact with one person for the duration of the meal. For extroverts or families with kids, this seating arrangement can be a definite downside–it's the most common complaints we receive about Sci-Fi Dine-In Theater.
50's Prime Time Cafe Recipes
Want to pretend you're at 50's Prime Time Cafe even after you come home from vacation? Just push play on one of these classic TV shows and put together one of these recipes:
Fried Chicken Recipe
This recipe for Aunt Liz's Golden Fried Chicken includes wheat flour, soy flour, and non-fat dry milk.
Meatloaf Recipe
This copycoat recipe for meatloaf is made with beef and pork and topped with a glaze or ketchup, brown sugar, Dijon mustard, and Worcestershire sauce.
Video — PB&J Milkshake Recipe
If you're interested in making more recipes from Disney restaurants, be sure to check out these cookbooks:
Mickey's Gourmet Cookbook: Most Popular Recipes From Walt Disney World & Disneyland
Chef Mickey: Treasures from the Vault and Delicious New Favorites
Cooking With Mickey and the Chefs of Walt Disney World
Final Thoughts on 50's Prime Time Cafe
There's just something special about eating at a '50s themed restaurant so I would definitely come again given the chance! There are plenty of other dishes that I'd like to try (I'm eyeing their crabcake appetizer), not to mention their desserts.
One thing to remember, though, is that your experience depends largely on your waiter—some are more "immersive" than others. We were lucky in that ours was super fun and interactive!
In any case, anyone who'd like a blast from the past should go check out the 50's Prime Time Cafe. Even if you're not from the '50s, you'll have lots of fun—I guarantee it. And anyway, who can say no to American comfort food?
***********
Gini has been a Disney fan for as long as she can remember. Enticed by the magic, she makes an effort to visit the parks at least once a year. When she isn't planning her vacation, she enjoys playing with her five-year-old husky and working on her blog, Mickey Is Life.
Click here to follow Gini on Instagram.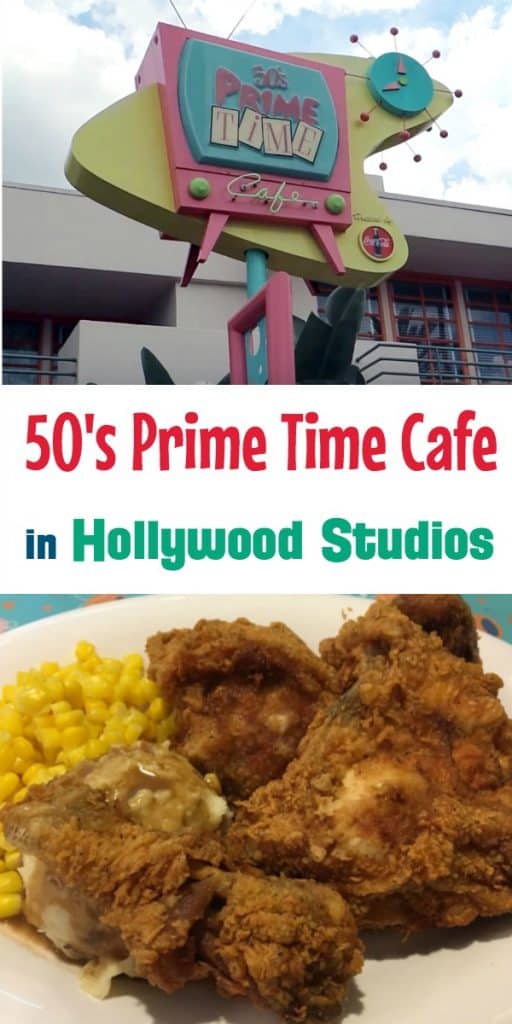 ---
---