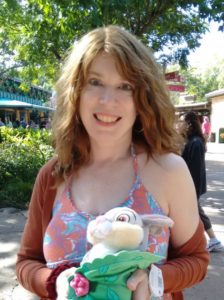 Hi, and welcome! I'm Jen and I'm so glad you stopped by today.
Three Kids, Three Cats, and a Husband started out as a journaling blog on blogger. Then it expanded to include recipes, toy reviews, and gift ideas.
But it eventually evolved into a site that is mostly about Disney World vacation tips for families, because I discovered that those posts were the ones I enjoyed writing more than anything else.
My "three kids" are Rachael, age 17, Rebecca, age 15, and Benjamin, age 12.
Here they are eight years ago, dressed up and posed as each other.

Sadly, the "three cats" have had some changes since I started the blog. Gingie is the only remaining original cat. Snickers has joined us, and we are currently considering a third cat so I don't have to change my domain name. 😉

The "husband" is Robert, aka "Bobby," a web programmer who loves NASA, fossils, and 3D printing.

If you're new here, check out my most popular Disney Posts:
How to Beat the Heat at Disney World
4 Great Etsy Printable You Need for Your Disney Vacation
Tips to Make Your Character Meet and Greet Awesome
These are my most popular non-Disney posts:
Jamie Deen's Award-Winning Chili Recipe
The Best Toy Garages for Toddlers
Unique Gifts for Book Lovers
Feeling Overwhelmed by all the Disney Character Meal Options?
You can email me at Jen (at) ThreeKidsThreeCatsandaHusband (dot) com. I'd love to hear from you!