Inexpensive Gift Ideas for Book Lovers (Including Gift Baskets & DIY Gifts)
This post probably contains affiliate links. You can read the details about what that means here.
Book lovers — such as myself — are a bit of a weird breed.
When we're out in public and see a stranger reading, we try to get a glimpse of the title of the book (or often, in my case, just flat-out ask.)
Our idea of a wild and exciting evening out is wandering through a bookstore.
We go into a tailspin if the movie adaption of the book is a disgrace. (Anyone remember Simon Birch, the supposed movie version of John Irving's A Prayer for Owen Meany? No? Well, probably just as well. And I would never, ever, even consider seeing the live-action versions of The Grinch Who Stole Christmas or The Cat in the Hat.)
I personally pack at least four books any time I take a trip: the book that I'm currently reading, one fiction and one non-fiction book for when I finish the current book (because I don't know which type I'll be in the mood for) and one extra back-up just in case I don't like either of those.
And then, of course, there are always a few extra books on my phone's Kindle app. Just in case.
Whether you're shopping for the bibliophile in your life or just for yourself, you'll love these clever and unique gift ideas that I found on Amazon and Etsy.
You can also find links to some really cute, customizable book gift boxes — or scroll down to the bottom to see some tips on how to make a gift basket with a book theme.
Great Gifts for People Who Love to Read
Novel Teas – Modern American Classics contains 25 teabags individually tagged with literary quotes
Personal Library Kit
Kindle Paperwhite Case – Book Themed Cover (Pride and Prejudice)
Good Book Cozy Nook and Tea (Option to Personalize with a Name) – Stainless Steel Stamped Spoon
Just One More Chapter – Glass Coffee Mug
Gourmet Gift Book Lovers Gift Basket w/ $25 Barnes & Noble Gift Card
What to Put in a Book Gift Basket?
If you're wanting to be creative and make a gift basket for your book loving friend, you're have a lot great ideas after you finish this post.
Depending on the size of your basket, you may want to include a few books in the genre they like, some wrapped candies, one of the mugs and a couple small gifts featured below, and maybe a scented candle (and maybe either a pair of cute reading glasses or a small stuffed animal, depending on how old they are!)
There are some more tips, plus a video, about creating gift baskets at the end of this post.
Personal Library Lending Kit
If you love books, you're probably always lending out your favorites to people who you know will enjoy them. This can eventually turn into a headache when you forget who has what or wonder why you can't seem to find your favorite self-help book when you suddenly need to refer to it.
Enter this library lending kit to the rescue! It has 20 self-adhesive pockets and checkout cards, plus a date stamp and inkpad, and a pencil.
This would be a particularly great gift for school teachers and college professors, who probably loan out lots of books for their students and colleagues. Oh, and don't worry — you can purchase refill packs!
Tea Bags Just for Book Lovers
If you belong to a book club, this would be a lovely Christmas gift to give to everybody in the group. (If you want to make it an extra-fun gift, consider pairing it with one of these mugs for book lovers.) It could also make a great gift, or part of a gift basket, to thank your local library workers.
These 25 tea bags each have quotes by famous writers such as Louise May Alcott, Mark Twain, and C.S. Lewis. ("You can't get a cup of tea big enough or a book long enough to suit me.")
Read 'em and steep!
Novel Teas — 25 teabags individually tagged with literary quotes
Kindle Book Cover Case
I confess that I have never actually read a Jane Austen novel, but I do love the movie adaptations, especially Emma Thompson's Sense and Sensibility.
This lovely Kindle Paperwhite case perfectly imitates the look and feel of a classic hard back book and keeps your device safe.
Amazon reviewer Michelle H. says that she originally bought this cover as a novelty, but then later realizes some advantages to having a book-like cover: "It offers privacy when sitting near someone and I find that the cover keeps the light off of my husband as he is sleeping next to me. I also like that it does not initially look like an e-reader."
If you like the idea of a hardback case but aren't particularly a Jane Austen fan, there are several other covers to choose from, including:
Kindle Book-themed Case – (Pride and Prejudice)
✅ You might also enjoy: 12 Great Gifts for Kids Who Love to Read
Coffee and Tea Mugs for Book Lovers
Reading Coffee Mug — My Weekend Is All Booked 11 oz Cup
Bookworm Gifts — Not Addicted to Reading Coffee and Tea Mug
The Greatest Opening Lines Of Literature — Comes in a Fun Gift Box
Bookmarks are for Quitters — Coffee Mug Tea Cup Navy
Hot Tea Warm Blankets and Good Books Pink Tea Cup
Just One More Chapter – Glass Coffee Mug
Everybody knows you need a beverage (preferably warm) in one hand when you settle into a comfortable reading position. Here are a few mugs that a are perfect the occasion.
"Bookmarks are for Quitters" Coffee Mug
This funny mug, with a design on both sides, has a large C-handle, making it easier to juggle both your coffee and book (or Kindle). Comes in both white and navy.
"Bookmarks are for Quitters" Navy Coffee and Tea Mug
"Just One More Chapter" Glass Mug
This product is Amazon's Choice in the category of "Gift for Women Book Lovers."
This clear mug is large and sturdy, and the design is easily visible.
Just One More Chapter – Glass Coffee Mug
"First Lines of Great Literature" Coffee Mug
The previous mugs were more for your friend who likes to curl up with their latest mystery or romance novel.
This mug is more for your English teacher friend or relative.
It was the best of times, it was the worst of times.
Happy families are all alike; every unhappy family is unhappy in its own way.
This mug is covered in quotes of famous first lines in literature; each in their own color and font. It makes a fantastic conversation piece at your book club or English professor meeting as everyone tries to identify the different quotes.
A really nice touch is that they list of the sources of the quotes on the bottom of the mug, so you don't have to wonder about (or Google) the ones you're not familiar with.
They also make a "last lines of great literature" mug.
This product is Amazon's Choice in the category "Literary Gifts."
First Lines of Literature Coffee Mug
"Good Book Cozy Nook" Stamped Spoon
Cozy up with a good book and a cup of tea — and stir it with this stamped novelty spoon! One Amazon reviewer said that she combined this spoon with some sugar tongs, sugar cubes, organic tea, and a good book and put it in a very pretty Victorian box to make a great gift.

"Good Book Cozy Nook" Stamped Tea Spoon

Reading Throw Blanket
Of course one of the requirements for curling up with a good book is having a warm, snuggly blanket to wrap yourself up in.
This blanket is perfect for people like me: who are book lovers who own cats.
Described as "thick, soft, luscious, and comforting," this blanket is woven from over eight miles of colored cotton. And somewhat surprisingly, it's machine washable, so you don't have to worry about spilling your coffee or smudging your chocolate truffles while you're reading!
Pure Country Weavers | "Frederick The Literate Cat" Woven Tapestry Blanket with Fringe Cotton
Book-Themed Pencil Pouch
Even in this day and age of laptops and iPhones, book lovers tend to like a few old-fashioned writing utensils on hand at all times.
Of course, this canvas pouch can also be used for personal items like a hairbrush, wallet, and lipstick.
It comes in several different designs, including:
Alice in Wonderland
The Great Gatsby
Jane Eyre
Babar (doing "elephant yoga," how cute is that?)
Harry Potter
Where the Wild Things Are
Matilda
Blueberries for Sal
Amazon reviewer Lalizard says:
I love the look of this bag, and it went into my cart before I really looked at the details about size, fabric, etc based solely on how cute it was (and inexpensive to be honest).

After receiving it, I'm even happier than I expected to be. It is more than big enough for the purpose I needed it for, and the bag seems to be of great quality. The fabric is sturdy and the printing looks so good. My coworkers have been coveting it since it came. It might have to be my "end of the school year" gift bag to keep my own safe!
Eric Carle, The Very Hungry Caterpillar, PencilPouch
Lapel Pin Set for Book Lovers
These enamel pins are a tasteful, understated way to show off your personality and make a statement without having it blasted across the front of your t-shirt.
Amazon reviewer TrishBookLover says, "Booksellers and book lovers, these pins are for YOU!"
I bought the set of book themed pins and they are simply beautiful! The size is perfect, the enamel is beautiful and the colors are bright and saturated. I also think the price is amazing.

They make great little individual gifts. I can't recommend them more highly.
The company delivered quickly and with good packaging. You won't be disappointed.
Pure Country Weavers | "Frederick The Literate Cat" Woven Tapestry Blanket with Fringe Cotton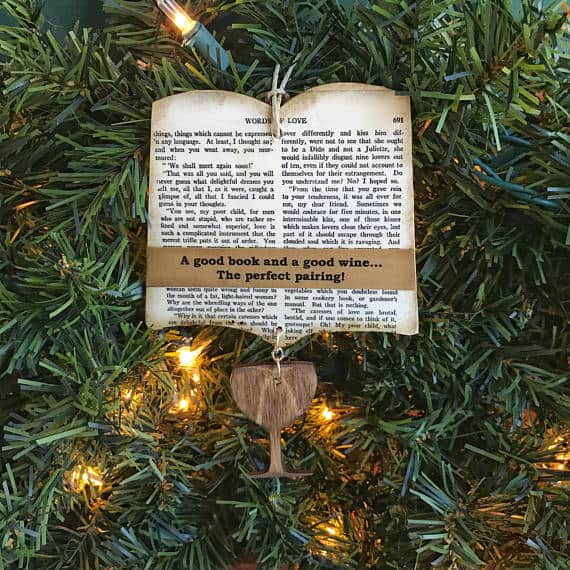 If you're looking specifically for Christmas gifts for book lovers, book-themed ornaments are always nice. This ornament from Etsy is made of lightweight wood, can be personalized along its banner, and comes in a nice gift box.
Other Christmas gift ideas for book lovers include books about the holiday season OR holiday movies that are based on books.
8 Classic children's books about Christmas
8 Christmas movies that are based on books
✅ You might also like: Christmas Ornaments and Decorations for Book Lovers
Book Lover Gift Boxes
Looking for pre-made — but handmade — gift box for your favorite book lover?
You can find several nice ones on Etsy.
Often called a "Blind Date with a Book Box," you can select the genre of book and type of hot beverage, and they put together the box for you. There are even some boxes that are holiday themed!
DIY Gifts for Book Lovers
A homemade gift is always nice, and fun to make. (Well, for me they're only fun to make if they're really easy!)
DIY Button Bookmarks
These button bookmarks are cute, stay put when marking your place, and the variations you can make with them are endless.
The only materials required are colored paperclips, fancy buttons, a hot glue gun, and felt.
300 Large Colorful Paper Clips
Mini Glue Gun Kit with 30pcs Glue Sticks
Assorted Mixed Color Buttons
Assorted Color Felt Fabric Sheets
Tea Towel DIY Reading Tote Bag
If you have a sewing machine (and actually know how to use it), you can make this tote bag in about an hour. Perfect for library trips or keeping on hand anytime you're going out and need to bring a couple books.
DIY Ribbon Bookmarks
These ribbon bookmarks are inexpensive to make, can be done with either a sewing machine or just a needle and thread, and can be easily modified to fit the theme of the current holiday.
In addition to scissors and your stitching tools of choice, all you need are decorative buttons, ribbons, and elastic hair ties.
Polka Dots Silk Ribbons, Dotted Red White
Assorted Color Tiny Mini Heart Shaped Button Candy Color Button
Goody Hair Elastics (Assorted Brights and Pastels)
DIY Tassel Bookmark
Okay, this tassel bookmark looks so simple that may even I could do it, ha!
All you need is an arrow-shaped paper clip and some DMC thread (the kind you use for cross-stitching).
No needles, sewing machines, or glue guns required!
Materials Needed to Make Tassel Bookmark
DMC Embroidery Floss Pack, Assorted Color
12pcs Gold Paper Clips, Metal Arrow Shaped Paper Clip
Video — DIY: Gift Ideas for Book Lovers
Gourmet Gift Basket for Book Lovers
If you like, you can order a pre-made gift basket — designed just for book lovers — from Amazon and have it shipped directly to your gift recipient.
This basket includes different kinds of coffee (including iced coffee mix), fudge brownies, truffles, candy — and perhaps the best part, a $25 Barnes and Noble gift card!
The "basket" is a beautiful book end chest, and the entire gift comes packaged in cellophane with a handmade bow and personalized message.
Gourmet Gift Book Lovers Gift Basket w/ $25 Barnes & Noble Gift Card
Tips on Putting Together a Book Lover Gift Basket
Gift baskets are a creative way to make a personalized gift and are especially nice for a departing college students, teachers or someone who is sick and/or in the hospital.
I'm certainly no expert on creating a perfect-looking gift basket (working with cellophane gives me the heebie-jeebies), but I did some research and found some tips that will help.
1. Be creative with your container.
Don't limit yourself to just baskets, and don't feel like you have to spend a lot of money on your container. Dollar stores sell containers in all shapes and colors.
2. Begin by covering the bottom of your container in tissue paper.
This props up the gifts and makes the overall effect more attractive. If your basket is particularly large, you can line the bottom with newspaper and then cover it with tissue paper.
3. Put your largest and/or sturdiest gift in the center.
This becomes your framework. Once you have it set up, put the next largest gifts around it, then tuck the smaller gifts in-between them, especially in the front so that they're not hidden.
4. Add some snacks.
You need something to eat while you read, right? Some good choices might be cheese and crackers, a non-messy fruit like grapes or bananas, nuts, and tea bags.
5. Consider including a book signed by the author.
A signed book can be a real treasure, especially if it includes a personalized note. Local indie bookstores and ebay are a good place to find these. If your gift basket recipient like sweet, clean, and slightly humorous contemporary romances, drop me an email and I can send you a personalized copy of one of my books for a good price.
(Scroll down to see the titles or click here.)
6. Add a personalized tag.
A tag gives it a "finished" look and makes it clear what the theme of the gift basket is. You can make your own (either by hand or computer), or use the Internet to help you.
I found some cute printable tags that are free:
"Made with love" printable gift tags
Bright polka dot gift tags
Or here's one of the many customized tags you can get from etsy:

7. Skip the cellophane (if you want).
Sure, you might need to wrap the basket if it's for, say, a school auction. Or maybe you're just a better wrapper than I am and like the finished look of a basket being bound up with ribbon at the top.
But don't fret if you're like me and feel like no matter what you do, you end up cutting the wrong amount of wrapping and you have trouble getting the ribbon to curl and the end result looks somewhat crooked. A gift basket — especially when it's adorned with a cute tag — can look beautiful without being wrapped.
Video — How to Make a Book Gift Basket
I hope you've enjoyed looking at all these cool gifts for book lovers and that you've found the perfect one to give to a friend or relative. Maybe you even found an extra one to get for yourself! 🙂
---
---