Disney Gift Ideas for Adults: for Teachers, Weddings, Christmas, and more!
Looking for a gift idea for the adult Disney lover in your life?
Whether it's for a birthday, Christmas, or wedding, there is lots of fun stuff out there. Here are some great gifts for your favorite Disney fan.
Disney Gifts for Teachers
Personalized Disney Princess Pillow for Teachers
Jim Shore Minnie Mouse Teacher Figurine
Disney Minnie Mouse Stapler
Mickey Mouse Teacher Figurine
Mickey Color File Folders
Hallmark Minnie Mouse Notepad Set (3 Notepads, 1 Pen)
Teachers (especially at the elementary school level) are notorious for liking things that are whimsical, fun, and childlike — and not being afraid to let everybody know it!
Show your kids' teachers your appreciation with these Disney teacher gifts. They're perfect for either the holiday season or the end of the school year.
Personalized Disney Princess Pillow for Teachers
What a beautiful and special way to thank a teacher, especially if you know they're a Disney fan!
Personalized with both their and your name, it reads:
Mrs. Smith,
You are as pretty as Snow White,
as loving as Jasmine,
as caring as Belle,
as kind as Ariel,
as wonderful as Cinderella.
You are the world's best teacher.
Love of love from Grace

Personalized Disney Princess Pillow for Teachers

Minnie Mouse Teacher Gifts
There's something about Minnie Mouse that I love. She's just so darn cute. I think it's partly because I love the "classic" Disney characters, and Minnie is one of the few (and most prominent) females from that gang.
NOTE: Be sure to not only read this section, but continue scrolling down to the sections that feature mugs and other Minnie Mouse gifts for adults. (Teachers love mugs!)
Jim Shore Minnie Mouse Figurine
Isn't this figurine both lovely and adorable? I know I would absolutely LOVE getting this from a student and would proud to display it in my classroom!
Jim Shore Disney Teacher Minnie Mouse Figurine
Minnie Mouse Stapler

Minnie Mouse Stapler for Teachers

Teachers need a stapler, so they might as well have a fun one.
This compact-size stapler has a red and white polka dot bow on the cap and staples up to 20 sheets at once.
And hey, don't think this stapler is "just" cute. Amazon reviewer Jessica Bossler calls it "The best stapler EVER":
Disney lover over here, and I am obsessed with this stapler!

it is a little smaller than the regular stapler, but that is one of the features that makes it amazing! Not only is the design on the stapler great but the design OF the stapler as well …

It is easy to use, doesn't jam up and of course it makes my work desk as a teacher a little bit more magical! I definitely recommend this stapler!
Minnie Mouse Notepad Set
Hallmark Minnie Mouse Notepad Set (3 Notepads, 1 Pen)
Teachers can always use more paper and pens — especially when they're as cute as this one!
This Minnie Mouse notepad and pen set, with its red and green colors, is especially perfect for a Christmas gift,
Reviewers loved the packaging and the fact that the pen was higher quality than they expected from a set like this.
Personalized Minnie Mouse Teacher Sign
This string art sign will be a unique gift for your favorite teacher, for sure!
Created by Etsy seller Strings By Jen, this name sign is 12 inches long and four inches high. Your teacher's name will be cut with white vinyl that is very durable, easy to clean, and made to last.
Personalized Minnie Mouse Wood Block Sign for Teachers
This adorable sign is made by Etsy seller Popular Street Cottage and would make the perfect teacher's gift.
The set is 7.5 inches long and 8 inches thick. It's personalized with the teacher's name on the top block, with the words, "Dream, Believe, Achieve" on the bottom.
The backs of the blocks are sanded and stained for finished look. The blocks are not attached to one another, so your teacher can re-arrange them if she wishes.
Personalized Minnie Mouse Teacher Notepad and Tumbler Set
Here's a gift that your teacher will definitely use!
This tumbler and note pad set from Etsy seller My Precious Paper can be personalized not only with the name, but also the font style and color. There is also an option of adding a matching pen to the set.
What Disney fan wouldn't adore this Minnie Mouse inspired tumbler and note pad set? They can be customized with whatever you want them to say at the top and again at the bottom of the notepad.
The Etsy seller can change the font style and color. There is a also an option to add a matching pen to the set.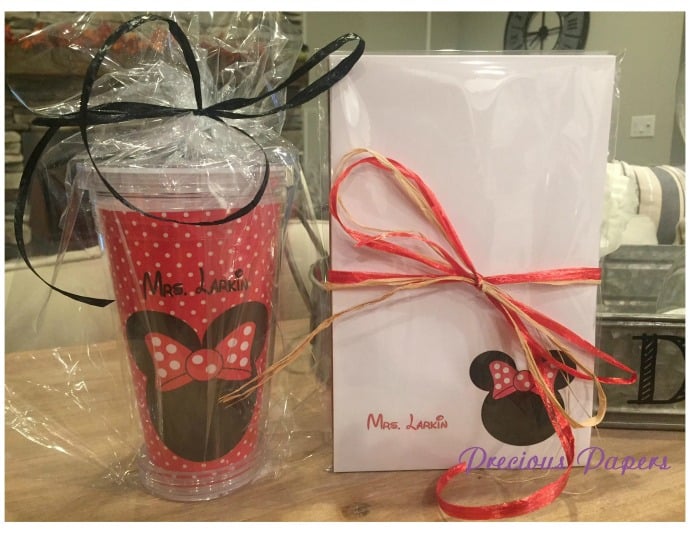 Mickey Mouse Teacher Gifts
Does your child have a teacher who loves Mickey Mouse? If you're shopping for a Christmas or end-of-the-school-year gift, consider one of these:
Mickey Mouse Block Calendar
Block desk calendars are nice because you don't have to throw them and get a new one every year.
Reviewer Amazonian bought one of these calendars for herself and one for a birthday gift and had this to say:
Okay people – here's the skinny… this calendar is NO piece of crap.

It's nicely crafted, and well weighted!
I'm writing this from home, but if memory serves me correctly, Mickey stands 3.5 to 4.5 inches tall and is not to thin.
The block holding the month and date is well crafter too.
The 3 rectangular blocks listing the months all fit securely and concealed under the 2-digit date.
What can I say – but, the heading is right – "My, oh my, what a wonderful day!"

Lastly, I'd like to say there's only one tiny design flaw and that's the designers fault. It would have been nice if the calendar had the alphabet day of the week (a six-sided block monday to friday and sat/sun shared on the 6th side) included with the numeral date and alphabet year. But, other than that, it still gets 5-stars!
Mickey Mouse Classroom Banner
This banner features Mickey Mouse and one of Walt Disney's most famous quotes:
"All our dreams can come true if we have the courage to pursue them."
Definitely an inspiring message that a Disney fan would love to hang in their classroom!
Mickey Mouse Teacher Figurines
These Jim Shore Disney teacher figurines are SO adorable! There's both a Mickey and a Minnie, so you have gift options for both male and female teachers.
Mickey Mouse Figurine for Music Teachers
I used to be a school music teacher, so of course I think this figurine is pretty cool! It would be great for a Disney-loving band teacher, especially one who has worked with your child for multiple year and who you feel deserves an extra-special token of appreciation.

Mickey Mouse Figurine for Music Teachers

Mickey File Folders
Any teacher will tell you that they have so. many. papers to file and keep organized. These colorful Mickey file folders will make that task more fun!
✅Disney Princess Gifts for Adults
Sterling Silver Pumpkin Carriage Pendant Necklace
Beauty and The Beast Rose Ornament
Precious Moments Snow White Resin Rotating Music Box
Precious Moments A Dream is A Wish Your Heart Makes Music Box
Disney Parks Ariel Ceramic Mug
Belle's Rose and Heart Diamond Pendant
You don't have to give up your love of Disney princesses just because you're an adult. Here are some beautiful gifts for grown women who are still little girls at heart.
Precious Moments Disney Princess Music Box
This beautiful music box features Snow White standing on a red crown base and plays the song "Someday My Prince will Come."
Precious Moments also makes similar music boxes features both Belle and Cinderella.

Precious Moments Disney Princess Music Box

Disney Princess Sterling Silver Pendant
This pendant had an 18-inch link chain and is Rhodium Plated to prevent tarnish. It comes in a gift box.

Disney Princess Pendant Necklace

Disney Princess No-Show Socks

5-Pack Disney Princess Socks for Womwn

Disney Princess Adult Coloring Book
Coloring books for adults have really caught on over the last few years, and I've purchased a few myself. They're a relaxing way to feel a little creative while listening to music or a podcast, or watching what I call "silly TV" (ie, Friends reruns).
This book contains 25 designs which span across 2 pages and 73 designs which are 1 page.

Disney Princess Adult Coloring Book

Disney Princess Wine Glass
If you're looking for a gift with a little more humor, check out this 15 ounce stemless wine glass. It's dishwasher safe and packaged in a gift box.
Perfect for your friend who loves Beauty and the Beast!
Beauty and the Beast Gift Ideas
Maybe it's just my imagination, but if I had to pick the most popular Disney princess among adults, I'd guess that it was my own personal favorite — Belle from Beauty and the Beast.
Here are several gift ideas for your friends and relatives who feel the same way.
Beauty and the Beast Rose Drop Necklace
This necklace is available in pink (like the photo below), rose gold, or blue. It has a 16-inch chain with a 2-inch extension

Beauty and the Beast Rose Drop Necklace

Beauty and the Beast Faux Leather Handbag
Another great gift for Belle fans, this officially licensed bag has dual carry handles, and removable shoulder strap, and a zip top closure.
Amazon reviewer L. Sprague raves about this bag, saying:
em>I LOVE my new Beauty and the Beast bag!!! I am so glad I got it! It's made very well, sturdy with strong handles, and the fabric design is great.

At first glance, I was afraid it might be too small, but I definitely underestimated what this bag can hold! I was able to put my makeup, numerous bottles of essential oils, two big bottles of medication, my blood pressure cuff, a paperback book, my wallet, and my sunglasses with some room to spare. Any Disney fan would love it!

Beauty and the Beast Faux Leather Handbag

Beauty and the Beast Tote Handbag
One Amazon reviewer described this tote bag as "a piece of art that I carry around with me." Measuring 18 inches wide by 12 inches high, it's perfect for carrying a laptop or going on an outing.

Beauty and the Beast Tote Handbag

Enchanted Rose Crossbody Bag
This crossbody-style bag has a red rose against a stained glass setting. It measures 8 inches in diameter and has a zipper closure and adjustable strap.
Thomas Kinkade Beauty and the Beast "Morphing Mug"
This looks like an ordinary black mug … at first. But when you pour in hot liquid, a gorgeously detailed image appears like magic!
NOTE: The one downside to this mug that you need to be aware of is that it cannot go in the microwave or dishwasher.

Thomas Kinkade Beauty and the Beast "Morphing Mug"

Beauty and the Beast Rose Ornament
This ornament with the red rose from Beauty and the Beast has a nice Disney element without being too "cutesy." It is 5 inches tall and has a gold tassel cord for hanging.

Beauty and The Beast Rose Ornament

Little Mermaid Gifts for Adults
In addition to be a fan of Belle, I've also always been partial to Ariel. I'm sure a big part of it is because she's a redhead. Also, The Little Mermaid is just such a fun movie with really great songs.
Here are some great gift ideas for the Little Mermaid fans in your life.
Precious Moments Ariel and Sebastian Figurine
Is this not the most adorable thing you've ever seen? If you're looking for a gift for somebody who loves Ariel and who collects Precious Moments figurines, this one is a no-brainer.
Precious Moments Ariel And Sebastian The Little Mermaid Porcelain Figurine
Jim Shore "The Little Mermaid" Stone Resin Figurine
This is a beautiful figurine from the Jim Shore line. Entitled "Dreaming Under the Sea," it features Ariel, Sebastian, and Flounder.
Most Amazon reviewers raved about this figurine, calling it "amazing," "beautiful," and "wonderfully detailed."

Jim Shore "The Little Mermaid" Stone Resin Figurine

Ariel Floral Print Faux Leather Mini Backpack
This lovely Disney backpack is made of faux leather and has 2 straps 2 zippered compartments, and 2 side pockets. Itmeasures approximately 10 1/2-inches tall, 9 inches wide, and 4 1/2 inches long.

Ariel Floral Print Faux Leather Mini Backpack

Disney's The Little Mermaid Faux Leather Saffiano Tote Bag
I personally like Disney clothes and accessories to be a little understated. Yes, I love Disney, but I'm an adult woman going to work or to a restaurant or whatever, and I don't want my purse to look like something an 8 year old girl would carry.
That's why I love this blue-green faux leather tote bag. It doesn't scream "Disney princess," but Ariel is definitely there (along with Sebastian and Flounder).
The bag has an adjustable and removable strap, plus a fully-lined interior. The width is 14 inches and the height is 11 inches.
Disney's The Little Mermaid Faux Leather Tote Bag
Ariel Silver-Plated Rainbow Swarovski Crystal Necklace with Pendant
This colorful Ariel necklace with an 18 inch chain is understated enough for an adult to wear and without it being too "cutesy."

Ariel Silver-Plated Rainbow Swarovski Crystal Necklace with Pendant

Crochet Mermaid Tail Blanket for Adults
I think if any hard-core Ariel fan were being completely honest, they would have to admit that a part of them wishes they could be a mermaid themselves.
Well, with this crochet blanket, they can at least come close!

Crochet Mermaid Tail Blanket for Adults

Amazon customer loved this blanket, saying:
I love my mermaid blanket! It's super cozy and the perfect size for me. I am 5 foot and it gives plenty of extra room. Plus I have a small dog that likes to bury himself under my blankets and both he and I can fit in it comfortably.
And reviewer Lisa D. calls it a "really soft and awesome blanket."
This blanket is amazing! It was nicer quality than I was expecting for the price and it's really soft. Not very thick but very soft. And I'm 5'7″ and if I hold the blanket up it literally is taller than me. So it's a nice size and I think will fit most adults.

I got the rose red one, which looks more like hot pink but I love it. I washed it on a gentle cycle with cold water and it was fine. I highly recommend this product and I have a feeling I will be buying more for my sisters and friends!!
Disney Parks Ariel Ceramic Mug
Wow, what a beautifully detailed mug! The colors are vibrant and shimmery, and it's clearly Ariel without being too "cutesy."
Disney Christmas Ornaments
Christmas ornaments always make a special gift. Not only will they be used for many years, but they can actually be passed down through generations and become a family heirloom.
Here are some beautiful ornaments featuring your favorite Disney characters:
Disney Tsum Wreath Ornament
Okay, this ornament is just too adorable. It has a red bow at the top and has Tsum versions of Mickey and Minnie, Donald Duck, Dumbo, Winnie the Pooh, Tigger, and Piglet.

Disney Tsum Christmas Wreath Ornament

Mickey Mouse Christmas Tree Ornaments
Hallmark Mickey Christmas Sweater Ornament
What a cute ornament! Our favorite mouse is staying warm with a festive green sweater. This Hallmark ornament is made of resin and measures 1.93 x 3.13 x 1.34 inches. It includes a hanger attachment.

Hallmark Mickey Christmas Sweater Ornament

Sorcerer Mickey Light-Up Ornament
People who loved Fantasia (or Fantasmic at Hollywood Studios) will love this ornament. It has Mickey dressed as a sorcerer amidst waves of water that light up. The ornament has an on/off switch on the bottom and a satin ribbon for hanging.

Sorcerer Mickey Light-Up Ornament

Santa Mickey & Minnie Ornament
Do you prefer Mickey when he's with Minnie? Here's a holiday ornament with the two of dressed up as Santa. It has a cord for hanging and has beautiful glitter detailing.

Santa Mickey & Minnie Ornament

How to Make Mickey Mouse Christmas Ornaments
If you like the idea of being crafty and DIY your ornaments (whether as a gift or for yourself), check out this video. No fancy or expensive supplies or required, just things like glitter glue, ribbon, gloss paint, and a circle punch.
Disney Princess Christmas Ornaments
Hallmark Keepsake "Frozen" Musical Ornament
This Hallmark ornament with Elsa and Anna building a snowman together is pre-packaged in a Hallmark Keepsake box, making it perfect for gift giving. It plays the song "Do You Want to Build a Snowman?" from the movie Frozen.

Hallmark Keepsake Anna and Elsa Musical Ornament

Ariel (The Little Mermaid) Hallmark Disney Ornament
Here's another Hallmark ornament that comes in a pretty red gift box. Made of polyresin, this ornament comes with a ribbon hanger and is perfect for fans of The Little Mermaid.

Ariel Hallmark Disney Ornament

Princess Jasmine Christmas Ornament
This ornament, featuring Aladdin's Princess Jasmine, is just under 5 inches tall, accented in gold, and includes a gold tassel cord for hanging.

Princess Jasmine Christmas Ornament

Cinderella Disney Princess Ornament
Here's another beautiful Hallmark Disney ornament that comes in a gift box. I love the glitter accents of Cinderella's gown and shoes.

Cinderella Disney Princess Ornament

Princess Tiana Ballerina Ornament
This ornament features Tiana, from The Princess and the Frog, in a lovely green ballerina costume.

Princess Tiana Ballerina Ornament

Set of 4 Disney Princess Shoe Ornaments
This unique and pretty ornament set features 4 shoes — the ones worn by Cinderella, Belle, Ariel, and Rapunzel. Each one is very colorful and intricately designed.
Wedding Gifts for Disney Lovers
About a year ago I played the piano at a wedding ceremony and cocktail hour for a couple who was crazy about Disney! They requested that all the music be from Disney movies (which of course was super-fun for me!) and they had red roses, "Beauty and the Beast style," decorating every room. And where you do you supposed they went on their honeymoon?
If you know a Disney-loving couple like that, they would love one of these gifts:
Mickey & Minnie Wedding Figurine
This is another beautiful Jim Shore figurine with Mickey and Minnie as bride and groom. I'm not positive, but I bet you could find a custom engraver that personalizes stone resin and have them customize the heart for you.

Mickey and Minnie Bride and Groom Figurine

Precious Moments Bride & Groom with Mouse Ears
I love Precious Moments figurines and have several in my own home. This one, with the bride and groom both wearing mouse ears, is just adorable. It can possibly also double as a wedding cake topper.

Precious Moments Bride and Groom Figurine with Mickey Ears

"Just Married" Mickey & Minnie Ornament
Our family loves decorating our Christmas tree every year and re-discovering all the special ornament gifts we've received from various friends and relatives over the years. This Disney Parks glass ball ornament would make a beautiful keepsake for years to come.

"Just Married" Minnie and Mickey Ornament

Beauty and the Beast Wedding Figurine
This lovely Disney wedding figurine is crafted of hand-painted Lenox ivory fine china, is accented with 24 karat gold, and stands 7 inches tall. Reviewers called it "gorgeous" and "absolutely stunning."

Beauty and the Beast Wedding Figurine

Click here to see a photo of this Beauty and the Beast figurine being used as a wedding cake topper!
Ariel and Prince Eric Wedding Figurine

Ariel and Prince Eric Wedding Figurine

This Jim Shore figurine of The Little Mermaid's Ariel and Prince is made of stone resin and just under six inches tall.
Click here to see a photo of this Little Mermaid topper on a wedding cake.
Cinderella and Prince Charming Wedding Figurine

Cinderella and Prince Charming Wedding Figurine

Disney Themed Kitchen Appliances and Accessories
These kitchen appliances and accessories also make great wedding gifts for Disney-loving couples.
But they also make great gifts for any Disney fans who enjoys eating.
Mickey Mouse Slow Cooker with Dipper
Mickey Mouse Oval Slow Cooker with 20-Ounce Dipper
Know someone who has (or wants) a Disney-themed kitchen, or a Disney lover who just moved into a new home? Consider getting them this slow cooker and dipper combo.
The 5-quart slow cooker is big enough to cook an entire chicken, and the accompanying 20-ounce dipper is great for making dips and appetizers that you can snack on while watching your favorite Disney movie!
One thing worth noting is that several reviewers said this crockpot was smaller than what they expected. You can read all customer reviews here for more details.
Single-Serve Mickey Mouse Coffee Maker
Disney Mickey Mouse 1-Cup Coffee Maker with Mug
Is the Disney fan in your life a coffee lover as well?
If so, they'll enjoy this single-serve coffee maker. It has an illumination on/off switch, a removable drip tray … and comes with a matching 12 ounce Mickey Mouse coffee mug.
Amazon reviewer Emily calls this coffee maker "nice, simple, and basic."
Great little coffee maker! It is as expected and very cute. It works great! I love the simple and basic design and the fact that it comes with a matching coffee mug.

It's a little difficult to pour water into the reservoir from a mug so it would be nice if it came with a small container that has an easy pour spout for that purpose so I won't have to buy one. It's not necessary but it would be nice to have instead of having to wipe off my mug and avoid spills.

I would recommend this coffee maker to Disney fans, college students or anyone who needs just a cup at a time! Nice product and great price!
Disney Pixar Stir Popcorn Popper
Disney Pixar Collection Stir Popcorn Popper
Getting ready to watch Finding Nemo, Monsters, Inc., or Inside Out? Why not make popcorn for everybody?
This popcorn popper pops up to 10 cups of popcorn in less than five minutes. It comes with a measuring spoon for the oil and a measuring cup for the popcorn, making it extra quick and easy.
Click here to watch a quick video of it spinning while it pops!
Star Wars Death Star Waffle Maker
ThinkGeek Star Wars Death Star Waffle Maker
I still sometimes have trouble thinking of Star Wars as being part of Disney … but it is.
If you know a geek — uh, I mean a Star Wars fan — they might enjoy making 7 inch "Death Star" waffles with this waffle maker from ThinkGeek.
Click here to see a photo of a finished Death Star waffle topped with strawberries and whipped cream.
Mickey Mouse Insulated Tumbler
Disney Mickey Mouse Stainless Steel Insulated Tumbler
This Mickey-decorated tumbler is great for people who love either hot or cold beverages.
It's BPA free, splash-proof, and shatter-proof. It claims to keep cold drinks cold for 24 hours and hot drinks hot for 8 hours.
Amazon reviewer Kelli-Renee Williams loves this tumbler, but does have one caution:
Great addition to my Mickey collection! Love the vibrant stickers that embellish the cup.

Just be mindful that [the stickers] are somewhat resilient but most definitely will peel off eventually without careful use. I literally only use it as my designated beverage cup at home. Rinse it out with hot soapy water but try not to come into too much contact with the stickers to preserve them for years to come.
Minnie Mouse Gifts for Adults
I love Minnie Mouse. She's probably my favorite female Disney character. I own a pink Minnie Mouse mug, a Minnie pillow pal, and Minnie earrings.
Minnie Mouse Coin Purse and Wallet
Okay, I seriously just found this and added it to my Amazon cart. (You're allowed to buy a gift for yourself every now and then … right?)
Covered in white polka dots, it has a strap to wear around your neck, making it perfect for a Disney World vacation. It safely stores your cash and coins, credit cards, and key all in one place, with a document pocket, coin zipper pocket, and 2 card slots.
The Amazon photo shows a black pouch, but I prefer the other color choices, which are red, pink, blue, and gold.
Neck Pouch,CHARMINER Card Holder Wave Dot Travel Bag With Coin Wallet Purse
Minnie Mouse Mugs
There are two many cute Minnie Mugs for me to feature just one. I picked my favorite 6. You can choose which one you like the best!
Silver Buffalo Minnie Mouse Rock the Dots Ceramic Mug, 14 oz,
FAB Starpoint Minnie Mouse Mug with Arm
Disney Minnie Mouse 20 Ounce 3D Ceramic Mug
Minnie Mouse Oval Ceramic Mug
Minnie 14oz Coffee Relief Mug
Minnie Mouse 12 Oz. Ceramic Mug
Minnie Mouse Stainless Steel Tumbler
If the person you're shopping for tends to be on-the-go, or enjoys cold drinks, consider getting them this tumbler. It's BPA-free, shatter-free, and claims to keep cold drinks cold for 24 hours and hot drinks hot for 8 hours.
It comes in 2 different sizes — 20 ounces or 30 ounces.
Tervis Minnie Mouse Tumbler with Lid, 20 oz
Minnie Mouse Pajamas
I would love to get these pajamas as a gift! They look soft, pretty, and comfy. Perfect for curling up on the couch watching before bedtime or enjoying my morning coffee on a Saturday morning.
Minnie Mouse Wrist Watch
Watches seem to be less common these days before everyone is relying on their cell phone to tell them what time it is. But I'm wondering if maybe we should revive the use of watches. They're a cute way to accessorize, quicker than looking at a phone … and a good thing if, like me, you're trying to think of ways to not be pulling out your phone every few minutes.
This watch includes quartz movement with an analog display and a faux-leather band with buckle closure.
Silver-Plated Minnie Mouse Pendant Necklace
I'm not into t-shirts myself, so I think to "wear" my Disney love on more understated things, like jewelry.
This Minnie Mouse pendant is appropriate for both kids and adults. It has an 18-inch chain and comes in a nice box, making it perfect for gift-giving.
Minnie Mouse Shaker Pendant Necklace
Homemade Disney Gifts
If you have the time and inclination, a homemade gift is wonderful. Here are some ideas that I found on Pinterest:
DIY Mickey Mason Jar Cookie Kit
Years ago when I was a private piano teacher, a couple of my students used to give me mason jar cookie kits for Christmas, and I loved it! You get fresh, homemade cookies when you want them, and then it becomes a practical gift that doesn't take up much space.
All you need are a mason jar, the ingredients for your favorite cookie recipe, a recipe card (this can be homemade too), black construction paper, twine, and red ribbon.
300 Feet Natural Jute Twine
Mason Jar Recipe Cards – 50 Double Sided Cards, 4×6 inches
Craft Ribbon, Red, 2-1/4 Inch
Ball Glass Mason Jars with Lid
Frozen Snow & Ice Bath Soak
This is a good gift for making in batches (say, for a few of your kids' teachers). The soak itself is made using rock salt, Epsom salt, baking soda, olive oil, and lavender essential oil
Homemade Cake Pops Gift Basket
This is one of those gifts that works equally well for kids or adults. Just put a foam black in a yellow pail, cover with shredded paper, decorate with ribbon, and fill with cake pops.
Frozen-Inspired Hot Cocoa Christmas Gift
This is an expensive gift that, again, would be great for making in batches. Mix up your favorite recipe for hot cocoa mix, then decorate mini paper bags with stamps or a white paint pen.
Use white cardstock to make snowflakes and attach them to wooden stirrers. Punch 2 holes near the top of the bag, run blue and white ribbons through it, and tie into a bow.
Disney Gift Basket Ideas
One way you can make any gift a "Disney gift" is by putting it in a Disney-themed box or basket. If your gift-recipient will be traveling to Disney World or Disneyland shortly, you can create a basket with items they'll need for the trip (which we'll talk about in a minute.
DIY Minnie & Mickey Baskets
These homemade baskets from Pinterest are described as "Easter baskets," but I don't see why they wouldn't work at any time of year.
In this example, they took 2 large wicker baskets with handles and decorated them using red and black spray paint, yellow and white felt, black foam board, and red polka dot ribbon.
Here's another variation of the same sort of idea.
Gifts for Adults Going to Disney World
Another fun gift idea is to fill a basket or box with items for an upcoming Disney trip. You can be as creative and clever as you want, but here are some ideas for that to get you started:
1. Disney Travel Pillow
Why not make the flight or drive to Disney World as comfortable as possible?
2. A Unique Disney World Book
I don't mean just your basic "planning your Disney World vacation" book. (Although those can be really good too, especially my favorite.)
But how about something a little different, like Disney trivia or a book about Hidden Mickeys?

The Hidden World of Walt Disney Trivia by Susan Veness


The Hidden Mickeys of Walt Disney World by Kevin Neary

3. A Disney World Planning Book
This planner comes with an erasable pen and includes pages for your confirmation numbers, FastPass reservations, and restaurant plans.
Sure, all that stuff is on the My Disney Experience app, but some of us geeks still like to physically write things down!

Walt Disney World Vacation Planner

4. Disney Sunscreen
They're going to need it, so they might as well have a cute tube of it.
5. Mickey & Minnie Luggage Tags
Not only are these good for marking your suitcases, but they also come in handy for marking your stroller if they're going to Disney World with babies or toddlers.
DIY Gifts for Adult Disney Lovers
Wanting to be a little creative and DIY a Disney-themed gift? This video shows you how to make 3 different homemade gifts, including Mickey Mouse soap and a "Chip" teacup:
I hope this post helped you find the perfect for your Disney-loving friends and relatives!