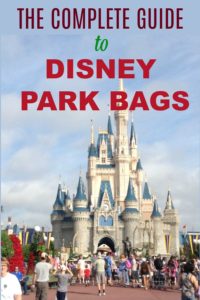 Let's talk bags — specifically, the bags that you bring with you into the Magic Kingdom and other Disney parks.
What bag is best? Does Disney World have any kind of "bag policy"? And perhaps most importantly, what do you need to put in them?
Let's find out …
What is the Best Bag to Carry at Disney World?
Not surprisingly, there's no definitive answer to that question.
But as I've mentioned before, I tend to be a minimalist when I travel (so much so that my husband has gotten annoyed with me at times.) Obviously my bag wouldn't accommodate things like lunch, extra clothes, and multiple autograph books.
So obviously, everybody is different — not just in personal preferences, but in their specific needs. When I was traveled with that bag, I was with my two daughters, who were ages twelve and fourteen at the time. No way would I recommend that same bag to a family with three kids under the age of 7.
Whoever you are, you want to think about things like comfort, size, durability, and ease of use. No matter what size bag you get, I would highly recommend that you get one with multiple compartments or pockets on both the inside or outside.
These bags all got votes for the Best Bag for Disney World over at the DisBoard forums:
1. Haiku Women's To Go Convertible Messenger Bag
This bag is really pretty and would work well in "real life," not just for a Disney trip. It has two bottle holders on either side and a front zippered pocket. If you pack it with a lot of things, you can convert it to a backpack to make it easier to carry.
You can see photos of the inside compartments and how much they hold here.

Haiku Women's To Go Convertible Messenger Bag

2. LeSportsac Classic Small Cleo Crossbody Hobo
Another pretty purse-style bag that is my kind of style. It comes in 19 different colors and has a large zippered pocket on the front and a large open pocket on the back.

LeSportsac Classic Small Cleo Crossbody Hobo

3. Vera Bradley Campus Disney Backpack
If you like the look of a Vera Bradley bag but need a backpack, then this is the bag for you. If you look closely, you can see little Mickey and Minnies within the floral design. So cute!
(Warning: This bag is not cheap.)

Mickey and Minnie Vera Bradley Backpack

4. Baggallini Plaza Mini Crossbody Bag
This small cross-body purse would work wellin your normal everyday, non-Disney life as well. It's made of water-resistant crinkle nylon and silver-tone logo hardware It has an adjustable cross-body shoulder strap, interior credit card slots and pockets, and double pocket openings under the front flap.

Baggallini Plaza Mini Crossbody Bag

5. JanSport Disney High Stakes Backpack
If you need a backpack and want Mickey on your bag, this is a great choice. It comes in three different designs with really vibrant colors. (I like the "Tropical Mickey" best.)
It has padded shoulder straps, a fully padded back panel, and comes with a lifetime warranty.
6. Vera Bradley Hipster Cross-Body Bag
This bag is very similar to the one I use, but it's a little bigger. It comes in over 30 different colors.
What is Disney World's Bag Policy?
Well, you're not allowed to bring suitcases into the parks (which, for some reason, I find kind of funny. I guess it's the image of hordes of people hauling suitcases into the parks if they didn't have that rule.)
Additionally, you are not allowed to bring coolers. (If you need one for storing medication, you can have it stored at Guest Relations.) You are allowed to bring "food items that do not require refrigeration or heating" into the parks.
Backpacks cannot be larger than 24″ (61 cm) long x 15″ (38 cm) wide x 18″ (46 cm) high.
All bags are subject to search. When you go through the security check, they will ask you to open all zippers and pockets (ideally you will have everything unzipped and ready to go before it's your turn.)
It probably (hopefully) won't surprise you that you can't bring weapons or marijuana into the parks, but it may possibly be surprising that you can't bring remote control toys, water pistols, or selfie sticks. Also, balloons and plastic straws are not allowed inside Animal Kingdom for the safety of the animals.
Disney first-timers are often concerned about what they're supposed to do with their bags when they're on rides.
For the vast majority of rides, you'll keep in on the seat next to you or on the floor in front of you. Some rides, like Mission Space, have a dedicated bin for bags in the vehicle.
Kali River Rapids in Animal Kingdom has a bin inside the raft, but you may not want to fully trust it to keep things dry, because it is very likely that some one in your family will get very wet on that ride.
If you prefer to play it safe, you can either put items like your cell phones in plastic baggies, or you can use the free 2-hour locker rental to the left of the attraction entrance.
What Do I Need in My Disney Park Bag?
Minimally, you need to bring Magic Bands, ID, credit cards, and cash.
Past that, it's somewhat of a personal preference. For example, some people may not be interested in pressing pennies, and people with short hair won't need hair ties.
So take this list as more of a starting point, and not a definitive, everybody-must-have-all-of-these list. I'm sure it will be easy to see what resonates with you and your situation and what doesn't.
1. Sunscreen
Okay, this is is pretty non-negotiable. on't think that you won't need sunscreen because it's cloudy that day, or because it's November, or because you burn that easily, or whatever. Trust me, you will need sunscreen, and plenty of it.
If your family isn't as sun-sensitive as we are and you don't feel that you need a "doctor-approved sunscreen," you might to consider using a spray sunscreen. They're much more convenient, especially if you have kids, and sometimes have the added benefit of smelling nice.
Also, don't forget a lip balm with spf. Here's one with fun flavors and good ratings:
2. Hat (or other head covering)
If you've ever gotten a sunburn on your scalp, you know how important some headcovering is when you're spending a day outside in Florida.
I have this hat in my wish list for our upcoming trip:

Women's Wide Brim Braided Sun Hat

Of course, Mickey and Minnie hats are fun too:
If you want something a little more versatile, you might want to opt for a bandanna:
3. Water bottle with filter
Yes, you can get free ice water at any counter service restaurant, but the tap water tastes … not great. This water filter is inexpensive, durable, BPA-free, and dishwasher-safe.
4. Sunglasses
Sunglasses are important (and fun), and you don't want to waste your time at the parks shopping for a pair.
These Minnie Mouse sunglasses are cute for girls, or you can do what we did when our kids were preschoolers and toddlers and get a Mickey sunglass & hat combo.
5. Pennies & Quarters
Here's a fun fact: There are 500 pressed penny machines throughout Disney World parks and resorts. Finding and using some of them is a way to keep the kids on their toes and get inexpensive souvenirs (two quarters plus a penny).
Instead of having tons of change banging around in your purse or backpack for the entire trip, you can store them in these, which has the additional benefit of being required to eat many M&Ms first.

Eat the M&Ms, then store your coins in it!

If you're really into the pressed penny idea and plan to get a lot of them, you might want to consider this Disney World pressed penny book for storing them in an organized way. One particularly nice thing about it is that the sections are divided by park.

Disney World Pressed Penny Book

6.Mouse Ears
Some people like to carry an extra pair or two of mouse ears in their park bag so they can swap them out during the day.
You can find mouse earsat ShopDisney, but I'm planning to get some at Etsy for my next trip, partly because I like to support small business owners, and partly just because the selection there is amazing.
Here are some adorable mouse ears to get you started:
1.Beauty and the Beast mouse ears headband
2.Gold sequin mouse ears
3.Lighted Darth Vader Mouse Ears
4.Winnie the Pooh Mouse Ears
5.Pittsburgh Steelers Mouse Ears (a big yay from this girl who grew up in the South Hills!!)
6.Alice in Wonderland Mouse Ears
7.Lady and the Tramp Mouse Ears
8.Mint Sequin Mouse Ears
7. Rain ponchos
We've gotten caught in rain twice at Disney World. One time we got drenched, and another time we spent a fortune on the Disney rain ponchos.
Now we know better. These rain ponchos are cheap, disposable, and compact.
8. Portable phone charger:
Between using the My Disney Experience app and taking photos, you're probably going to be using your phone a lot at the parks. You'll want to have something like this on hand.
9. Hair ties
We have three people in our family with long hair, so we like to have plenty of hair ties on hand. Hair ties help us stay cool and keep hair from blowing in our face while we ride Test Track.
10. Hand Sanitizer
I read that the Magic Kingdom has over 50,000 guests per day. That's a lot of germs that you'll be wanting to get off your hands, and your kids' hand, all day long.
If you like to stick with the Disney theme, there are several cute choices you can get before you arrive at the Disney parks.

Mickey and Minnie Hand Sanitizer


Disney Parks Donald Duck Hand Sanitizer Keychain


Disney Parks Hand Sanitizer Keychain

11. Wet Wipes
Similar to hand sanitizer above, but also needed for things like when your 3 year old eats a Mickey ice cream bar.
12. Change of Clothes
We never did this (I told you I was a minimalist), but I can see how it would be handy. There are many reasons you might get drenched, between rain, fountains, and rides like Splash Mountain in Magic Kingdom and Kali River Rapids in Animal Kingdom. (And let's not forget the possibility of accidents if you have very young children.)
Are you or your kids likely to be miserable if you're stuck in wet clothes? If the answer is yet, bring some extras, along with gallon-sized Ziploc bags to store the wet clothes in.
13. Extra socks
I prefer to wear sandals at Disney World, but if I wore socks, I sure wouldn't want to walk around in wet ones. You don't need to have Princess socks — any dry ones will do — but these are cute and don't take up too much space in your bag:

5 Pack of Women's Princess Socks

13. Trading Pins Starter Set
One easy way to save a lot of money is to buy this starter set of trading pins and trade them with Cast Members at the parks instead of buying pins individually.
If you do get a pack of pins before you go to Disney World, make sure you buy official Disney trading pins, because there are some imposters out there.
A lanyard is nice for holding and displaying your pins, but not necessary. Some people prefer to pin them on their park bags or hats.
14. Eye drops
These are good to have on hand if you wear contact lenses. I go so far as to bring an extra contact lens, just because I'm so extremely nearsighted that having a contact tear or get lost during the trip would be a big problem for me.
15. Pain Relief Medication
Every Disney park has a First Aid center, and (somewhat amazingly) they offer a wide variety of over-the-counter medication, like cough syrup and Tums, for free.
However, I know when I start to develop a headache, I don't want to have to quit what I'm doing and go on a hike looking for some Tylenol, so I always carry a small bottle in my purse.
16. Mosquito Repellant
Same as above — it's available at First Aid, but you might want to have your own small container on hand.
17. Autograph book and pen for character greeting
Autograph books are not mandatory for for meeting Disney characters, but kids tend to like having them.
These 9 personalized Disney autograph books are really cute and worth checking out.
This is the pen I recommend for Disney signatures because the characters don't have to fumble with a cap. I'd recommend packing one per kid and then an extra one. If you're like me, writing utensils always seem to magically disappear.
18. Ziploc bags
This is for keeping things like cell phones dry when going on water rides. Don't forget to bring gallon-sized bags to put wet or soiled clothes in if needed.
19. Snacks
Even if you're on the Disney Dining Plan, you'll want to have some of your own food handy. How much and what kind depends on your family and how much you want to avoid eating the park food. Things like beef jerky, protein bars, and fruit strips work well.

Mickey Mouse Goldfish Crackers

20. Glowstick necklaces
You can easily save a lot of money by buying these at your local dollar store before your trip instead of paying a fortune for them at the parks. I like to have a few extra on hand to pass out to nearby kids who are glowstick-less.
21. Ear Protection for Kids
I never even knew about this until a month ago, but there are headphones specifically created for reducing noise for babies and toddlers.
That may sound strange if you aren't a parent, but on our very first visit to the Magic Kingdom our girls started howling and shrieking non-stop when the fireworks started going out. We had to run as fast as we could and duck for cover inside Cosmic Ray's Starlight Cafe in Tomorrowland and be entertained by Sonny Eclipse until they were over.

Baby Banz Infact Hearing Protection

22. Things to Keep Kids Entertained While Waiting in Line
No matter what you to avoid lines, you're going to have to spend some time waiting in them.
Some people like to have things like bubbles, Play-Doh, pipe cleaners, or other small toys on hand to keep kids occupied. Actually, I'd probably enjoy rolling some Play-Doh balls while rolling in line myself. It sounds peaceful.

My son Benjamin was crazy about these guys when he was little!

23. Portable Misting Fan
We never go to Disney World during the summer, but if we did, we would probably bring something like this.

O2COOL Small Carabiner Keychain Misting Fan

So, um … that's kind of a long list, isn't it?
Don't worry. I don't think every single family needs all these things. Then again, you may want to be super-prepared and get almost everything on the list. Everyone is different!