Best Ways to Save Money on a 2022 Disney World Vacation
This post probably contains affiliate links. You can read the details about what that means here.
One of the very first questions people ask when they begin planning a Disney vacation is, "How can we save money?"
I hate to have to tell you this, but a Disney World vacation is way more expensive in 2022 that it was back in 2009, when our family had our first visit at a Disney resort.
Fortunately, there are many different ways you can do Disney, and you can still make some choices that will make your trip … well, not cheap, but less expensive.
After reading this post, you'll know the best money-saving tactic that works for your family.
Because there's nothing magical about getting a huge credit card bill.
Save money by packing your own lunch.
You can save a ton of money by packing your own picnic lunch, especially if you have a large family and you do it multiple days.
You'll probably eat a lot healthier, too. Just sayin'.
Some of the best lunch ideas to pack include:
Peanut butter and jelly sandwiches
Tuna sandwiches
Hard-boiled eggs
Meat and cheese sandwiches
Bagels and cream cheese
String cheese
Bananas
Beef jerky
hummus with crackers
Apples
Granola bars
Grapes (some people prefer freezing them)
Baby carrots
Juice boxes
Best Places in Disney World to Eat a Picnic Lunch
According to Disney Dining, some of the best places to enjoy your picnic lunch at the parks include:
Tom Sawyer's Island in Frontierland

If you want a peaceful, shady, non-theme park environment to eat in, this might be your best bet.

You do need to allow for some time, as you have to take a little boat to get there, but that's part of the experience.

Some families swear by Tom Sawyer's Island as a place to spend an hour or two and allow the parents to relax while the kids run around.

Water Wheel at Tom Sawyer Island
Photo courtesy of Laurie at Pics from the World of Disney

The hub at Main Street
This choice is great if you enjoy people-watching. There are two sections for this, one near Casey's Corner and the other near The Plaza restaurants.

What's nice about this area is that it has artificial turf, so you can "sit in the grass" without getting dirty or being surrounded by ants.

However, it isn't the best choice during a parade, due to the crowds.

UK Pavilion in Epcot's World Showcase

The UK Pavilion has a beautiful garden tucked away in the back, with benches scattered throughout, making it perfect for a meal.

Flame Tree Barbecue

Flame Tree Barbecue in Animal Kingdom is probably my favorite counter service in all of Disney World, so I don't think I could ever bring myself to sit and eat a homemade sandwich while everyone else is devouring ribs.

But if you have more discipline that I do, this is a lovely outdoor seating area. Not only are you sitting in the shade by the water, but you get a great view of Expedition Everest.
Packing Your Lunch in a Backpack Cooler
If you do decide to bring lunch into the parks, the TOURIT insulated backpack cooler works great.
It's a convenient way to carry your family's lunch, keeps your food and drinks cold for hours, and is a bag that's easy for Disney park security to check.
Highly Rated


Check Price on Amazon
People loved the side pockets made for carrying water bottles
Reviewers loved how this backpack was lightweight, yet durable. They also liked the pockets that could be used for non-perishable snacks like granola bars.
They were also impressed at how much space there was inside.
This photo shows the inside of the backpack packed with food and drinks with plenty of room to spare.
Amazon reviewer David Thompson points out that it will continue to save money long after your Disney trip:
These are great for theme park visits, all day little league ballgames, picnics and/or work lunchbox.

We used the Cooler Shock Ice Packs and they kept items cold for minimum 8 hours, and that's in sunny Florida at Disney. I bought two and so glad I did. They saved us a ton of money and will for years to come.
You might also like:
✅ Save money with these Disney souvenir tricks
Buy Souvenirs Before the Trip
Personally, I never cared for this idea, because to me part of the fun about going to Disney World is looking around in the shops and deciding what souvenirs to buy.
However, some parents swear by it.
Months before the trip, they check for clearance deals on Amazon's Disney page, good deals at stores like Wal-Mart, or even consignment shops and garage sales.
Then over the course of the vacation, they whip these secret goodies out. Sometimes they even have it all planned out so that each one is wrapped and labeled with which day to open it.
Do some Disney pin trading
Disney pin trading can be a fun activity that also makes for a pretty cheap souvenir.
If you're not familiar with pin trading, it's an experience where guests can trade Disney pins with cast members on pin bulletin boards sometimes found in gift shops and Disney resorts.
Rebecca got really into pin trading on one trip in particular, which got me started on it a little. It adds a nice dimension to the trip because:
It's a bit of an adventure to always be on the lookout for new pins
It leads to interesting conversations with cast members
You're "shopping" all the time without spending more money
The best way to get started with pin trading is to buy a cheap starter set before your trip.
The Pins We Use


Check Price on Amazon
A great way to start Disney Pin Trading without spending a ton of money — IF you don't mind scrappers
There are a few [sometimes controversial] things to be aware of when it comes to pin trading etiquette and buying pins online, so if you've never done this before, I recommend you read my post on Disney Pin Trading Secrets & Scrappers before diving in.
I would also highly recommend buying some butterfly clutch pin backs to replace the backs on the Disney pins. Otherwise it's very possible the pin will fall off and get lost.
Amazon's Choice


Check Price
These back do a better job securing your Disney pins
Get Pressed Pennies as souvenirs
Another interactive and cheap souvenir idea that also keeps you busy during the trip is pressed pennies.
There are several pressed penny machines around the parks that crush a Disney-themed design into a penny.
You can use an empty M&M's mini tube to stack layers of two quarters and one penny so you're not fumbling around for change all day.
If you like, you can buy a book to organize your pressed pennies after the trip.
Disney Parks Tinkerbell Pressed Penny Collection Book
Walt Disney World Pressed Penny Book Collection Album
Give your kids their own Disney gift cards
Another trick for keeping souvenir costs down (which we have never done) is to put the budgeting responsibility on your kids.
Buy each child a $25 or $50 Disney gift card to spend how they wish. (You can buy discounted Disney gift cards at eBay, Gift Card Granny, Sam's Club.)
Now only does that give you one less thing to worry about and have to keep track of, but it's a really good exercise in them managing their money and making decisions. That spinning glow in the dark toy might not seem quite so cool if it's being paid for with their own money.
Save Money by skipping Memory Maker, but using the photographers.
Okay, first let me say that I love Memory Maker, the package you purchase before your Disney trip that allows you to get copies all the photos taken of you (including ride photos).
Let me also say that I've heard many people say that if there's one thing that's really, truly a good value that's worth the money at Disney World, it's Memory Maker.
However, if money is tight, you have to cut back somewhere, and $169 is a lot of money.
So here's a little trick if you can't — or don't want to — pay for Memory Maker.
Just give your phone or camera to the PhotoPass photographer, and they'll take your photo on it.
Sure, they probably won't take as many shots as they would if they were using their own camera, but it's still a great way to get lots of vacation photos without having to pay extra for them.
Take advantage of the free stuff at Disney World.
Yes, there are actually a few things at Disney World if you know where to look.
Some of them are more impressive than others, but hey, I say take what you can get.
Here are a few Disney freebies:
Water
You can ask for a cup of ice water (or hot water) at any quick service restaurant.
Balloons
If you're staying at a Disney resort (other than Animal Kingdom Lodge), you can stop at the front desk and get free balloons.
First Aid Supplies
I actually had to double-check this because I found it so hard to believe. But yes, at the First Aid Centers (each park has one, including the water parks), you can get samples of things like cold medicine, cough drops, tissue packets, and Band-Aids.
Leis
If you stop by The Polynesian Resort on the monorail line (which you should), just ask and they will give you a free lei.
Celebration Buttons
Is someone in your family celebrating a birthday or anniversary? Be sure to let a cast member know as soon as you enter the park, and they'll give you a button you can wear. Not only does it make a nice souvenir, but it will get you some extra smile and greetings throughout the day. And if you're really lucky, it might possibly lead you to getting another freebie at some point. (No guarantees.)
Park Maps
This may not get you too excited at first, but if you like to scrapbook and such, these can come in handy.

Even if you don't do anything fancy with them, they make a pretty unique souvenir. It would be really cool if I still had the park map from our Disney World trip when I was a kid and rode 20,000 Leagues Under the Sea and Mr. Toad's Wild Ride!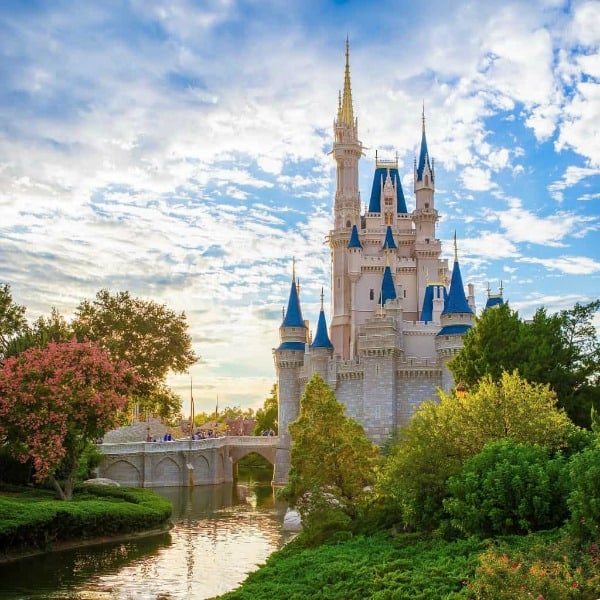 ✅ Save money by skipping the Park Hopper tickets
Park Hoppers are an add-on to your ticket that allows you to go whatever park you want to any time of day. For example, you could start the day in Magic Kingdom and then head over Hollywood Studios in the afternoon for your dinner reservations at the 50's Prime Time Cafe.
Nice? Sure.
Necessary? No.
Depending on how big your family is and how long your stay is, you could easily save over $250 just by opting for the Base tickets instead of Park Hoppers.
That's a lot of money, and I don't think it's worth it — especially if you're traveling with little kids and don't have the time or energy to be hopping over to another park at 8:00 at night.
Consider staying off-property
I've gone back and forth on this one, once swearing that I would never stay off-property again and another time semi-sorta-considering not staying on-property again any time soon.
There are obviously advantages and disadvantages to both, but if saving money is your goal, there is no contest: staying off-property is the clear winner.
On a recent trip I stayed at Windsor Hills Orlando (who I am not affiliated with in any way).
We had two bedrooms, two bathrooms, a kitchen, dining area, and small living area … for under a hundred bucks a night.
And let me tell you, it was nice not taking the Disney buses.
Camp at Fort Wilderness resort.
Umm … yeah, I'm not a camper. I was raised by two New Yorkers, and camping was not in their vocabulary. The closest I've come to "camping" as an adult was getting a small cabin at a state park.
But if you know how to do the camping thing, what better place to do it then Disney World?
Disney's Fort Wilderness Lodge can sleep up to 10 people for $50/night, which is an amazing deal, especially if you can vacation with another family.
There are several dining options at Fort Wilderness, plus a pool with a water slide.
Best of all, for just a fraction of the cost, you get all the perks that you get from staying at any Disney resort, including:
Being able to book your FastPasses 60 days out
Magic Bands
Extra Magic Hours
Magic Express Shuttle to and from the airport
Disney transportation to all parks plus Disney Springs
Have a Non-Park Day.
There's no reason to go to the parks every single day of your vacation. In fact, if you're like us, you'll be desperate for a break by around your third or fourth day.
Here are some things you do on your "day off":
Sleep in late for a change
Spend time at your hotel pool (my kids always loved this, even as they got older
Visit the Grand Floridian lobby and enjoy the orchestra, pianist, and/or Basin White, the luxury bath & beauty shop
Continue on the monorail loop to The Polynesian and share some of the best bread pudding in the world in the Tambu Lounge
Go to Disney Springs and window shop and enjoy the live entertainment
Explore Disney's Boardwalk, especially at night
Consider splurging on a late character meal at one of the resorts. A late breakfast is best if your goal is to save money. Also, some of these restaurants only have characters during breakfast.

Cape May Cafe at Beach Club Resort
1900 Park Fare at the Grand Floridian
'Ohana at the Polynesian (they only have characters during breakfast)
Trattoria Al Forno at Disney's Boardwalk
Topolino's Terrace at the Riviera (which opened in December 2019)
Chef Mickey at the Contemporary Resort
Visit Disney World right before your child's third birthday
We did this — not because we were so clever and organized, but just because it worked out that way.
My younger daughter, Rebecca, was exactly two and a half on our first Disney trip, so she got in for free. This cut the cost for us considerably from what it would have been if we had gone went seven months later instead.
Not only do kids under age 3 not need a park ticket (or a FastPass), but they can eat off your plate and get free access to buffet restaurants, so they essentially eat for free too (or at least close to it).
NOTE: Be aware that it's the age at the day of check-in that matters here. So, for example, if the first day of your Disney vacation is on Monday, but your child's third birthday is on Tuesday, they are considered "under 3" (and therefore free) for the entire vacation.
Bring your own stroller.
Renting the strollers at Disney World — and the other stroller rental companies in Orlando — can get pretty pricey, especially if you need strollers for two kids.
One alternative that's convenient as well as fairly cheap is order a lightweight umbrella stroller on Amazon Prime and have it shipped directly to your resort just before you arrive.
The Summer 3Dlite Convenience Stroller below is a very highly-rate lightweight umbrella stroller.
It has:
A 4-position recline so your child can be comfortable at any age and any stage of sleepiness
A compact fold so you don't get the look of death from the 42 people in line behind you at your bus stop as you're fumbling to get your stroller folded
An extra-large storage basket so you have enough room to hold your diaper bag, your family's water bottles, your kids' autograph albums, zillions of wet wipes, your lunches, your snacks for later, the extra clothes for after your extrememly sensory 3 year old get drenched on Splash Mountain, your … well, you get the idea.
Amazon's Choice


BUTTONTEXT
SPECIALTEXT
Amazon reviewer Tim calls this a great travel stroller:
Great stroller! Bought this stroller to take to Disney World, our Baby Jogger was a little too big to be traveling with, and we absolutely loved it.

It's so easy to fold and use that I almost feel bad for the people who spent more money on a more difficult stroller.

Handling is not as nice as our Baby Jogger, but that is to be expected. Loved the recline feature which allowed for my son to take long naps while in the parks.

The only issue I have with this stroller is the canopy, it's way too small. We bought the Summer Infant detachable sun canopy to go with this stroller and that fixed the issue.
Save money by bringing your own rain ponchos.
After being caught in a sudden downpour on one trip, I decided to get smart on our next trip. I ordered this pack of ten rain panchos that are densely wrapped individually so you can easily tuck them into a diaper bag or purse.
The only problem with my plan was that I didn't think of it until the week before we left.
The rain ponchos arrived in our mailbox at home just a few hours after we had pulled out of our driveway and headed for Florida.
And guess what — it started pouring one day, and we sucked it up and spent $27 on three ponchos for five people to try to share.
Dumb dumb dee dumb ….
Don't make our mistakes. Order your rain ponchos now!
Book your vacation during non-peak times
Save by buying Disney gift cards with Target REDCard
Our family doesn't like having store credit cards, and certainly this suggestion won't appeal to hard-core Dave Ramsey fans.
But if you already have a Target REDcard, or aren't opposed to getting one, you can save 5% when you use it to purchase a gift card, either in the store or on-line. If you buy a fair amount of gift cards, this can save you a nice chunk of change.
What's your favorite way to save money at Disney World?
How about you?
Do you have a tried-and-true method of saving money during your Disney vacation?
Do you buy souvenirs before your trip, and if so, when and how do you give them to your kids?
Do you have any stroller recommendations that aren't too expensive?
What do you enjoy doing on a non-park day?
Let us know below in the comments!
---
---