Cape May Cafe: Menu, Price, Characters, and Breakfast Review
This post probably contains affiliate links. You can read the details about what that means here.
On my recent adults-only Disney trip with my friend Loraine, we had breakfast at Cape May Cafe.
It was a good choice for us because, in all the years each of us have gone to Disney with our respective three kids and husband (we leave the cats at home), neither of us had ever been to Cape May Cafe or the Beach Club in which it resides.
After reading this post, you'll know everything about Cape May Cafe's location (including the various ways to get there), characters, prices, and menu.
You'll also discover why I considered it to be a hidden gem.
Is Cape May Cafe on the Dining Plan?
Yes, it counts as one Table Service credit on the Disney Dining Plan. It also accepts the Tables in Wonderland discount card.
Is Cape May Cafe a buffet?
Yes, the food is buffet-style at both breakfast and dinner.
Which characters are at Cape May Cafe?
At Minnie's Beach Bash Breakfast, Minnie Mouse, Goofy, and Donald and Daisy Duck are there, all of them wearing adorable beach outfits.
There are no characters at Cape May Cafe during dinner.
Prices
Breakfast Price
Ages 10 and over: $43.67
Ages 3-9: $25.56
Dinner Price
Ages 10 and over: $52.00 plus tax
Ages 3-9: $29.00 plus tax
What Park is Cape May Cafe In?
It's not in any of the parks. It's located in the Beach Club Resort, which is one of Disney's Deluxe Resorts.
Which Park is Cape May Cape Closest To?
Epcot.
Can I walk from Epcot to Cape May Cafe?
Yes.
It's roughly a quarter of a mile walk and will take you about 10 minutes, if even that long.
Exit through Epcot's "back entrance" at the International Gateway, which is located between the France and United Kingdom pavilions in the World Showcase, and you'll see the path to walk to the Beach Club Resort.
You can also choose to take the resort boat from the same location.
One thing worth noting is that if you have breakfast at Cape May Cafe and then walk (or take the boat) to Epcot before 11am, the World Showcase will be closed except for Les Halles Boulangerie & Patisserie, the bakery in the French pavilion.
To actually get to anything Epcot, you'll need to walk another 8-10 minutes through the United Kingdom and Canada to get to Future World.
How Far is Cape May Cafe from Magic Kingdom?
It's about five and a half miles from Beach Club to the Magic Kingdom.
If you take the Disney buses, the ride itself is about 20 minutes, but you also need to factor in time waiting for the bus. (Which can be, um, a little longer than the bus schedule says it will be.)
If you're not in any hurry and you want to take the scenic route, you could walk through Epcot, take the monorail to the Ticket and Transportation Center, then switch monorails to go to the Magic Kingdom.
How Do You Get to Cape May Cafe from Hollywood Studios?
You have 3 choices. You can either:
Ride a Bus
Ride a Boat
Walk
The walk from Beach Club to Hollywood Studios is considerably longer than it is to Epcot, but it's certainly do-able. It's about one and a quarter miles and will take you roughly 20 minutes.
It's actually quite possible that walking will take less time than riding the boat or or the bus.
Breakfast Menu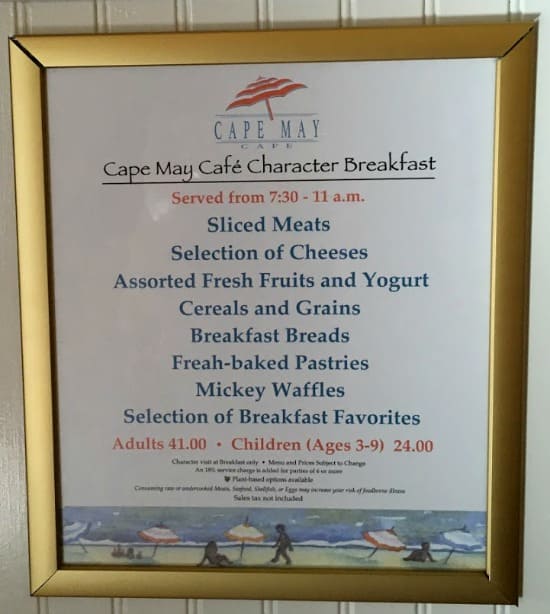 The menu as listed on the above sign and Disney's website doesn't nearly do the restaurant justice. Just a few of the many buffet items include:
Yogurt bar
Fresh Fruit
Smoked Salmon
Carved Ham
Omelet station
Biscuits with sausage gravy
Bacon Gruyère Casserole
Mickey Waffles
Breakfast Potatoes
Bacon
Sausage
Oatmeal
Cheese Grits
Breakfast Pizza
Assorted Breads and Pastries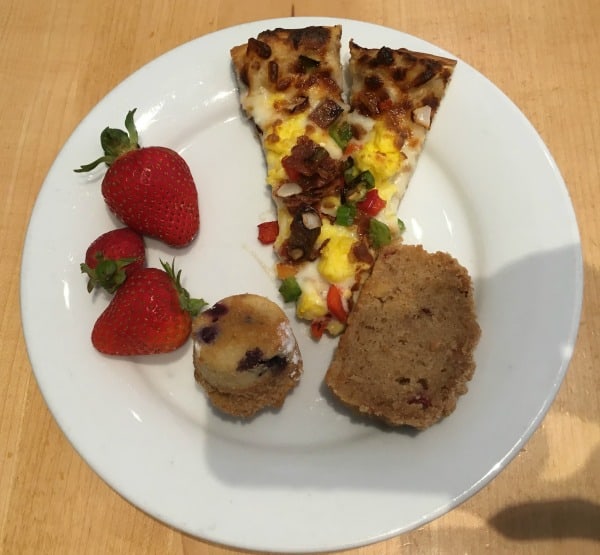 Dinner Menu
Clams
Mussels
Crab Legs
Shrimp
Pasta
Prime Rib
Chicken
Mashed Potatoes
Corn on the Cob
Kids' Menu Items

Macaroni & Cheese
Corn Dog Nuggets
Chicken Strips
Fish Nuggets
Cheese Pizza
Does Cape May Cafe Have Crab Legs?
This is one of the common questions asked about Cape May Cafe on the Internet. People are panicking that they are having dinner on the "wrong night" and that the main attraction of crab legs might not be available.
Fear not … from everything I could read, it sounds like the crab legs are a daily buffet item.
Of course the line "subject is availability" is added, so I guess there is always a chance they won't be there (just like Cinderella's stepsisters weren't "available" the night we went to 1900 Park Fare for dinner).
But it's not a "We only serve crab legs on Tuesdays and Thursdays" kind of thing.
People who have had the Cape May Cafe crab legs rave about them, claiming they are freshly cooked, served right out of the steamer, and that they break apart easily and taste delicious.
Drink Menu
For breakfast, there are several drinks available including:
Juice
Cold Brew Coffee
Cafe Mocha
Espresso
In addition, there are a few alcoholic drinks, such as:
Mimosa
Bloody Mary
Kahlua and Coffee
"Beachside Bubbles" (Sparkling Wine with Orange Guava Passionfruit)
For dinner, there is an extensive list of both alcoholic and non-alcoholic drinks.
In addition to various wines served by the glass or bottle, there are also things like:
Watermelon Lemonade
Grapefruit Spritzer
Sangria
Pale Lager
Amber Lager
Hard Cider
Walk the Plank (Rye Whisky, Orange Juice, Orgeat (Almond), and fresh Lemon Juice)
Magical Star Cocktail (Mango and Passion Fruit Liqueur, Coconut Rum, Pineapple Juice, and a Souvenir Multicolored Glow Cube)
Watermelon Martini
and many more
My Cape May Cafe Breakfast Review
I really enjoyed Cape May Cafe and felt like it was a hidden gem.
I liked the pastel colors and beach theme of the restaurant, and thought the characters' outfits were adorable.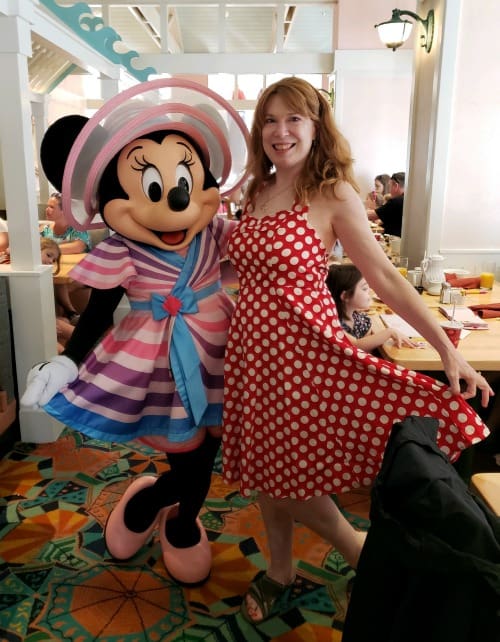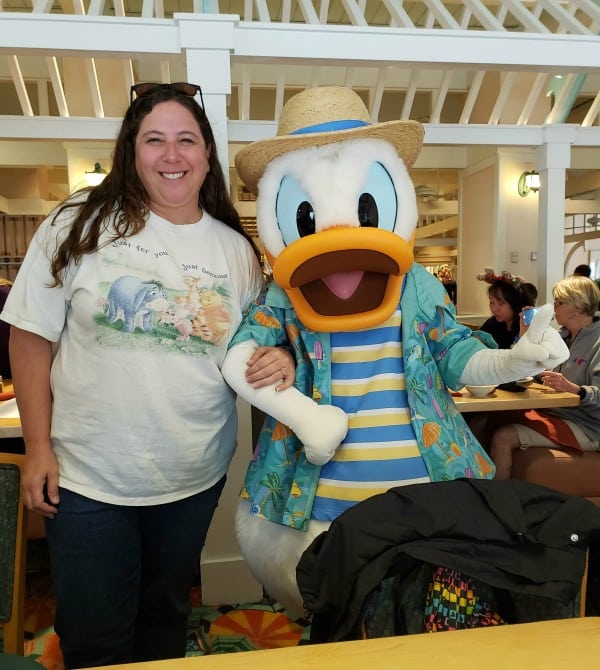 One huge plus for me is that it didn't feel as noisy and crowded as most character buffets.
I lingered over my coffee, as opposed to feeling like we had to get the heck out of there once we were done. And several of the characters came to our table, which I think is a first for any character meal I've ever been to.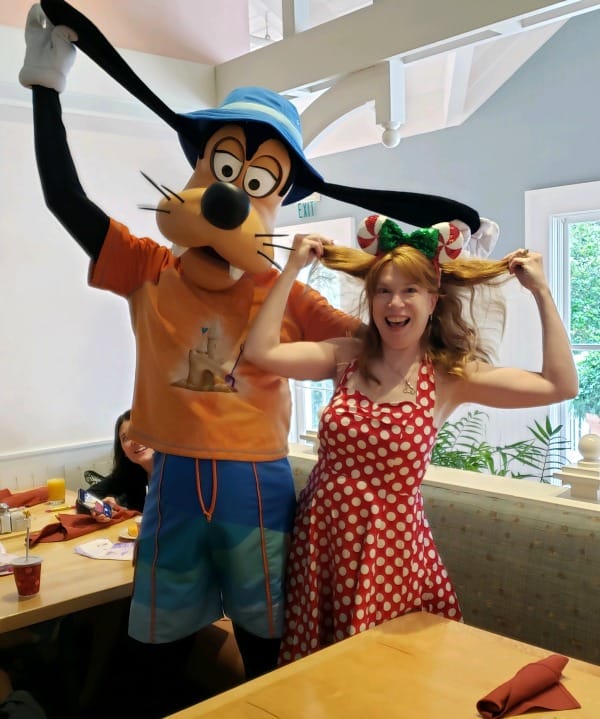 As far as the food goes, it was good. I didn't get to try as many things as I would have liked to (such as the French Toast with Caramel Banana Sauce) because I'm trying this radical new thing as I get older called "not eating anymore after you become full."
But I thought they had a great spread with a lot of variety, and I enjoyed everything that I did have. I'm always a fan of omelet stations, and when our server saw me eating oatmeal, she suggested I top it with some of their granola and even brought me a little bowl of it.
Cape May Cafe Breakfast vs. Other Restaurants
People often narrow their dining choices down to a couple somewhat similar things that they're trying to decide between.
Here are some other character breakfast you might be debating along with Cape May Cafe:
Cape May Cafe or Tusker House?
I really hate to say anything negative about the Tusker House, because when I went there with just my daughters, we all thought it was one of the best breakfasts we'd ever had, anywhere.
However …
I liked the atmosphere at Cape May Cafe at lot better. It was brighter, less crowded, and felt less rushed.
And the food at Cape May Cafe was not as "unique" as some of the Tusker House offerings, but it was pretty darn good food.
One big factor in making the decision between these two restaurants is whether you consider eating at a resort to be a plus or minus.
For me, I love visiting resort restaurants because I enjoy having some "down time" during my trip. I also like getting a chance to explore the Disney resorts that I can't afford to stay in.
Some people, on the other hand, find leaving the parks to be a time-consuming hassle that isn't worth it.
And of course, it depends on whether the people in your party are bigger fans or Mickey (Tusker House) or Minnie Mouse (Cape May Cafe).
Cape May Cafe or Garden Grill?
Hmm .. these are both really good choices that I would definitely recommend.
One big difference is that, instead of a buffet, Garden Grill is served "family dinner," which means they have a set menu and they bring the food to you. (You still get to eat as much as you want.)
So a question to ask yourself is … do you like the huge variety that you get from a buffet, or would you prefer to stay put and not have you (and your kids) popping up every few minutes to go in search of more food?
Another question to ask is, would you rather visit Mickey and Chip and Dale (Garden Grill) or Minnie and the Ducks (Cape May Cafe)?
As far as the food goes, it's hard for me to compare the two, since I only had breakfast at Cape May Cafe and only had dinner at the Garden Grill.
I was a little underwhelmed (not turned off, just underwhelmed) by the food at the Garden Grill dinner. However, breakfast is pretty hard to mess up, and I tend to think that I'd like their breakfast food more.
Cape May Cafe or Chef Mickey's?
Oh, please.
I actually felt like Cape May Cafe was "the adult alternative" to Chef Mickey's.
I would never dream of eating at Chef Mickey's unless I had small children that I felt obligated to take there … but I had a great time at Cape May Cafe. I never felt like I was there "just for the blog" or that it was it was embarrassing or weird for two adults to be eating there.
However, if you do have little kids with you, one thing that Chef Mickey's has going for it (other than Mickey) is that it's awfully convenient to get an early breakfast, then hop onto the monorail and arrive at the Magic Kingdom within a few minutes.
And if I remember correctly (it's been a long time), Chef Mickey's has a bunch of sugary junk at their breakfast buffet, like chocolate sauce, chocolate chips, whipped cream, and sprinkles, that kids will probably love.
Which is Better: Cape May Cafe Breakfast or Dinner?
Well, I haven't had dinner there … but after doing some research, the general consensus seems to be "dinner."
There are no characters at dinner, so if seeing characters is your main concern, then obviously go for breakfast.
However, if you want a unique meal at Disney World and you love seafood, then the Cape May Cafe gets some pretty high praise.
If you do choose to go for dinner, consider taking a little time to walk over to the Boardwalk afterward. In the evening they have street performers like magicians and jugglers.
Video — Cape May Cafe's Breakfast Pizza Recipe
If you loved the breakfast pizza at Cope May Cafe, you can try making your own version at home.
You only need 4 ingredients:
Pizza Shell
Salsa
Eggs
Cheese

Your Thoughts on Cape May Cafe

What has been your experience at Cape May Cafe? Did you enjoy it as much as we did? What is their dinner like? Are the crab legs as amazing as everyone says they are? Let us know below in the comments!
---
---