Things I Learned on my Adults-Only Disney World Trip
This post probably contains affiliate links. You can read the details about what that means here.
I just came back from my latest Disney World vacation. It was my first adult-only trip, with just me and my friend Loraine (who also has three kids, three cats, and a husband).
Every Disney trip is unique, but this one was particularly different in that:
We were vacationing without kids
I had never gotten Disney Memory Maker before
It was our first time at Mickey's Very Merry Christmas Party
We stayed off-property (which I'd done before, but not for several years
Here are 9 things that stuck with me during this trip:
So is Disney World worth it for adults? Absolutely!
People often ask if Disney World is "boring" for adults. Obviously everyone's tastes are different, but no, there was nothing about our trip that felt "boring."
Epcot is usually cited as "the best park for adults," and yes, we went to Epcot and had a lot of fun there. (I should also add that we had a lot of fun there without drinking any alcohol.)
But honestly, we had just as much fun at the Magic Kingdom. We:
Rode Splash Mountain, It's a Small World, Pirates of the Caribben, Big Thunder Mountain Railroad, Jungle Cruise, and Astro Orbiter
Rode Seven Dwarfs Mine Train twice (once in the dark, which was awesome)
Met characters
Got our photos taken
Saw Monsters Inc. Laugh Floor (which is one of my favorite underrated attractions at Disney
Shopped at The Emporium on Main Street
Ate a great Nutella and fruit waffle sandwich at Sleepy Hollow
And we definitely would have done a lot more if we'd had more time.
Memory Maker is awesome
As I mentioned earlier, this was the first time I'd ever used Disney Memory Maker, and I regret we didn't do it earlier on family trips … although to be fair, I think some members of my family wouldn't have enjoyed taking all those photos as much as I did.
I know some people would consider it a hassle to keep stopping and waiting in even more lines, but I thought it made the trip more fun to always be on the lookout for photo spots and try to get as many photos as we could.
And yes, I enjoyed the indulgence of feeling like a mini-celebrity as people took my photo all day long.
The photos were much better than anything my family ever takes, and I really enjoyed how you ended up with more than just one or two shots at each location. The Magic Shots were a cute bonus. I definitely feel like I got my money's worth.
Mickey's Very Merry Christmas Party was fun, but I'm not sure I would do it again
This was also the first time I'd ever attended Mickey's Very Merry Christmas Party — but unlike Memory Maker, I don't wish I had done it when my kids were younger.
While it was fun meeting the characters, the lines for were each was at least 45 minutes, which was barely tolerable for my by myself, let alone while juggling a bunch of kids.
Between that and the fact that I would have felt nervous keeping track of three kids in the dark for hours AND that at least one of my children would have screamed bloody murder at the sound of the fireworks … well, I think we made a good call in the past to spend our money on regular park tickets as opposed to the holiday party events.
Having said that, I am really glad I went to the party on this trip, especially since I had Memory Maker and we were able to get some special holiday photos. Also, we had a fantastic spot for the parade, which was wonderful.
Visiting the resorts is a must
We had only two meals at table service restaurants, and they were both at Disney resorts:
In addition to enjoying both meals, we really enjoyed just spending some unhurried time checking out the resorts.
After breakfast at Cape May Cafe, we walked through Beach Club Resort, Yacht Resort, and Boardwalk, then took the boat back to Beach Club.
After dinner at 1900 Park Fare, we walked all around the Grand Floridian main building (and especially loved Basin White, the soap shop), plus we took the monorail to visit both the Contemporary and the Polynesian resorts.
It was the perfect activity for an adults-only trip, and a great way to enjoy the beauty of the Disney resorts without having to spend $500 a night to do so.
It's kinda nice not to have too many restaurant reservations
We had only two table service reservations on this trip, and that felt perfect. It was nice to not have every day's schedule revolve around when we were going to eat, and to not have to constantly calculate if we had time to use a certain FastPass if we had a dinner reservation.
It was also nice to come back from vacation and not feel like I had spent the week stuffing myself silly.
Character meet and greets are awesome, even for adults
After all these years, I'm finally starting to get better at character meet and greets. I used to just have my kids get the autographs, take their picture, and then maybe stand there and smile while I got in a picture.
I discovered during this trip that meeting characters is a lot more fun (probably for them as well as for me) if you get a little playful with it.
I gave all the characters big hugs, showed Minnie Mouse my Minnie earrings, asked Tigger to bounce with me, and told Timon I saw him on Broadway and that he did a great job. I started thinking of it more as taking part in an improv show that it just being something for kids or for getting a "Disney photo," and seeing it that way made a big difference.
I also got a little better at posing, sometimes even asking the characters for suggestions on how to stand, or trying to mimic what they were doing.
If you need some ideas to get you going, check out my post on what to say to Disney characters.
It can get cold at Disney World
I already knew this from a past November trip, but it still surprised me. There was one day I was so cold that I had to leave the park to go change in jeans, and I wore either a cardigan or jacket during about half the trip.
If you're planning a trip during the winter months, be sure to check out my article on what to pack for Disney World in the winter.
Staying off-property isn't as bad as I used to think.
Several years ago I swore that I would never stay off-property again. But for this trip I was really trying to keep the costs down, and I was impressed by what I heard and saw about Windsor Hills Orlando, so I decided to break my vow.
Honestly, I don't think there was any time that I felt frustrated by staying off-property. We both loved having so much space and privacy. (We each had our bedroom and bathroom, plus a kitchen and living room).
For the most part, the drive wasn't any longer than taking the Disney buses. And yes, I had to drive, but at least I was guaranteed a seat … and didn't have to listen to tired, sobbing children.
Yes, our family loves Port Orleans Riverside, but when you consider that our condo was less than half the price (even after factoring in the cost of parking) and had about three times the space, I can't help but question if staying on-property isn't as great as I thought.
Interacting with others is half the fun
Okay, this may sound a little weird, and I know a big part of this is just my personality, but one of the things I love about Disney is … talking to people.
I had a nice chat with the omelet chef at Cape May Cafe, who was from Brooklyn and told me that he moved to Florida years ago because he decided that his calling in life was to work at Disney World.
When we standing in line, I would sometimes give kids nearby either some Minnie Mouse stickers or, if they were a little older, I would hold out a few Disney Trading Pins and let them choose one. Occasionally that would even lead to an interesting discussion with the parents or grandparents.
When we were on a ridiculously long line at Avatar Flight of Passage, I was getting pretty hungry and joked that they should have a shrimp dispenser in the queue.
The woman behind me said, "Oh, so you watch The Good Place too?"
We all ended up having a fun discussion about the show — which season was best, the fact that I bought Rob a "Jeremy Bearimy" mug for Christmas, etc.
And that's part of why I like Disney World:
Everyone there is so happy.
A Disney vacation feels like one huge party for people of all ages from all over the world.
So what about you?
Have you ever taken a Disney trip with just adults? Do you agree or disagree with any of my thoughts during this trip? Let us know below in the comments!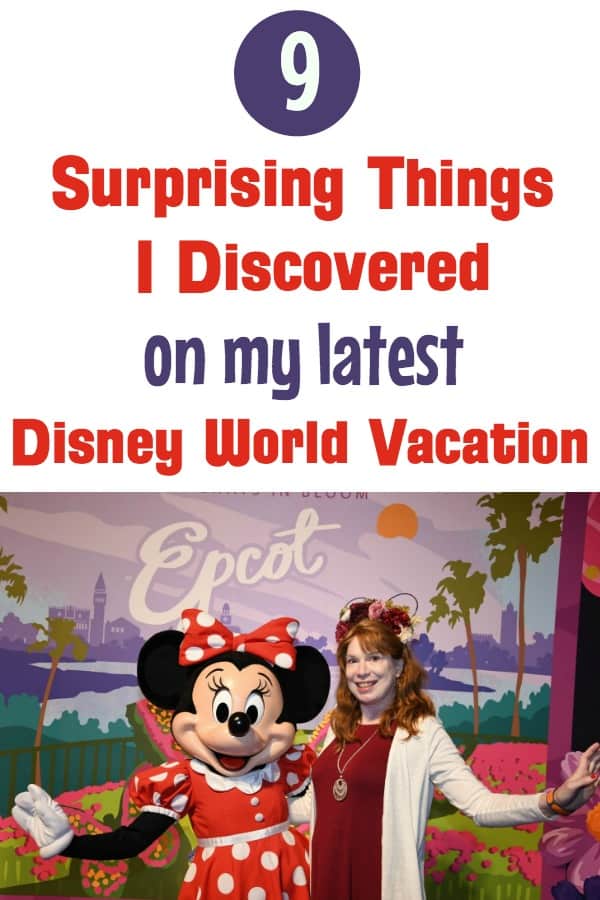 ---
---