Questions to Ask Disney Characters (plus other meet & greet tips)
I remember our family's very first trip to Disney World, when little two year old Becca gave Chip (or was it Dale?) a great big hug and just hung on, so content and peaceful that it looked like she never wanted to let go.
Then there was the time we met Goofy, and I wasn't sure what he was doing at first … but it turned out that he was "kissing" me, and kept on doing it! I couldn't stop laughing (or blushing).
Or another time we met Chip and Dale and I told them that I could tell who was who, because Chip had a chocolate chip on his nose and Dale didn't. Dale hung his head sadly, which made me burst out laughing and tell him, "Oh, it's okay, Dale! We still love you even though you don't have a chocolate chip!"
Yup, character meet and greets can be some of the most fun and memorable parts of your Disney vacation. Like my friend Loraine says, "I can go on rides anywhere, but when I go to Disney World, I want to meet characters!"
After reading this post, you'll be an expert on things like:
Where to find your favorite characters
What to say to characters (and questions to ask them)
Great ideas for autograph albums — and the best pen to use!
Ideas for fun poses with characters
Have Fun with the Characters & Ask Them Questions
Yeah, we've done it too — get to the front of the line, awkwardly say hi to a creature who you know can't speak a reply, wait for them to sign their autograph, then smile for the camera. Character meet and greet done.
Not that there's anything really wrong with that … but it's a lot much fun (and for them, too) if you get a little playful and come up with some ways to interact.
Things to say to Disney characters
If you get stuck for an idea, you can always compliment a character on his or her outfit. And if your child is meeting their favorite character (for Rachael, it was Donald Duck), be sure they tell the character that.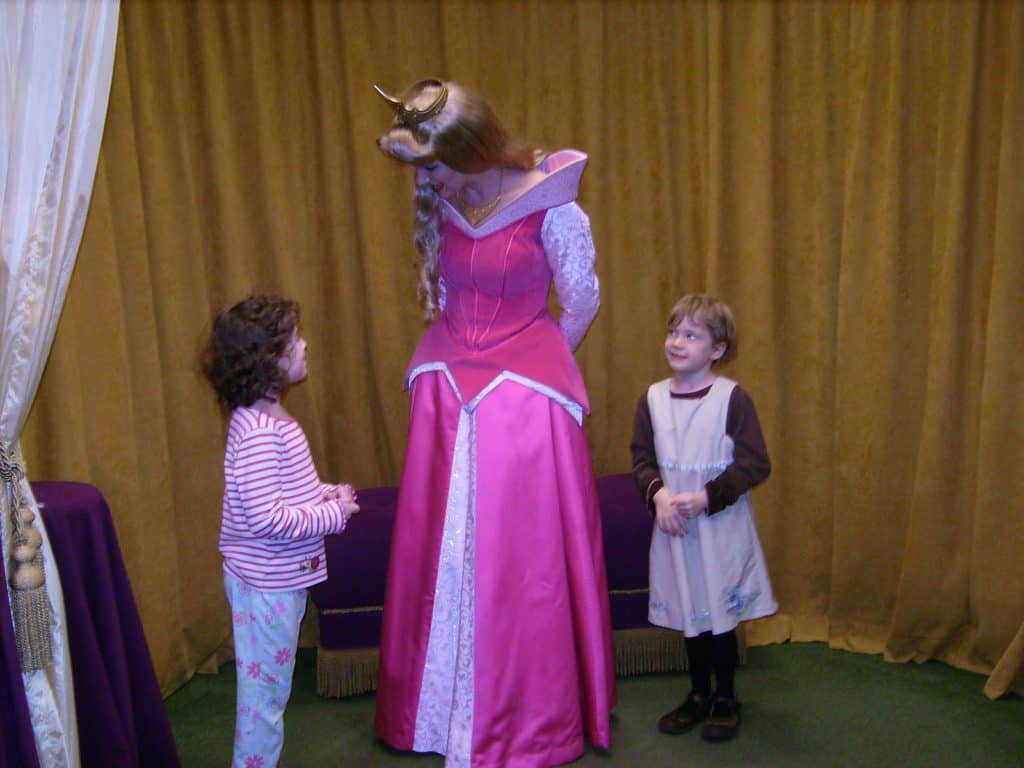 Objects can be a good conversation starter as well. A little toy like one of these is great for children to show to characters to start a conversation. If your child is wearing a Mickey shirt or hat, they can show it to the character. I've heard that the characters are quite complimentary (and truly appreciative) when children give them a character drawing they've done.
The DisBoards forums have some great threads where people share things they've said to Disney characters that got a fun response.
Here are some of my favorites:
Tell Captain Hook, "Tick tock tick tock!" (or ask him where Mr. Smee is);
Ask Snow White what the dwarves are doing in the mine;
Ask Ariel what Sebastian or Flounder are up to;
Tell Prince John he's the phony prince of England;
Ask Tigger for a bouncing lesson;
Ask Eeyore if he's sure he hasn't lost his tail;
Ask Buzz Lightyear if he's had any run-ins with Zurg lately;
Act alarmed and tell Woody there's a snake in his boot;
Call Chip and Dale gophers or rats (or call them by Alvin and Theodore;
Ask Donald Duck where Mickey Mouse is;
Tell the Mad Hatter that it's your unbirthday;
Specifically ask the Mad Hatter for his "autograph" and see what he does;>/li>
Ask Mary Poppins to say "the word" with your child — or ask her to say it backwards;
Ask Minnie Mouse how many dresses she has (preferably if Mickey or a cast member is nearby;
Ask Minnie to strike her best diva poses for the camera;
Tell Mickey that Minnie was waiting for her ring, and he'd better hurry before Donald snatches her up;
Call Mushu a lizard or Meeko a badger;
Bark like a dog when you see Cruella;
Ask Pocahantas to tell you how she says hello
Tell Tinkerbell that she should be nicer to Wendybird.
Whoever the character is — TELL THEM "THANK YOU"!
What NOT to say to Disney Characters
I probably don't need to tell you this, but just a reminder, because unfortunately, it
does
happen:
Please don't complain to the characters about how long the wait in line was, and please don't start screaming and yelling if a character gets "pulled offstage" right before it's your turn. I know it stinks when that happens, but they have strict rules about this that they have to stick to, and yelling at them isn't going to help anybody.
Poses to Do with Disney Characters
I'm sorry to say that over the years, we've never come up with clever ideas for poses. And hey, that's okay too! We still love the photos we have.
But if you like the idea of posing, here are some ideas from others who are more creative than I am:
* Curtsying with Minnie Mouse or Belle;
* Saluting or standing with hands on your hips with Buzz Lightyear;
* Patting your tummy with Winnie the Pooh;
* Asking Gaston to show off his muscle, then squeeze his biceps for the photo;
* Clasping your hands under your chin with Cinderella's stepsisters;
* Kiss your favorite character or pretend to tell them a secret.
As a big fan of Monsters, inc, and particularly Mike Wazowski, I got a big kick out of this photo:
And this photo with Baloo from The Jungle Book is just adorable:
Choose a Disney Autograph Album (or Alternative)
There are two schools of thought on Disney autograph books.
Most people get them because they make a fun souvenir and because kids are a little weird in that they love to almost obsessively keep track of and count their autographs as if it's a type a scavenger hunt.
Other people see them as a waste of money and something that takes away from being able to actually interact with the characters (which we'll get to more in a minute).
Walt Disney World Four Parks Mickey Mouse Official Autograph Book

Disney Mickey Mouse and Friends Spiral Autograph Book – Blue

2018 Walt Disney World Autographs and Photographs Book with Pen

Disney Princess 2 pc. Autograph Book Set

We always got the autograph albums for our girls, Rachael and Rebecca, but not for our son Ben, who had little to no interest in meeting the characters.
(Since my husband Robert ranks waiting in line in the Florida heat to meet an actor in a costume somewhere between silly and downright irritating, it worked out well. The two of them would go ride the Tomorrowland Speedway or something and catch up with us later.)
It's worth noting that several months ago, my oldest daughter Rachael (pictured above with Minnie Mouse), who is now in high school, cleaned out the bookshelves in her bedroom and brought me a big pile of things to go to charity. I was stunned and sad to find the Disney autograph album from years ago in her pile.
Of course, I didn't get rid of it, but put it on my own bookshelf. Who knows, maybe years from now she'll stumble onto it again and it will bring back all kinds of great memories. (And she'll say to me, "Oh wow, Mom … thanks for being so amazingly wise and not getting rid of that book. You're the best Mom ever." Well … maybe not, but we can dream.)
If you do decide to be like the majority of families and collect autographs, make sure you get the right kind of pen that is easy for characters to hold.
Sharpie 32701 Retractable Permanent Fine-Point Markers

And don't feel limited to an autograph book. Some people like to have characters sign a special hat, t-shirt, or tote bag. Etsy has some great personalized Disney bags that work well for collecting autographs
Disney Youth Hat Kids Cap with Mickey or Minnie Mouse Ears (Minnie Pink)

Disney Little Girls Princess Characters Cotton Baseball Cap, Pink, Age 4-7

Disney Little Boys' Cars Lightning McQueen Cotton Baseball Cap, Red/Grey, Age 4-7

Disney Mickey Mouse Boys Baseball Cap with Removable Sunglasses [2013]

Prepare for long waits in line.
Depending on which character you're meeting and what time of year it is, you could be standing on line for an hour or longer. The fine art of waiting in line at Disney World deserves a post all its own, but some ways you can make use of this time is to reapply sunscreen, play I Spy, or have one of the members of your family run over to snag cream cheese pretzels for everybody.
If you to be ultra-prepared, consider stocking up with a few little goodies to keep in your park bag:
Creativity Street Big Box of Chenille Stems, 150-Count, Assorted Colors

Play-Doh Party Bag Dough (15 Count)

SNInc. Neon Bubble Bottles – Pack of 24 Party Bubbles

Consider Character Dining
Character meals are a fun and efficient way to get to meet a bunch of characters at once. The up side is that you get to sit in an air conditioned building and chow down while you wait, instead of just standing around sweating bullets. The down side is that they can be pretty expensive and you have to plan ahead (usually way ahead).
We've done Disney trips both with and without character meals. We were on a smaller budget on our very first Disney trip, back when the girls were 2 and 4 years old and Benjamin didn't even exist yet, and didn't schedule any character meals.
Honestly, we didn't miss it. The girls were so thrilled with the simplest things about the trip, like swimming in the condo pool and eating Mickey Mouse ice cream bars, that it didn't occur to them that they should be disappointed about "missing out" on anything.
But on future visits, we were lucky enough to get the free Disney Dining Plan, and did enjoy several character meals, including:
Would I recommend character meals? Yes — if it's in your budget and you do your research.
Research Character Locations (but not too much)
I have mixed feelings about this one.
On one hand, a trip to Disney World and being in the company of young children are two things that, even when done separately, require some planning if you don't want to be miserable.
On the other hand, though, there's a lot to be said for seeing characters that not only did you not schedule for, but that you weren't even expecting to be there. (I squealed with delight when we saw Mary Poppins and two penguins at the Magic Kingdom one morning.)
We were also completely taken by surprise shortly after we arrived at Hollywood Studios for the first time ever, we were all completely surprised to see Leo and Annie from Little Einsteins.
So depending on your personality, maybe do some planning and leave some room for surprises. I would recommend, at the very least, scheduling time to see the one or two characters (or groups of characters) that your crew has it's hearts set on to meet. And don't forget that the My Disney Experience app — which is free — makes it easy to "plan on the fly," so to speak.
Where to Find Characters at Disney World
In addition to meeting your favorite Disney friends at a character meal, there are places all over the parks where you can meet them. Be sure to check your My Disney Experience app, as the times and details can vary from day to day.
AllEars.net has a detailed "Characters at a Glance" chart for each Disney park. Here's a quick list I put together from their charts:
Disney Characters at the Magic Kingdom
Princess Fairytale Hall — Cinderella, Rapunzel, Tiana, Elena of Avalor
Fantasyland — Anastasia & Drizella, Lady Tremaine, Fairy Godmother, Ariel, Gaston, Daisy & Donald Duck, Minnie Mouse, Goofy, Peter Pan & Wendy, Winnie the Pooh & Tigger, Alice & the White Rabbit
Adventureland — Jasmine, Aladdin, Captain Jack
Town Hall Theater — "Magician" Mickey Mouse, Tinkerbell
Town Square — Mary Poppins, Snow White, Pluto, Marie (from The Aristocrats)
Disney Characters at Animal Kingdom
Donald's Dino-Bash in DinoLand USA — Daisy & Donald Duck, Launchpad McQuack, Scrooge McDuck, Chip & Dale, Goofy, Pluto
Discovery Island — Mickey & Minnie Mouse, Pocahontas, Russell (from Up)
Rafiki's Planet Watch — Rafiki, Jiminy Cricket, Doc McStuffins
In addition, you can meet Timon near Creature Comforts and see DeVine (if you look carefully) by the park Entrance, Oasis, or the pathway between Asia and Africa.
Disney Characters at Hollywood Studios
Great Movie Ride Courtyard — Daisy & Donald Duck, Chip & Dale, Goofy, Pluto, Minnie Mouse
Walt Disney Presents — Star-Lord, Baby Groot
Pixar Place — Buzz Lightyear, Woody, Green Army Men, Cruz Ramirez (from Cars 3)
Star Wars Launch Bay — Kylo Ren, Stormtroopers, Jawas, Greedo, BB-8, Chewbacca
Animation Courtyard — Sophia the First, Pluto, Doc McStuffins, Jake of the Neverland Pirates
Disney Characters at Epcot
Epcot Character Spot by Innoventions West — Mickey & Minnie Mouse, Joy & Sadness from Inside Out, Baymax from Big Hero 6
Legacy Plaza — Daisy Duck
World Showcase Ambassador Gazebo — Pluto
United Kingdom — Mary Poppins, Alice in Wonderland, Winnie the Pooh and Friends
Mexico — Donald Duck
France — Belle, Aurora
China — Mulan
Germany — Snow White
Morocco — Jasmine & Aladdin
What are your favorite Disney character meet and greet tips?
Now I want to hear from you.
Do you have any funny character meet and greet stories?
Do you use autograph albums, and if so, do you buy them or make your own?
Let us know below in the comments!
---
---