Is Mary Poppins at Disney World? (plus the new Epcot ride)
This post probably contains affiliate links. You can read the details about what that means here.
I remember one time when the girls were little and we encountered Mary Poppins completely by accident as we were walking through the United Kingdom pavilion in Epcot.
"Is this your first time visiting?" Mary Poppins asked briskly as she signed one of their autograph books.
"No, it's our third time!" they told her.
"My, aren't you lucky?" Mary Poppins said dryly, in a way that — to me — sounded like she really meant, "My, aren't you spoiled and entitled little children."
But whether Mary Poppins was making a commentary or I'm just defensive about my parenting, Mary Poppinsis one of my very favorite Disney movies, and meeting her has always been fun for us, partly because we always seem to stumble upon her unexpectedly and when there's little to no line.
In this post I'll cover the different places in Disney World where you can meet Mary Poppins. I'll also discuss the "Mary Poppins Ride" that was recently announced to be opening in Epcot in the future.
Liberty Square in the Magic Kingdom
There is a gazebo in Liberty Square near Ye Olde Christmas Shoppe where Mary Poppins has regular Meet and Greets.
This is also where you can meet Mary Poppins (with Bert!) at Mickey's Very Merry Christmas Party.
Mary is also known to intermittently appear in various parts of Main Street, such as the upper level of the Main Street Train Station, Town Square, or near The Chappeau hat store.
That's where we stumbled across her and the penguins one visit, much to my delight:
United Kingdom Pavilion in Epcot
Mary Poppins is regularly in the United Kingdom pavilion in the World Showcase, across from the Rose & Crown Pub.
If you're really set on meeting her, to me this would be your best bet.
Character Palooza in Hollywood Studios
Character Palooza is very unreliable (and I've never done it myself), but if you can be there for it, it sounds really cool.
Basically, it's a "secret" meet and greet at Disney's Hollywood Studios. It isn't listed on park maps, and if you ask a Cast Member about it, they'll either be deliberately vague or flat-out deny it's existence.
In addition to the possibility of meeting Mary Poppins, Bert, and/or the penguins, there are roughly 20 other characters you might meet, including Aladdin and the Genie, Baloo, Brer Fox, Pinocchio and Gepetto, Rafiki and Timon, and Robin Hood.
Why does it exist?
Quite simply, those characters are on their way to get ready for Fantasmic! and Disney figured they might as well turn those logistics into an unofficial Meet and Greet.
It typically takes place sometime between 4pm-7pm. I've heard of happening by Tower of Terror, Streets of America, around Echo Lake, or even outside the front gate.
What's great about Character Palooza is that there are hardly any lines. I've heard of people visiting 9 characters within 30 minutes.
The downside, of course, is that you can't plan for it and don't have any guarantees or who you're going to meet. You may see Mary Poppins there, but you very well may not.
There are no PhotoPass or Memory Maker photographers at Character Palooza, but there are Cast Members who can use your camera or device to take a photo for you if you ask them.
If tracking down Character Palooza is a personal challenge for you, consider checking #characterpalooza during the day on your social media drug platform of choice.
In addition, Kenny the Pirate is known for having a lot of up-to-date information on finding characters.
Note that there is no Character Palooza when it rains.
Video — Mary Poppins Meet and Greet at Characterpalooza
What to Ask Mary Poppins
Since I've written about things to say to Disney characters, you may think I'm quite the entertainer whenever I meet character, full of clever banter and witty conversation starters.
Nope.
The truth is, over the years I barely gave any thought about what to say to anybody. I mostly just giggled stupidly, beamed as I watched my kids interact, and hoped my hair looked okay for the photo.
So none of these are my own brilliant ideas, but rather things I've heard other people online suggest about what to say to Mary Poppins:
What is your favorite item in your bag?
What are your favorite types of tea?
Could you be our nanny?
What does supercalifragilisticexpialidociousm mean?
Can you say supercalifragilisticexpialidocious backwards?
What is the name of your umbrella?
What does "spit spot" mean?
Where are Bert and the penguins?
What is Bert's last name?
If you're the singing type, singing "A Spoonful of Sugar" would be fun, especially in a group.
Princess Storybook Dining at Akershus Royal Banquet Hall in Norway
This is another place where you might meet Mary Poppins, but there are no guarantees.
Akershus is one of two places where you can enjoy breakfast in Epcot before the park opens) and the home to various princesses, including Cinderella, Ariel, Belle, Jasmine, Snow White, and Sleeping Beauty.
Oh, and sometimes Mary Poppins. (Which has always seemed a little strange to me, because sorry, but Mary Poppins is not a princess. But whatever.)
So don't go to Akershus just to see Mary Poppins, because she very well may not be there. But if you're planning a visit there anyway, maybe you'll end up getting lucky and she'll be there (even though she isn't a princess).
Supercalifragilistic Breakfast at 1900 Park Fare
1900 Park Fare is a buffet in the Grand Floridian, which is one of the Deluxe resorts located on the monorail line on the way to Magic Kingdom. It's claim to fame is its Strawberry Soup.
If you going to 1900 Park Fare to meet Mary Poppins, make sure you go for breakfast, where you'll also meet Alice in Wonderland and the Mad Hatter, plus Tigger and Winnie the Pooh. (An odd assortment of characters, but okay.)
And by the way, if you have time before or after your breakfast, check out the lobby at The Villas at The Grand Floridian, which has an adorable fountain featuring Mary Poppins' penguins.
✅Is there a Mary Poppins Ride in Disney World?
Alright, now that we've covered places where you can meet Mary Poppins in person, let's talk about this upcoming attraction.
For a while it was just a rumor … but then there was big news at the 2019 D23 Expo Parks & Resorts Panel in August.
Complete with an appearance by Dick Van Dyke (did they ask Julie Andrews to attend, I wonder?), the first-ever Mary Poppins attraction was announced.
Video — Announcement of Mary Poppins Attraction w/Dick Van Dyke
Unfortunately, hardly any details were given.
It will be in the United Kingdom pavilion in Epcot.
Guests will be able to "travel down Cherry Tree Lane past Admiral Boom's house, then enter Number 17, home of the Banks family."
That's it.
There was no name given to this new attraction, and no estimated completion date.
It's also interesting to note that the word "attraction" was used, as opposed to "ride." Is it possible that this new "attraction" is a live show? Or even a character meet and greet?
At this point, nobody knows for sure.
Some people are having fun speculating what the attraction will be like — or what they want it to be like.
Some people have suggested a dark ride, a la Peter Pan, while some people thought it would be cool to have Merry go round horses that break free and dance, in a similar to to Luigi's Rollicking Roadsters at Disney's California Adventure, below:
Video — Luigi's Rollicking Roadsters at Disney's California Adventure

While both those ideas sound pretty cool, unfortunately it sounds like neither one may be very likely.
Blogger Tom Bricker, who is always on the cutting edge of Disney news and rumors, had this to say:
What, precisely, this 'adventure' will entail remains to be seen. However, we reported over a year ago on rumors of a Mary Poppins expansion and attraction coming to the United Kingdom pavilion …

… If those rumors remain accurate, the planned Mary Poppins attraction is a spinner. At the time, we believed this meant something a la Dumbo, but we're now inclined to believe it's more likely (again, assuming that rumor is still accurate–and it's very possibly not) to be a carousel or small Ferris Wheel.

Any of these attractions could explain why specifics weren't announced. There was a lot of fanfare and excitement for this Mary Poppins expansion, and that same level of excitement probably would not have remained if Disney announced that the ride 'anchoring' Cherry Tree Lane is simply an off-the-shelf amusement park ride.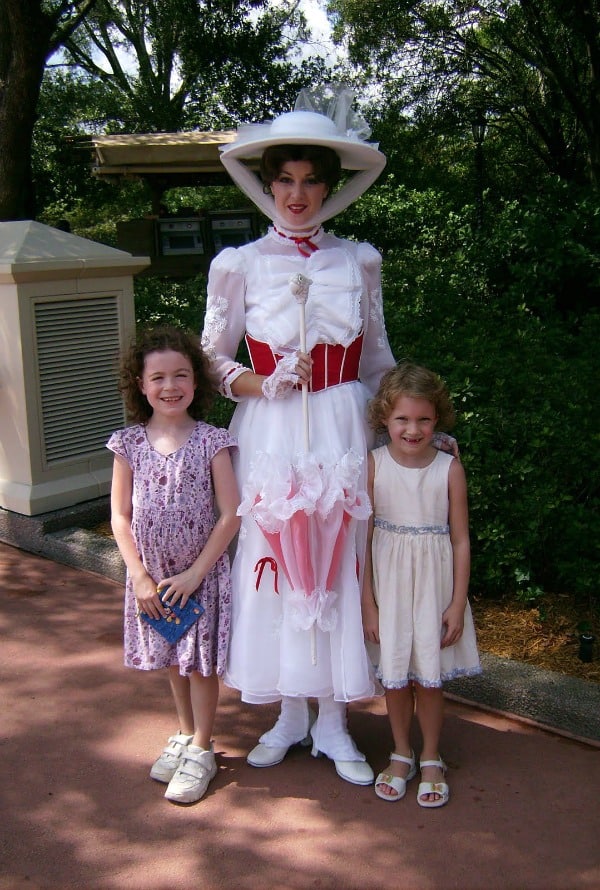 Of course, as you probably already know, the new Mary Poppins attraction is part of a major overhaul just starting to take place in Epcot, including, among other changes:
Illuminations:Reflections of Earth ending on September 30, 2019 and being replaced with the interim show Epcot Forever until HarmonioUS comes to Epcot in 2020.
Future World being replaced with three "neighborhoods": World Discovery, World Celebration, and World Nature (am I the only one who thinks these are really clunky names?
A Beauty and the Beast Sing-Along in the France Pavilion in January 2020
Remy's Ratatouille Adventure in the the France Pavilion in Summer 2020
A new 360-degree Canada film called Canada Far and Wide in January 2020
A Guardians Of The Galaxy roller coaster to open in World Discovery (one of the neighborhoods to replace Future World) in Spring 2121
Spaceship Earth closing for refurbishment for two and a half years
So yeah … Epcot 2020 is going to be very different from the first time I visited it, when I rode Body Wars and watched Cranium Command with Buzzy. (Yes, I am that old!)
How you seen Mary Poppins at Disney World?
Now it's your turn.
What have been your favorite interactions with Mary Poppins? What do you predict the new attraction will be like? Are you excited about the new changes coming to Epcot, or do you like it the way it is?
Let us know below in the comments!
Mary Poppins Tree Ornaments
Disney Parks Mary Poppins Ornament
Hallmark Keepsake Christmas Ornament 2019 — Mary Poppins The Perfect Nanny
Hallmark Keepsake Christmas Ornament 2018 Precious Moments, Porcelain
2019 Mary Poppins Glass Dome Legacy Sketchbook
Most Popular Disney World Posts
---
---