The Best Places to Have Breakfast at (or Near) Epcot
This post probably contains affiliate links. You can read the details about what that means here.
We all know that you can save time by just eating a quick bowl of cereal or granola bar in your hotel room for breakfast before heading out for a day at the Disney parks.
But come on, do you want to start every morning like that? I know I don't. Sometimes it's nice to start the day with something a little more fun and interesting.
Also, if you're trying to save money on your Disney World trip and want to have just a few restaurant splurges, breakfast is definitely a better choice than dinner.
After reading this post, you'll be a "breakfast at Epcot expert." You'll know where to get a quick breakfast, a sweet breakfast, a savory breakfast, or a breakfast with characters.
You'll even know how to get into Epcot before it opens to have breakfast.
Epcot Breakfast Before the Park Opens
There are two options for having breakfast in Epcot before the park officially opens, and they are both character meals: Akershus Royal Banquet Hall in Norway and Garden Grill in Future Land.
We'll get to the details of these two restaurants in a moment, but first let's discuss pre-park opening reservations (or PPO ADRs) in general.
There are two obvious advantages to pre-park opening dining:
1) You don't "waste" the early morning eating when you should be taking advantage of the shorter lines.
2) You get a chance for some photo opportunities while the park is relatively empty.
The earliest reservation you can get is an hour before the park opens. For example, if Epcot opens at 9:00am, you can book your breakfast (if you're lucky enough for it to be available) at 8:00am.
But it's important to understand how this works if the park is having Extra Magic Hours. For example, if Extra Magic Hours start at 8:00am, the earliest breakfast reservations will still be at 8:00am. … so it's kind of defeating the purpose of getting a pre-park opening reservation.
Tom Bricker at Disney Tourist Blog has a clever way to handle this dilemma: Book two pre-park breakfasts on different days as early as possible. Later, when the Extra Magic Hours calendar is released, cancel one of the reservations if it coincides with your park's EMH.
You'll be able to enter the 7:30am if you have a PPO reservation, maybe even 7:20am if you're lucky.
And by the way, you can enter at that time for any PPO reservation. So it's not "you can enter 30 minutes before your reservation," but rather "you can enter when everyone with a reservation before 9:00am can enter."
If you didn't already know, Disney transportation can sometimes be a pain in the rear unreliable, so if running late would stress you out, you may want to consider getting an Uber or Minnie Van for that morning.
Now let's discuss each the two character breakfasts available before the park opens.
Akershus Royal Banquet Hall Princess Breakfast
Akershus Royal Banquet Hall is located in the Norway Pavilion inside of Epcot's World Showcase. It counts as one Table Service credit on the Disney Dining Plan, and reservations are required.
Akershus is often thought of as the cheaper (and perhaps even better) alternative to Cinderella's Royal Table in the Magic Kingdom.
Touring Plans currently lists the breakfast prices as $48 for adults and $27 for children.
The breakfast is a buffet that includes menu items like scrambled eggs, bacon and sausage, potato casserole, lingonberry muffins, and bagels and cream cheese.
The photo above is from when Rachael and I went to Akershus for lunch several years ago. I remember (only because I was smart enough to write it down) that Cinderella commented on their matching headbands, which made Rachael very happy.
In addition to Cinderella, you'll meet Belle, who acts as host, Snow White, Aurora ("Sleeping Beauty"), and Ariel, and "sometimes Mary Poppins." (This strikes me as a little amusing that Mary Poppins, who isn't even a princess, just randomly shows up from time to time. But hey, I love Mary Poppins, so whatever.)
If you have a pre-park opening breakfast at Akershus, you'll probably want to hit Frozen Ever After as soon as you're done and may not even need it to be part of your FastPass strategy.
The Garden Grill Restaurant
The Garden Grill is located in Future World in The Land Pavilion. It is also counts as one Table Service credit on the Disney Dining Plan, and reservations are required.
Touring Plans currently lists the price as $38 for adults and $23 for children.
Unlike Akershus, which is a buffet, Garden Grill is called a "family-style restaurant," which means they bring a set assortment of food to your table, and you can request more of anything if you like. They offer basic breakfast foods like scrambled eggs, sausage and bacon, Mickey waffles, fruit, and hash browns.
The really neat thing about Garden Grill is that you're on a rotating platform where you get to see into various scenes from The Land attraction. Not only is that a kind of unique experience, but it makes your seating a little more private and feels less chaotic than your typical character meal. Look at the photo below to see what I mean.
You'll get to meet "Farmer Mickey," plus Pluto and Chip & Dale. Between the fact that Chip & Dale are some of my favorite Disney characters to meet and that I really enjoy the rotating restaurant concept, I have a definite bias toward Garden Grill.
Quick Service Breakfast Options in Epcot
If you want something cheaper and quicker for breakfast, there are several quick service options.
One trick some people do is keep a few Ziplock bags in their backpack or purse and stop at one of the bakeries as they're leaving the park at the end of the day. They buy something to bring back to their room that they can enjoy for breakfast the next morning.
Sunshine Seasons
Sunshine Seasons is basically a food court in The Land pavilion. That doesn't sound very exciting, but for a while my girls had an almost irrational love for it. I'm guessing it's because there are so many options and because they can get their food quickly. And the food is good.
While there are lots of sugary things on the menu, like Chocolate Croissants, Mickey Oreo Cheesecake, and Creme Brulee, you certainly don't have to begin your day here with a sugar rush. For example, the Adult Breakfast Platter comes with scrambled eggs, bacon, sausage, breakfast potatoes, and cinnamon French toast pudding.
Sunshine Seasons also has some good vegetarian options, such as the Breakfast Power Wrap that contains wild rice, sweet potatoes, blueberries, avocado, and tofu.
Kringla Bakeri Og Cafe
Kringla Bakeri Og Cafe is located in the Norway pavilion, which makes it a great place to grab something on the way to or from Frozen Ever After.
This is mostly a pastry place, and the Big Star here is the School Bread, which is a "Sweet Cardamom Bun filled with Vanilla Creme Custard and Topped with Glazed and Toasted Coconuts."
I have to say that, while I like the School Bread and would happily scarf it down if someone set it in front of me right now, I didn't think it was All That. Maybe that was just because it had such a huge build-up. It was kind of like seeing the movie La-La Land.
I actually prefer the Berry Cream Puff — but than again, I am partial to anything with fruit.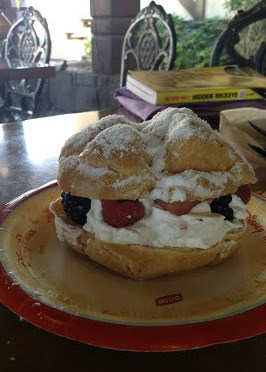 Les Halles Boulangerie and Patisserie
We make a point to stop at this bakery, located in the France pavilion, and take something back to the room with us on every visit. If nothing else, it's worth stopping in just for the visual appeal of all the French desserts.
I haven't been able to tear myself away from the Napoleons to try many other things, but I have heard that the baguettes are amazing. (If you're taking it with you, make sure you get some butter packets to go with it.)
If you're looking for something savory, you can try the Croissant Jambon Fromage (Ham, Cheese & Bechamel in a Croissant) or the Brie Aux Pommes (Brie, Apples, & Cranberries in Multi-Grain Bread)
Some people enjoy getting breakfast at Les Halles Boulangerie and Patisserie for the atmosphere as much as for the food. Since the bakery is open before the World Showcase as a whole is, you can walk around France with hardly anyone around.
Fountain View (aka Starbucks)
On our most recent trip to Disney, there were two days that my oldest daughter immediately wanted to hit a Starbucks as soon as we entered the park.
Okay … this is Very Weird to me.
Frankly, I find it Weird that they even have Starbucks in the Disney Parks. But I know there are many many people who disagree with me on that one.
Anyway, Fountain View is the Starbucks in Epcot. It's located in the front of Future World and has some limited outdoor seating.
Breakfast Near Epcot
Another option for breakfast is to get breakfast just outside of Epcot before you head into the park. The two most popular places to do this are at Trattoria al Forno in Disney's Boardwalk and the Ale & Compass at the Yacht Club resort.
Bon Voyage Breakfast at Trattoria al Forno in Disney's Boardwalk
Breakfast (and only breakfast) at Trattoria al Forno is a character meal featuring Rapunzel and Flynn Rider from Tangled and Ariel and Prince Eric from The Little Mermaid. Is isn't a buffet or a family-style meal, but rather a normal restaurant where you look at a menu and order items from it.
The menu items all have cutesy names, like the "Tangled Eggs" or "Royale Breakfast." Pictured below is "King Triton's Shipwreck al Forna," with is a calzone with Scrambled Eggs, Bell Peppers, Salumi, Bacon, Sausage, Blend of Cheeses, and Sunday Gravy.
This is a nice option if you want to do a character meal but aren't interested in a buffet, and/or if you want the chance to meet some less-common characters.
Ale & Compass at the Yacht Club Resort
Ale & Compass opened in the fall of 2017, replacing what was formerly Captain's Grille.
I've never been there, but Disney Food Blog describes Ale & Compass as ""calming" and "minimalistic."
(Certain other people describe it as "flat-out boring" and "the dullest table service restaurant at Walt Disney World.")
As far as the food, they appear to have a nice selection. The Dark Chocolate Waffles with dried cherry compote and espresso-mascarpone cream and the Salted Caramel Apple French Toast both look and sound good. For a more savory option, they also have the Breakfast Flatbread topped with ham, bacon, provolone cheese, arugula, and an egg.
I'll be honest, I haven't seen a lot of overwhelming praise for Ale & Compass. People either say they were "disappointed" or are politely positive about it. And it definitely appears to be the least kid-friendly restaurant on this list.
Where do you enjoy having breakfast at Epcot?
Now I want to hear from you.
Where is your favorite place to get breakfast in Epcot?
What should I try at Les Halles Boulangerie and Patisserie instead of always getting the Napoleon?
Have you ever tried Ale & Compass?
Let us know below in the comments!
---
---