Garden Grill in Epcot: Menu, Prices, and Characters
This post probably contains affiliate links. You can read the details about what that means here.
The Garden Grill is one of two character meals that you'll find in Disney World's Epcot, and is a pretty nifty place for at least three reasons, in my opinion:
The restaurant rotates
You get to meet Chip and Dale
It's one of the more private and less chaotic character dining experiences.
Where is Garden Grill in Epcot?
Garden Grill is located in Future World (ie, the part of Epcot that is not the World Showcase) in The Land pavilion. This pavilion is also the home to Soarin', Living with the Land, and Sunshine Seasons.
For those of you who like to impress people by showing off your knowledge of Disney World trivia at cocktail parties, the Garden Grill opened in October of 1981, when The Land pavilion opened, although it wasn't always a character meal. It was previously called "The Land Grille Room" and "The Good Turn Restaurant." It was originally sponsored by Kraft, then Nestle, and has currently been sponsored by Smuckers since 2009.
Is Garden Grill a Buffet?
Nope. It's better, in my opinion.
Like Ohana at the Polynesian Resort, Garden Grill is a "family-style" restaurant, which means they bring you a set menu, but you request more of anything you want.
Of course, the downside is that you don't have as much variety as a buffet, but that's a sacrifice I don't mind making in exchange for not having everybody hop us every two minutes to get more food. It's also nice to not have to worry if you're going to miss a character just because you decided to go get some more bacon.
Does the Garden Grill Rotate?
Yup, and to me this is one of the things that makes it pretty cool. During your meal, you get to see inside different areas of the Living with the Land attraction. It's kind of neat to eat here after you've ridden Living with the Land, to see it from another perspective. Another plus is that some of the food served in Garden Grill is actually grown in the pavilion's greenhouses.
Here's the restaurant view of the Living with the Land farmhouse:
It's worth noting that you get a better view if you're on the lower level, so if that's important to you, I would recommend arriving at the restaurant early and requesting a lower level table.
So how fast does Garden Grill spin?
The idea of a "spinning restaurant" might sound nausea-inducing to some people, but don't worry. It takes an hour to go around once, which is pretty slow: that's six degrees per minute, if you're into geometry. It's unlikely that it will you feel dizzy or sick.
But be careful if you go to the restroom during your meal — you might have trouble finding your table when you're finished!
What Characters are at Garden Grill?
The characters are Chip and Dale, Pluto, and "Farmer Mickey." This is one of the reasons that I'm very pro-Garden Grill, as I'm a big Chip and Dale and you can always count on for having some fun character interactions.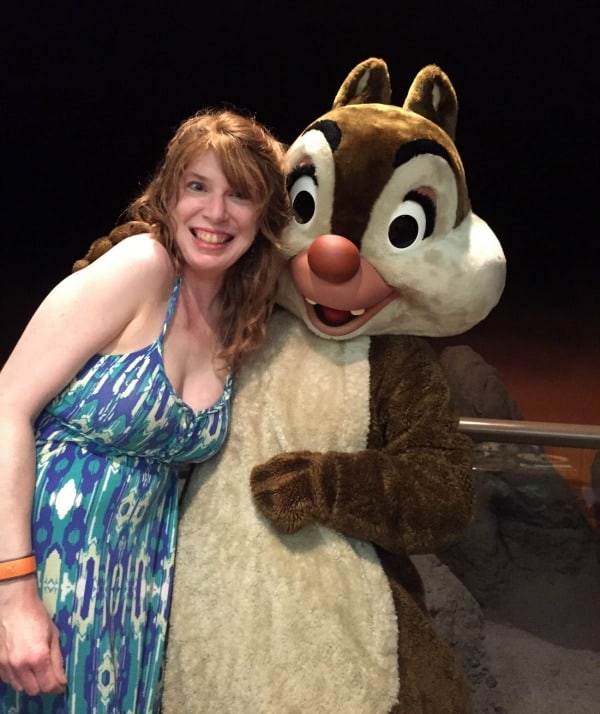 Mickey and Pluto are fun too, and seeing Mickey in his farmer overalls is a nice touch.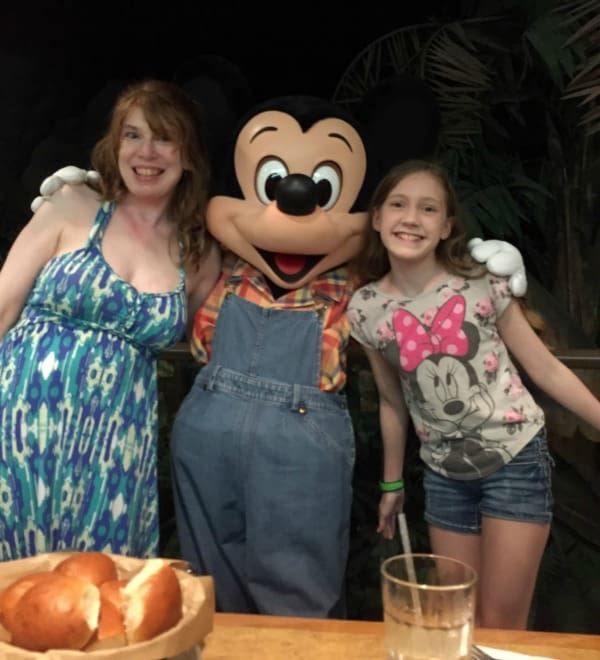 Garden Grill Menu
Remember, even though Garden Grill is "all you care to eat," it is not a buffet, so there is less selection than you have at most character meals.
Breakfast Menu
Chip's Sticky Bun Bake (scroll down for copycat recipe)
Seasonal Fresh Fruits
Fluffy Scrambled Eggs
Hash Brown-style Potato Barrels
Thick-sliced Bacon and Sausage Links
Mickey-shaped Waffles
(with Warm Chocolate-Hazelnut Drizzle)
Lunch and Dinner Menu
Garden Salad
Grilled Beef with Chimichurri
Sliced Turkey Breast with gravy
French Fries
Creamy Mashed Potatoes
Macaroni & Cheese
Seasonal Vegetables
Herb and Leek Stuffing
Berry Short Cake with Whipped Cream
Garden Grill Vegan Options
I'm not vegan and probably never will be, but The bloggers at Vegan Disney World shared their experience when they had dinner at the Garden Grill and told their server that they were vegan.
Their meal started with a salad and vegan bread (which they reported as being just okay). It was followed by a vegan skillet with "vegan meatloaf" topped with tomato sauce and squash, zucchini, green beans, rice, and french fries. The "meatloaf," they said, was both good and filling.
On the other hand, they thought the vegan option for "dessert" — a bowl of melon and grapes — was a disappointment.
Garden Grill Gluten-Free Breakfast
It sounds like you can get a pretty decent gluten-free breakfast at the Garden Grill, between their gluten-free muffins and waffles and naturally gluten-free foods like eggs, bacon, and sausage,
Fellow redhead Lee over at A Geeky Ginger said:
As you can see on this menu, I was not missing out. The only real difference was that I didn't have the sticky bun, but had a muffin, instead. If you haven't had Disney's gluten-free items yet, you need to try them. This muffin [in the photo above] was delicious. Even my daughter was asking me to order another one so she could have it! It was light and fluffy (a rarity to find in gluten-free breads) and was perfectly sweetened. So. Good.

Not only that, but when you order gluten-free items, everything is super-extra fresh. I don't know about you, but that is seriously a perk to me. And when you tell me I can't have bread anymore, I need some perks (just sayin….).
Does Garden Grill Serve Alcohol?
Yes.
At breakfast you can order an Orange Mimosa, Raspberry Mimosas, or Bloody Mary.
For dinner and lunch there is a variety of beer and wine, red sangria, and a "Citrus Freeze," which is Florida Cane "Orlando Orange" Vodka, Peach Schnapps, and Mango Purée.
Chip's Sticky Bun Bake Recipe
As I said earlier, I've only been to the Garden Grill for lunch, not breakfast, so I've never had the Sticky Bun Bake, but it looks and sounds delicious (pretty much anything with cinnamon, brown sugar, and butter is going to be a "yes please," in my book.)
The Disney Parks Blog has a recipe if you want to make your own version at home.
The ingredients list has three sections, for the Cinnamon Smear, Sweet Cinnamon Dough, and the Icing.
Garden Grill Breakfast vs Lunch/Dinner
So what's the best time of day to eat at the Garden Grill?
I've only eaten at the Garden Grill for lunch, so I can't speak for its breakfast from personal experience.
However, one nice thing about the Garden Grill is that it's one of two places where you can get breakfast at Epcot before the park opens. Couple that with the fact that Soarin' is right downstairs, and you could theoretically eat breakfast, meet four characters, and knock out Soarin' all before 9:30am.
If you're paying for your meals out of pocket, then going at breakfast will save you a little bit of money. On the other hand, if you're on the Disney Dining Plan and are concerned about getting the best value for your table service credits, you should go for lunch or dinner.
Mostly I think the choice of whether to go at breakfast, lunch, or dinner is a matter of personal preference (and what times are available). I've consistently heard good things about the Garden Grill no matter which meal it is.
Garden Grill Prices
Prices are from Touring Plans.
Breakfast Prices
Ages 3-9: $23.00
Ages 10 and over: $38.00
Lunch and Dinner Prices
Ages 3-9: $31.00
Ages 10 and over: $52.00
The Hidden Mickey at Garden Grill
The Garden Grill has one of the most difficult-to-spot hidden Mickeys in Disney World, located between the fern leaves on the mural.
Do you see it?
It's not like your typical hidden Mickey, where it's three circles arranged as a Mickey head and ears. This one actually have a face.
Okay … if you're like me, you might be feeling a little like Rachel Green in that Friends episode where she looks at the ultrasound and wails, "I can't see it!"
So maybe this video will help:
Video — Epcot's Garden Grill: Hidden Mickey
Garden Grill vs Other Character Meals
This is the "We're trying to decide between …" section of the review, where I share some tips and opinions about how Garden Grill compares to other character meals starring Mickey Mouse.
Garden Grill or Tusker House?
Ooh boy, this is a tough one for me. As much as I love the Garden Grill, the Tusker House in Animal Kingdom possibly has the best food of any Disney character meal, especially at breakfast.
I don't think you're going to go wrong with either of these choices.
If you're torn between the two, I would ask yourself which appeals more:
1) Buffet or family-style serving?
2) Unique, very good food, or decent food with rotating restaurant and Chip and Dale?
Tbre1982 at the DisBoards had breakfast at both restaurants and describes the differences:
Garden Grill: we thought the food was great. Sticky bun is awesome, the shared platter was huge and came out nice and hot. We really liked that it is family style so u don't have to get up and go to buffet. The rotating around the Land scene was really cool. Added bonus – We did a Pre-Park Opening breakfast at 8:10 and were done by 8:45, first in line for Soarin!

Tusker house: more food variety as it is a buffet, but I thought the Garden Grill food quality was slightly better. My kids liked characters better here as they know Donald/Daisy but weren't familiar with Chip and Dale … Try to book brunch here (10:45 or 11:00) to get both breakfast and lunch items. The lunch food was definitely better and more unique than the breakfast food.
Garden Grill or Chef Mickey?
Chef Mickey is the famous (and sometimes infamous) buffet located in Disney's Contemporary Resort. Its big claim to fame is that it features the "Fab Five" of Minnie and Mickey, Pluto, Goofy, and Donald Duck. Its haters describe it as loud, chaotic, sometimes dirty, crawling with little kids, and having terrible food at dinner.
For me, the choice between Garden Grill and Chef Mickey is a no-brainer. Chip and Dale + rotating restaurant + quieter + not hopping up to go to the buffet repeatedly = Garden Grill for the win.
DisneyWishes14 from the DisBoards makes a important for parents of little kids that I can definitely relate to:
There are really pros and cons to both. Yes, there is more variety of food at Chef Mickey and you get to see the Fab Five, however, I found, when traveling alone with DS was he was younger, buffets were REALLY hard to navigate. You would be, basically, balancing two plates of food while trying to keep an eye on your [kids]. And, if you want seconds, you both have to go back up to the buffet. All while trying to time it so you don't miss the characters as they come by. I always found it very stressful!
Now it's your turn.
What was your experience at the Garden Grill like? Do you prefer it over Tusker House and/or Chef Mickey? Do you think it's better for breakfast or lunch and dinner? Let us know below in the comments!
---
---