Walt Disney World Trivia Quiz Questions (and Answers)
This post probably contains affiliate links. You can read the details about what that means here.
I love trivia, especially when it comes to behind-the-scenes, entertainment-related things. (It kind of drives my kids crazy sometimes.)
For example:
Did you know that some of the names considered for the Seven Dwarfs included Awful, Blabby, Deefy, Dirty, Gabby, Gaspy, Gloomy, Hoppy-Jumpy, Nifty, and Shifty? (source: IMDB)
Or that the actors who played Jane and Michael in Mary Poppins weren't told that the medicine would change colors, and therefore Jane's little scream in that scene is genuine?
Here are some Disney World trivia questions for when you need a break from all the vacation planning and just want to have a little fun.
This would make a great family activity to do while you're on your way to Disney. Quiz each other and see who gets the most questions right!
And if you want to learn even more Disney World secrets and fun facts, check out one of these books:
The Hidden Magic of Walt Disney World
The Walt Disney World Trivia Book
The World's Toughest Disney Quiz Book
Don't miss my most popular Disney World posts:
But before we start playing …
If you're running around in circles trying to figure out which Disney princess is where:
Disney World Trivia — Opening Day
What day did Disney World open?
Walt Disney World Magic Kingdom — as it was officially called until the early 90's — opened in Florida on October 1, 1971.
How many guests were at Disney World's opening?
On opening day, there were a total of 10,422 visitors at the park. (Today the Magic Kingdom has well over 50,000 visitors per day)
Video — Magic Kingdom Grand Opening in 1971
How much did a Disney World ticket cost on opening day?
Admission to the park cost $3,50 for adults (about the equivalent of $21 today), $2.50 for juniors under age 18, and one dollar for children under twelve.
However, you did have to purchase additional tickets for the rides, which cost between 10 cents and 85 cents.
What were the original Walt Disney World attractions?
Walt Disney World Magic Kingdom opened with a total of 23 attractions. Three of them were unique to the Florida park and twenty of them which were replicas of Disneyland attractions.
According to my buddies Shane and Ted at Parkeology, this is the complete list of rides when Disney World opened:
Main Street Vehicles
Penny Arcade
Main Street Cinema
Walt Disney World Railroad
Jungle Cruise
Swiss Family Treehouse
Tropical Serenade
Mike Fink Keelboats
Davy Crockett Explorer Canoes
Frontierland Shootin' Arcade
Diamond Horseshoe Revue
Country Bear Jamboree
Haunted Mansion
Hall of Presidents
Snow White's Adventures
Cinderella's Golden Carousel (now called Prince Charming Regal Carrousel)
Mickey Mouse Revue
Dumbo the Flying Elephant
Mad Tea Party
It's a Small World
Skyway
Mr. Toad's Wild Ride
Grand Prix Raceway (now called the Tomorrowland Speedway)
What are the Two Original Walt Disney World Resort Hotels?
Both The Polynesian Village and the Contemporary Resort opened in 1971 when Walt Disney World opened. At the time, there were plans to later open an Asian-themed resort, but that site eventually become home to the Grand Floridian, which opened on June 28, 1988.
Disney World Trivia — Rides and Attractions
How Long Did it Take to Build Big Thunder Mountain Railroad?
It took 10 years of planning and 18 months of actual construction to complete Big Thunder Mountain Railroad, which is located in Frontierland in the Magic Kingdom. (It officially opened on November 15, 1980.) It required 650 tons of steel, 4,675 tons of "mud" and more than 9,000 gallons of paint to construct.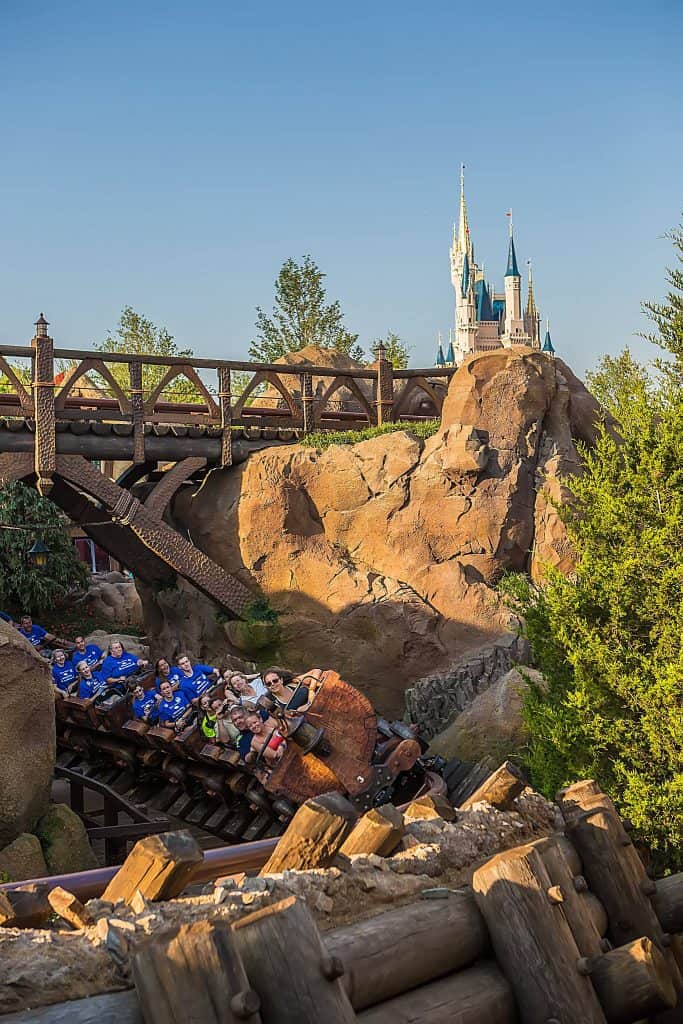 What Town Does Big Thunder Mountain Railroad Take Place In?
Big Thunder Mountain Railroad is supposed to represent Monument Valley, AZ. (The Disneyland version of the ride, on the other hand, is base on Bryce Canyon, Utah.)
What's Disney World's fastest ride?
Test Track located in Future World in Epcot, has speeds up to 64.9 mph, making it the fastest ride in all of Disney. It is also the longest ride in Disney, with a circuit that is 4,286 feet long.
What is the slowest thrill ride in Magic Kingdom (other than The Barnstormer)?
Believe it or not, it's Space Mountain. (Surprised? I was.)
Space Mountain's top speed is 28 miles per hour.
By comparison, Big Thunder Mountain Railroad can get up to 30 miles per hour, the Splash Mountain's drop can reach 40, and even Seven Dwarfs Mine Train gets up to 34 miles per hour.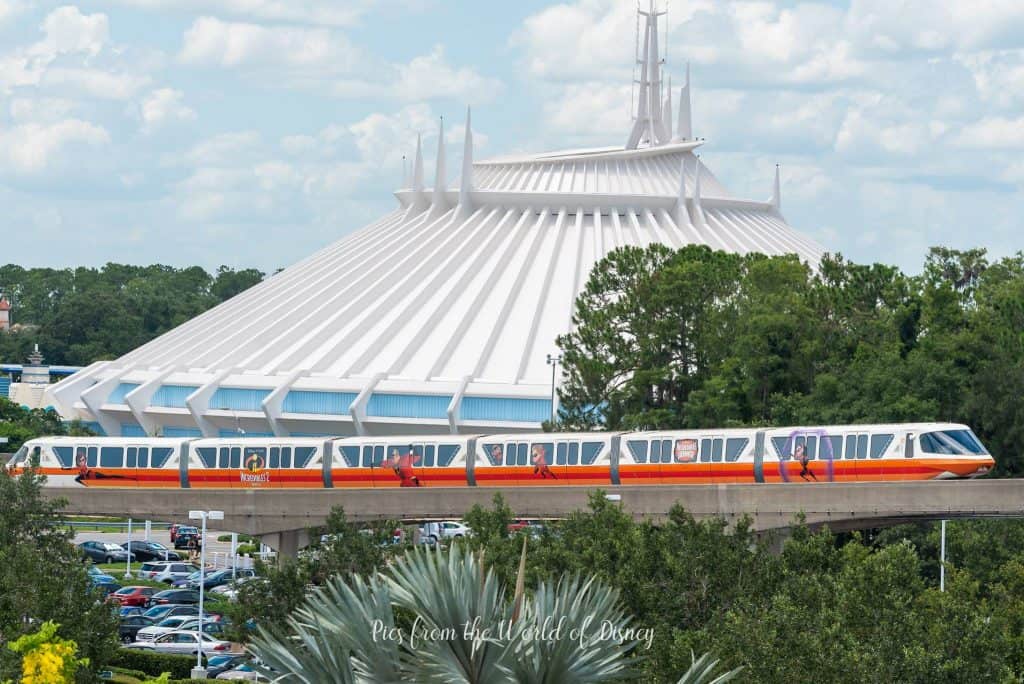 What's Disney World's tallest ride?
Expedition Everest at Disney's Animal Kingdom, which is just under 200 feet tall, is the tallest attraction at Walt Disney World Resort.
A close second place goes to The Twilight Zone™ Tower of Terror at Disney's Hollywood Studios, which is 199 feet tall.
What was Astro Obiter originally called?
Astro Orbiter first opened in Tomorrowland in 1974 as Star Jets. The attraction was re-designed and re-opened in April 1994 as Astro Orbiter as part of a complete renovation of Tomorrowland.
Which US President's actual voice is used in the Hall of Presidents?
President Bill Clinton is the only president to ever record his voice for an audio-anamatronic in this attraction.
How big of an area is Kilimanjaro Safari?
The savannah for Kilimanjaro Safari in Animal Kingdom spans around 110 acres, making it larger than the entire Magic Kingdom.
How fast in the drop in Splash Mountain?
Splash Mountain, located in Frontierland in the Magic Kingdom, ends with a five-story, free-fall drop at a 45-degree angle into a splash pool at the speed of 40 miles per hour.
How much water is used for The Seas with Nemo and Friends?
The aquarium in The Seas with Nemo and Friends in Epcot is filled with 5.7 million gallons of saltwater, which uses 27 truckloads of common table salt.
How fast is the beginning of Rock 'n' Roller Coaster?
The Rock 'n' Roller Coaster Starring Aerosmith at Disney's Hollywood Studios takes you from 0 to 60 miles per hour in 2.8 seconds.
Which ride cost more to build than the entire Disneyland park?
California's Disneyland officially opened on July 17, 1955, with a final price tag of $17 million.
Twenty years later, the construction of the Space Mountain complex cost $18 million. This includes the cost of an arcade and a permanent amphitheater.
Video — Space Mountain Ride with the Lights On
Which 2 Disney World rides were originally at The World's Fair?
Both the Carousel of Progress in Tomorrowland and It's A Small World in Fantasyland made their debut at the 1964-65 New York World's Fair in New York.
What is the oldest ride in the Magic Kingdom?
According to Wikipedia, The Prince Charming Regal Carrousel was originally built in 1917 by The Philadelphia Toboggan Company and was called "The Liberty Carousel." It was delivered to Belle Isle Park in Detroit, Michigan, then moved to Olympic Park in Irvington, New Jersey, before being purchased by the Walt Disney Company in 1967. Ninety of its horses are originals, made of hand-carved wood.
How much does the golf ball Spaceship Earth weigh?
Spaceship Earth in Epcot weighs approximately 16 million pounds. Its outer skin is made up of 11,324 aluminum and plastic-alloy triangles.
General Disney World Facts and Trivia
How Big is Walt Disney World?
The entire Walt Disney World Resort covers about 25,000 acres, which is roughly the same size as San Francisco.
What is the tallest structure in the Magic Kingdom?
The Cinderella Castle, which stands at 189 feet tall. (The Sleeping Beauty Castle at Disneyland, on the other hand, is only 77 feet tall.) This is just short enough to not need to display a flashing red light at the top as per Federal Aviation Authority guidelines.
Both castles appear larger than they are by using "forced perspective techniques" — as the castle gets taller, its width gets smaller.
What is the most "popular" item in the Disney Lost and Found?
Every day an average of 210 pairs of sunglasses are turned in to the Lost and Found. It's estimated that, since 1971, roughly 1.65 million pairs of glasses have ended up in the "lost" bin. Other items that get lost often are cell phones (6,000 per year), digital cameras (3,500 per year), and hats (18,000 per year, one of which belonged to us and that we got back).
What are the most unusual items to end up in the Disney Lost and Found?
Over the years, a glass eye, prosthetic leg, and a potty trainer all somehow made their way to the Lost and Found. All three items were eventually claimed by their owners.
How many employees work at Disney World
There are currently more than 70,000 "Cast Members," as they are called, making Walt Disney World Resort the largest single-site employer in the United States.
What are "Utilidors"?
Short for "utility corridors," these are the "underground" tunnels in the Magic Kingdom. In actuality, the tunnels were built at ground level, with the Magic Kingdom built above them on the "second floor."
According to Wikipedia, the legend is that Walt Disney saw a cowboy walking through Tomorrowland, en route to Frontierland, in Disneyland in California. He found it jarring and felt that it detracted from the guest experience, so when the new Disney park in Florida was being planning, engineers designed Utilidors to keep park operations out of the guests' sight.
Among other thing, the Utilidors are used for trash removal, costuming, deliveries, and cast member services, such as a rehearsal room.
Trivia about Walt Disney, the Man
How Many Academy Awards did Walt Disney win?
Disney received more Academy Awards and nominations than has anyone elseDisney won 22 Academy Awards and was nominated 59 times between the years of 1932 and 1969 — giving him more Oscar wins and nominations than anyone else.
At the 1938 Oscars, Disney was presented with one normal-size statuette, plus and seven miniature ones for Snow White and the Seven Dwarves.
Here's the video clip of Shirley Temple presenting him with the awards:
Why Does Walt Disney blame himself for his mother's death?
The success of Snow White allowed Walt and his brother Roy to buy a brand new Hollywood home for their parents.
After the success of Snow White, Disney purchased a new home for his parents. A broken heating system resulted in his mother's death from carbon monoxide poisoning. Sadly, a their mother, Flora Disney, died from carbon monoxide poisoning, due to a defect in the heating system, less than a month after the couple moved in.
Some people have speculated that this is the reason so many Disney films have absent mother, but Snopes has a good article (as always) about why this theory is false.
What was the last movie that Walt Disney was personally involved in?
The Jungle Book came out in 1967, the year after Walt died from lung cancer.
An interesting side note about the movie The Jungle Book: According to Wikipedia, after assigning Larry Clemmons the job as writer for the film, Walt gave him a copy of Rudyard Kipling's book, The Jungle Book, and told him, "The first thing I want you to do is not to read it."
Did Walt do the voice Mickey Mouse?
According to Wikipedia, Walt Disney took great personal pride in providing the voice for Mickey Mouse beginning in 1928. By 1946, however, he became too busy with running the studio to continue doing regular voice work, and the job was given to Jimmy MacDonald. Other people who have provided Mickey's voice include Carl W. Stalling, Clarence Nash, and Stan Freberg.
This is a pretty cool video where you can compare voices:
Is Walt Disney really cryogenically frozen?
NO.
It isn't true.
Walt Disney was cremated. His ashes were buried at Forest Lawn Memorial Park in Glendale, California.
Now it's your turn.
What facts surprised you the most? Do you have any of your own Disney trivia to share? Let us know below in the comments!
Bibliography
Disney Trivia
Orlando Florida Destination Guide
WDW News
Chicago Tribune
Magic Guides
Disney News
Inc.
Theme Park Tourist
Mental Floss
---
---