Best Rides and Attractions at Disney World's Magic Kingdom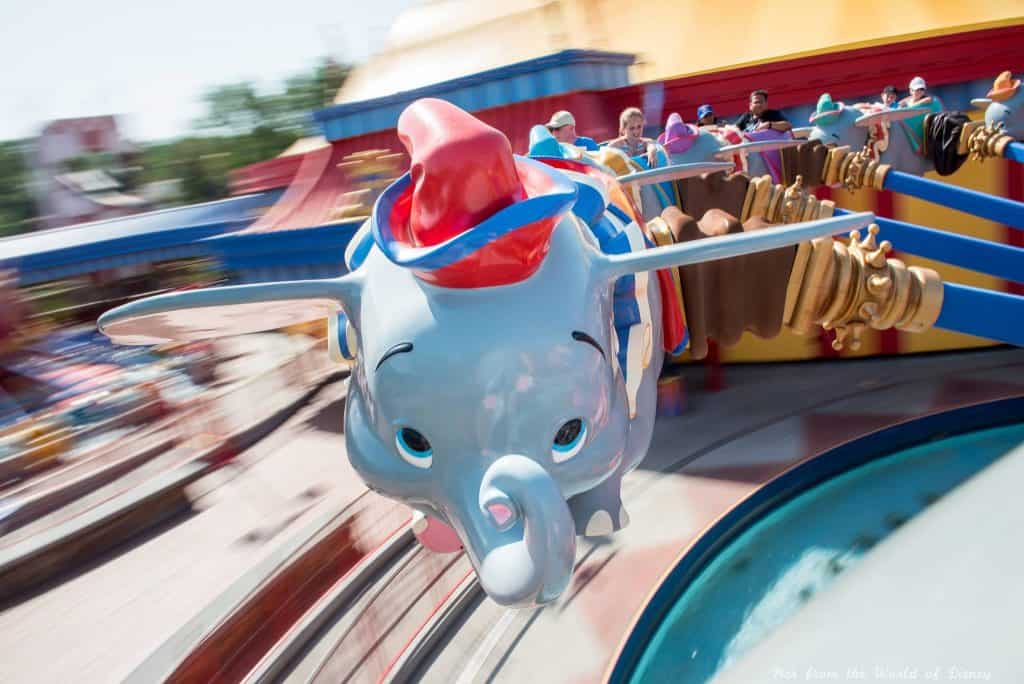 This post probably contains affiliate links. You can read the details about what that means here.
So this guide to the best Magic Kingdom rides might be a little different than what you've seen before, or what you're expecting.
There's no Top 10 Countdown, no ranking of all the rides. I didn't give each ride a grade. There's not even a "The Best … and The Rest" distinction.
Rather, I go through each ride, one land at a time, and give you all the facts, a little of my opinion, and possibly share some other people's opinions as well.
And then I leave it to you to figure out what will be the best rides for you and your family.
I hope you find it helpful. There's a lot of info, so let's get going!
Main Street, USA
Main Street Vehicles
Height:
Any
Type:
Slow Outdoor Ride
Fastpass available?
No
On-Ride Photo:
No
You can take a ride on the old-time vehicles on Main Street, including a fire engine, horse-pulled trolley, horseless carriage, and double-decker bus.
Be aware that these vehicles typically stop running some time between noon and 3pm (you can ask at Guest Services for specific times). I wouldn't "waste" prime-time early morning hours on this, but a ride in the late morning can be a fun change of pace.
Walt Disney World Railroad
Height: Any
Type: Slow Outdoor Ride
Fastpass available? No
On-Ride Photo: No
A scenic, clockwise train ride around the perimeter of the Magic Kingdom on a real steam-powered locomotive. You can use it as a form of transportation to either Frontierland or Fantasyland (which is what we do), or just ride it all around the park.
We usually ride this at least once per trip, as a relaxing and somewhat scenic alternative to walking. We always get on at the Main Street station, which is typically the least congested.
Be aware that the railroad shuts down immediately before and during parades Also, wheelchair access is available at the Frontierland and Fantasyland Stations.
Note: The Walt Disney World Railroad is currently not operating during construction of TRON Lightcycle Power Run. It is expected to be closed through 2020.
Fantasyland Rides & Attractions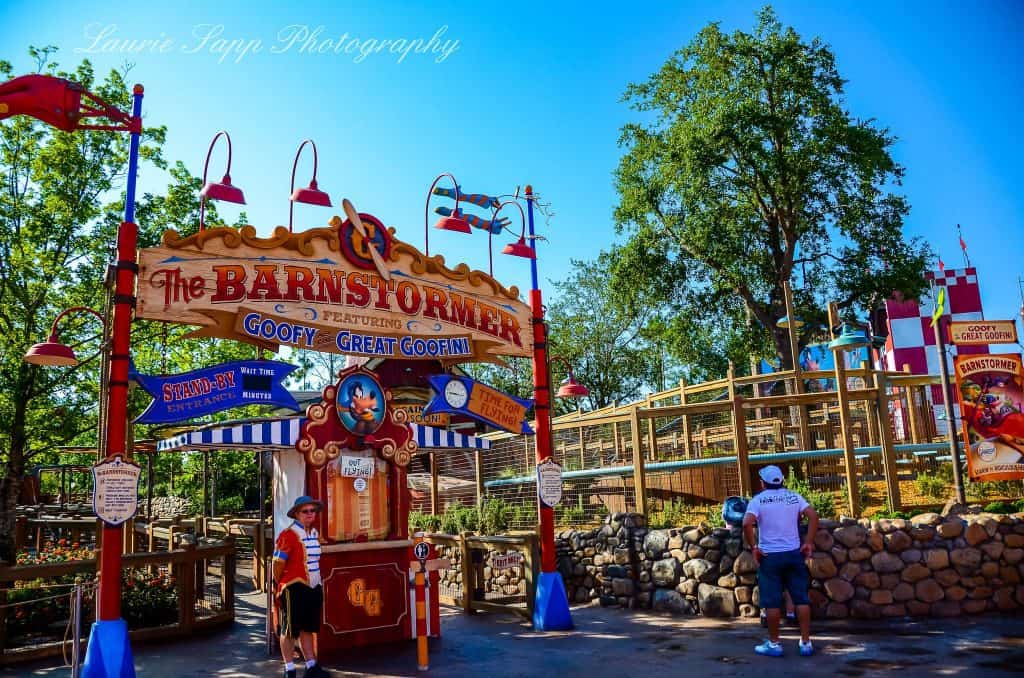 The Barnstormer
Height: 35inches
Type: Kiddie Coaster
Fastpass available? Yes, but not recommended
On-Ride Photo: No
This is a very short kiddie coaster, whose sole purpose is for small children who are too little and/or hesitant to try out a roller coaster made just for them.
It is an almost ridiculously short ride: not only is the ride itself only 53 seconds long, but 32 of those seconds are spent just leaving the loading area.
I would skip this one unless your child is absolutely dying to ride it, and/or the wait is very short.
Dumbo The Flying Elephant
Height: Any
Type: Aerial Carrousel
Fastpass available? Yes, but not recommended
On-Ride Photo: No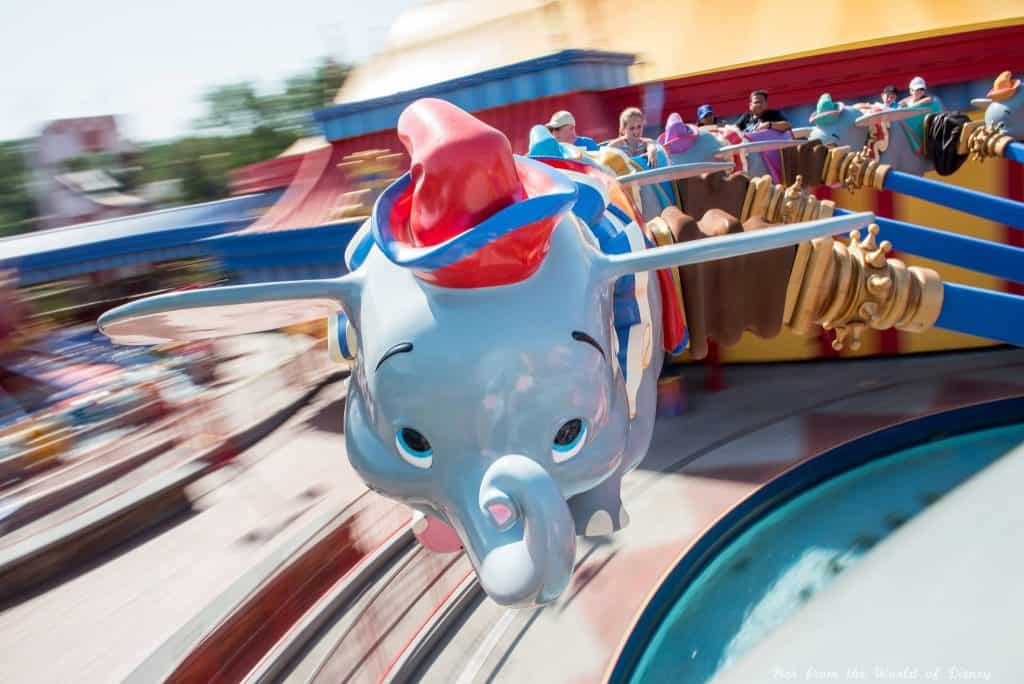 Ride in an elephant and soar through the air as you go round and round at the circus, getting some great views of the park.
This is possible the most classic Disney attraction in all of Disney theme parks, and thankfully the line has improved considerably since our family's first visit years ago, when there was only one carousel and no air-conditioned play area, like there is now.
Be aware that you don't get access to the play area (which, not surprisingly, I've heard that some kids like more than the ride itself) if you use a Fastpass for Dumbo, which I wouldn't recommend anyway.
Bluegrrl on the DisBoards has mixed feelings about the interactive queue, especially if you have toddlers.
For my 3yr old, it's impossible to get him out of it! He loves it!

But, there are lots of rougher older kids, and lots of kids have minimal adult supervision, making it more likely for him to get pushed or run over. And the germs! Bring sanitizer, b/c my boy got a cold after being there.

I am by no means a helicopter mom, but I really don't like to see him run over and pushed by kids and seeing parents who don't care on bit about how their kids behave. Or maybe we are spoiled by our local play place which takes kids 0 to 6 yrs. and the kids are more supervised by parents.
Enchanted Tales With Belle
Height: Any
Type: Interactive Show with Character Meet
Fastpass available? Yes, and recommended
On-Ride Photo: No
This is a very clever idea; basically an interactive storytelling experience that ends with a Disney character meet and greet.
You start off by walking through Maurice's cottage, which is full of mementos from Belle's childhood odd wooden gadgets. Next you walk through a magic passageway into the wardrobe room, where parts are assigned (to those who want them). Then you head to the castle library, where the play takes place in front of Belle.
Afterward there is a chance to take photos with Belle. I think, although I am not a hundred percent sure, that only the actors get to have their photos taken, so that's something you may want to keep in mind.
The video below gives you a good idea not just what the attraction is like, but how impressive the technology is:
Video — Enchanted Tales with Belle

It's A Small World
Height: Any
Type: Slow Indoor Boat Ride
Fastpass available? Yes, but not recommended
On-Ride Photo: No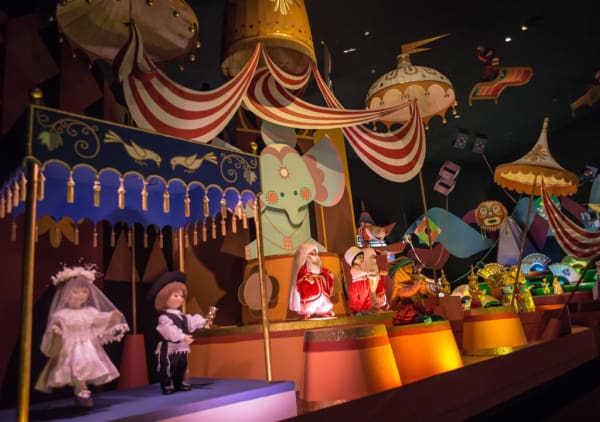 Another classic Disney ride, this is a slow-moving boat ride where you see audio-animatronic dolls from all over the world singing the ride's iconic song. The ride was originally aired at the 1964 New York World's Fair
There seems to be a group of people out there who think it's hip to hate on It's a Small World for being redundant, sappy. But this was my mother's favorite ride at Disney World and I'll have none of that trash talk.
I've heard people say that no other single attraction better sums up the "Disney worldview," and I would agree.
The Many Adventures Of Winnie The Pooh
Height: Any
Type: Slow Indoor Ride
Fastpass available? Yes, and recommended
On-Ride Photo: No
A slow-moving ride where you sit in a hunny pot and travel through the Hundred Acre Wood. I absolutely love Winnie the Pooh, so I'm biased toward this ride, and especially the shop you go through when you exit.
It's worth noting that Rebecca rode it when she was 2 years old and got a little scared during the Heffalump and Woozle dream sequence. I wouldn't recommend skipping the ride for that reason, but it's good to be aware of that possibility.
Mickey's PhilharMagic
Height: Any
Type: 3D Show
Fastpass available? Yes, but not recommended
On-Ride Photo/Video? No
I've actually never seen this show (I can't see the effects in 3D movies, so I never went out of my way to see it), but I've heard that it's really good and laugh-out-loud funny.
The show is 11 minutes long and features music from various Disney movies. I've heard that it is "softer and cuddlier" than most 3D movies, as opposed to constantly trying to startle you.
DougsMom98 from the DisBoards has some advice about choosing a seat for Mickey's PhilHarmagic:
We found that when they crowd you into the area before letting you in the doors, it is best not to be too eager to get to the front of the crowd. We were always towards the back of the pack and we got better seats because of it.

We went to this show 4 times and the last time we went, we were in the back of the pack heading in to see the show and we ended up with seats right in the center because they make you move all the way to the right.

If you are towards the back of the crowd, once in the auditorium you can move more towards the front to fill up the rows. For some reason the back rows were always full and the front rows still had plenty of seats. It is a fantastic show.
Mad Tea Party
Height: Any
Type: Spinning Ride
Fastpass available? Yes, but not recommended
On-Ride Photo: No
Similar to the Tilt-a-Whirl at a fair, you sit in tea cups that spin around and around. You can also make your own cup spin by spinning a wheel inside your cup.
The girls and I always try to see how fast we can make our cup spin, while Rob is amazed that we can ride it all without wanting to hurl.
Peter Pan's Flight
Height: Any
Type: Dark Indoor Ride
Fastpass available? Yes, and highly recommended
On-Ride Photo: No
A slow moving ride where your pirate ship flies in the sky over Neverland. This was Rachael's very favorite ride from our first Disney trip when she was 4 years old. (Interestingly, years later, J.M. Barrie's Peter Pan is one of her favorite books.)
The wait times for Peter Pan are really long, so ideally you want to either get a FastPass or make a mad dash for the ride as soon as the park opens. On the plus side, a new air-conditioned queue opened in 2015. It takes you on a walk through the Darling's street and home and has a few interactive games. We went through it on our last trip and I was very impressed.
Prince Charming Regal Carrousel
Height: Any
Type: Carrousel
Fastpass available? No
On-Ride Photo: No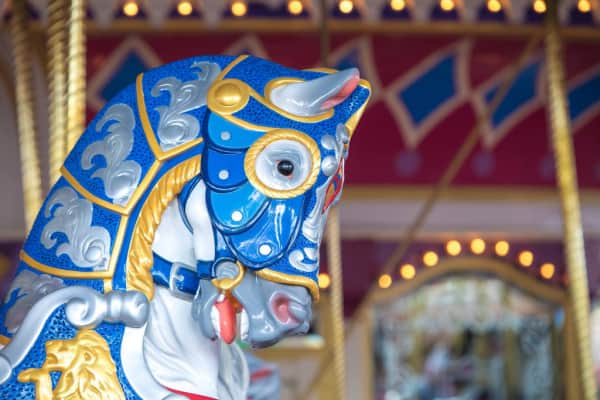 A lot people dismiss this ride as being just a standard merry-go-round, but I disagree. There's something about riding a merry-go-round in the middle of Fantasyland that is somewhat magical. And at night, the carrousel is stunningly beautiful
One of the most elaborate and beautiful merry-go-rounds you'll ever have the pleasure of seeing, especially when its lights are on.
The Goofster from the DisBoards describes why she thinks it is unlike any other carrousel:
Like they so often do, Disney takes the ordinary, and turns it into the extraordinary. You can go to any fair, any amusement park, and even quite a few shopping malls, and find a traditional Merry-Go Round. Most of them look pretty much the same. They have the traditional white horses, a few carriages, and perhaps even a unique animal like a tiger or giraffe. They all do the same thing – go around and around and around, and they all use the same kind of music. Basically if you've been on one of them, you've been on all of them.

So what makes the Prince Charming Carousel different? Or maybe I should ask, is it really all that different from the rest? Well, if my daughters face is any indication, there is indeed something extra special about this ride. Something that no other Merry-go Round can match.

I think the difference begins in the location. Unlike so many others, Disney's carousel is located in a magical spot: right in the middle of Fantasyland in the Magic Kindgom. How much better of a spot can you ask for. Rather than being surrounded by loud beeps and buzzes of cheap amusement rides, Prince Charming's ride is the center piece of one of the greatest locations in the world. By the time you actually reach PCRC, you most likely have passed under a castle, and have been immersed in the magic of the surroundings. Rather than being assaulted, your senses have been indulged.

Another difference is the music. Traditional carousel music isn't bad, but it cannot compare to the treat of hearing so many Disney favorites, lovingly reproduced in a quiet, flowing stream. I could sit there and listen to the music from PCRC all day long. I get tired of the repetition of a normal merry-go round's music, but like the Duracell bunny, I want the music from Prince Charming's ride to just keep going, and going, and going.

Most carousels don't have any kind of story attached to them. They simply provide a quick ride to amuse kids. Riding the Regal Carousel is like riding a fairy tale. Every horse, every carriage is part of the overall story that is painstakingly reproduced. It is possible to ride this ride, and not notice the story that it represents, but much more pleasure is derived by looking for the fairytale, and becoming a part of it.

As I watched my daughter delight in the many wonderful features that Prince Charming's Carousel has to offer, I was once again reminded of just how special WDW really is. No other Merry-Go Round has ever produced in her that kind of wonder or amazement. She looked like she was actually part of a magical fairytale, and I was so grateful to have a chance to watch her enjoying herself so much.

Even though I've not ridden it myself, I can confidently say that the Prince Charming Regal Carousel is one of the best children's rides in all of WDW, simply by observing how much joy it produced in my little girl.
Seven Dwarfs Mine Train
Height: 38 inches
Type: Roller Coaster
Fastpass available? Yes, and highly recommended
On-Ride Photo: Yes
A fairly mild roller coaster which, at one point, takes you into the mines and lets your watch the dwarves working. If you're hoping for something with the intensity of Hollywood Studios' Rock n Roller Coaster, you'll definitely be disappointed. But if you're looking a roller coaster that elementary school aged kids can enjoy, with great visuals and a detailed interactive queue, you'll love it.
We always ride the Mine Train it first thing in the morning because the lines get long immediately and the Fastpasses are hard to get. But I've heard many times that this is one of those rides that is way better at night.
Under The Sea ~ Journey Of The Little Mermaid
Height: Any
Type: Slow-moving indoor ride
Fastpass available? Yes, but not recommended
On-Ride Photo: No
A slow-moving ride in a clamshell through Ariel's grotto and King Triton undersea kingdom. This is another ride that has a well-done interactive queue.
My husband Rob and I are very different in our approach to rides, partly because he is very prone to motion sickness, and this is a ride he really enjoys. On our last trip, he made a point of making sure we fit it into our itinerary.
You might also like:
12 Best Magic Kingdom Rides for Adults
Tomorrowland Rides & Attractions
Buzz Lightyear's Space Ranger Spin
Height: Any
Type: Moving Shooting Game
Fastpass available? Yes, and highly recommended
On-Ride Photo: Yes
A sort of ride and video game combo. Each passenger gets a laser gun to shoot at targets and there are two scorekeeping displays in your cars, so you play "against" the person you're riding with.
I've only ridden this once, and I spent almost the entire time trying to figure out what was going on. I'm not really much of a video game person, though, so this would probably never be my favorite ride, even if I ever got the hang of it.
Video — Buzz Lightyear's Space Ranger Spin

Space Mountain
Height: 44 inches
Type: Dark Indoor Roller Coaster/Thrill Ride
Fastpass available? Yes, and highly recommended
On-Ride Photo: Yes
An indoor roller coaster that takes place in the dark, will special effects that make you feel as if you're travelin through the galaxy in outer space. The seats are one behind one another, as opposed to being side by side.
This is definitely a ride that has a ton of nostalgia attached to it, but I have to say that, personally, it's my least favorite roller coaster in all of Disney World.
For one thing, it's the most painful. I don't know, maybe because it's older, but something about the movement is more jerky and uncomfortable.
Also — and I might be the only person anywhere who feels this way — it's the most scary coaster for me, and not scary in a good way. I think it's something about not seeing where we're going. Don't misinterpret that to mean that it's more intense than, say, Expedition Everest or Rock n Roller Coaster. It isn't.
A common question people have is, "Does Space Mountain go upside down?"
No, it does not.
Astro Orbiter
Height: Any
Type: Elevated Aerial Carrousel
Fastpass available? No
On-Ride Photo: No
Take an elevator up to the platform, then ride in a spaceship that seats two, circling around, Dumbo-style. You can control how high you go.
My family really enjoyed this the last time we rode it, mostly because we got some great views of the park.
There's been some talk about whether Astro Orbiter is difficult for "Pooh-sized" guests to ride.
Adam Reisinger from the Disboards had this to say:
I'm on the edge of not being able to fit on Astro Orbiter (5-foot-10, anywhere from 350-375 depending on how my most recent dieting attempt has gone), and I usually end up skipping it because it's not worth the wait for the ride for the struggle of fitting.

That said, I do fit, and my tips for Pooh-sized people riding would be:

– Try to ride solo if you can. A Pooh-sized person with a normal sized person makes for a tight squeeze (and two pooh-sized people is… let's just say not great…)
– Pull the seatbelt out and flip it over the side of the rocket before you get in. It's easier to grab it this way than to try to dig it out once you're in there.
– As multiple people have mentioned, when you're getting out, push up from both sides, then stand in the middle, then exit the rocket.

During the ride itself, the rocket doesn't actual feel THAT bad. It's really just the entry/exit process that aren't Pooh-friendly.
My husband, Rob, is the king of motion sickness (he once was sick for an entire weekend after seeing the movie Twister in the theater), but enjoyed Astro Orbiter just fine. so I was surprised to see that some other guests had a completely different experience.
Here's a quote from a mother on Touring Plans:
It was a nightmare—people should be forewarned.
I was able to sit through all the "Mountains," the "Tours," and the like without my stomach reacting even a little, but after Astro Orbiter I thought I would be finished for the rest of the day. Very quickly I realized that my only chance for survival was to pick a point on the toe of my shoe and stare at it (and certainly not lift my eyes out of the "jet") until the ride was over …
And JacksonsMom from the DisBoards said:
I have done Dumbo, Aladdins's, Tea Cups, Star Tours….never had a problem.
Also my favorite all time ride at WDW is Tower of Terror! Love it.
Have also done Mission Space :thumbsup2 and RnR Coaster.

BUT….I will NEVER, EVER get on those Astro Orbiters ever again!!!!
I don't know what is it about that ride but I got motion sickness for the 1st time EVER in my life after riding that ride.
I hated it the whole time I was on it, plus it felt like I was going to fall out

Nope, I will never step foot in the Astro Obiters ever again!
Monsters, Inc. Laugh Floor
Height: Any
Type: Interactive Stage Show
Fastpass available? Yes, but not recommended
On-Ride Photo: No
A screen-based comedy show using interactive animation where characters from Monsters, Inc., tell jokes and interact with the audience.
You don't hear people rave about this one too much, but personally, I really enjoyed it. I wasn't expecting the audience interaction (which is not being pulled up on stage, but appearing on screen, and yes, I was chosen at one point), and I thought it gave the show a nice feel — plus it means every show is different. We laughed quite a bit throughout the show.
Tomorrowland Speedway
Height: 32 inches
Type: Go Kart Ride
Fastpass available? Yes, and recommended
On-Ride Photo: No
Ride around in a own race car on a guided track at the speed of 7.5 mph and enjoy the view of Tomorrowland If your child is too short to reach the gas pedal, they can still sit in the driver's side and steer while you work the pedal.
I honestly don't know if I've ever ridden this one, but Rob and Benjamin really enjoyed this for some father-son bonding over the years.
Note: Tomorrowland Speedway is currently closed for TRON Lightcycle Power Run construction. It is scheduled to re-open on Saturday, May 18, 2019.
Tomorrowland Transit Authority People Mover
Height: Any
Type: Slow Outdoor Ride
Fastpass available? No
On-Ride Photo: No
A 10-minute monorail-style ride that takes you on a tour of Tomorrowland, including going inside Space Mountain and Buzz Lightear's Space Ranger Spin.
I still think of this ride as the WEDWay People Mover, which is a zippier name that is easier to say, and I probably always will. I also dimly remember being 8 years and my older brother trying to scare me by telling me we were about to suddenly start going fast when we were inside Space Mountain. (I can't remember for sure if I believed him or not.)
The WedWay Tomorrowland Transit Authority People Mover is hardly the most exciting ride in the Magic Kingdom, but some people absolutely love it and literally ride it again and again.
Fangorn from the DisBoards says:
If the queue is short, which it normally is, just ask the Cast Member at the unloading point if you can go again. We always ride more than once without disembarking from the vehicle.

This is a great thing for those of us that may or may not be considered "older". Our personal best was 10 times around without getting off. Did it for our 40th anniversary. Got to know all the Cast Members s working that afternoon, and they really made a big deal about it. Gave us Mickey stickers that they all signed as a memento. Still have them. Great memories.
Video — People Mover

Walt Disney's Carousel Of Progress
Height: Any
Type: Indoor Animatronic Stage Show
Fastpass Available? No
On-Ride Photo: No
A 20 minute audio-animatronics stage show in 4 acts. It features scenes in different eras (roughly 1900; 1927, the late 1940's, and "contemporary," which is really around 1993) showing how technology has changed over the years. It was originally created by Walt Disney himself for the New York World's Fair in 1964, which makes it a unique and interesting artifact, if nothing else.
There are rumors that Carousel of Progress will be getting updates by 2021.
Video — Walt Disney's Carousel of Progress

Liberty Square
The Hall Of Presidents
Height: Any
Type: Indoor Animatronic Stage Show
On-Ride Photo/Video?
A wide-screen theater (modeled after Independence Hall in Philadelphia) shows a video presentation of highlights in the United States' political history, followed by a short stage show with life-size animatronic replicas of every US president. Morgan Freeman provides most of the narration.
The theater holds over 700 people, so don't worry if you see a long line.
Hall of Presidents was recently revised in late 2017 to add our current Some people were a little nervous about how that would be handled, considering the divisiveness involved (and no, we are not going there). However, it sounds like it was well done. AtlantaDisneyDreamer from the DisBoards had this to say:
I got a chance to see the new HOP today and I think they did a good job with it. The imagineers had their hands full trying to create a politically neutral show, but I think they successfully pulled it off.

While the show honors several former Presidents, it neither lauds nor insults our current President.

I was also impressed with the audience. Everyone seemed to respond with class (except for one teenager who cursed loudly because she was not happy her parents wanted her to LEARN something while she was on vacation- but at least it was politically neutral swearing).

I think anyone, regardless of political opinion, can enjoy the new show. I'm glad we saw it.
Haunted Mansion
Height: Any
Type: Slow Dark Ride
FastPass available: Yes, and recommended
On-Ride Photo: No
A slow-moving, dark and spooky ride on a conveyor belt through various ghost-filled rooms in a mansion.
This is probably Rob's favorite rides in the Magic Kingdom, and another classic that I remember riding when I was a kid. (I thought it was really cool when you see the ghost suddenly sitting next to you in the mirror).
Don't forget to ask the cast members to tell you the name of their bat.
Liberty Square Riverboat
Height: Any
Type: Outdoor Boat Ride
Fastpass available: No
On-Ride Photo: No
A 17-minute cruise on a steam-powered boat that runs down a river along Frontierland and gives you a peek of Tom Sawyer's Island. The boat departs every half hour.
Frontierland Rides & Attractions
Big Thunder Mountain Railroad
Height: 40 inches
Type: Roller Coaster/Thrill Ride
Fastpass available? Yes, and highly recommended
On-Ride Photo: No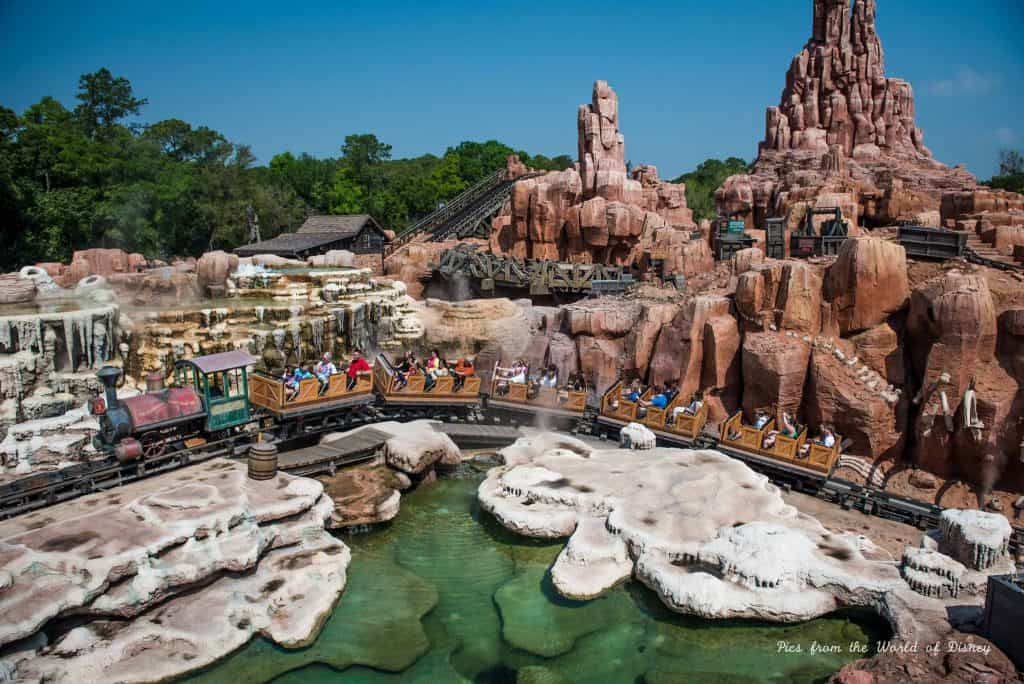 An Old West-themed roller coaster where you're supposedly on a runaway mine train during the Gold Rush. I've heard it described as "a roller coaster for people who don't like roller coasters." There are no big drops. Ask to sit in the front if you want a tame ride, or in the back if you're like us.
This is one of my family's favorite rides. It's one of the few rides that every family is eager to go on, and we always ride it at least twice.
Country Bear Jamboree
Height: Any
Type: Indoor Animatronic Stage Show
Fastpass Available?
On-Ride Photo/Video?
A corny stage show featuring [very outdated] audio animatronic singing bears.
This tends to be a love-it-or-hate-it attraction. We personally have no feeling no animosity toward these or any other bears, but I will say that we saw them once, when the girls were very little, and nobody has ever the urge to see them again.
Shelemm from the DisBoards describes why the country bears are so uniquely special:
I LOVE the Bears. For me, they are the kind of attraction that makes WDW so special. Nowhere else would create a CBJ show now. Same for Carousel of Progress, Hall of Presidents, Tom Sawyer's Island, and all those dark rides in Fantasyland. It had to be created by Disney and it had to be created THEN.

The show is funny and very clever, and the various personalities work well in the same way old fashioned Disney animation is charming … For me, it'll be a sad day when this type of attraction is no longer viable.
Splash Mountain
Height: 40 inches
Type: Log and Water Ride with a Large Drop
Fastpass Available? Yes, and recommended
On-Ride Photo/Video? Yes
An 11-minute log flume ride that goes through fun scenery and cheerful songs from the tales of Br'er Rabbit, from the movie Song of the South. (Of course, if you haven't already heard, the theming will be changed over the next year or two to Princess and the Frog.) At the end of the ride there's a steep drop and a big splash that is less scary than it looks.
Like Big Thunder Railroad Mountain above, this is a ride my entire family loves. It's fun and cute, and the drop at the end is exciting, but not terrifying. Plus there are some great views of the park at the top.
So the big question with Splash Mountain is, Will I get wet? And if so, how wet?
The short answer is: There's no way of knowing, so be prepared.
People on the Disboards had this to say about getting wet on Splash Mountain:
I've come off of Splash completely dry and I've also come off looking (and feeling) like I had just jumped in the lake.

Once, when I got completely drenched, there was a young couple (college age?) waiting to board. You should have seen the look of horror on the young lady's face when she realized she would be sitting in my seat. It's really the luck of the draw, but yes, you might get really really wet.
I do not like getting wet while touring, I will try anything to not get wet. For Splash the 1st row seems to get the wettest, 2nd row can still get quite wet. I like the 3-4th rows better, even then my shorts always get wet.

I now wear a poncho and another poncho on upside down to put on like a pair of shorts and tie the material around the middle. I look ridiculous, I know. But I do not get wet!
Tom Sawyer Island
Height: Any
Type: Exploration
Fastpass Available?
On-Ride Photo/Video?
A shaded island play area that you take a raft to get to. This is a hidden gem for families with elementary school aged kids, and one that I totally credit Rob for "discovering" for us. With a cave, paths to follow, and a barrel bridge to cross, it's a great way to get away from the crowds and long lines and have the kids run around.
Buzz Litebeer from the DisBoards gives a thorough description of what the island is like:
Tom Sawyer's Island is actually two islands connected by a long suspension foot bridge. You get there via raft (the dock is located next to Big Thunder Mountain Railroad).

On the Island, kids can run down the trails that cross the island, and explore environments taken from and inspired by "The Adventures of Tom Sawyer" and "The Adventures of Huckleberry Finn" by Mark Twain (it may be a good idea to screen one of the many movies these books inspired before your visit so your kids will appreciate the Island). There's the "Mystery Mine" (where water flows uphill), Injun Joe's Cave, Harper's Mill, Aunt Polly's Landing (home of the only Coke vending machines in the MK), and Fort Langhorn — a western-style fort where kids can fire rifles and slip through the Fort's escape tunnel.

On top of the Island's tallest hill is Tom & Huck's Scavenger Fort, a playhouse where they'd pretend to be pirates (complete with the Jolly Roger flying above the fort). Near the scavenger fort is a picnic area that is one of the most secluded and tranquil spots in the Magic Kingdom — and an excellent place to enjoy a lunch brought over with you from the Mainland. Very recommended as a place to slow down for an hour or two.
Be sure to check your time guide, especially if you plan on visiting later in the day, because access to the island closes before the rest of the park.
Adventureland Rides & Attractions
Jungle Cruise
Height: Any
Type: Slow Outdoor Boat Ride
Fastpass Available?
On-Ride Photo/Video?
A guided river raft ride with animatronic animals (hippos, lions, etc) and a skipper who has their own "routine" of corny jokes. How enjoyable the ride is depends somewhat on which skipper you get.
From early November through early January, it becomes "Jingle Cruise," featuring holiday-themed jokes and Christmas items both in the queue and around the attraction.
I've heard that the ride is better at night, both because it makes the animals seem a little more real and because waiting in the outdoor line is more bearable in the evening.
;
The Magic Carpets Of Aladdin
Height: Any
Type: Aerial Carrousel
Fastpass Available?
On-Ride Photo/Video?
Take a spinning ride, Dumbo-style, over Agrabah in a magic carpet. There is a spitting camel, so you may get a little wet, but you control your carpets height and try to dodge the water.
On our last visit, I heard my daughter Rebecca (who is 15) say, "This ride is really underrated."
While some people advise skipping this ride because it's "just Dumbo with carpets," some people agree with Rebecca that Magic Carpets is, in some ways, the better choice. WalkDMC from the DisBoards says:
It doesn't make one bit of sense to me to stand in [the line for Dumbo], wait 45 [minutes] or more, when you can go right to Aladdins carpets (same ride, different "cars") or the Triceratops ride in AK and wait 1/2 the time.

People always say, my kids want to ride it so we waited. I have no problem telling my kids the line is too long then taking them straight to Aladdin's carpets. Plus, IMO, the environment around Aladdin is a lot "cooler".
Pirates Of The Caribbean
Height: Any
Type: Dark Indoor Boat Ride
Fastpass Available? Yes, and recommended
On-Ride Photo? No
An 8 1/2-minute gentle boat ride featuring audio animatronic pirates, including Captain Jack Sparrow and a new redheaded female pirate (yes!).
Is it scary for little kids? I would say no. It is a somewhat dark ride, and there are skeletons and canons being fired. If you think they might be scared, have them sit in the middle of the boat and keep your arm around them.
This is another one of Rob's favorite rides.
Swiss Family Treehouse
Height: Any
Type: Exploration
Fastpass Available?
On-Ride Photo/Video?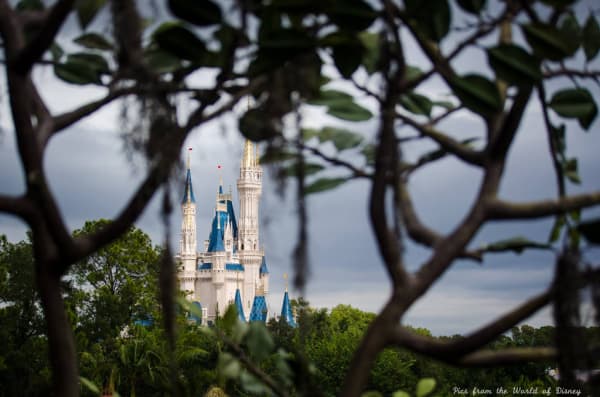 A self-guided walk through tour that takes about 10 minutes, if even that.
It involves a lot of stairs, which doesn't sound particularly fun to me when it's hot and we've already been walking for miles. I've never really heard anyone rave about this one, but it's quick and a change of pace from the usual rides.
Walt Disney's Enchanted Tiki Room
Height: Any
Type: Indoor Animatronic Show
Fastpass Available?
On-Ride Photo/Video?
A 15-minute musical show featuring over 300 animatronic birds and flowers. For several years it was "Under New Management," featuring Iago from Aladdin and Zazu from The Lion King, but [thankfully] it is now back to the original version of the show. There is some thunder and lightning, which could potentially scare very young children.
What do you think are the best rides at Magic Kingdom?
Now it's your turn.
What are your favorite rides at Magic Kingdom? Any that you think are overrated or underrated?
Let us know in the comments!
---
---