Review of Ohana Dinner at the Polynesian Resort: Prices and Menu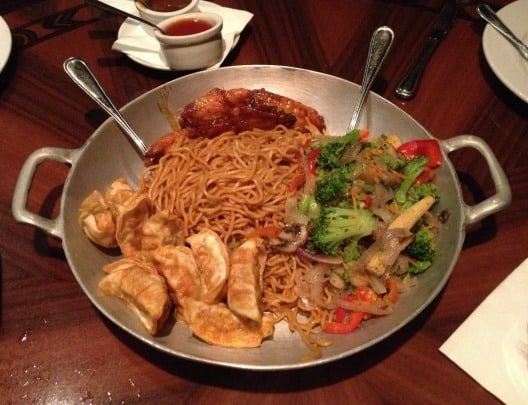 This post probably contains affiliate links. You can read the details about what that means here.
'Ohana (which means "family) is a family-style table service restaurant at Walt Disney World.
While they offer a breakfast character meal with Lilo, Stitch, Pluto, and Mickey Mouse (they do not serve lunch), this review will focus on our family's recent experience, which was for dinner.
Where is Ohana Located?
Ohana is at Disney's Polynesian Village Resort, one of Disney's Deluxe Resorts, which is located on the Magic Kingdom monorail loop. It has a South Pacific theme and opened in October 1971 as one of the first two Disney hotels.
The Polynesian is not cheap. In fact, depending on what month you stay and what type of room you have, it can cost up to $1,200 per night.
So that's one of the nice things about eating at Ohana (or restaurants at any of the Deluxe Resorts). You get to visit and enjoy the resort even if you're staying at a cheap-o hotel.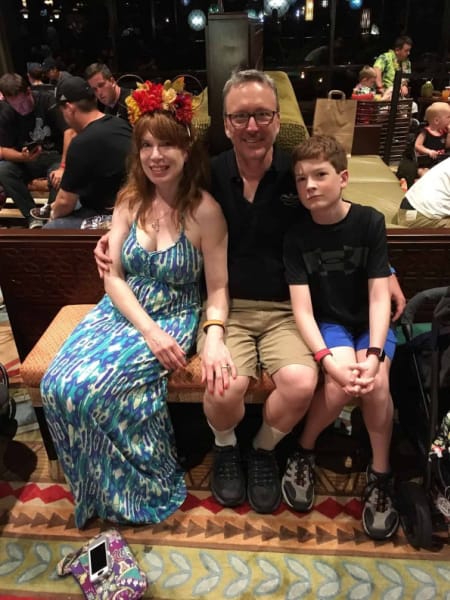 Is Ohana a buffet?
Nope. It's better than a buffet, because you don't have to keep hopping up to get more food.
The hostess who seated it actually described it as "a buffet in reverse," because the server brings the food to you in several courses, and you can have as much of it as your want. (This is what's referred to as "family-style serving.")
'Ohana Dinner Entertainment
'Ohana is not a character meal at dinner (although it is for breakfast), but a nice touch was a man strolling through the restaurant singing and playing the ukulele, Don Ho-style.
At one point he invited people to come up to the front to get adorned with a complimentary lei and be given a hula dancing lesson. I, of course, didn't have to be asked twice, and my teenage daughters, of course, were mortified. (Sorry, no one got any photos of that one.)
I have also heard that 'Ohana has Coconut Races, but either we missed that or just didn't notice it.
I was slightly apprehensive beforehand because I had read reviews describing 'Ohana as "loud" and "chaotic," and I was afraid it might be a little like a Hawaiian version of Chef Mickey's. However, while I would describe it as "having a fun atmosphere," I didn't find it particularly noisy. Of course, that could be because we there at 8:00pm.
Does Ohana Have a Dress Code?
Other than the basic "shirt and shoes must be worn at all times" rule — Nope, there's no dress code. (Do you think we would have eaten there if there was, LOL?)
However, if you want to have some fun, you might want to wear something Hawaiian-themed.
Hawaiian Flare Luau Tank Dress
Sleeveless Hawaiian Sundress
Ohana Dinner Menu
The important thing to remember when eating at 'Ohana is that you have to pace yourself.
My kids were disappointed that they had filled up too much on noodles and bread (although both were delicious).
Meanwhile, Rob's favorite part of the entire meal was the shrimp. Unfortunately for him was the very last thing served before dessert, so he couldn't fill up on it as much as he would have liked.
Here's what's you'll be getting, in this order, all of it fantastic:
Pineapple-Coconut Bread
Mixed Greens Salad with a Lilikoi dressing
Pork Dumplings tossed in Garlic-Ginger Sauce
Honey-Coriander Chicken Wings
Noodles tossed in a Teriyaki Sauce with stir-fried vegetables
Now at this point you honestly could say that you had a full, delicious meal … but guess what? That was just the warm-up.
Now it's time for the "main course," which is skewers of Szechuan Sirloin Steak, Sweet-n-Sour Chicken, and Spicy Grilled Peel-n-Eat Shrimp, grilled over an oak fire in the middle of your restaurant and brought to your table one at a time. Peanut sauce and sweet and sour sauce is provided for dipping.
It's a lot of food. Consider yourself warned.
Dessert
'Ohana Bread Pudding à la mode topped with Caramel Sauce and Bananas
'Ohana's bread pudding is sort of considered the star of the show — or at least the part of the meal that gets the most buzz, by far. It was quite amazing, as anything involving the words "ice cream," "caramel," and "bananas" is obviously going to be.
Since Benjamin is 12 years old, he got the "kids' dessert" of a Rice Krispie Bar decorated with candy. Interestingly, he was happy to have that instead of the Bread Pudding. Those crazy kids.
Where Else Can I Get 'Ohana Bread Pudding?
If you want to dig into this bread pudding but can't, or don't want to, have a full-blown dinner at 'Ohana for whatever reason, you have a few options.
The easiest is to go to the Tambu Lounge connected with 'Ohana and order a single serving of bread pudding to enjoy right in the lounge.
Also, I have heard many times that if you are eating at Kona Cafe (also at the Polynesian, and which we'll discuss more in a moment), you can order the 'Ohana Bread Pudding there, even though it's not listed on the menu.
And if you're lucky enough to be staying at the Polynesian Village Resort, you can order the bread pudding at any time via room service.
If you're craving 'Ohana Bread Pudding but are nowhere near Disney at the moment, you could try this recipe:
'Ohana Bread Pudding Recipe Inspired by Disney's Polynesian Resort
Ohana Drink Menu
'Ohana offers several alcoholic specialty drinks. I ordered the Tropical Macaw, which is made with Coruba Coconut Rum, Melon Liqueur, Pineapple Juice, and Cranberry Juice. I believe Rob had a Pina Colada.
'Ohana Dinner Price
Dinner is $46 per person, and the price for children ages 3-9 is $26.
So … you can see why, as a family of 5 "adults" who ordered a couple alcoholic beverages, we winced a bit when we got our bill at the end of the meal. (I honestly think that's the biggest benefit to the Disney Dining Plan. You might not save money, but at least you'll avoid all the "wincing" when you see the prices.)
Was it worth the hefty price tag? Your mileage might vary, but I would say yes.
How Long is Dinner at 'Ohana?
People often want to know how to time their 'Ohana dinner with getting back in time for an evening
FastPasss reservation at the Magic Kingdom
.
In a sense we were lucky, because the only reservation we could get was at 8:00pm, which made "getting back to the park" a non-issue.
I would personally recommend not trying to squeeze in a FastPass after 'Ohana.
First of all, a big part of 'Ohana is the "experience," so you want to enjoy it and not get stressed out (as I would be) checking your watch every few minutes and worrying if you're going to be late.
Second, things like that always take longer than you think they will (or at least they do in my world).
Paying the bill will take longer than it should have.
The monorail will run late.
It will take you longer to get back to the park than you estimated.
Someone will need to go to the bathroom.
It makes me feel stressed out just thinking about it!
A third point that's worth mentioning is that after eating at 'Ohana, you'll probably be so full that you can barely move, let alone want to go sprinting through Tomorrowland to go ride Space Mountain.
But to answer the question — I would say to allow 75-90 minutes for the actual meal, plus an additional 15-20 minutes to get seated.
Can I Watch the Fireworks from 'Ohana?
Since The Polynesian is literally walking distance from the Magic Kingdom, it makes sense to assume that it's a great place to watch Wishes, the nighttime fireworks show.
While that can work, the reality is a little different. You may very well not be able to get a window seat — and if you can, you may not be thrilled to have many new "family" members appear at your table.
While we have never tried this ourselves, I've heard that a better idea is to head to the Polynesian Beach (particularly an area called Sunset Point) after dinner to view the fireworks.
'Ohana vs. Kona Cafe
Finally, the question often pops up as to which is better, 'Ohana or Kona Cafe, which is another table service restaurant at the Polynesian. In fact, we originally had reservation for Kona Cafe and I ended up changing it to 'Ohana just a couple weeks before our trip.
I've been to both (although never for breakfast), and while I was very impressed with our meal at Kona Cafe, I would recommend 'Ohana if you're trying to decide between one of the other.
However, I would tell you to choose Kona Cafe if:
You want your meal to be quicker
The menu at 'Ohana doesn't appeal to you
You don't like the idea of a ton of food
It's been a while since I've taken a toddler to Disney World, but this reviewer from Trip Advisor points out something else that's important to consider:
The food [at 'Ohana] really appeals to us and it is all you care to eat. There are also some greater benefits I think with a 2 year old. As I'm sure you know, eating out with a toddler isn't always easy. Ohana is a much bigger restaurant if you need to take a walk and there are more distractions which may keep him entertained.

For starters, there are big windows looking outside if you are lucky enough to get sat close to one and not in the center section. They also have a guy that walks around singing and playing the ukulele as well as occasional activities for the kids such as pushing a coconut around the room with a broom.

Since it is all you care to eat you'll get served food right away instead of having to order and wait. The servers bring the main course meats to the table on huge skewers which is fun. From experience, walking up to see the massive fire grills really helped us out with ours one time. And nothing to do with kids but the bread pudding is to die for …
What are your experiences with 'Ohana?
Now it's your turn.
What are your thoughts on Ohana? Do you think it's worth the high price? Which do you prefer, Ohana or Kona Cafe? Let us know below in the comments!
My Most Popular Disney World Posts
---
---