What to Wear to Disney World: Summer and Winter Outfits & Cute Plus-Size Stuff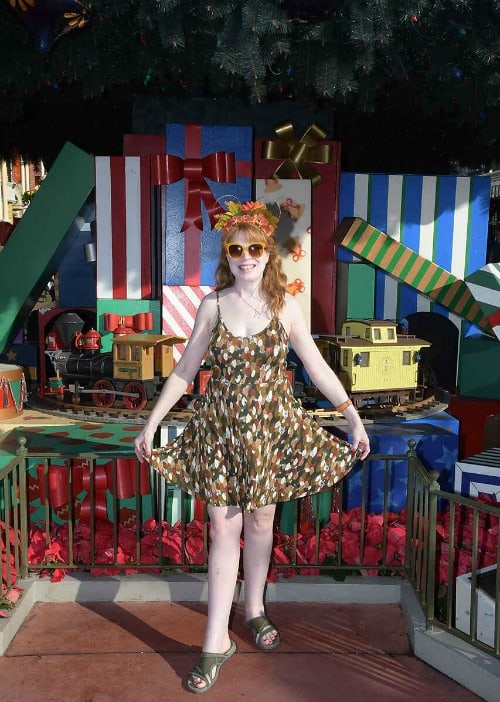 This post probably contains affiliate links. You can read the details about what that means here.
The first couple times we went to Disney World we had toddlers, and I was more concerned about just figuring everything out and making everything work than I was with whether or not I was wearing a cute outfit.
However, now that we've all gotten the hang of "doing Disney," planning a Disney trip also involves having a little fun, fashion-wise.
Here are some tips and ideas on what to wear to Disney in order to mange the heat, be comfortable, and still achieve a fun, pretty look.
Wearing Dresses to Disney World
I personally enjoy wearing dresses when I go to Disney World — and in fact, on our last couple of trips, I wore almost nothing
but
dresses on our days at the parks.
Below are some photos of me, followed by the link to the dress I'm wearing: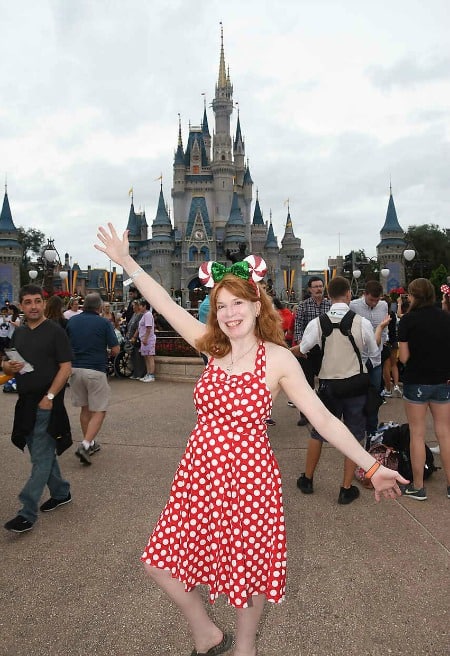 V Fashion Halter Cocktail Swing Dress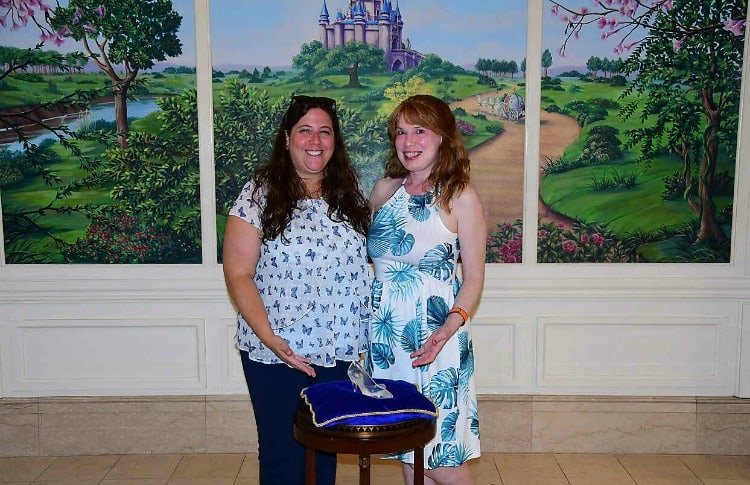 KILIG Women Halter Neck Floral Sundress with Pockets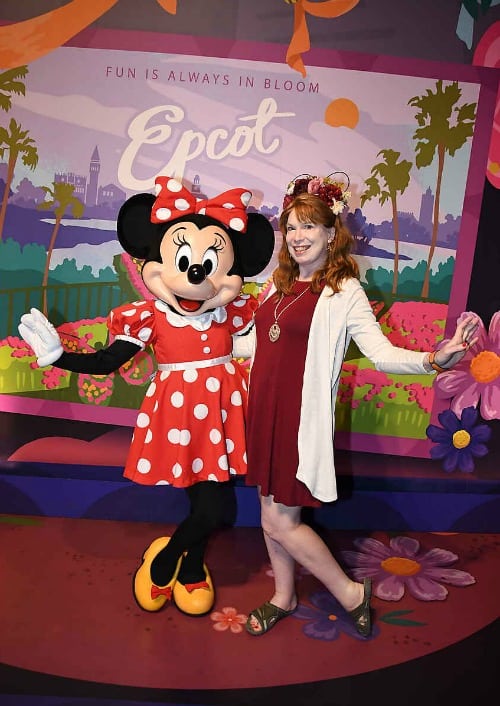 MOLERANI Women's Casual T-Shirt Dress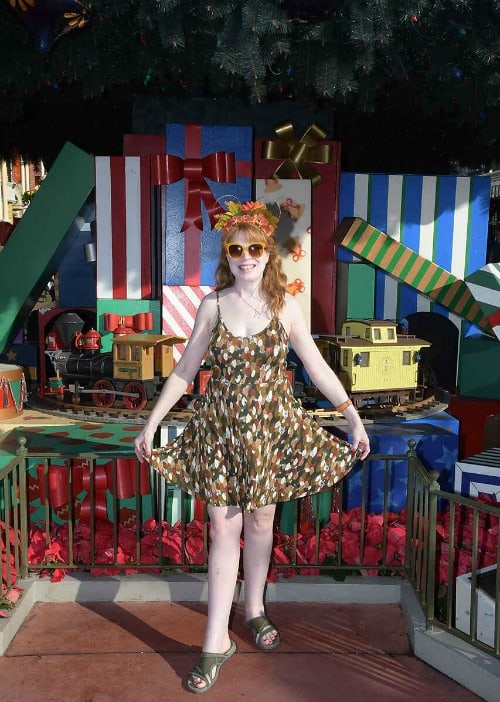 ACEVOG Womens Sleeveless Flared Swing Dress
I like dresses for two simple reasons:
1) I think they keep me cooler; and
2) I think I just look better in them.
Wearing a dress makes me feel like I'm doing something "special," and not just traipsing around an amusement park, getting sweaty and feeling dumpy.
I know a lot of people don't care about being stylish at Disney World, but I do (more than I used to, anyway.) And if I'm going to get paid to get my photo taken a zillion times, heck I want to look as good as I comfortably can.
I get most of my favorite Disney dresses by searching for "Sundress" or "Casual Dress" on Amazon.
I've worn several of these dresses below to Disney World in the past, in different colors and styles:
KILIG Women's Floral Print Sundress Adjustable Spaghetti Strap Sleeveless Summer Swing Dress(C013,L)
KILIG Women's Summer Floral Dress Spaghetti Strap Button Down Sundress with Pockets(C005,M)
KILIG Women's Halter Neck Floral Summer Dress Strap Sundress with Pockets (Wine Red Floral-4,L)
Soybu Women's Dhara Dress, Nirvana, Large
MOLERANI Women's Casual Plain Simple T-Shirt Loose Dress Black XS
MOLERANI Women's Casual Swing Simple T-shirt Loose Dress, X-Large, Black
OFEEFAN Women's Cold Shoulder Tunic Top T-Shirt Swing Dress with Pockets
PCEAIIH Women's Summer Cold Shoulder Tunic Top Swing Dresses Loose T-Shirt Casual Dress with Pockets (Large, Black)
BLUETIME Women Summer Cold Shoulder Tunic Top Swing T-Shirt Loose Dress Criss Cross Neckline (L, Floral4)
OFEEFAN Women's Cold Shoulder Tunic Top T-Shirt Swing Dress with Pockets
Berydress Women's Casual Beach Summer Dresses Solid Cotton Flattering A-Line Spaghetti Strap Button Down Midi Sundress (L, 6046-Brown)
KILIG Women's Summer Floral Dress Spaghetti Strap Button Down Sundress with Pockets(Floral-04,L)
ECOWISH Womens Dress Summer Tie Front V-Neck Spaghetti Strap Button Down A-Line Backless Swing Midi Dress Yellow S
ECOWISH Womens Dresses Floral Spaghetti Strap Tie Knot Front Flowy Pleated Mini Swing Dress White S
What to Wear Under Your Dress at Disney
Worried about flashing your underwear when you get on and off the roller coasters?
I wore these Jockey Underwear Skimmies underneath my dresses. I wear the black, as shown below, but they come in other colors too.
They are more comfortable than they look, prevent pantylines, and make you less self-conscious about flashing your underwear when you get in and out or a ride.
Note that these are not shapewear, just boyshort underwear.
The Ones I Wear


Check Price on Amazon
These are lightweight and comfortable, and they give you a smooth look with no pantylines!
Cute Disney Accessories for Adults
An easy way to give a regular dress or outfit a cute Disney look is simply to pair it with a cute hat or headband.
One of the neat things about this is that you can pair a sundress with, say, a baseball cap. It may sound like that won't work … but at Disney World, it definitely does.
Boys Mickey Mouse Cotton Baseball Cap
Women's Minnie Mouse Bow Ears Baseball Hat
Adult Minnie Mouse Visor
Girls Princess Cotton Baseball Cap
On our last trip, I wore a couple pairs of mouse ears that I got from Rachel Wallace at The Mouse Project on Etsy.
I felt cute and pretty the entire time and was complimented on them multiple times a day. (I told Rob I don't think I'd ever received so many compliments in one week before in my entire life!)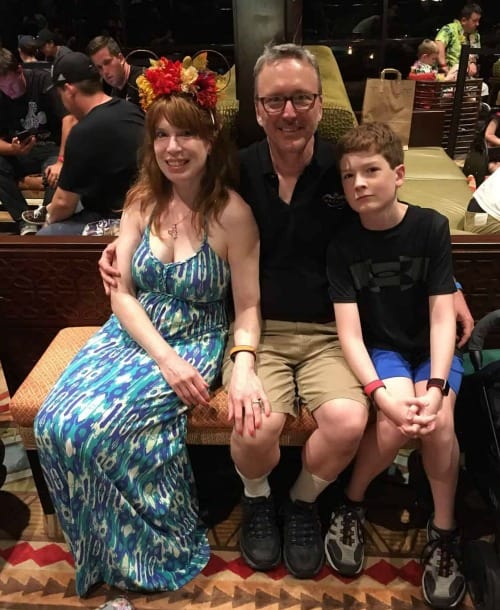 Another thing I did on our last trip was get a rose gold Mickey Mouse pendant with a matching set of earrings. Again, I got a received a lot of compliments on them.
The nice thing about the pendant and earring is that — unlike the mouse ears, sadly — I've been able to continue to wear them after we came home from our trip. And I get compliments on them in my "normal life" all the time too!
The One I Wear


Check Price on Amazon
I get compliments on this necklace ALL the time, whether I'm at Disney World or not
More Disney Jewelry:
Silver Plated July Ruby Red Cubic Zirconia Shaker Pendant Necklace
Aromatherapy Essential Oils Necklace Pendant
Minnie Mouse Birthstone Stud Earrings for Women and Girls
Here are some other accessories that can give your outfit a bit of a "Disney flair" that you can continue to use in real life:
I like This Minnie Mouse watch because it's:
Easy to read
Comes in 5 different styles, including a version with "classic Minnie," back when she had a hat with a flower in it instead of a bow
Women's Minnie Mouse Analog Display Watch
This crossbody handbag has a beautiful collage of Bambi, Thumper, and Flower. But you almost wouldn't know it if you weren't looking for it; it just looks like a really pretty handbag. Great if you want to show off your Disney love without looking tacky or garish.
What to wear to Disney World in the Winter: November through February
The above photos of me were all taken in late September, when it's still pretty hot. On our last trip, the temperatures went into the 90's every day.
We've been to Disney World in both November and December, and I've worn sundresses then, too. However, I do bring a cardigan, jacket, and jeans, just in case.
When we went in November a few years ago, it was surprisingly cold.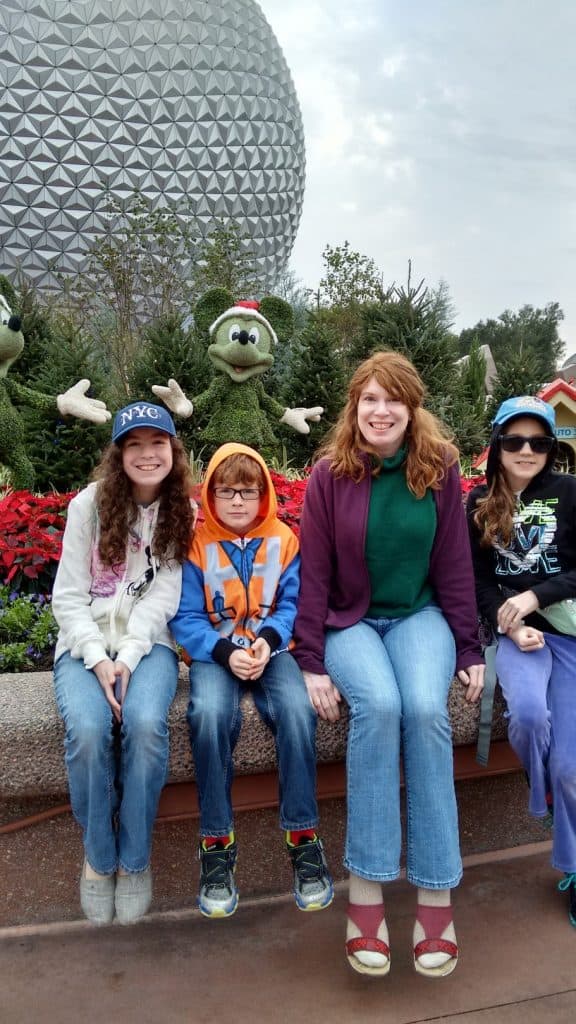 Look at us, all bundled up! Not only that, but we were downright cold — uncomfortably cold — while watching Illuminations at Epcot that night.
I wouldn't say that's typical. That trip was significantly colder that when we went in December of another year. But be prepared, especially for the evening!
Update: I just came back from yet another November Disney trip, and yup, it was pretty cold again at times.
Probably the best advice about dressing for Disney World in the winter is to be prepared for the possibility of cold weather, and pack plenty of layers.

Lightweight Long-Sleeve Cardigan with Pockets

Disney Hoodies for Women
Instead of (or in addition to) cardigans, you might want to bring along a couple Disney hoodies, especially for the evening:
Best Rated


Check Price on Amazon
Reviewers love how this shirt is super-soft and warm, but not bulky
Best Seller


Check Price on Amazon
The puffy ears on this girls' hoodie is an adorable extra touch
In addition to wearing layers, here are a few particular clothing items you might want to add to your Disney packing list in the winter:
Thermal Shirts
Thermal shirts are great for layering. You can easily wear them under something else to add warmth, but not much bulk. They won't take up too much room in your suitcase, either.
Women's Wicking Thermal Shirt, White
Women's Fleece Lined Thermal Shirt, Black
Beanie Hats
At strange as it might sound to wear a knit hat to Florday, at night it can get cold, and it's better to be prepared. Plus, hats are always cute.
Womens Winter Slouchy Knit Beanie
Solid Ribbed Beanie – Heather Grey
Winter Beanie Knit Hat with Ribbed Cap
Down Jackets
Like the thermal shirts above, down jackets are good at keeping you warm without too much bulk — either when you're wearing them, or when you're trying to pack them in your suitcase.
Women's Mighty Lite III Jacket,, Black
Women's Mighty Lite Hooded Jacket, Red Camellia
Amazon Essentials Women's Lightweight Down Coat, Olive Depths
What to wear to Disney World at Christmas Time
If you're going to be going to be going to Disney World at Christmas time (which, by the way, begins in November), you should have a little extra fun by adding some Christmas bling to your outfit.
Candy Cane Plush Fabric Headband
Christmas Necklace for Women
Chevron Sheer Infinity Scarf – Green/Red/White
Classic Cashmere Feel Check Scarf
Christmas Infinity Scarf Lightweight Loop
Christmas Tree Cubic Zirconia Pendant Necklace
And if you're going to Mickey's Very Merry Christmas Party, you might want to wear a Christmas sweater, both to keep warm and to look cute.
Snowmen Christmas Sweate
Reindeer Christmas Sweater
Christmas Reindeer Knitted Sweater
Sweater Women Plus Size Christmas Sweaters Reindeer Snowflakes Sweater
Novelty Christmas Sweater
Blizzard Bay Women's Cold Shoulder Christmas Pullover, red, Medium
What to Wear to Disney World — Plus-Size Edition
While I'm not exactly the thinnest person in the world, I don't think I'm
officially
considered "plus-size," so I turned to some other lovely ladies for advice on those particular challenges.
Bianca Karina loves wearing leggings when she goes to Disneyland. "Leggings are breathable, flexible, and stretchy so you can fully enjoy the Disney magic without getting swamp butt," she says.
Bianca also likes to wear a t-shirt dress paired with sneakers, claiming, "You get all of the breeziness of shorts and the stretchiness and comfort of leggings."
What do I wear to Disney World if I have thick thighs?
Whether you're wearing shorts or a dress, if you're worried about chafing (or "chub rub," as it's sometimes called), this product works wonders. I also wear rub it all over my feet before I put my shoes on.
Most Popular


Check Price on Amazon
This is THE most popular product among my readers!
April at Pixie Dust Savings, who describes herself as "Pooh-sized" and a "plus-size princess," lists these as her 5 favorite places to shop for plus-size Disney clothes:
1. Torrid
2. Pinup Girl Clothing
3. Cherry Tree Lane Dress Shop in Disney Springs
4. Walmart (the selection is huge in physical stores near Disney World)
5. ModCloth (not necessarily "Disney" clothes, but has some good options for Disney Bounding)
The pin below is a dress that April featured from Torrid. Cute, huh?
Plus-Size Fashion — Disney World Outfits
Heather Traska, a size 16 Disney Style contributor, likes to wear bright colors and lush fabrics that "makes me feel like a real life Princess." And she always wears shorts, leggings, or Spanx under her dresses while at Disney.
Disneyland Outfit Ideas for Curvy Girls
You might also like:
What to Wear to Disney World in the Summer: June, July, and August
I personally refuse to go to Disney World in June, July, or August — both because of the crowd levels and
the intense heat in Florida during the summer
.
Well, okay … I guess maybe I would go if someone paid for the entire thing. But I haven't been to Disney World during the summer months since I was 8 year old.
I found this helpful bit of advice about dressing for Disney during the summer months on the WDWMagic Forums:
Actually, wearing skimpier clothing (e.g., tank top and short shorts) — especially if they contain non-breathable fabrics like polyester or spandex — can make you feel hotter than if you wear fuller-coverage clothing that breathes.

In a tank top, for example, your sweat just pools on your shoulders and in your armpits — in a breathable top with short sleeves, it gets absorbed and wicked away from your body. (Locals in tropical climes put this principle to work all the time — ever notice how when you visit someplace like India or the Caribbean, everybody's wearing long pants, button-down shirts and hats in the heat? They're doing it in light colors, and breathable fabrics, and staying cooler as a result than if they were wearing less.)

My suggestion would be to either go full-on vacation wear in breathable, natural fabrics, in styles that offer some protection from the sun (chambray rompers or sundresses — no polyester, no spandex, etc.!, lightweight cotton maxi dresses, linen button-downs and bermuda shorts), or if your personal style is more sporty, to opt for athletic wear that doesn't necessarily look like athletic wear (e.g., golf polos and skorts).

Steer toward light colors if you want to repel the sun even more, and if you're a "hat person," by all means adopt a crushable floppy hat or a straw fedora with a decent-sized brim. If your hair is long, wear it up, or braid it, to keep it off of your neck and shoulders.
One thing I would absolutely "wear" at Disney in the summer (or even the fall and spring) is a Frogg Togg Chill Pad Cooling Towel.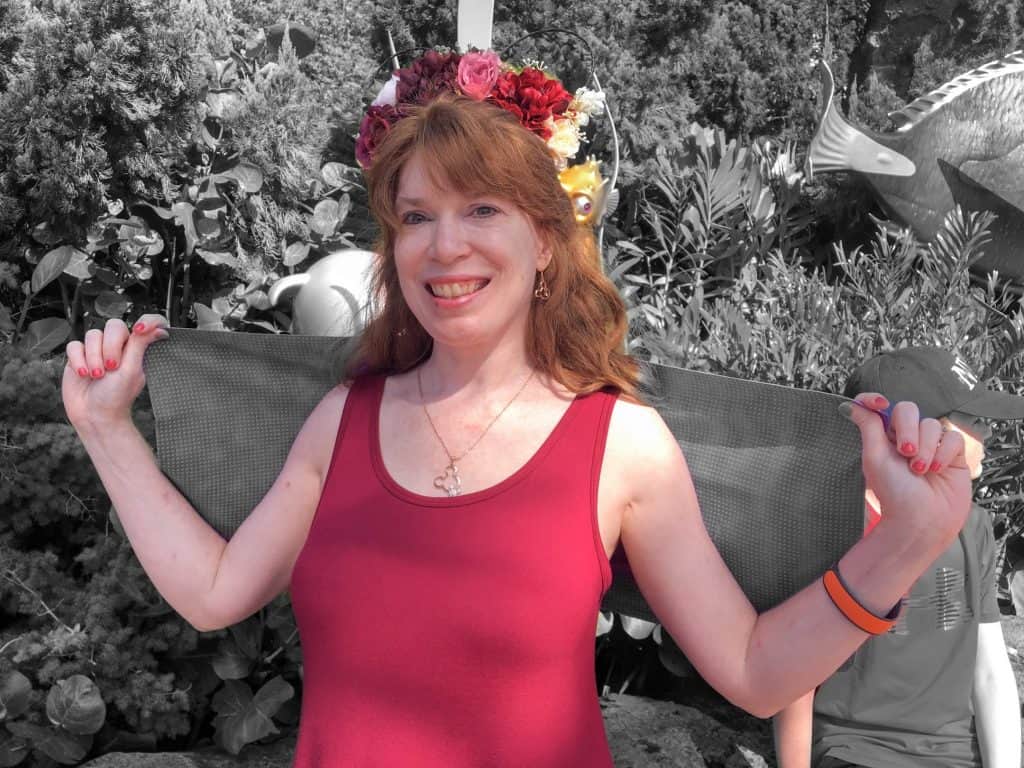 Yes, these really do work. You wet them with cold water, squeeze out the excess, and it feels incredibly cool (yet dry) against your skin.
Being an Irish redhead, I particularly like how it gives me added sun protection on my neck, back, and shoulders.
NOTE:
On our last trip, Rob liked my cooling towel so much that he bought one for himself at the parks, where they sell a version by a brand called CoolCore.
He said it definitely did NOT get as cool as my Frogg Togg cooling towel did.
Don't Forget How Important the Right Shoes Are!
I have another post all about the best shoes to wear to Disney World, but I thought they also deserved a quick mention here.
I always like to wear sandals (not flip-flops, because having something between my toes personally drives me crazy). They go well with my sundresses, they also room for your feet to swell when you've been walking for hours, and I don't have to worry about them getting soggy after going on Splash Mountain.
These sandals have been my go-to shoe for our last 3-4 Disney World trips.
They're not the prettiest sandal in the world — unfortunately, the coral color my first pair came in is no longer available — but there's not terrible. Most importantly, they're super comfortable.
The Shoes I Wear to Disney World


Check Price on Amazon
I've tried other shoes in this post, but always come back to these
I really wanted to like the Sanuk Yoga Sling sandals, because they are:
Pretty
Popular
Available in several different designs
Relatively inexpensive
However, any time I've tried them on, my feet say, "Mmm … no." I'm not even sure why. I think it's the combination of the "between the toe thing" and the fact that they just feel too flimsy to be walking in them for several hours.
They are the most popular shoe among my readers, though, so maybe you will have better luck then I did.
The Most Popular Shoe Among Readers


Check Price on Amazon
One reviewer calls these "a dream to walk in!"
If you prefer to wear sneakers to the parks, these are some of your best bets:
ASICS Women's GT-2000 5 Running Shoe, Mid Grey/White/Pink Glow, 9 M US

Saucony Women's Triumph ISO Running Shoe, Twilight/Oxygen/Citron, 8.5 M US

Skechers Performance Women's Go Walk Joy-15615 Sneaker,pink/multi,9 M US

Skechers Performance Women's Go Walk Joy-15615 Sneaker,Navy/Multi,9 M US

Does Disney World have a dress code?
Yes. For example, shoes and shirts must be worn at all times. You can read the entire theme park dress code here and here.
Can I wear ripped jeans to Disney World?
What kind of rips are we talking about here? If they are a couple cuts to add embellishment, then you're probably fine. If your jeans are more holes than denim, that's likely to be a problem.
Disney's official stance is that "clothing that is excessively torn" is unacceptable attire.
Can I wear a crop top to Disney World?
Again, it probably depends on what you consider to be a crop top. Is it showing less than an inch of your midriff, or is practically like a bikini top?
"Clothing which exposes inappropriate portions of the body such as string bikini tops, G-strings, bikini bottoms, etc" is consider unacceptable attire.
Can I wear a sports bra to Disney World?
See above. That sounds like a no to me.
Can I wear a strapless dress to Disney World?
I've worn these maxi dresses with spaghetti straps to Disney many times without any problems. I would think a similar style dress without straps would be fine. However, depending on what you're doing that day (are you just going to 'Ohana for dinner, or are you planning on riding Rock n Roller Coaster 3 times?) and how well your dress stays up, you might want to choose to skip anything strapless.
What do you like to wear to Disney World?
Now I want to hear from you.
What are your favorite things to wear to Disney World?
Have you learned any lessons the hard way about what NOT to wear?
Do you prefer dresses, shorts, or leggings?
Do you have a favorite store for Disney clothes shopping?
Let us know below in the comments!
---
---