Free Printable September Word Search Puzzles
This post probably contains affiliate links. You can read the details about what that means here.
When I was a kid growing up in Pennsylvania and New Jersey, September — specifically, the day after Labor Day — always meant going back to school.
Even though I've lived in the south for my entire adult life, and everyone goes back to school in early to mid August, I still think of the month of September as "back to school month."
Regardless of where you live or what your school schedule is, your kids will enjoy these fall word search puzzles. Yes, they have "school" words, but they also have several fall words like corn, apple, orchard, Squirrel and football.
There are two September word search puzzles below, with two difficulty levels, so there's something for kids of all ages. There are either 14 or 18 hidden words, depending on the puzzle.
There is also both a color and a black and white version for each one, so you can choose the one that best fits your needs (and your printer).
Word searches are a great activity for a rainy day, a doctor's waiting room, or a classroom activity for students who finish their assignment a little early.
More free printable activities for kids:
Easy Color September Word Search
This puzzle has 14 September themed words. None of them are diagonal or backwards.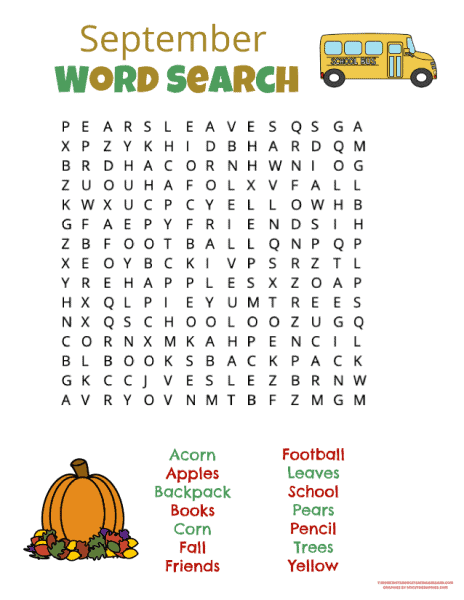 Easy Black and White September Word Search
The black and white version of the puzzle above.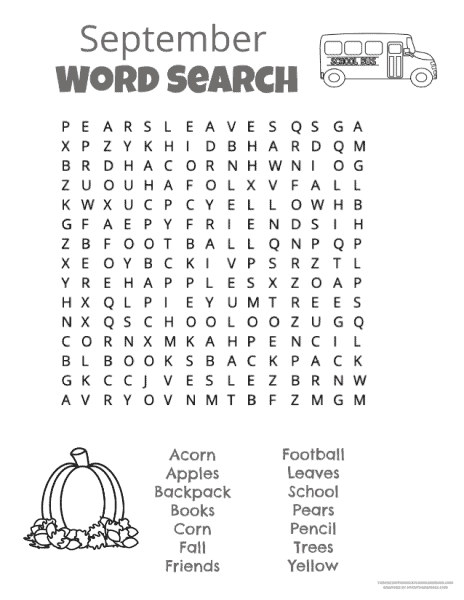 Difficult Color September Word Search
This harder version of the puzzle has 18 words. Some of the words are a little longer, and they can run diagonally, up, down, or backwards.
Difficult Black and White September Word Search
Again, the same puzzle, just in black and white this time.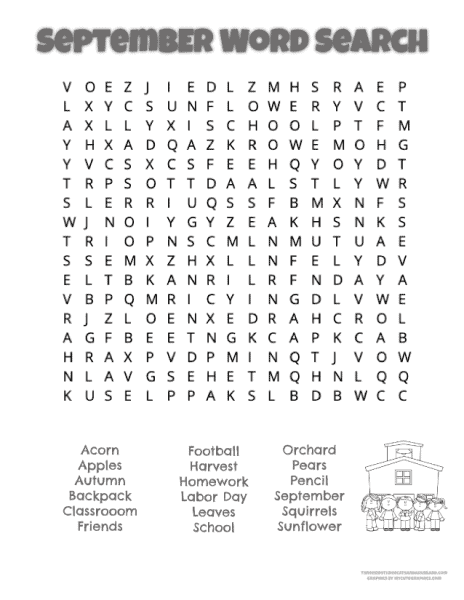 ---
---