February Word Search Free Printable
This post probably contains affiliate links. You can read the details about what that means here.
It's almost February, so I thought I'd make some February themed printables.
The month of February has quite a few special days:
Groundhog's Day
Valentine's Day
President's Day
Not to mention that February is also Black History Month, American Heart Month, Library Lover's Month, and National Bird Feeding Month.
And sometimes it even has an extra day because of Leap Year!
These February word search puzzles make a fun activity for classroom use or just at home with your own kids. If you're a teacher, they make a great activity to leave for a substitute teacher.
There are two different puzzles at two different difficulty levels, so there's something for kids of all ages. Plus each puzzle has both a color and black white version, to best match your needs (and your printer).
They're completely free and there's nothing to sign up for. Just click the link for puzzle you want and you'll get an instant free download of the PDF file.
What are word searches?
If you're not familiar with word searches, they're fun puzzles that also work well as an educational activity. Basically, you find the hidden words on the word list and circle them. (Using a highlighter pen works even better, I think.)
They're a fun way to practice fine motor skills, introduce vocabulary, and reinforce spelling.
Click here for word searches that are specific to Groundhog Day.
Easy Color February Word Search
This puzzle has 14 February themed words. None of them are diagonal or backwards.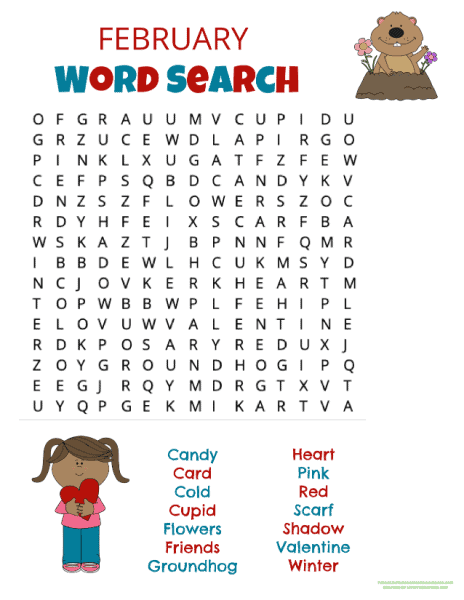 Easy Black and White February Word Search
The black and white version of the puzzle above.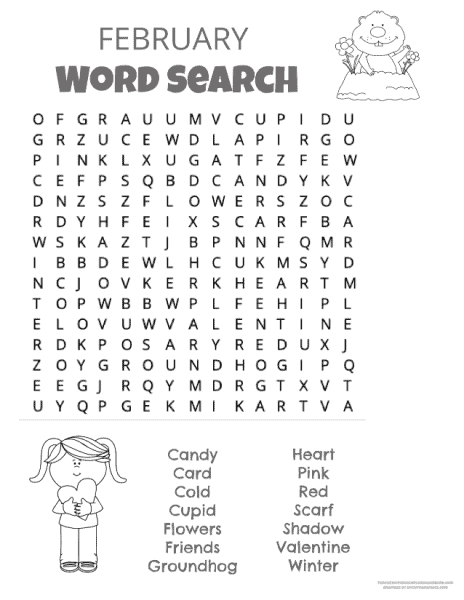 Difficult Color February Word Search
This harder version of the puzzle has 18 words. Some of the words are a little longer, and they can run diagonally, up, down, or backwards.
Difficult Black and White February Word Search
Again, the same puzzle, just in black and white this time.
---
---