The Best Places to Watch Epcot's Fireworks (Restaurants, Fastpass, and more!)
Epcot's fireworks show, "IllumiNations: Reflections of Earth," is a tribute to the nations of the world, involving not just fireworks, but also lasers, dancing water, and music. Premiering on October 1, 1999, it is Walt Disney World's longest running fireworks show and, according to Wikipedia, has received several awards over the years, including 11 straight Best Outdoor Night Production Show Golden Ticket Awards.
Here's a guide to everything you need to know about the best viewing spots for Illuminations, how to get those spots, and the pros and cons of each.
What Time is the Epcot Fireworks Show?
Illuminations are at 9pm, and the show lasts 12-15 minutes.
However, it's a good idea to double-check the time, because sometimes (not often) it varies slightly.
For example, during the holiday season, IllumiNations may be pushed back to 9:30 on certain nights due to the Candlelight Processional.
Also, Epcot closes an hour early (8:00pm) on Good Friday, so Illuminations that night is 8:00pm as well.
Does Epcot Have Fireworks Every Night?
Yes, weather permitting.
I did a little research to see what exactly "weather permitting" means.
Will they still have Illuminations if it's raining? Yep. (You can read more about which Disney rides and fireworks get canceled when it rains.)
Even in cases of thunderstorms, they usually delay the show for an hour or two it before deciding to cancel it altogether.
So … does Epcot have fireworks every night? It sounds like the answer is "yes," except in very, very rare occasions due to weather.
"IllumiNations ends the day at Epcot. When it's over, only a couple of gift shops remain open. Because there's nothing to do, everyone leaves at once …
More groups get separated and more kids get lost following IllumiNations than at any other time. In summer, you'll be walking in a throng of up to 30,000 people. If you're heading for the parking lot, anticipate this congestion and preselect a point in the Epcot entrance area where you can meet if someone gets separated from the group. We recommend the fountain just inside the main entrance."
Is Illuminations Ending?
As of this writing (late August 2018), rumors have been picking up speed that a new night show at Epcot will be replacing Illuminations.
Nothing is official at this time, but in early June 2018 a user on the WDW Magic Forums by the name of marni1971 claims the new show will be called "Windows on the World" and (if I understand correctly) will be unlike Illuminations in that it will be involve Disney characters.
And last month the Orlando Sentinel reported that the World Showcase Lagoon was getting over $2 million of electrical work done.
Hmmm ….
So it seems almost certain that Illuminations will be ending before too long. But right now, exactly when that will happen and what it will look like when it does still remain to be seen.
UPDATE on October 2, 2018
Yup, it's official.
Disney announced a couple weeks ago that Illuminations: Reflections of Earth will be ending in the second half of 2019. A new nighttime show on the World Showcase Lagoon will be taking its place.
On September 17, 2018, the Disney Parks Blog said:
"We've got big plans for our multi-year transformation of Epcot, with new experiences that will "Wow!" guests while keeping true to the original vision of the park. And the all-new nighttime fireworks spectacular coming to Epcot's World Showcase Lagoon will be part of the park's exciting evolution."
Some of Epcot's upgrade will also include:
1) A "Ratatouille" ride (yay! Ratatouille never gets enough love) behind the France pavilion that will open in 2021.
2) "Guardians of the Galaxy," which Disney is describing as "one of the world's longest enclosed roller coasters," will replace "Ellen's Energy's Ride" (which definitely needed replacing) in 2021.
So you still have roughly a year from the time of this writing to get it a last chance to see Illuminations.
New Fireworks Show: "Epcot Forever"
In April 2019, the Disney Parks Blog reported that the final showing of Epcot's "IllumiNations: Reflections of Earth" would be on September 30 and that a new, limited-run show called "Epcot Forever" would begin on October 1, 2019, and continue to run into 2020.
(You folks that like Disney World trivia might know that October 1 is both the day that the Magic Kingdom opened in 1971 and the opening date of Epcot in 1982.)
The new show will include fireworks, music, lighting, lasers and "choreographed, special effects kites."
The show will take us on a journey through the past, present and future of Epcot. Featuring a stirring collection of songs that paint a colorful picture of the park, this nighttime extravaganza will offer both a trip down memory lane and a look towards the future and all the magical possibilities still to come.
Video — Preview of "Epcot Forever"
Will the viewing spots that work well for Illuminations also be good for Epcot Forever? I would guess so, but there's no way to know for sure until it arrives.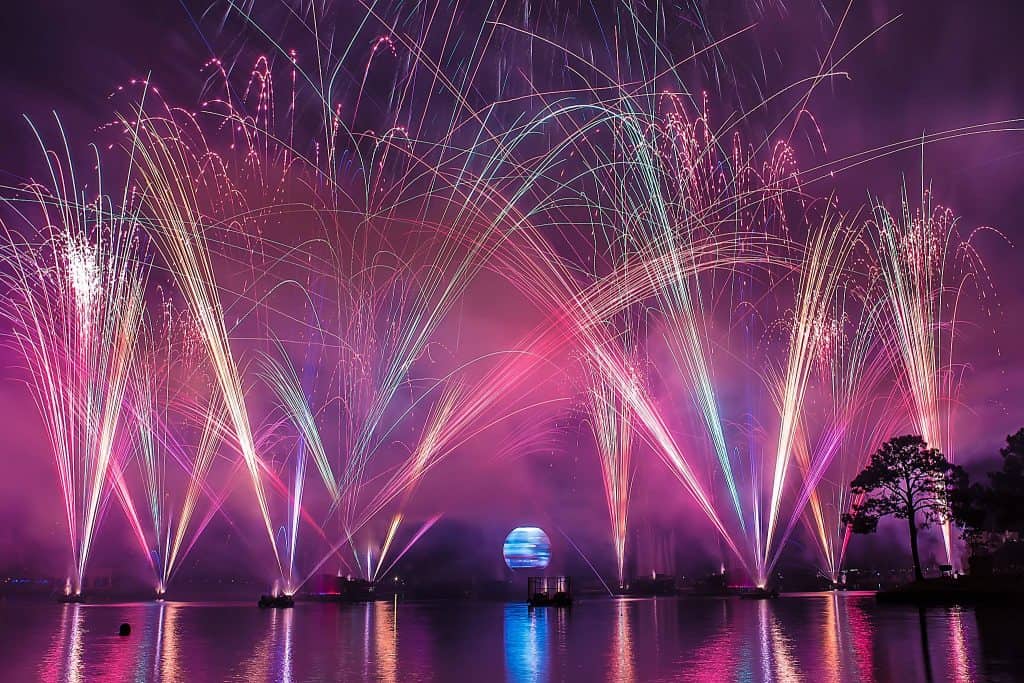 Things to Keep in Mind When Choosing an Illuminations Viewing Spot
1) Unlike Wishes (the fireworks show at the Magic Kingdom), Illuminations is more of a "light show" that also has low-level fireworks and a globe display on the World Showcase lagoon. So when evaluating any viewing spot, take a moment to look around and see if any trees, torches, or light poles are blocking your view of the lagoon. If you can see the center of the Lagoon, then you can see Illuminations, and if not … well, then you can't. That's how you know whether or not you have a good spot.
2) Illuminations can produce a lot of smoke, so if the wind is strong enough that you can feel it and that it's blowing toward you from the direction of the lagoon, this is not a good thing. Not only will you get a bunch of smoke blown in your face, but the smoke could cloud your view so much that you may not even be able to see much of the second half of the show.
Because of those two things, there is no one "best place" to watch the fireworks in Epcot. A great place could be five yards away from a "bad" place because of a tree island blocking your view, or what was a good place last week could be a "bad" place tonight because of that wind.
With that being said, here are some general "best places to watch," in no particular order:
✅Best Places to Watch Illuminations Around the World Showcase
1. The Bridge between the United Kingdom and France:
This bridge gives you a bit of elevation and great views of not only the lake and sky, but also of each of the pavilions as they light up during the show. The IllumiNations Fireworks Cruise typically parks their boats under or in front of this bridge during the show, so … you know it's gotta be good.
Another nice thing about this viewing spot is that if you're staying an Epcot resort hotel, like like the Yacht Club, Beach Club, or Boardwalk Inn, you can make a relatively quick and easy exit.
2. The Second Floor of the Mitsukoshi Department Store in Japan:
The second floor, or restaurant level), deck of the Mitsukoshi Building in the Japan Pavillian gives you some beautiful views, as you can see from this photo from my friend Meg at The Mouselets. It also has a covered deck, which is a nice plus if it's a little drizzly out.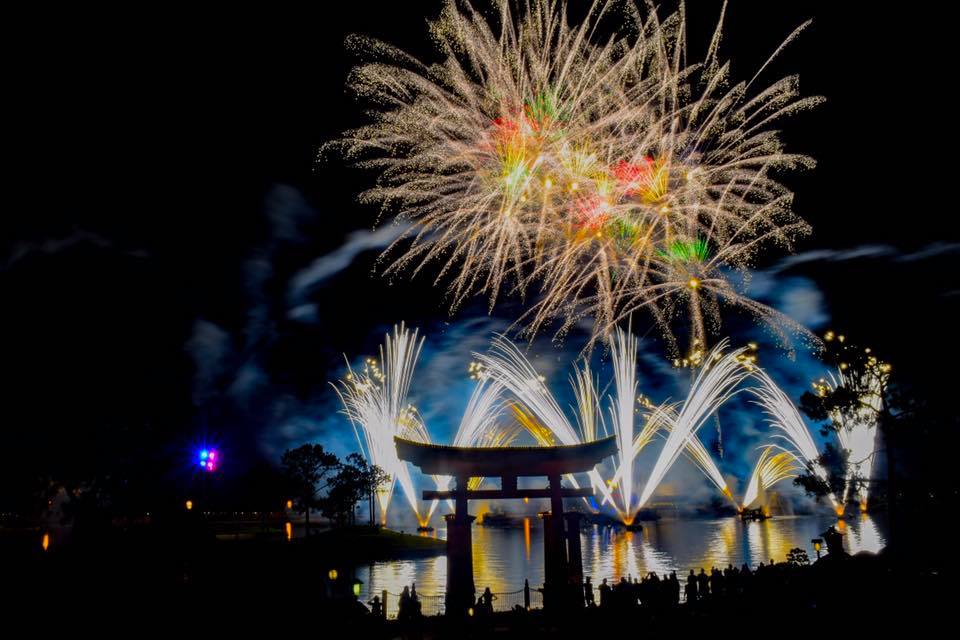 If you didn't already know, Mitsukoshi is a department store chain that originally sold kimonos when it opened in 1673. So make sure you arrive early to allow some time to check it out. They sell not only kimonos and kitchenware, but also bento boxes, snacks, and merchandise from Hayao Miyazaki movies like My Neighbor Totoro and Spirited Away (some of my kids' favorite movies).
3. Italy Isola:
The Italy Isola is a spot that juts out over the World Showcase Lagoon, giving you a great, unobstructed view, especially in you arrive early enough to get a spot right up against the railing.
(Once on a November trip we were, in fact, able to get a great spot against the railing here. Not because we got there early, but because of the weather: we were all wearing jackets and still uncomfortably cold. Hard to imagine, right?
Anyway, since most people had the good sense to not stand outside freezing, we had our pick of spots. I even said to the guy standing next to us, "We need to enjoy this, because it will probably never happen again!")
Unfortunately, because Italy Isola is such a good spot, it's often used for private Illuminations dessert parties and therefore isn't available very often.
✅Best Restaurant to Watch Illuminations
Ah, doesn't it sound lovely to enjoy a nice dinner in the World Showcase, then sit back and relax while you enjoy the fireworks show from your table?
Unfortunately, while that is a possible scenario, more often that not it doesn't quite work out that way.
The problem is that none of the restaurants can guarantee you a decent view of Illuminations. Sure, you can request a table with a good view, but everyone else is going to be doing that too, so you very well may not get one — no matter how nicely you ask or even if you think you deserve preference because you're celebrating a special event.
To make things worse, even if you are lucky enough to get a great table by the window, it is very possible that total strangers are going to come to stand right next to your table or, worse, try to wiggle up in front of you so they're blocking your view.
Personally, I wouldn't go to any Epcot restaurant for the purpose of seeing the fireworks show. Instead, I would pick up dessert from one of our favorite World Showcase bakeries and then find a good spot around the lagoon to watch.
Having said all that, if you still want to try viewing Illuminations from a restaurant, here are some of your options:
1, Rose & Crown — United Kingdom
The Rose & Crown is your best bet and probably the only place I would even consider eating with the intention of viewing Illuminations. It's a table service restaurant with a pub atmosphere that serves dishes like bangers and mash and cottage pie.
Your best strategy is to make a reservation for around 7:30 or 8:00pm and arrive at the restaurant 10-15 minutes early to request an outdoor table. No, you still may not get one, but it doesn't hurt to ask, especially if you're willing to wait a little.
Even if you end up having to siting indoors, you can still step outside "private viewing area" once the firework show begins. My friend Kris from Nomad By Trade took the photo above from that spot. If you plan on doing that, it's a good idea to let your server know when you're seated.
2. Tokyo Dining — Japan
Tokyo Dining is known for being a restaurant that offers a view of Illuminations, so I have to mention it here. But I don't really think it's a good choice, and here's why: Remember when I said above that the deck at the top of the Mitsukoshi Department Store was a great place to watch the fireworks? Well, guess where those people are standing? Yup, outside the windows of Tokyo Dining (albeit slightly lower, but still at partially blocking the view).
Add to that the fact that at least 90% of the tables at Toyko Dining don't even have a window seat, and … well, if you're looking for a a great view of the Epcot fireworks, this may not be the best place to find it.
What does work for some people is telling your server at about 8:55pm that you're leaving the restaurant to go see the fireworks and that you'll will be returning when the show is finished. To me, that kind of defeats the purpose of eating there in order to see the fireworks, but it certainly is an option.
We've never eaten at Tokyo Dining, but I've heard that both the food and service are top-notch.
3. Monsieur Paul- France
Monsieur Paul is a gourmet French cuisone restaurant with classic French architecture and bright colors. The menu has items that I literally have no idea how to pronounce, but which sound delicious when translated, like Cassolette d'Escargots Cauderanaise (Escargot Cassolette with White Wine, Bacon, and Shallots) or Salade au Roquefort à la Poire et aux Noix de Pécan Caramélisées, (Salad featuring Bleu Cheese, Pear, and Caramelized Pecans).
And Monsieur Paul actually has a dress code (for example, no tank tops, flip-flops, or cut-offs). It is what my husband Robert would probably call "hoity-toity," which would be his way of saying that he would never want to eat there.
So how is it for viewing fireworks? Same basic story: It just depends on your luck. The restaurant is on the second floor, so you could potentially get a good view, but many of the tables are not close to windows, and the windows are fairly small, which means the view you get from your table is likely to be very limited.
4. La Hacienda and La Cantina de San Angel – Mexico
La Hacienda de San Angel and Cantina de San Angel are sort of two restaurants in one, the first being table service where you need reservations, and the second being counter service where you don't.
It has great ambiance, with soaring ceilings, warm-colored tile floors, and hanging lights shaped like metal star sconces and the paper lanterns. We've never eaten there, but is sounds the general consensus is that the atmosphere is amazing, but the food is … just okay. And surprisingly mild for a Mexican restaurant.
However, if you can get a table with a view, it's supposed to be one of the best.
Watching Illuminations at the Frozen Ever After Dessert Party
Another option that's kinda sorta like seeing the fireworks from a restaurant but that does guarantee you'll get a good view is to get reservations for the Frozen Ever After Dessert Party.
Keep in mind that this is probably not a great option is you're trying to do Disney on a budget. Priced at $79 per adult (ages 10 and up) and $47 per child, it would cost my family just under $400, which is a price tag that wouldn't have been worth it for us, even when our girls were younger.
However, I've heard people rave about it in reviews, and if you love both a) Anna, Else, Olaf, and the gang; and b) Large amount of decorative sugar, then you might want to consider it.
Here's how the Dessert Party works:
An hour before Illuminations begins (normally 8pm, although I've heard you can arrive even a little earlier than that), you'll head to World Showcase Plaza East (the path that separates Future World and the World Showcase) and check in at the Disney Traders merchandise shop, located right before you reach Mexico.
You'll receive an armband and be seated at your pre-assigned table. (If you're in a smaller group, you'll probably be seated with others as well.)
Your seats are assigned when you make your reservations, so the earlier you plan ahead, the better seats you'll get. (Also worth noting: unlike making reservations at Disney World restaurants, reservations for the dessert parties are usually not available until 90 days beforehand. So don't panic if you don't see your trip dates listed just yet.)
The dessert buffet includes things like:
* Kristoff's Kransekake Almond Cookie
* Wandering Oaken's Eclairons
* Hans' Key Lime Tarts with Orange Glitter Glaze
* Troll Rock Crispy Bon Bons
* Elsa's Blue Velvet Cupcakes
* Kristoff's No Sugar Added Lemon Curd with Blueberry
* Freeze Fried Salted Caramel Popcorn
* Olaf's Warm Double Chocolate S'mores Pudding Cake
* Anna's Warm Cottage Pudding with Salted Caramel Glaze
* Hand Dipped Vanilla Bean Ice Cream
There are also non-dessert options:
* Sven's Fresh Fruits with Berries
* Grand Pabbie's Mystical Winter Spiced Snack Mix
* Duke of Weselton's Cheese Fondue—served with country bread cubes, broccoli, and grilled flatbread
In addition, they serve several beverages, including soda, margaritas, piña coladas, beer and wine, coffee and tea, and "melted snow."
When it's time for the fireworks to begin, you'll be given a pair 3-D snowflake glasses. (I honestly don't know if these actually improve the fireworks viewing experience or if they're just cute. If you know, drop me a line in the comments.) Then after the show, you'll be escorted to the Frozen Ever After attraction in the Norway Pavilion for a special VIP ride.
Some Frozen from IMDB Trivia to impress people at your next cocktail party: The characters of Hans, Kristoff, Anna and Sven are a reference to Hans Christian Andersen, the author of The Snow Queen.
Review: Is the Frozen Ever After Dessert Party Worth It?
?

✅Watching Epcot's Illuminations from the FastPass Viewing Area
Getting a Fastpass to watch Illuminations may sound strange at first. (It definitely did to me.) How do you get a Fastpass for a fireworks show?
But yes, there is a reserved viewing area at Showcase Plaza between Disney Traders and Port of Entry, the two tower gift shops.
See how it says "Disney Traders" smack in the middle of the map below? That's where the Fastpass viewing area is.
I've heard that the view is a very good one, and certainly this photo is fantastic.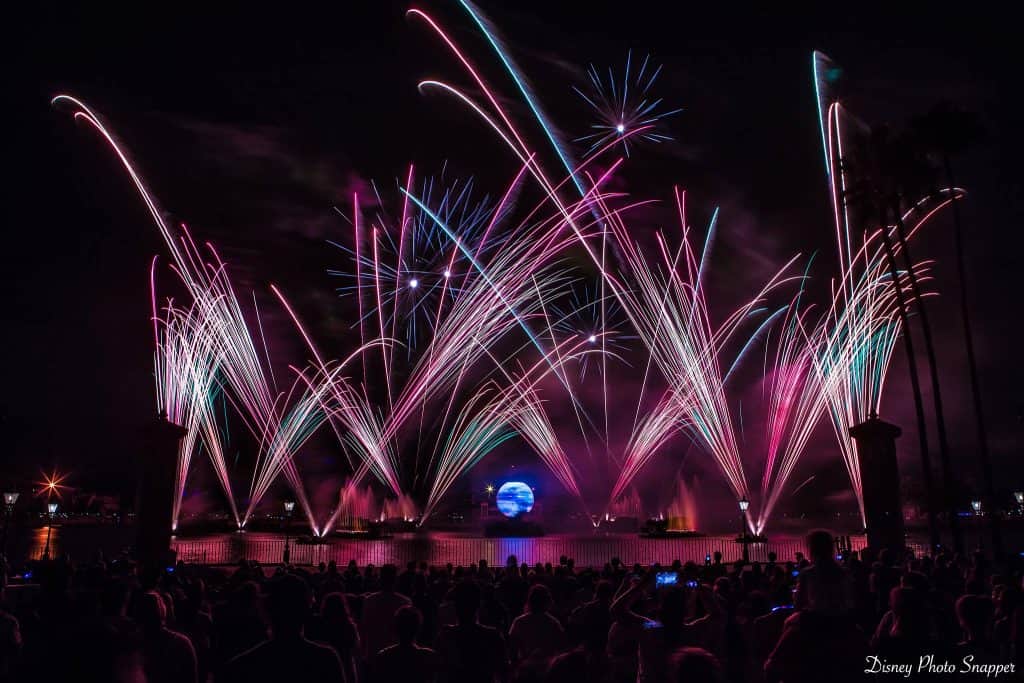 Illuminations View from Fastpass+ location at Epcot Walt Disney World
So is it worth it to use one of your precious FastPassses for Illuminations?
The short answer is "probably not."
The problem is that Illuminations is considered a "Top Tier FastPass experience." You can only get one Top Tier FastPass. That means that is you get a FastPass for Illuminations, you're forfeiting the chance to get one for Soarin' Around the World, Test Track, or Frozen Ever After.
Over on the DisBoards forums, some people had a good experience with Illuminations FastPass:
We did a fast pass for illuminations in November because we had a couple people with us who had never been. It was well worth the FP. We didn't have to worry about finding a spot super early and fighting the crowds, and the view was great.. Typically we would not have wasted a FP for it but considering the fact that we had "first timers" with us and that was their first day so we didn't have morning FPs scheduled for them it was well worth it.
However, it seemed like many more people had these kind of experience with it:
FP+ for Illuminations is an utter waste. About as useful as a FP+ for Pixar Short film festival. The World Showcase is massive, there are endless viewing spots. You can show up last minute and find a good viewing spot.

We were there on the 4th of July this year didn't show up until 8:50pm and had no problem finding a spot. Yes, it was much more crowded than normal, but we still found space (we actually stood on the bridge next to Mexico and had a great view). On a normal night, a prime viewing spot is simple.
Not only is it not worth it, we find it worse than "standby". The World Showcase is HUGE, so there are endless spots to see it. The FP+ viewing area is relatively small (by way of comparison to the WS itself) and they cram a lot of people into it. We found it much more cramped in the FP+ area than just finding another nearby spot on standby…5 minutes before the show starts.
If you're still debating whether using Fastpass is the right choice for you and your family, here are some other things to consider:
* You could choose to ride Soarin' Around the World the second you walk into the park and use the single-rider line for Test Track, which is a way to shorten your wait considerably without getting a FastPass.
* If you have toddlers and preschoolers, you could try this same strategy by hitting Frozen Ever After first thing when you arrive. (If they are under 40 inches tall, they won't be able to ride Soarin' or Test Track.)
* If you've already used you're three Fastpasses for the day, you can get on the My Disney Experience app and check to see if there are still FastPasses left for Illuminations (which is very possible if it's around 2pm). If so, you can snatch them then.
* If you are visiting Epcot at a super-crowded time, like New Year's Eve, getting a FastPass for Illuminations may well be worth it to not have fight the crowds and stake out a spot early at the World Showcase.
✅Best Places to View Illuminations Outside of Epcot
1. Disney's Boardwalk Resort
The Boardwalk isn't a bad place to watch the fireworks, as long as you don't mind missing some of the low-level effects of the show. One of the nice things about it is that there is a lot of "stuff" going on, like street performers, caricature artists, and midway games.
For the best view of Illuminations, go to the bridge just past the ESPN Club.
2. Disney's Beach Club Resort
If you're staying at Disney's Beach Club Resort, you have a few nice options for seeing Illuminations from your resort.
First, you can watch the high-level fireworks from Stormalong Bay.
Second, you could walk to the above-mentioned bridge connecting the Boardwalk and Beach Club and watch them there.
A third option is to walk over to Epcot at about 8:45pm, stand at the wall by France, and then leave through the International Gateway. Easy in, easy out.
Illuminations Seen from the Beach Club Lighthouse Pier
Orlando Hotels with a Great View of Epcot Fireworks
If you want to view the Illuminations completely outside of Disney property, here are two good options:
1. Hilton Buena Vista Palace at Disney Springs
This is a lake-front hotel that offers a Disney character breakfast, complimentary shuttle service to both the Disney theme parks and Disney Springs, and access to Extra Magic Hours. In addition, you could use the Pedestrian Skybridge to walk to Disney Springs.
You can choose to book a fireworks view, Disney Springs view, or resort view room.
2. Capa Steakhouse at the Four Seasons in Orlando
You can great a great view of both Illuminations at Epcot and Wishes at the Magic Kingdom from this rooftop Spanish steakhouse and bar, located on the 17th floor. This is a good option for people who are not traveling with little kids, both because of the price and the atmosphere.
In addition, the Four Season also has Park View rooms, where you can watch the Wishes fireworks show from your balcony. And they have a great Disney character breakfast as well!
And now I want to hear from you!
Have you watched IllumiNations from one of these spots? What did you think? Any other spots or secret strategies to share? Let me know in the comments!