No-Cook Pumpkin Spice Playdough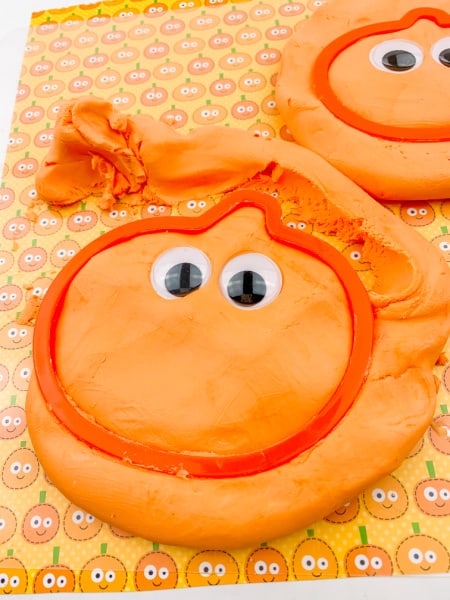 This post probably contains affiliate links. You can read the details about what that means here.
This play dough recipe is sometimes referred to as "Cloud Dough" because of how soft and smooth it is.
Now I should clarify right off the bat that there is no pumpkin in this recipe.
In fact, it's not an edible play dough, so if you have a toddler who is constantly putting things in their mouth, this would probably NOT be a good activity for you at this time.
Instead what you should do is watch this video on how to make edible pumpkin spice playdough using pumpkin spice instant pudding mix:
DIY Edible Pumpkin Spice Playdough
What we're going to do is take a very simple, no-cook play dough recipe and dress it up just a but to make little pumpkins with it.
A nice extra touch is to add a dash of pumpkin pie spice (or a combo of cinnamon & nutmeg) to your dough.
NOTE: In the future, if you ever want to make this same cloud dough recipe but don't care about the pumpkin theme, feel free to use a scented conditioner.
Strawberry-scented conditioner, for example, will give your dough a pretty pink color as well as a great smell.
You can do a lot of mixing and matching and experimenting using the basic recipe.
How Long Does this playdough Last?
This "cloud dough" doesn't last as long as many traditional play dough recipes.
After about a week it will start to dry out.
However, don't toss it in the trash just yet. You can revive it by adding a little more hair conditioner to it and kneaded it in.
Pumpkin Spice Playdough Ingredients & Supplies
2 cups cornstarch
1 cup white hair conditioner
10-20 drops orange food coloring
Mixing bowl
Spoon
Pumpkin cookie cutters (you could use use a circle and then pinch the dough at the top)
Green pipe cleaner (cut to about 2-3 inches each)
Googly eyes (not pictured)
Playdough Directions
Add the cornstarch and hair condition to the mixing bowl.

Add the food coloring.

Stir the cornstarch, hair conditioner, and food coloring together and mix well.

Once it's mixed well, put the dough on a plastic mat and begin kneading it with your hands.

Your dough is ready when it gets a soft, silky, texture and looks something like this:

Use the cookie cutters, googly eyes, and pipe cleaners to create a pumpkin face!

Store playdough in an airtight container (either a Ziploc bag or a Tupperware-style container) when you're finished using it.
More Fall-Themed Activities for Kids
---
---