What to do at Disney World When it Rains (and do they cancel fireworks? )
When you picture your Disney World vacation, you're probably imagining a beautiful, sunny, clear day where you can't wait to ride Splash Mountain to cool off a little bit.
So it may throw you for a loop when you're about to head out to the park and hear that it's going to rain — and thunder.
Or worse, that you're happily roaming about the park in great weather, when, with little warning, you suddenly find yourself in a downpour. You not only have to run for cover, but also figure out how to change your carefully-planned itinerary.
It may not be the ideal situation, but fortunately your Disney vacation doesn't need to be ruined when it rains.
When is the Rainy Season at Disney World?
According to TripSavvy, the wettest months in the Orlando area are:
August
July
June
September
During the summer months, an afternoon thunderstorm is not at all unusual. The good news is that these storms bring a drop in temperature with them (nature's way of helping you stay cool at Disney World in the summer).
What Should I Wear to Disney World When it Rains?
Basically, you want light clothing that won't get soggy and heavy. In other words, a cotton hoodie with denim shorts would not be a good choice.
Dressing in layers is a good idea because you can take off your outer layer of clothing if it gets wet.
A baseball cap can help keep the rain off your face.
Mickey Mouse Old Comic Prints Baseball Cap
Disney Girls Princess Characters Cotton Baseball Cap
Disney Minnie Mouse Bow Ears Baseball Hat
Disney Mickey Mouse Hibiscus Floral Baseball Cap
And it goes without saying that you should always have some rain ponchos on hand, whether it's the "rainy season" or not. (Ask me how I know this.)
Of course, if it is the rainy season, or if the forecast looks particularly bad, you might want to be prepared with something more sturdy than a disposable poncho. This a particularly good idea if you're an "outdoorsy" person in general and could use a good poncho for when you're going hiking or camping.
Amazon's Choice



Check Price on Amazon
Reviewers loved how lightweight and easy to pack this rain poncho is
✅ What are the Best Shoes for Rain at Disney?
Basically, you want shoes that will dry quickly. Walking around for hours is soggy socks and shoes is going to make your feet very unhappy and is likely to give you blisters.
If you're wearing socks, having an extra pair with you is a good idea.
OluKai Men's Ohana Sandals
These muti-purpose men's sandals are water resistant, quick drying, and come in 19 different colors.
Several reviewers said these were "the best flip=flops they'd ever owned" and loved the arch support, soft straps, and overall style of the shoe.
Amazon reviewer David J. Winkowski said these shoes "saved his vacation":
I love these sandals / flip-flops. I paid $64.99 for them and was desperate because I was going to Guam for a 3-week vacation and was recently diagnosed with plantar fasciitis. When in Guam I wear flip-flops the whole time I am there and my other flip-flops would have caused so much pain that I was that it would have ruined my vacation.

I used these flip-flops for the whole three weeks and I experienced no pain what so ever! They were very comfortable. My son and I even went on a two mile hike after it had rained and I did the hike in these flip-flops. My son also wore flip-flops and he was slipping and sliding all over the place.

These flip-flops gripped so well that I was truly impressed. I used them to walk over lava rocks many times and looking at the soles you can't even tell. I even used them in the ocean and made a point to throughly clean them after, hoping that the salt water didn't ruin them. Well after three weeks of use, they look as good as when I bought them.

Even though they were comfortable right out of the box, the soles molded to my feet over the three week and were even more comfortable which is just unbelievable. I will admit that if it wasn't for being so desperate because of my circumstance I would never had paid $64.99 for a pair of flip-flops, but I now will never buy any other.
Teva Women's Tirra Sandal
The Teva Tira is Amazon's Choice in the "Comfort sandal for women" category.
They are a sporty sandal that comes in 28 different colors, so there's sure to be one to match your favorite outfits.
Reviewers loved how the Tirra sandal:
Were a great fit for wide feet
Had multiple adjustable parts
Provided great arch support
Eliminated the pain of plantar fasciitis
Amazon reviewer Alex Bougherie loves her Tevas Tirra:
I bought these as a replacement for the pair I've had for 4 years and have literally put hundreds of miles through rivers, hiking, swimming, running, and exploring on.

These TEVA's are beasts and will last you so long. I seriously beat my old pair up and included some pics of my old ones next to these new ones so you can see how they wear in.

These are the most comfortable sandals and don't slip or rub anywhere. No hot spots! No breaking in!

I'm not sure if they're meant to get wet as a few small parts are suede, but I did get my old pair wet all the time and they have been completely fine. I live in Florida so I literally wear these almost every single day year round, in the rain, etc.

I have so many problems with my feet and have had reconstructive surgery and I don't find many shoes in general comfy, but I could sleep in these! If you're wondering if these are worth the money compared to cheaper brands, they are!
KEEN Women's Newport H2 Sandal

KEEN Women's Newport H2 Sandal

The Keen Newport Sandals are a very popular, sporty shoe with 100% polyester webbing and a hydrophobic mesh lining so they can stand up to rain and dry out quickly.
They come in over 40 color combinations, including:
Hot coral and yellow
Neutral grey and beet red
Azure blue stripe
Midnight navy and Alaskan blue
Real teal and vapor
This is a great shoe for you if you enjoy hiking, kayaking, camping, and other similar sports.
Amazon reviewer Nicole says her Keen Newports held up great during her very rainy Disney trip:
I bought these for our trip to Disney. We did 5 full (10-12hr) days walking the parks in a row and not one blister. I had no pain and my feet and legs felt great! I absolutely LOVE these shoes!

It downpoured for 3 straight days while in the parks…walking through puddles, standing in water, wet feet…dried out mostly by the next morning…no wrinkly feet, still no blisters. Would recommend to anyone. These are amazing shoes!!
Native Kid's Jefferson Slip-On Sneaker

Native Unisex Kid's Jefferson Slip-On Sneaker

The Native Slip-On Sneaker is waterproof and comes in a range of kids' sizes, for toddler to "big kid" (approximately 12 years old).
Parents love how:
The shoe is durable
Their toddler can put the shoes on by themself
The shoes don't slip off
They're easy to clean
Kids, meanwhile, love how the shoes look and feel.
Amazon reviewer Wife says these shoes are practical no matter what the weather:
Natives are my kids go-to shoe for my toddlers year round. My daughter loves the Hollywood pink color and always wants to wear them. My son has the navy blue which goes with everything.

They both wear them daily and they hold up perfectly. Rain or shine these are wonderful! Look great and very practical. Love that they have arch support too!
Stride Rite Water Shoe

Stride Rite Sneaker Sandal Water Shoe

Amazon reviewer John Meissner says:
This is the second pair I've gotten for my son. These are great! Especially at Disney World where getting wet or playing is splash pad areas is on the agenda … Hold up great to the abuse that my 6 year old puts his shoes through and he outgrows them before they wear out.
Should I Buy a Rain Cover for Our Stroller?
Yeah, I would, especially if you have a child under the age of 2.
They aren't very expensive and it's one of those things you might kick yourself about not when you get stuck in a sudden downpour. Plus you can use it again in "real life."
The Bemece Universal Stroller Rain Cover pictured below is a Best Seller with high ratings on Amazon.
It has:
A large see-through window to keep your baby happy
A waterproof zipper so that rain doesn't seep in
Velcro straps to keep the cover from sliding off
Air holes on both sides of the rain cover
Reviewers liked how the Bemece was easy to use and goes all the way down to the stroller wheels. Some also mentioned that putting the stroller cover on helped their baby sleep, which can certainly be another plus.
Best Seller


Check Price on Amazon
Parents loved fit and high quality of this rain cover
Amazon Reviewer Cassandra posted a photo of her rain cover and says she highly recommends it:
So I was super excited to go to Disneyland for the Food and Wine Festival. It's an outside event, and you walk through one of the parks picking up food and drinks.

So when I found out it was going to pour, I knew I needed a cover for my daughter's stroller. We bought this cover, and I didn't have the highest expectations. I just needed it to keep her dry. That was all. I was STUNNED at how much I ended up loving this product!

So it was definitely pouring when we were there. I had to wear a poncho, and that barely kept me dry.

My daughter, however? She was completely dry and loving the rain! She sat in her stroller under her cover, and just watched the rain fall down around her. We would take her out of the stroller by unzipping the front panel. We gave her a little extra fresh air by opening the mesh sections in the upper corners.

This cover never came close to falling off the stroller, as there was Velcro that kept it attached to the stroller. (I have a Graco Modes Stroller, and it was a perfect fit)
On the other hand, if you're both handy and frugal, you want to try putting something together yourself.
Kaismahma from the Disboards had good results with her makeshift stroller cover:
We bought a clear shower curtain liner from Ikea and a couple larger clips (bigger than a clothes pins) from the dollar store. It rolled up nicely and we could cover the entire stroller very easily and we tossed it when we left.

With the canopy and the curtain over the stroller our dd had plenty of breathing room and did not feel as encased as she would have with the actual stroller cover.

We used it every day we were in Disney. When hot in use we rolled it up and clipped it too the stroller.
Does Disney World Cancel Fireworks When it Rains?
It depends on the show.
Disney Enchantment in Magic Kingdom and HarmonioUs in Epcot are both very very unlikely to be canceled. Delayed due to lightning, maybe, but almost never outright canceled.
Fantasmic in Hollywood Studios, on the other hand, sometimes will be canceled due to heavy rain, sometimes at the last minute. This is partly for the safety of the Cast Members.
And Animal Kingdom's River of Lights is unlikely to cancel due to rain, but may delay or cancel the performance due to lightning.
According to WDW Magic:
If you have a FastPass for River of Lights and it's canceled due to weather, you'll receive a special FastPass for any other attraction to use the following day
If you have the River of Lights Dining Package and the show is cancelled, you will be able to attend another performance of Rivers of Light up to five days after the cancellation.
✅What Rides Close at Disney World When it Rains?
According to Theme Park Tourist, here's the list of ride closings in each park:
Ride Closings at Magic Kingdom
Closed for Rain:
Tomorrowland Speedway
Tom Sawyer Island
Festival of Fantasy Parade
Pirates of the Caribbean (if there is flooding in Adventureland)
Closed for Lightning:
Thunder Mountain Railroad
Seven Dwarfs Mine Train
Splash Mountain
Jungle Cruise
Magic Carpets of Aladdin
Dumbo the Flying Elephant
Liberty Belle Riverboat
Astro Orbiter
Mickey's Royal Friendship Faire
Swiss Family Treehouse
Special entertainment When it Rains:
Rainy Day Version of Mickey's Royal Friendship Fare
Magic Kingdom Rainy Day Cavalcade (see video below)
Video — Rainy Day Cavalcade in Magic Kingdom
Ride Closings at Epcot
Closed for Rain:
Test Track
Ride Closings at Hollywood Studios
Closed for Rain:
Beauty and the Beast
Indiana Jones Epic Stunt Spectacular
Jedi Training Academy: Trials of the Temple
Slinky Dog Dash
Fantasmic
Closed for Lightning:
Alien Swirling Saucers
Ride Closings at Animal Kingdom
Closed for rain:
Kali River Rapids
Maharajah Jungle Trek
Expedition Everest
The Boneyard
Discovery Island Trails
Gorilla Falls Exploration Trail
Closed for Lightning:
Kilimanjaro Safaris
Primeval Whirl
TriceraTop Spin
Flights of Wonder
Wildlife Express (depending on severity)
✅What's the Best Disney Park in the Rain?
Opinions on this obviously differ, and there is no one right answer.
But personally, I would say that it's a tie between Magic Kingdom and Epcot.
Epcot is good on a rainy day because:
Test Track is the only attraction that closes due to weather
There are a lot of indoor rides: Living with the Land, Soarin', The Seas with Nemo & Friends, Mission:Space, etc.
The downside to Epcot is that there's a lot of walking between attractions.
Magic Kingdom is a good on a rainy day because:
The stores in the Main Street Emporium are all interconnected, so you do quite a bit of shopping and/or travel from one end of Main Street to the other without stepping outside once. (A nice Disney World hack)
There is not too much walking distance between attractions
Riding the monorail is a nice option (which we'll talk about more in a moment)
The downside to Magic Kingdom is that a lot of rides close, especially if there is thunder and lightning.
The general consensus is that Animal Kingdom is the worst park in the rain since:
Percentage-wise, a lot of the attractions will be closed
It's hard to find a good place to eat in the rain. Pizzafari might be your best bet, which personally doesn't get me too excited.
However, some people have had great experiences on a rainy day in Animal Kingdom. WhitneyAnne on the DisBoards describes her rainy day experience there:
We've been at Animal Kingdom in the pouring rain. We had a great time. We were able to ride Kali River Rapids for 3 or 4 times in a row without getting off. It didn't matter if we got wet because we were already soaked.
And ktml had this to say:
We've been there in the pouring cold rain. The park was empty. There was no one on Safari. The cast members were just letting you stay on and ride again as many times as you wanted. The people coming up to get in the vehicles were just directed to whatever row was empty. The animals were all out enjoying or playing in the rain. It was great!
Magic Kingdom in the Rain
While a lot of rides can be closed due to weather in the Magic Kingdom, there are a lot that remain open, and the good news is that you don't have to walk very far to get to one of them.
Tomorrowland:
* Carousel of Progress
* Monsters Inc. Laugh Floor in Tomorrowland (one of Disney's most underrated attractions, in my opinion)
* Space Mountain
* Buzz Lightyear's Space Rangers Spin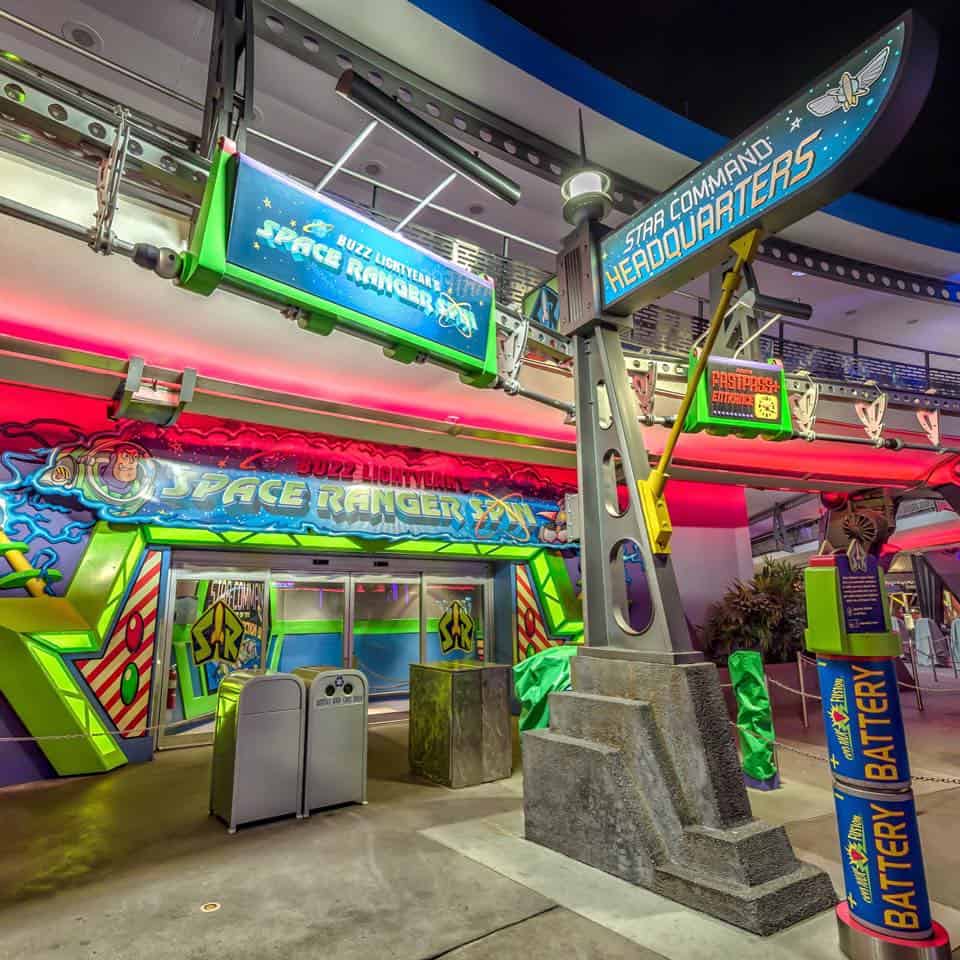 Fantasyland:
* Under the Sea: Journey of the Little Mermaid
* Mickey's PhilharMagic
* Enchanted Tales with Belle
* It's a Small World
* Peter Pan's Flight
* The Many Adventures of Winnie the Pooh
Liberty Square:
* Haunted Mansion
* Hall of Presidents
Frontierland:
* Splash Mountain (if it isn't thundering, and if "embracing the wet" sound like fun to you)
* Country Bear Jamboree
Adventureland:
* Pirates of the Caribbean
* The Enchanted Tiki Room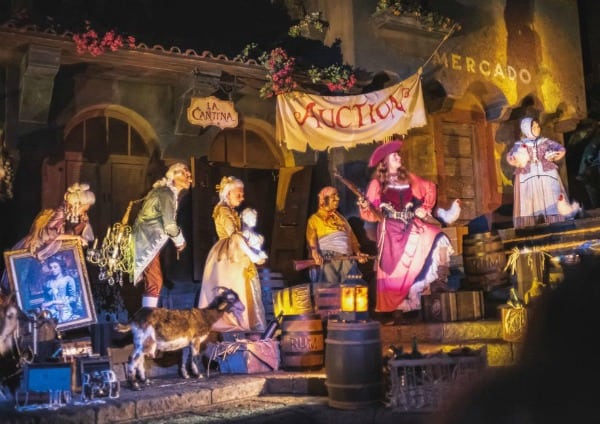 As I mentioned earlier, if you're on or near Main Street when the rain hits, you can travel through the entire Emporium window shopping (or actual shopping) while staying indoors.
And here's a fun and interesting alternative, especially if you're near the front of the park:
Hop on the monorail and go visit one or more of the resorts. (I also think it's fun to explore or eat at the Deluxe Resorts even though we can't afford to stay there.)
I would particularly recommend the Grand Floridian, which often has live music in the lobby and a great soap shop called Basin that my daughters and I had a lot of fun in on our last trip.
It's also beautiful.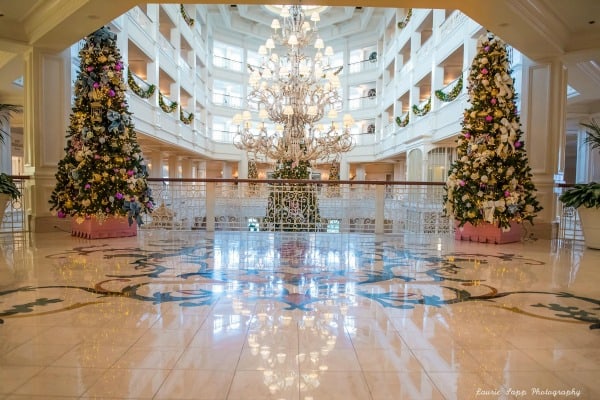 If you visit the Polynesian, consider stopping at Pineapple Lanai, just outside the Ceremonial House, and getting a Dole Whip.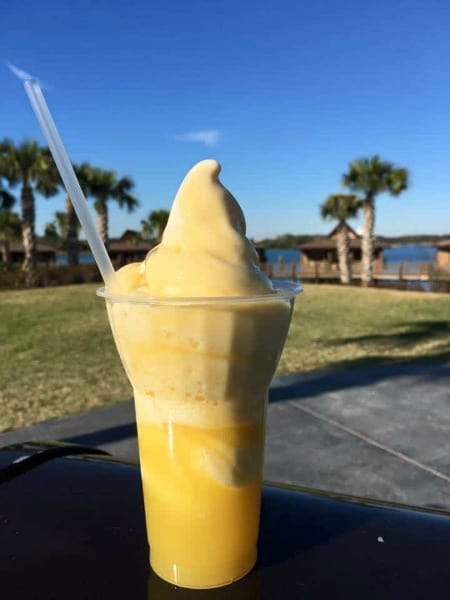 The really nice thing about this monorail resort excursion is that, when the rain eventually clears, it doesn't take long at all to get back to the Magic Kingdom — and hopefully the crowd will have thinned out some.
Anal Annie on Disboards had these tips for Magic Kingdom in the rain:
The one ride I will say is NOT good in the rain is Astro Orbiter. We rode that once in a downpour and had a LAP FULL of rain in our ponchos by the time that thing finished. It was miserable.

Likewise I would say the Grand Prix cars are not good as they're so slow.

Laugh Floor, Small World, Philharmagic, People Mover, Space, Pirates & Haunted Mansion are particularly good with extensive indoor time.
Epcot in the Rain
The biggest problem with Epcot in the rain is that Epcot usually involves a lot of walking. My best advice would be to find a nearby indoor area where you can hang out for a while.
For example, The Land pavilion offers two rides (Soarin' and Living with the Land), plus Sunshine Seasons, a great quick service restaurant with a lot of options for meals or snacks.
If you're near the Mexico pavilion when it starts to pour, duck inside and shop, maybe grab something to eat at San Angel Inn, and ride The Gran Fiesta Tour Starring the Three Caballeros (which wins the award for Best Disney World Ride you Never Heard Of).
If you have toddlers or preschoolers, Journey into the Imagination with Figment is a good choice. The interactive "What If" Labs after the ride will keep them happily busy for a while.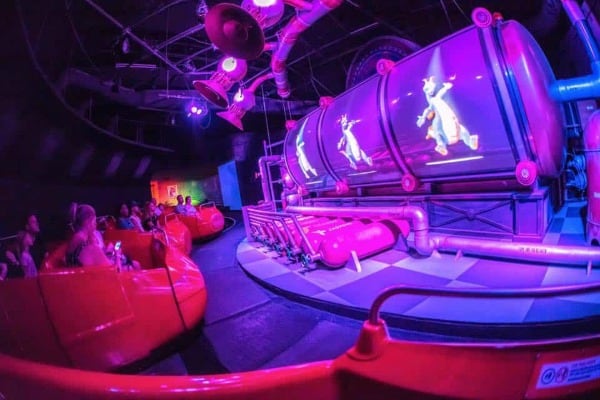 And, of course, depending on where you are in the World Showcase when it starts raining, you can see one of the shows:
Impressions de France
O' Canada!
Reflection of China
The American Adventure
Animal Kingdom in the Rain
As I mentioned earlier, Animal Kingdom is generally considered the worst Disney park for a rainy day, but there are some good options.
Some people love riding Kali River Rapids in the rain, if there's no thunder. There's hardly any line, and they figure they're wet anyway and might as well go all-out.
If getting completely drenched isn't your idea of a good time, you might prefer to take in one of Animal Kingdom's shows:
Finding Nemo the Musical in Dinoland U.S.A.
Festival of the Lion King in Africa
It's Tough to Be a Bug in Discovery Island
If there's no thunder, you might want to consider riding Kilimanjaro Safaris in Africa. The animals are both more visible and more active when it's raining.
The Points Guy has a unique and clever idea for when you get caught in the rain at Animal Kingdom:
If your entire day at Animal Kingdom is washed out, I'd take the bus, an Uber or a Minnie Van to nearby Animal Kingdom Lodge.

A Mommy Points favorite, Animal Kingdom Lodge has many diverse and entertaining ways to spend a day, even if you aren't staying there as an overnight guest.

In the space of three hours, recently my daughter and I matched the feces to the species (you read that right), decorated giraffe and elephant cookies, learned how to say elephant in Swahili (tembo), played bingo and caught some zebras taking a nap.

Total cost? Zero! They also offer drum lessons, face painting and a whole host of (often free) activities.
Hollywood Studios in the Rain
The good news about Hollywood Studios in the rain is that a lot of the rides have indoor queues.
The bad news is that most of the stroller parking is outdoors. So if you're heading to Hollywood Studios on a rainy day and your child is "borderline stroller age," you might want to leave the stroller at the hotel.
The other bad news is that this is the second hardest park to find somewhere to eat when it's raining. (The worst park is the aforementioned Animal Kingdom.)
According to Dining at Disney, your best bets are:
ABC Commissary — located on Commissary Lane, it has a lot of indoor seating
Backlot Express — located next to Star Tours, lots of indoor seating
Pizza Planet — located in front of Muppet Vision 3D, it has indoor seating, but it's hard to find a table during peak times
Studio Catering Co. located near Lights, Motor, Action, it has outdoor seating that is completely covered
Indoor attractions at Hollywood Studios include:
Voyage of the Little Mermaid
Beauty and the Beast (although seats in the rear can still leave you damp if it's raining very hard)
Frozen Sing-a-Long Celebration
Star Wars Rise of the Resistance
Star Tours
MuppetVision 3D
Tower of Terror
Toy Story Mania
General Tips About Doing Disney in the Rain
Here are a few final thoughts on a rainy day at Disney World:
Keep in mind that Florida showers are typically short.
While there's no guarantee, there's a good chance that the rain will be over within about 30-60. So don't be too quick to flee the park and call it a day.
Instead of letting the rain get you down, embrace and have fun with it.
Splash in the puddles.
People-watch.
Take photos of your family soaking wet.
Enjoy the fact that the crowds in the park will probably thin out a little.
Bring ziploc bags of various sizes for cell phones, cameras, autograph books, and wet clothes and rain ponchos.
Bring a microfiber towel for wiping down wet seats on rides.
If you don't already have a good microfiber towel, consider getting the one below from Rainleaf.
They come in several different sizes and colors, and also work great as a gym or beach towel.
Amazon's Choice


Check Price on Amazon
These come in 8 beautiful colors and also work great as a gym towel
FAQs about Rain at Disney World
Does Disney give refunds for rain?
Disney's official policy is that it does not give refunds for rain. The park stays open and the shows continue. In the odd chance that the closes for extreme weather, like a hurricane, then yes, they will issue refunds.
How often does Disney World close for weather?
Since 1971, Disney World has closed down 6 times due to hurricanes. So, not often! Here's the breakdown:
1999 — Hurricane Floyd
2004 — Hurricane Charlie
2004 — Hurricane Francis
2004 — Hurricane Jeanne
2016 — Hurricane Matthew
2017 — Hurricane Irma
2019 Hurricane Dorian

Can you bring umbrellas into Disney World?

Yes, there is no rule forbidding you from bringing umbrellas into the Disney parks. I would suggest a compact umbrella that fits easily into your backpack — and watch out for other guests when you're walking through congested areas so you don't poke anyone in the face!

What is the rainiest month in Disney World?

June is the month with the most rain, with an average rainfall of 7.58 inches. July wins second place with an average rainfall of 7.27 inches.

Should I go to Disney if it's going to rain?

Sure! There are plenty of indoor rides and attractions that stay open in the rain. Plus you can always go resort hopping or duck inside a restaurant for a while. The rain is unlikely to last all day.

Does Disney sell ponchos?<

Yes, and there's pretty nice — made of a thick material, with a Disney design on the back. But they also cost $12 (or $10 for kids' ponchos). I would recommend bringing your own ponchos (maybe even cheap disposable ones) from home.

Should I bring a rain jacket to Disney?

A rain jacket can be a decent alternative to a poncho or umbrella, especially if you own a jacket that you like and that isn't too bulky. Keep the temperature in mind. A jacket will be an asset when it's chilly, but a hassle when it's very hot.

How do you do Disney in the rain?

So what about you?

What do you think is the best — and worst — park for a rainy day?
Any products you can't live without when it comes to rain?
What are your favorite things to do in the rain at Disney?

Let us know below in the comments!