What to Do at Disney World When it Rains
When you picture your Disney World vacation, you're probably imagining a beautiful, sunny, clear day where you can't wait to ride Splash Mountain to cool off a little bit.
So it may throw you for a loop when you're about to head out to the park and hear that it's going to rain — and thunder.
Or worse, that you're happily roaming about the park in great weather, when, with little warning, you suddenly find yourself in a downpour. You not only have to run for cover, but also figure out how to change your carefully-planned itinerary.
It may not be the ideal situation, but fortunately your Disney vacation doesn't need to be ruined when it rains.
When is the Rainy Season at Disney World?
According to TripSavvy, the wettest month in the Orlando area is August (with 7.32 inches of rain), followed by July, June, and then September.
During the summer months, an afternoon thunderstorm is not at all unusual. The good news is that these storms bring a drop in temperature with them (nature's way of helping you stay cool at Disney World in the summer).
General Tips About Doing Disney in the Rain
* Keep in mind that Florida showers are typically short. While there's no guarantee, there's a good chance that the rain will be over within about 30-60. So don't be too quick to flee the park and call it a day.
* Instead of letting the rain get you down, have fun with it. Splash in the puddles. People-watch. Take photos of your family soaking wet. Enjoy the fact that the crowds in the park will probably thin out a little.
* Bring ziploc bags of various sizes for cell phones, cameras, autograph books, and wet clothes and rain ponchos.
* Bring a microfiber towel for wiping down wet seats on rides.
Rainleaf Microfiber Towel, 24 X 48 Inches
Youphoria Outdoors Quick Dry Travel Towel with Carry Bag
PackTowl Personal Microfiber Towel, Agave, Face- 10 x 14-Inch
What Should I Wear to Disney World When it Rains?
Basically, you want light clothing that won't get soggy and heavy. In other words, a cotton hoodie with denim shorts would not be a good choice.
Dressing in layers is a good idea because you can take off your outer layer of clothing if it gets wet.
A baseball cap can help keep the rain off your face.
Mickey Mouse Old Comic Prints Baseball Cap
Disney Girls Princess Characters Cotton Baseball Cap
Disney Minnie Mouse Bow Ears Baseball Hat
Disney Mickey Mouse Hibiscus Floral Baseball Cap
And it goes without saying that you should always have some rain ponchos on hand, whether it's the "rainy season" or not. (Ask me how I know this.)
Of course, if it is the rainy season, or if the forecast looks particularly bad, you might want to be prepared with something more sturdy than a disposable poncho.
Adult Mickey and Minnie Raincoat
Anyoo Lightweight Reusable Military Rain Poncho
Terra Hiker Waterproof Raincoat with Hoods for Outdoor Activities
✅ What are the Best Shoes for Rain at Disney?
Basically, you want shoes that will dry quickly. Walking around for hours is soggy socks and shoes is going to make your feet very unhappy and is likely to give you blisters.
If you're wearing socks, having an extra pair with you is a good idea.
People on a Disboard thread said these shoes were all great for a rainy day at Disney:
Teva Women's Tirra Sandal,Bering Sea,9 US
Teva Women's Tirra Slide Sandal,Black,9 M US
OLUKAI Women's Ohana Sandal, Black/Black, 9 M US
Keen Women's Newport H2 Sandal,Slate Black/Canton,7.5 M US
Native Kids Unisex-Baby Jefferson Child Sneaker, Woodward Pink/Glow, 6 Medium US Toddler
Skechers USA Men's Fisherman Sandal, Chocolate, 14 M US
Should I Buy a Rain Cover for Our Stroller?
Yeah, I would. It seems like a good idea and they aren't very expensive. It's one of those things you're going to really wish you had if it rains.)
(Now, just to clarify … "I would" is not the same as "I did." I didn't. But that's because I was not very organized when my kids were little. Just ask Rob.)
Alphabetz Stroller Rain Cover
Rain Cover for Stroller, Prettop Universal Baby Jeep Jogging Stroller with Storage Pouch
Bemece Stroller Rain Cover Universal + Mosquito Net (2-Piece Set),
Kaismahma from the Disboards had good results with her makeshift stroller cover:
We bought a clear shower curtain liner from Ikea and a couple larger clips (bigger than a clothes pins) from the dollar store. It rolled up nicely and we could cover the entire stroller very easily and we tossed it when we left.

With the canopy and the curtain over the stroller our dd had plenty of breathing room and did not feel as encased as she would have with the actual stroller cover.

We used it every day we were in Disney. When hot in use we rolled it up and clipped it too the stroller.
Does Disney World Cancel Fireworks When it Rains?
It depends on the show.
Wishes in Magic Kingdom and Illuminations:Reflections of Earth in Epcot are both very very unlikely to be canceled. Delayed due to lightning, maybe, but almost never outright canceled.
Fantasmic in Hollywood Studios, on the other hand, sometimes will be canceled due to heavy rain, sometimes at the last minute. This is partly for the safety of the Cast Members.
And Animal Kingdom's River of Lights is unlikely to cancel due to rain, but may delay or cancel the performance due to lightning.
According to WDW Magic:
1) If you have a FastPass for River of Lights and it's canceled due to weather, you'll receive a special FastPass for any other attraction to use the following day;
2) If you have the River of Lights Dining Package and the show is cancelled, you will be able to attend another performance of Rivers of Light up to five days after the cancellation.
✅What Rides Close at Disney World When it Rains?
According to Theme Park Tourist, here's the list of ride closings in each park:
Magic Kingdom
Closed for Rain:
Tomorrowland Speedway (currently closed for refurbishment until May 18, 2019)
Tom Sawyer Island
Festival of Fantasy Parade
Pirates of the Caribbean (if there is flooding in Adventureland)
Closed for Lightning:
Thunder Mountain Railroad
Seven Dwarfs Mine Train
Splash Mountain
Jungle Cruise
Magic Carpets of Aladdin
Dumbo the Flying Elephant
Liberty Belle Riverboat
Astro Orbiter
Mickey's Royal Friendship Faire
Swiss Family Treehouse
Special entertainment When it Rains:
Rainy Day Version of Mickey's Royal Friendship Fare
Magic Kingdom Rainy Day Cavalcade
Video — Rainy Day Cavalcade in Magic Kingdom
Epcot
Closed for Rain:
Test Track
Hollywood Studios
Closed for Rain:
Beauty and the Beast
Indiana Jones Epic Stunt Spectacular
Jedi Training Academy: Trials of the Temple
Slinky Dog Dash
Fantasmic
Closed for Lightning:
Alien Swirling Saucers
Animal Kingdom
Closed for rain:
Kali River Rapids
Maharajah Jungle Trek
Expedition Everest
The Boneyard
Discovery Island Trails
Gorilla Falls Exploration Trail
Closed for Lightning:
Kilimanjaro Safaris
Primeval Whirl
TriceraTop Spin
Flights of Wonder
Wildlife Express (depending on severity)
What's the Best Disney Park in the Rain?
I would say that it's a tie between Magic Kingdom and Epcot.
Epcot is good on a rainy day because:
1) Test Track is the only attraction that closes due to weather;
2) There are a lot of indoor rides: Living with the Land, Soarin', The Seas with Nemo & Friends, Mission:Space, etc.
The downside to Epcot is that there's a lot of walking between attractions.
Magic Kingdom is a good on a rainy day because:
1) The stores in the Main Street Emporium are all interconnected, so you do quite a bit of shopping and/or travel from one end of Main Street to the other without stepping outside once. (A nice Disney World hack).
2) There is not too much walking distance between attractions;
3) Riding the monorail is a nice option (which we'll talk about more in a moment)
The downside to Magic Kingdom is that a lot of rides close, especially if there is thunder and lightning.
The general consensus is that Animal Kingdom is the worst park in the rain since, percentage-wise, a lot of the attractions will be closed.
However, some people have had great experiences on a rainy day in Animal Kingdom. WhitneyAnne on the DisBoards describes her experience:
We've been at AK in the pouring rain. We had a great time. We were able to ride Kali River Rapids for 3 or 4 times in a row without getting off. It didn't matter if we got wet because we were already soaked.
And ktml had this to say:
We've been there in the pouring cold rain. The park was empty. There was no one on Safari. The CMs were just letting you stay on and ride again as many times as you wanted. The people coming up to get in the vehicles were just directed to whatever row was empty. The animals were all out enjoying or playing in the rain. It was great!
Magic Kingdom in the Rain
While a lot of rides can be closed due to weather in the Magic Kingdom, there are a lot that remain open, and the good news is that you don't have to walk very far to get to one of them.
Tomorrowland:
* Carousel of Progress
* Monsters Inc. Laugh Floor in Tomorrowland (one of Disney's most underrated attractions, in my opinion)
* Space Mountain
* Buzz Lightyear's Space Rangers Spin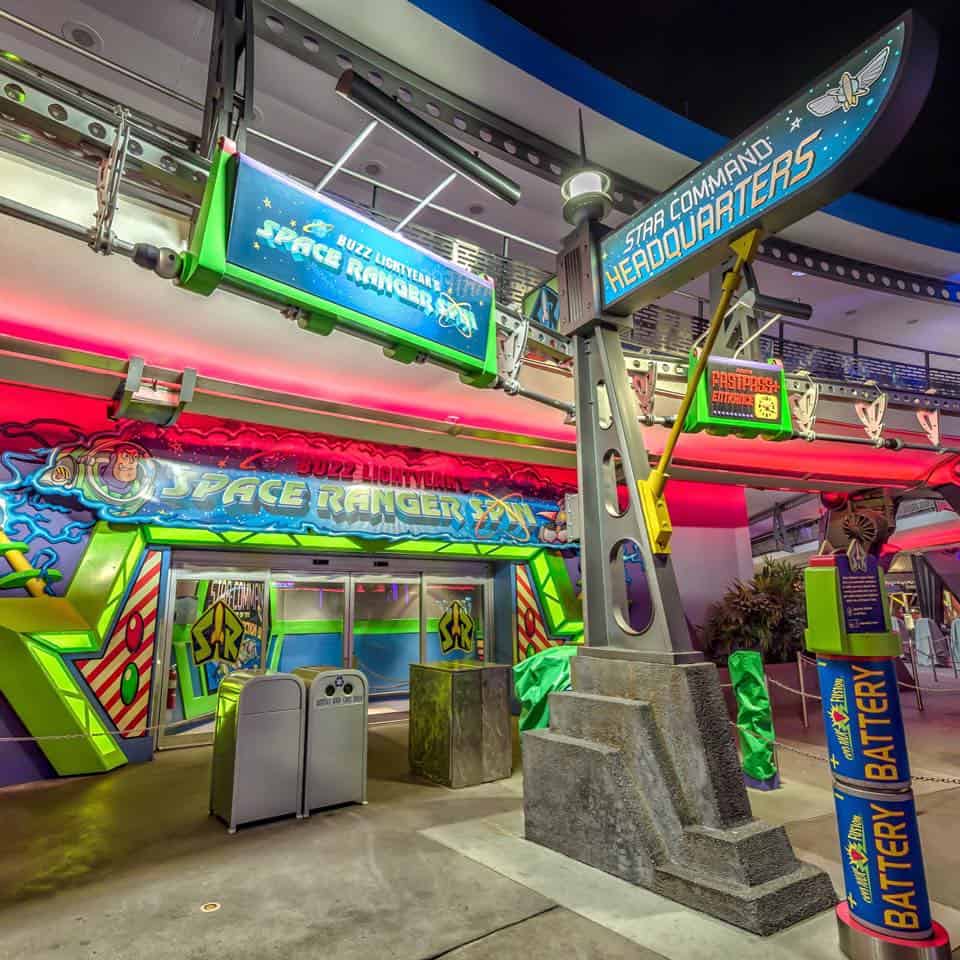 Fantasyland:
* Under the Sea: Journey of the Little Mermaid
* Mickey's PhilharMagic
* Enchanted Tales with Belle
* It's a Small World
* Peter Pan's Flight
* The Many Adventures of Winnie the Pooh
Liberty Square:
* Haunted Mansion
* Hall of Presidents
Frontierland:
* Splash Mountain (if it isn't thundering, and if "embracing the wet" sound like fun to you)
* Country Bear Jamboree
Adventureland:
* Pirates of the Caribbean
* The Enchanted Tiki Room
As I mentioned earlier, if you're on or near Main Street when the rain hits, you can travel through the entire Emporium window shopping (or actual shopping) while staying indoors.
And here's a fun and interesting alternative, especially if you're near the front of the park:
Hop on the monorail and go visit one or more of the resorts. (I also think it's fun to explore or eat at the Deluxe Resorts even though we can't afford to stay there.)
I would particularly recommend the Grand Floridian, which often has live music in the lobby and a great soap shop called Basin that my daughters and I had a lot of fun in on our last trip.
If you visit the Polynesian, consider stopping at Pineapple Lanai, just outside the Ceremonial House, and getting a Dole Whip.
The really nice thing about this monorail resort excursion is that, when the rain eventually clears, it doesn't take long at all to get back to the Magic Kingdom — and hopefully the crowd will have thinned out some.
Anal Annie on Disboards had these tips for Magic Kingdom in the rain:
The one ride I will say is NOT good in the rain is Astro Orbiter. We rode that once in a downpour and had a LAP FULL of rain in our ponchos by the time that thing finished. It was miserable.

Likewise I would say the Grand Prix cars are not good as they're so slow.

Laugh Floor, Small World, Philharmagic, People Mover, Space, Pirates & Haunted Mansion are particularly good with extensive indoor time.
Epcot in the Rain
The biggest problem with Epcot in the rain is that Epcot usually involves a lot of walking. My best advice would be to find a nearby indoor area where you can hang out for a while.
For example, The Land pavilion offers two rides (Soarin' and Living with the Land), plus Sunshine Seasons, a great quick service restaurant with a lot of options for meals or snacks.
If you're near the Mexico pavilion when it starts to pour, duck inside and shop, maybe grab something to eat at San Angel Inn, and ride The Gran Fiesta Tour Starring the Three Caballeros (which wins the award for Best Disney World Ride you Never Heard Of).
If you have toddlers or preschoolers, Journey into the Imagination with Figment is a good choice. The interactive "What If" Labs after the ride will keep them happily busy for a while.
And, of course, depending on where you are in the World Showcase when it starts raining, you can see one of the shows:
* Impressions de France
* O' Canada!
* Reflection of China
* The American Adventure
Animal Kingdom in the Rain
As I mentioned earlier, Animal Kingdom is generally considered the worst Disney park for a rainy day, but there are some good options.
Some people love riding Kali River Rapids in the rain, if there's no thunder. There's hardly any line, and they figure they're wet anyway and might as well go all-out.
If getting completely drenched isn't your idea of a good time, you might prefer to take in one of Animal Kingdom's shows:
* Finding Nemo the Musical in Dinoland U.S.A.
* Festival of the Lion King in Africa
* It's Tough to Be a Bug in Discovery Island
If there's no thunder, you might want to consider riding Kilimanjaro Safaris in Africa. The animals are both more visible and more active when it's raining.
The Points Guy has a unique and clever idea for when you get caught in the rain at Animal Kingdom:
If your entire day at Animal Kingdom is washed out, I'd take the bus, an Uber or a Minnie Van to nearby Animal Kingdom Lodge.

A Mommy Points favorite, Animal Kingdom Lodge has many diverse and entertaining ways to spend a day, even if you aren't staying there as an overnight guest.

In the space of three hours, recently my daughter and I matched the feces to the species (you read that right), decorated giraffe and elephant cookies, learned how to say elephant in Swahili (tembo), played bingo and caught some zebras taking a nap. Total cost? Zero! They also offer drum lessons, face painting and a whole host of (often free) activities.
Hollywood Studios in the Rain
Did I mention Hollywood Studios is my family's least favorite park? (Yeah. I know. Maybe about 50 times.)
One of the reasons we like it less is because it doesn't have much shade — which also means that there is little shelter from the rain.
Indoor attractions include:
* Voyage of the Little Mermaid
* Beauty and the Beast (although seats in the rear can still leave you damp if * it's raining very hard)
* Frozen Sing-a-Long Celebration
* Star Tours
* MuppetVision 3D
* Tower of Terror
* Toy Story Mania (this has a really fun indoor queue)
* Rock n Roller Coaster
Now it's your turn.
What's your experience with Disney World in the rain? What do you think is the best — and worst — park for a rainy day? What are your favorite things to do in the rain at Disney? Let us know below in the comments!