Best Quick Service Meals at Disney World: Magic Kingdom, Epcot, and Disney Springs
This post probably contains affiliate links. You can read the details about what that means here.
Eating at quick service restaurants is practically a must when you go on a Disney World vacation.
They're relative cheap (in Disney terms), they offer a lot more variety than your basic "theme park food," and since they don't require reservations, you can easily work them around your other plans for the day.
But the choices can be overwhelming. There are a huge number of quick service restaurants to choose from, and some of them are … not good. (I'm lookin' at you, ABC Commissary.)
So I reached out to some of my Disney blogging buddies again (some of whom you might remember from my very popular post about overrated Disney World restaurants) and asked them not only what their favorite quick-service restaurant at Disney World was, but also what their favorite meal was when they went there.
I didn't put any additional exclusions or limits on it, so some of the restaurants are from Disney Springs, as well as from the Disney parks.
(Interestingly, not one person named a restaurant from either any of the Disney resorts or from Hollywood Studios.)
I organized the results in the form of a countdown.
The restaurants with only one "vote" are at the top. When we hit Number Six, we get to restaurants that had two votes, continuing down to the clear Second Place and very clear First Place Winner.
When you're done reading this post, you'll have the insider scoop for the best places to grab a quick bite between your favorite rides.
14)Lotus Blossom Cafe in Epcot's China Pavillion
The Lotus Blossom Cafe is in the China Pavillion in Epcot's World Showcase. It's menu offers "Americanized Chinese food" — basically, well-known dishes like egg rolls and pot stickers.
Angela from The Life of Spicers says:
My favourite quick service is definitely Lotus Blossom Cafe in Epcot. The Honey Chicken is amazing, and there is so much of it you could definitely share. The inside seating is also a welcome relief from the heat.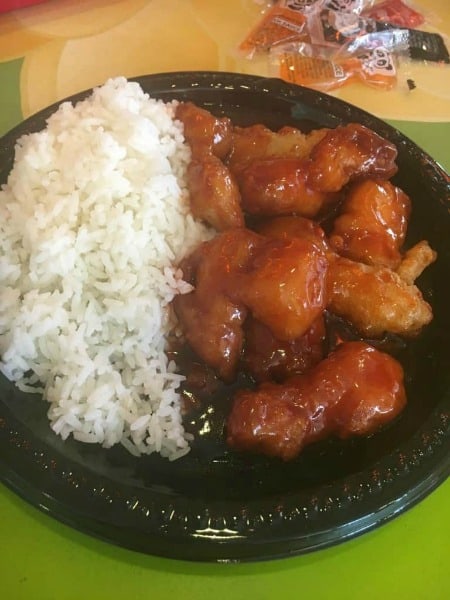 13) Tangierine Cafe in Epcot's Morocco Pavilion
Tangierine Cafe is a Mediterranean eatery that offers North African and American cuisine, as well as pastries and specialty coffee drinks.
According to Mickey Wiki, the restaurant gets its name from the Moroccan city of Tangier, which is known as the "gateway to Morocco, to the Mediterranean, and to North Africa."
Lisa from Adventures in Familyhood says:
When I'm on vacation, I like to eat cuisines I normally don't get to eat at home. My favorite place to get a quick bite is Tangierine Cafe in Epcot's Morocco Pavilion.
Their vegetable platter has a little bit of everything including falafel, couscous salad, hummus and pita. It's a light meat-free lunch that can easily be shared.
12) Breakfast and Lunch at Be Our Guest
Be Our Guest
opened in late 2012 as part of a large expansion and renovation to
Fantasyland
in the Magic Kingdom.
It has three separate dining areas, themed after the ballroom, Rose Gallery, and West Wing from Disney's 1991 animated film Beauty and the Beast. Its menu features French-inspired cuisine.
Kris from Nomad by Trade says:
I love the quick service meals at Be Our Guest! It's the most beautiful restaurant on property and a dream come true for this girl who grew up loving the movie.
Though dinner service is sit-down style, breakfast and lunch are quick service and give guests a chance to experience the atmosphere without paying for an expensive prix fixe meal (though you do miss out on a chance to meet the Beast).
I love the Croque Monsieur for lunch (the very similar Croque Madame adds an egg at breakfast) and the fittingly named Feast a La Gaston is a breakfast of immense proportions.
You can't leave without trying The Grey Stuff – served on the Master's Cupcake for the quick service meals. I've tried the table service version of The Grey Stuff too, and in all honesty – the quick service version is better.
Even though breakfast and lunch here are quick service, you'll still need reservations to visit, so make sure you plan ahead!
11) Pecos Bill Tall Tale Inn and Cafe in the Magic Kingdom
Pecos Bill Tall Tale Inn & Cafe is located next to Country Bear Jamboree in Frontierland in the Magic Kingdom.
The atmosphere is designed to make it feel like you're dining at a western inn and it has a Tex-Mex menu. (Its menu was completely overhauled back in October 2015.)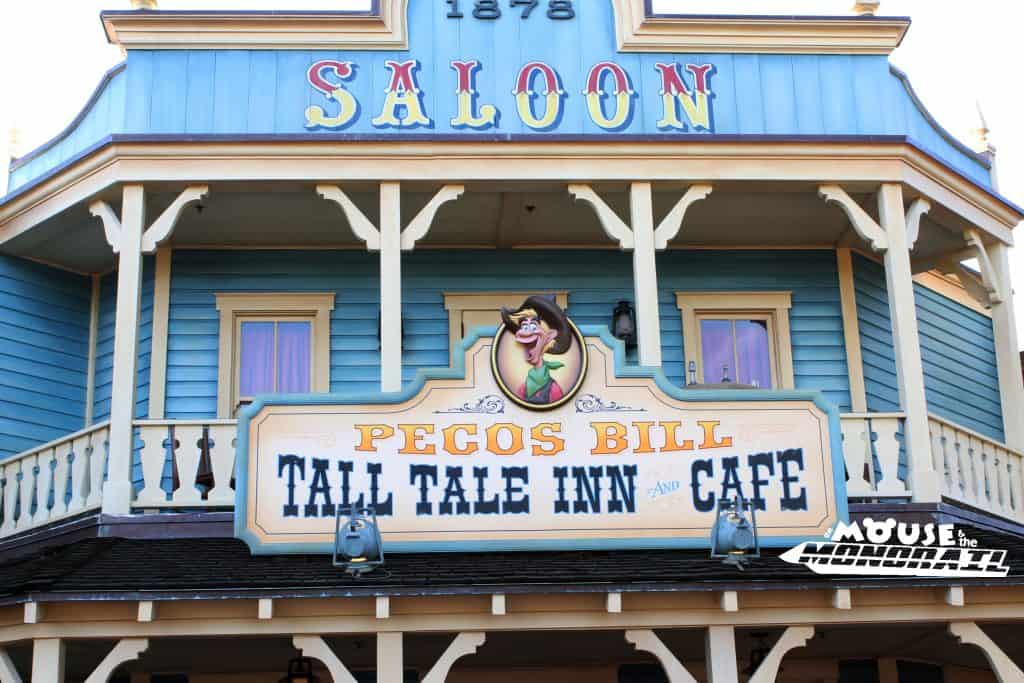 Amy from The Mouse & the Monorail says,
My favorite quick service restaurant is Pecos Bill's Tall Tale Inn and Cafe. My favorite quick service item is the beef nachos. The toppings bar really takes this meal over the top, and you can get so much for your money!
10) Yorkshire County Fish Shop in Epcot's United Kingdom Pavilion
The Yorkshire County Fish Shop, formerly the Harry Ramsden Fish and Chip Shop until 2006, was originally created because of the high demand for fish and chips at the nearby Rose & Crown restaurant.
Meredith from Mouse & the Monorailsays:
You may not be expecting seafood as a favorite walk-up quick service option, but don't count it out!!
The Yorkshire County Fish Shop is delicious and serves up the most amazing fish and chips!
While a menu of only Fish and Chips might seem limited for some, it's located in Epcot's United Kingdom. That means that if your party doesn't want fish, no worries! There are plenty of other great options for them too.
The fish itself is crunchy and perfectly battered while the chips (fries) are large and filling.
Top it all off with their lone dessert option, the Victoria sponge cake, and you're sure to have a very happy belly!
9)Cooke's of Dublin in Disney Springs
Cookes of Dublin
is located in Disney Springs beside Raglan Road. Its menu features Dublin-style dishes like fish and chips and meat pies.
Sarah from 'Dis' Happy Home says:
If you are planning your first trip to Walt Disney World or are a long time veteran you already know that Disney Springs has some of the best offerings for food! What's nice is the large variety of food that are available with no parking fees or a Disney Park admission!
So with all the wonderful quick-service restaurants available at Walt Disney World my favorite, as you guessed is located at Disney Springs. Drum roll please. It is … Cookes of Dublin!
Cookes (pronounced "Cooks" and not "Cookies") of Dublin is a wonderfully delicious kind of hidden gem! Located in The Landing, it is often overlooked, as it appears to just be part of Raglan Road.
My favorite menu items are the Battered Burger & Chips with a side of Dubliner Irish Cheese & Bacon Dip.
The Battered Burger is a hand battered burger topped with garlic mayonnaise, tomato chutney and mixed greens. This burger is delicious and I really love that the burger is hand battered. This gives it a crunchy texture that makes this burger unique.
The main reason I go back again and again is for the Dubliner Irish Cheese & Bacon Dip!
Now this may not look like much and is often overlooked when ordering, but trust when I say: "You need to try this!" I just want to drink it straight from the cup. This side compliments the Battered Burger because you can drizzle some inside the burger and dunk your chips (French Fries) in. It's a cheese sauce you will crave and want to dunk everything in.
There you have it: Cookes of Dublin is one of my favorite quick-service restaurants at Walt Disney World. So if you are in town head over to Disney Springs now and "Beat it inde ya!" (which is Irish slang for "Eat that now!")
8)Sunshine Seasons in Epcot
Sunshine Seasons is a food court restaurant located in The Land Pavilion of Future World in Epcot. It serves breakfast, lunch, and dinner and includes an Asian Shop with noodle bowls and stir-fries, a Sandwich Shop, Soup & Salad Shop, Wood-Fired Grill Shop with meats, and a bakery.
Kait from Kait Around The Kingdom says:
My favorite quick-service restaurant at Walt Disney World is Sunshine Seasons in the Land Pavilion at Epcot. Aside from it being located in my favorite Epcot pavilion, I love this restaurant because it offers a lot of different food options, which can make for an easy meal time with your whole party.
My favorite menu item lately has been their Chicken Corn Chowder, but my usual go-to at Sunshine Seasons is the Salmon with Cheesy Grits and Andouille-Corn Succotash.
They also have a great dessert selection, including specialty cupcakes. So it can't hurt to swing in and check out what they've got after riding Soarin' or Living With The Land!
7) Columbia Harbour House in the Magic Kingdom
The
Columbia Harbour House
is a two-story, classical New England tavern serving seafood, chicken and sandwiches. It is located between
Liberty Square
and
Fantasyland
.
Patty from My No-Guilt Life says:
The one thing Disney World is not short on is good quick service options. If we plan a quick trip and forgot to make time for Advanced Dining Reservations (ADRs), I don't even worry about it anymore because we've got our favorite quick service options all figured out!
And they are even easier to navigate if you use the incredible Disney World Quick Service Dining mobile order option.
On a recent trip, we walked up to my favorite, the Columbia Harbour House at the Magic Kingdom, as the doors opened. There was already a line to order, so we stepped to the side, pulled up the app, and within 2 minutes were enjoying lunch!
For me, there's nothing I want more on a hot day than the cold Anchors Aweigh Tuna Sandwich. My husband, however, is a fan of the Lobster Roll. Either way, we both agree that the House-Made Chips are delish!
And of course, there are the usual child-friendly options for kids who aren't quite interested in seafood for lunch.
6) Flame Tree BBQ in Animal Kingdom
Located in
Discovery Island
,
Flame Tree BBQ
is an order kiosk with a large area of shaded outdoor seating.
Ted at Parkeology says:
My favorite quick service restaurant at Walt Disney World is Flame Tree Barbecue. I would expect others might concur with me on this (and if not they should!).
Since opening day at Animal Kingdom, Flame Tree has been serving surprisingly good BBQ. My favorite form of it is in a Pulled Pork Sandwich.
Years ago they offered 3-4 different types of sauces. Now they are down to two, but no matter. The sweet BBQ sauce mixed with the smoky pulled pork piled up on a soft bun and served with views of Expedition Everest on the other side of the lake can't be beat.
However, they also serve a shockingly good Smoked Turkey Sandwich. I had this with Shane [the other half of Parkeology] a while back while I was looking for a lighter option. The off-the-bone smoked turkey is some of the best I have ever had!
And not just "best at Disney" or "best at a park," but just plain best, period.
Stopping at Flame Tree is an absolute must while visiting Animal Kingdom and it may be worth taking a side trip from another park to grab some, for that matter!
Leah at The Budget Mouse says:
Our favorite Quick Service restaurant is Flame Tree Barbecue in Animal Kingdom.
The ribs are the best on Disney property and some of the best I've ever had! We usually get the St. Louis Rib Dinner ($18.29) which is a hearty serving of ribs with a side of coleslaw and baked beans.
This entree and the Ribs, Chicken, and Pulled Pork Sampler (also priced at $18.99) are fantastic uses of a quick service credit on the Dining Plan.
We like to wash it all down with a Safari Amber, because hey, we are on vacation!
5) Blaze Fast Fire'd Pizza at Disney Springs
Blaze Fast Fire'd Pizza
is located in the Town Center of
Disney Springs
, not too far from Chef Art Smith's Homecoming.
Although it's not a restaurant unique to Disney, the Disney Springs location has been built to fit within its surroundings, made to resemble a refurbished sawmill from the 1850s.
Shane at Parkeology says:
I'm going to cast my vote for The Blaze at Disney Springs.
Pizza is my favorite food, and the pizza offerings around Disney range from bad to dreadful. Fortunately, the Blaze is not only delicious, it is also quite reasonably priced. I usually do the Make-Your-Own option.
I'm also a soda junkie, and the Blaze offers amazing Blue Sky Soda, which I had not previously tried (Black Cherry is the best).
Finally, their Blood Orange Lemonade is totally worth it.
Mark from Points on Neverland agrees:
When it comes to counter service meals, you want cheap, fast, and delicious.
Is that impossible at Disney World?
Almost.
Blaze Fast Fire'd Pizza at Disney Springs is a make-your-own-pie joint that won't make you feel like you just handed over the kids' college savings.
Order one of their favorites or build your own. Since each pizza is personal size, it doesn't matter if your kid wants to ruin hers with pineapple; you'll get the perfect pizza.
By the way, the perfect pizza is Pepperoni, Onion & Light Jalapeno with a Side of Ranch. Just sayin'…
4) Wolfgang Puck Express at Disney Springs
Wolfgang Puck Express is located near Disney's Days of Christmas store in the Disney Springs Marketplace. After placing your order at the counter, your food is delivered to your table.
Kimberly at Savvy Mama Lifestyle says:
Our family loves Wolfgang Puck Express at Disney Springs!
The portions are large, the food is great quality, and the menu offers a variety of things for the whole family.
We love the Barbecue Chicken Pizza and the Caesar Salad.
They even offer a kitchen table if you want to be close to the action.
They're open for breakfast, lunch and dinner – and they accept the Disney Dining Plan. One of the best bangs for your buck on Disney property.
Rebecca at The Pixie Dusted Planner agrees:
Hands down my favorite quick service restaurant in all of Disney World is Wolfgang Express in Disney Springs. It's such a break from the overwhelming presence of hot dogs and pizza all over the parks!
More than that though, it is high class dining on a budget. Wolfgang Puck is a renown celebrity chef with very few locations, and most of them are at a much higher price point. Dishes here are a perfect balance of savory, crisp, and utterly satisfying.
Make sure to try the Bacon Wrapped Meatloaf (yum!) and luxuriously creamy Cheesecake!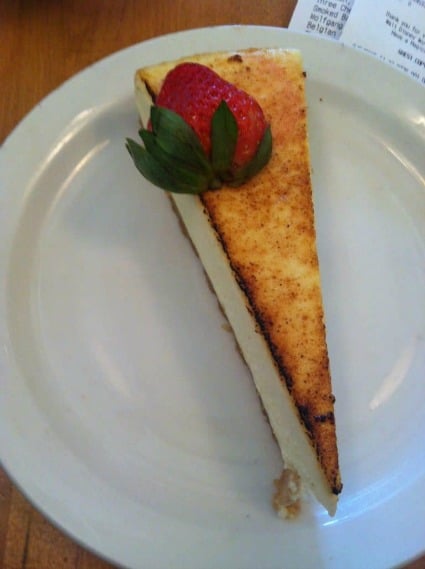 3) Cosmic Ray's Starlight Café in the Magic Kingdom
The restaurant that we know as Cosmic Ray's Starlight Cafe was originally called Tomorrowland Terrace when the Magic Kingdom opened in 1971.
According to Mickey Wiki, in 1994 when the restaurant was given both a new name and a new theme, the topping bar "featured oddly colored condiments such as blue mayonnaise, purple ketchup and green mustard." (Thankfully, that didn't last long.)
Tracey and Simon from Disney and Orlando Geeks said:
Situated in Magic Kingdoms 'Tomorrowland' section, Cosmic Ray's Starlight Cafe truly is out of this world, for me it is one of my absolute favourite places to stop off and eat.
It has a great variety of food for both lunch and dinner, with classics such as the good old Angus Bacon Cheeseburger, hotdogs, nuggets, Rotisserie Chicken, Pulled Pork, ribs and many more including healthy options such as Greek Salads.
One of the great things about this restaurant is the Toppings Bar. Once you have received your order, be sure to head over to the there to add some of the succulent extras to your meal.
They have things like Sauteed Onions and Mushrooms, Pickles, and toppings such as Lettuce, Tomatoes, Fried Onions, and various sauces.
One of my favourite things to order is the Grilled Chicken Club. This is a herb-marinated chicken breast topped with American cheese and bacon all in a bun. I get it with the fries, but green beans or mashed potatoes are also an option. Then I head straight over to the toppings Bar to add the delicious sauteed mushrooms and some lettuce and tomatoes. It really is delicious and I highly recommend it.
BUT, the highlight for me, and the thing that makes this one of my all time favourite places is Sonny Eclipse, the resident intergalactic Alien that performs all day, every day in the Starlight Lounge part of the restaurant.
Video — Sonny Eclipse at Walt Disney World
Sonny Eclipse is extremely funny and his songs are great. The children find him highly entertaining, and his jokes are also aimed at adult sense of humour with some classic 'Mother in Law' jokes, so he is a great entertainer all round for every age.
Cosmic Ray's has a huge seating area, including seating outside too, so if Sonny doesn't rock your world then there is alternative seating around the corner from the ordering bays that have an amazing view of the Cinderella Castle. So you really can have excellent food with a view, or dinner and a show!!
The air conditioning inside is really good, so when it is very hot outside it also makes for a great place to have a pit stop and grab a drink to cool off and watch Sonny.
There are a few good desserts on the menu too.
So for me, Cosmic Ray's Starlight Cafe makes an excellent choice for an all-around great quick service option, with fab food, fab entertainment, fab views and great seating.
Taryn at Lau Family Travels said:
We have always loved Cosmic Ray's at the Magic Kingdom (even though it's just your typical quick service location).
I think their Burgers are good and you can make them even better with the Toppings Bar!
But, my favorite part of the restaurant is getting a window seat near the castle!
2) Casey's Corner on Main Street in the Magic Kingdom
Casey's Corner was clearly in the Number Two spot, with 3 different bloggers claiming it as their favorite quick-service restaurant.
Located on Main Street in the Magic Kingdom, it is themed to the "Casey at the Bat" segment of the animated feature Make Mine Music.
James at Adventures in Familyhood says:
My favorite quick service restaurant at Walt Disney World is Casey's Corner. My go-tos are the Foot Long Hot Dog or the Hot Dog Nuggets.
Plus, you can't beat the baseball theming!
Michelle from Disney Tips and Trip Reports says:
Our favourite Quick Service restaurant is Casey's Corner on Main Street USA in Magic Kingdom!
As Brits who visit Walt Disney World annually, nothing says All-American fare like a hot dog — and Casey's Corner serve the tastiest ones around.
My husband and son often go for the Chili-Cheese Hot Dog, and my go-to dish is a portion of Corn Dog Nuggets – delicious!
Since we last visited the menu seems to have changed a bit, and I am definitely going to be trying the Macaroni & Cheese Hot Dog, because I am a Mac 'n' Cheese fiend!!
Ryan from Disney Pins Blog says:
My favorite quick-service restaurant at Walt Disney World is Casey's Corner at Magic Kingdom!
Pretty much every trip I will stop for a hot dog. Although they do have a lot of specialty hot dogs, I go for the standard Hot Dog with Fries! I like to go to the toppings bar and put my diced onions and sauerkraut on it as well.
Their Shoestring French Fries are also delicious.
After I get my meal, I go outside to one of the standing table tops, have my lunch and people-watch with a wonderful view of Cinderella Castle!
Another plus is that they now serve the Mint Julep from Disneyland!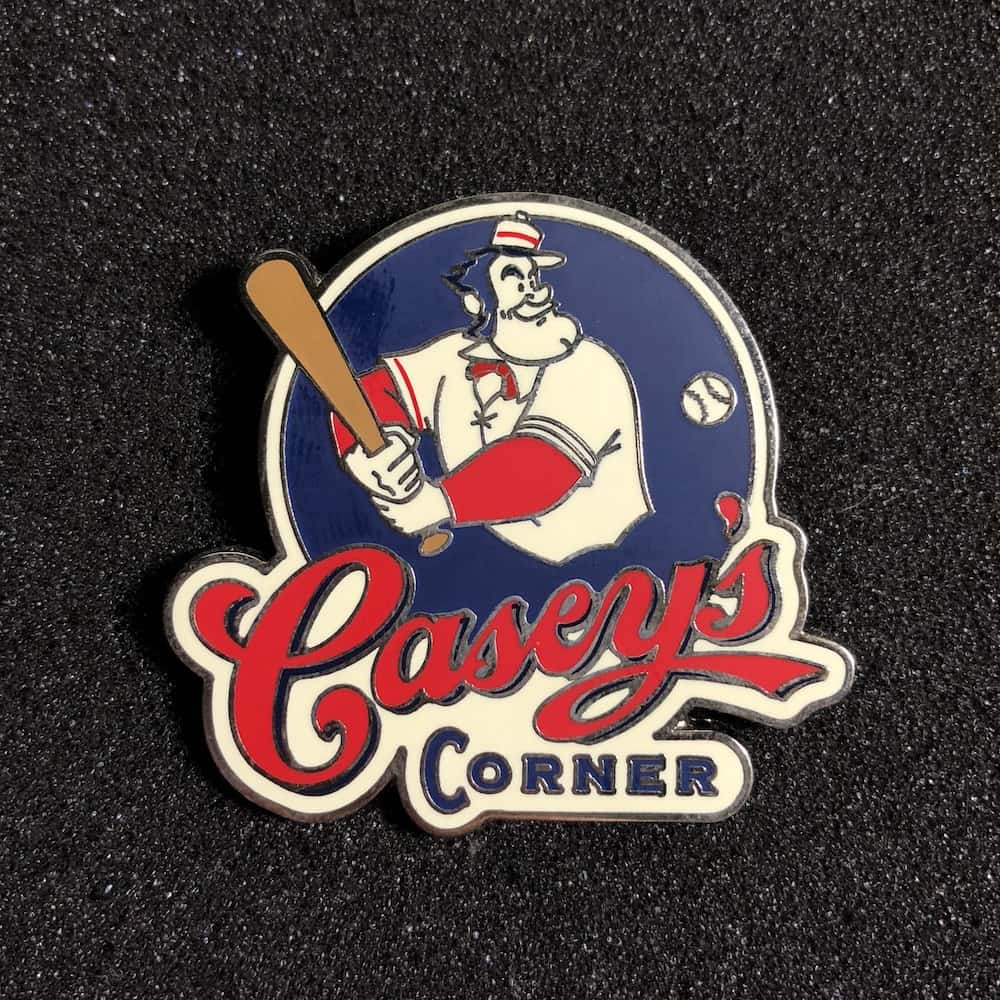 One thing no one mentioned about Casey's Corner, but that I have to add, being a piano player myself … is that they has a live pianist outside.
Whenever we pass by, I always think what a cool job that would be. (Although I think having a mirror in front of my face while I'm playing would drive me crazy!)
Casey's Corner Pianist at Disney World
1) Satu'Li canteen in Animal Kingdom
Satu'li Canteen in Disney's Animal Kingdom was our clear WINNER, with 7 different bloggers eagerly naming it as their very favorite Disney quick service restaurant.
is located within the Pandora — World of Avatar area that opened in May 2017.
The story behind the restaurant is that it was once the main mess hall of the Resources Development Administration (RDA) base located in the Valley of Mo'ara.
Now the canteen is owned and operated by Alpha Centauri Expeditions (ACE) tour company and has been redesigned into a peaceful dining area adorned with Na'vi art and cultural items.
Jodi of Family Travel Magazine says:
My favorite quick service location at Walt Disney World is one of the newest spots. Satu'li Canteen, located right in Pandora in Disney's Animal Kingdom, offers some delicious and unique healthy food options.
My favorites include the Cheeseburger Pod, which tastes just like a deconstructed cheeseburger.
There are also delicious and healthy Satu'li Bowls, which come with a variety of different proteins. My favorite is the Chopped Wood-Grilled Chicken Bowl.
For dessert, you can try the Blueberry Cream Cheese Mousse or Chocolate Cake.
There's plenty of seating, but it does get busy, so I recommend going early.
Becka at DisneyKittee agrees, saying
My favorite Quick Service is the Satu'Li Canteen in the Pandora section of Disney's Animal Kingdom park.
I LOVE the Cheeseburger Pod, and I also love the chips and quirky little salad they give you on the side.
Video: Trying Cheeseburger Pods at Satu'li Canteen
Kristi from Disney Insider Tips adds:
When it comes to quick service restaurants, our favorite is Satu'li Canteen in the NEW Pandora section of Animal Kingdom.
It is a great place to cool off, unwind and refuel after waiting in the crazy lines for rides like Avatar, Flight of Passage!
My favorite thing to order there is the Slow Roasted Sliced Grilled Beef Bowl. It features marinated roast beef, crunchy vegetable slaw and boba balls. You can choose to have it with salad, rice & black beans or sweet potato hash.
You won't find anything like it anywhere else in Disney!
Jessica at The Healthy Mouse give Satu'li Canteen yet another vote, saying:
My absolute favorite thing to get is the Vegetable Curry Buns! It's hands down my favorite vegetarian entree at any Disney park!
My daughter likes the Kid's Tofu Bowl (which I also enjoy myself if I'm in the mood for something small).
Sarah at The Mouse & the Monorail says,
Hands down, the best quick service food is found in Disney's Animal Kingdom at Satu'li Canteen.
My favorite menu item is the Rice bowl with Chicken and Creamy Herb Sauce. The creamy herb sauce is probably the best topping I've ever had, and the chicken is always cooked perfectly with a nice chargrilled flavor to it.
I have to order it every time I visit Animal Kingdom!
Jenn at Touring in Wonderland had this to say:
One of my favorite quick service locations on Disney properties is Satuli Canteen in the Pandora land area of Animal Kingdom.
The food here is fresh, inventive, and unlike anything you can get at any other Disney World quick service restaurant.
You can't go wrong with getting a customizable bowl. You have to try the beef — it is perfectly grilled.
For dessert, make sure to pick up the Blueberry Mousse, as this is one of the best desserts on Disney properties. Plus it looks awesome with all its shiny glaze.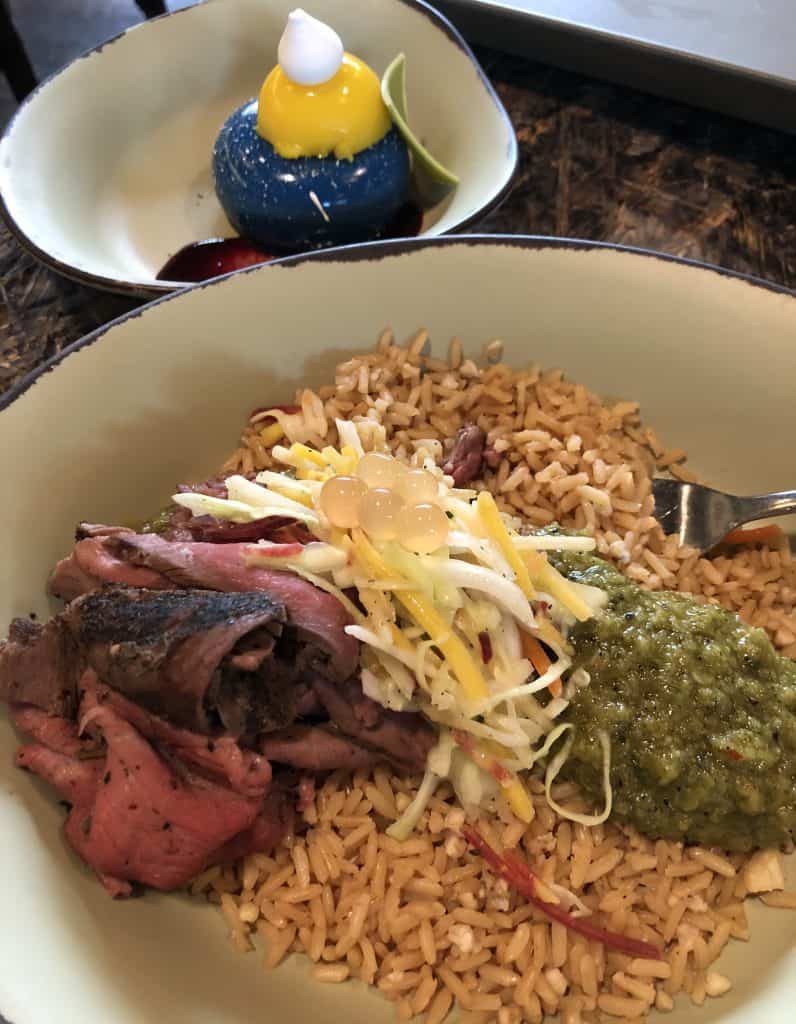 Finally, TM Brown at Footprints in Pixie Dust had this to say:
This question is an easy one to answer. Hands down ~ my favorite quick service restaurant at Walt Disney World is Satu'li Canteen at Disney's Animal Kingdom.
They have the most unique options and some great bursts of flavor on their menu!
As for my go-to meal option, I am in love with the Slow-Roasted Sliced Grilled Beef Bowl with Red and Sweet Potato Hash as the base and Creamy Herb Dressing as my sauce. Mmmm…yum! I can eat that all day.
Another plus is that they are FANTASTIC when it comes to guests with food allergies and dietary restrictions, too! We know from personal experience (wink, wink).
Now I want to hear from you.
Do you agree? Disagree? Any favorite quick service meal you'd like to add? Let us know in the comments!
And don't forget to grab this:
---
---