Disney Dining Plan Prices and Tips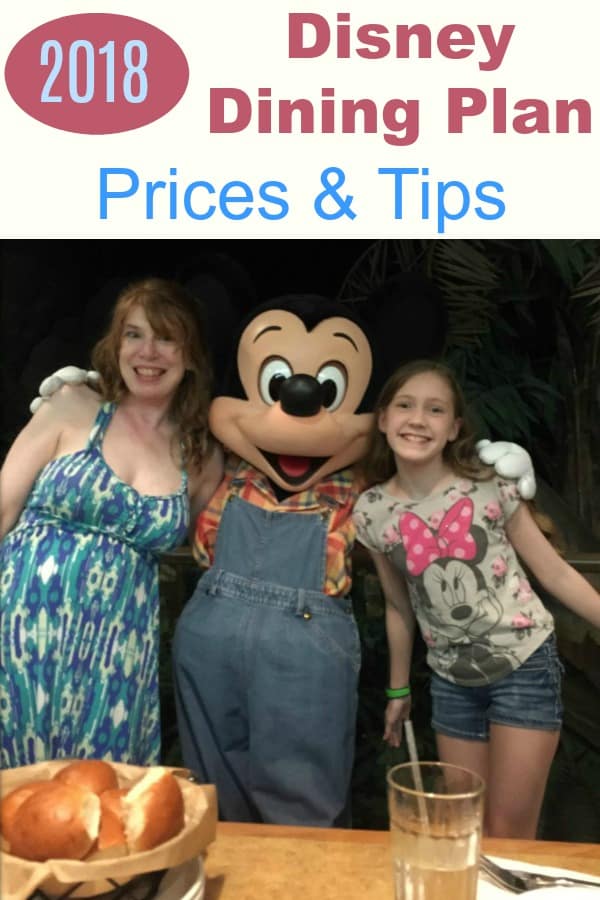 This post probably contains affiliate links. You can read the details about what that means here.
Planning a vacation to Disney World is a strange thing. It often requires that someone (probably you, since you are the one reading this) needs to take on a part-time job of learning complicated details of things thing that are relatively simple in Real Life.
Such as eating.
Depending on where you are in your Disney-planning journey, and whether or not you've been ever been to Disney World before, your head may be spinning trying to figure what a "Disney Dining Plan" is, what it does and does not include, what it costs, and whether or not you should even consider getting one.
Well, hold on to your mouse ears, because we're going to cover all that and hopefully answer all — or at least most — of your questions. (If there's anything I didn't address, let me know in the comments and I'll do my best to add it.)
So What is the Disney Dining Plan, anyway?
The Disney Dining Plan is a prepaid meal package that was introduced in 2005, but which has had multiple changes and (of course) has gotten more complex over the years. The idea is that not only is it more convenient, but it will save you money. (We'll talk about whether or not that is actually true in a moment.)
The plans can only be purchased as part of a Magic Your Way Vacation Package. This means that if you want to save money by buying discounted park tickets and staying off-site, you cannot also get the Dining Plan.
However, Disney Vacation Club members staying on points can add on the Disney Dining Plan if they wish, even if they don't purchase their park tickets through Disney.
The Dining Plan gives you a certain amount of different types of credits, which are stored in your MagicBand (which are very awesome, by the way). After a snack or meal purchase, you get a receipt indicating how many credits you have left.
The credits include the cost of tax, but do not include tips for table service restaurants.
Disney Dining Plan Credits and What They Mean
Table Service meal — This is any meal that you need to make an Advance Dining Reservation for, including buffets and most every character meal. It consists of an entree, dessert, and beverage. You can choose to substitute a side salad, cup of soup, or fruit plate for the dessert.
Counter Service Meal — This is basically a meal where you don't have a waiter come to your table and you don't get reservations. It includes to an entree and side (often referred to as a "combo meal" and a beverage, which again, can be alcoholic. It used to include a dessert, but no longer does.
You can also choose to purchase three snacks (see below) all at once and use that a "counter service meal credit."
Snack — This includes any single serving side at either a snack cart or a counter service restaurant. Some examples are bottled water (which is a stupid use of a snack credit), a Mickey Mouse ice cream bar (which is a pretty good use), or a Berry Cream Puff at the Kringla Bakeri og Cafe in Norway (which is an excellent use).
Signature Retaurants — To make things even more confusing, there are certain restaurants, generally the more upscale and less kid-friendly ones, that count as two table service meal credits.
Signature restaurants include California Grill in the Contemporary Resort, Cinderella's Royal Table in the Magic Kingdom, and Le Cellier Steakhouse in Epcot, among others. Disney's Dining Plan website can give you more details about which restaurant counts as which (in addition to more information about the Dining Plan in general.)
In addition, dinner shows, such as the Hoop De Doo Musical Revue in Fort Wilderness or Disney's Spirit of Aloha Dinner Show at the Polynesian, also each count as two table service meals.
Generally speaking, using two table service credits for one Signature Restaurant is not considered to be a wise choice, at least not if you're trying to get the most value out of the plan.
Now that we know what each credit gets you, let's move on.
The 3 Different Disney Dining Plans and Their Prices
The following prices and details of the Disney Dining Plan are valid for arrivals between January 1 through December 31, 2018. It includes what each person gets per each night of their stay (except for the mug, which you get one of for the entire stay.)
Quick Service Disney Dining Plan
2 counter-service meals
2 snacks
A refillable drink mug (my kids get really excited about this part)
Price:
Adult: $52.50
Child ages 3-9: $21.74
The Standard Dining Plan (aka "The Disney Dining Plan")
This includes, per person:
1 counter service meal
1 table service meal
2 snacks
A refillable drink mug
Price:
Adult: $75.49
Child ages 3-9: $25.75
Deluxe Disney Dining Plan
3 meals at your choice of either counter service restaurants or table service restaurants per night
2 snacks
A refillable drink mug
Price:
Adult: $116.25
Child ages 3-9: $39.99
[Note: This is the "regular" price for the Deluxe Dining Plan. Apparently it can cost even more during peak seasons.]
Other Facts about the Dining Plan:
* I already mentioned this earlier, but as a former waitress I want to remind you that tips are not included in the plan and that 18-20% tipping is suggested. An 18% gratuity is automatically included to parties of 6 or more.
* Everyone in your family has to be on the same plan and stay on it for the entire stay. There's no mixing and matching.
* At counter service meals, kids can either choose from the children's or adult menu.
* On the Deluxe Dining Plan only, kids can choose adult meals at table service restaurants.
* Starting in 2018, there are more beverage options than there used to be on the meal plan. It used to be limited to only milk, juice, soda, coffee, tea, etc. Now you can also choose milkshakes, smoothies, hot chocolate, cappucinos, and even certain alcoholic drinks.
* You can use your meals whenever you want, meaning they are not rationed out daily. For example, if you were staying for 5 nights, you could eat 10 snacks on your first day if for someone reason you really wanted to.
Is the Disney Dining Plan Worth It?
Ah, the question we've all been waiting for? Does the Disney Dining Plan save money?
Officially, the answer is, "It depends."
My personal answer is "No."
Personally, I would not even consider getting the Disney Disning Plan except during their Free Dining dates.
Here's the thing about the Dining Plan: No matter how much money you supposedly "save," it isn't a good value unless you really wanted that food in the first place.
For example, I rarely drink beverages other than water. I just prefer it. One of my daughters is the same way. (And the other is definitely not.)
So for the two of us to get sodas and milkshakes throughout our vacation is not really a "value," even if we're getting them at a discounted price. Yes, I'm "saving money," but it's on something I don't want or care about in the first place.
By the same token, I don't need or want dessert at every table service meal, and we certainly don't need every person in our family to get their own dessert at every meal. Even if I were to substitute my dessert for a salad, it's still going to be more food than I need, at least some of the time.
So yeah, you could say, "Wow, look at all this food we're getting at a discount!" But the real question is, Did we really want all this food?
And if the answer is "No," then you're better off not getting the Dining Plan.
[Now during the Free Disney Dining promo in the fall and winter, the rules change a little bit, and I'll writing another post in a few days to discuss how that works.]
If you're still debating whether or not the Disney Dining Plan is right for your family, there's a way to get the perfect answer, although it is slightly time-consuming and requires Doing Math.
Step back and think for a moment about what your family really wants, food-wise, during the vacation. Do you hope to eat at a lot of buffets? Do you want one meal at somewhere more upscale, like California Grill? Do you plan on buying ice cream for everybody, every day? Are character meals important to your family, and if so, which ones and how many?
Then dig a little deeper. Look at the menus for the restaurants you're planning to go to and make a reasonable guess as to what everyone might order. Sodas for everybody at every meal? One dessert for the family to share?
There are no right or wrong answers, of course. This is your vacation.
When you've made some decisions that seem reasonably accurate to you, total everything up and compare that total to what it would cost for your family to purchase the Dining Plan.
And there's your answer.
---
---