Are Umbrellas Allowed at Disney World? (and the Best Compact Travel Umbrellas)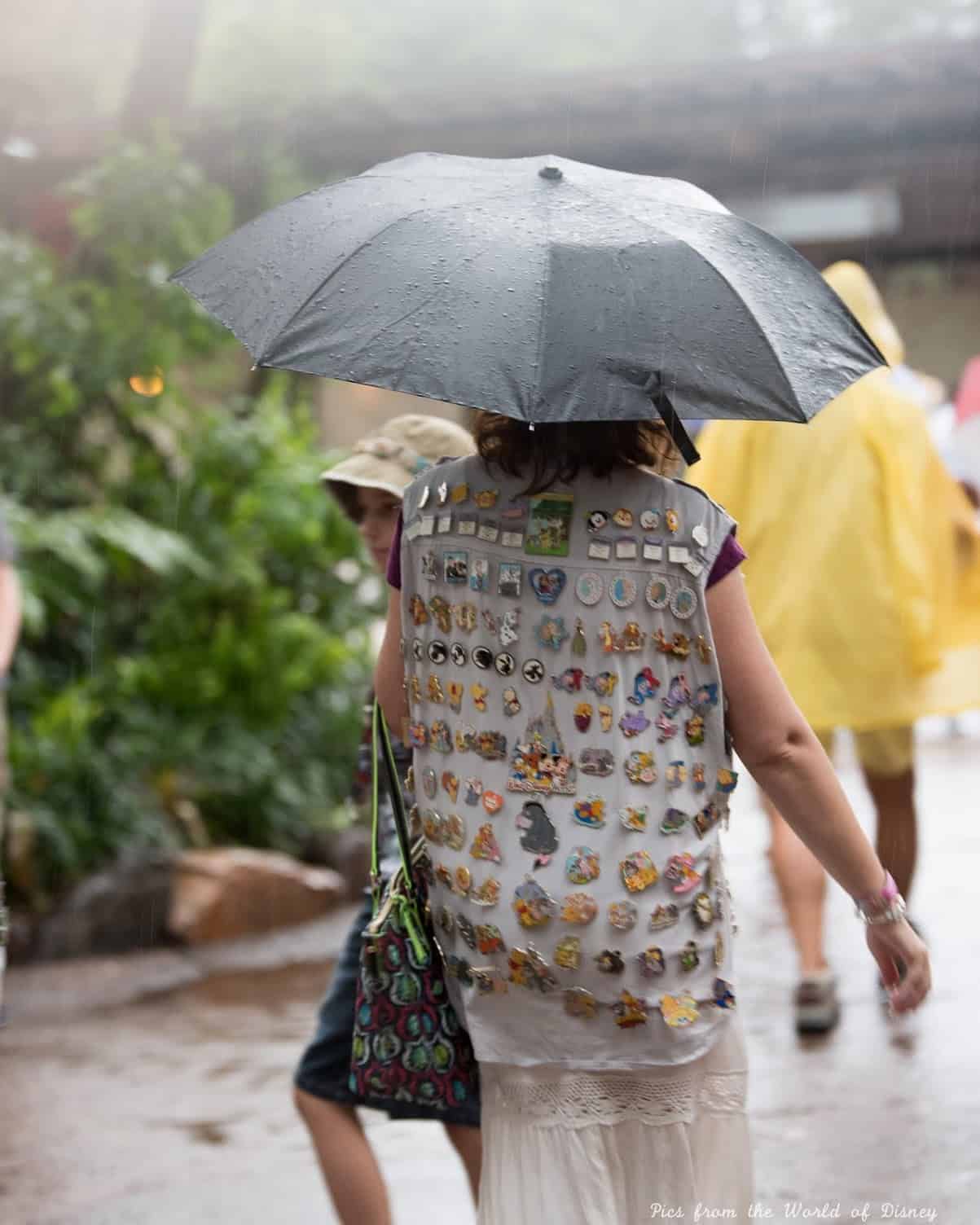 This post probably contains affiliate links. You can read the details about what that means here.
I was doing some online shopping for a new umbrella to keep in my car, because mine somehow disappeared recently. (I think it has something to do with one of my kids.)
As I was looking for an umbrella, it got me wondering if using an umbrella on rainy days at Disney World was something people ever do.
Well.
It turns out that "umbrellas vs. ponchos at Disney World" can be a rather heated debate.
There is definitely a large anti-umbrella crowd, some of them even wishing umbrellas would become banned at the parks.
The anti-umbrella crowd claims that umbrellas:
Could poke other guests in the eye
Block people's view at parades
Don't help when rain is accompanied by wind
Can act as a lightning rod
Are a pain the carry all day
To which the pro-umbrella crowd retorts:
It's not like I'm swinging the umbrella around
I'm very considerate and aware of my surroundings when I use it
People with gigantic strollers and "those monstrosities they call backpacks" rank much higher are a much bigger annoyance
We hate rain ponchos
We don't use huge golf umbrella, we use compact travel ones that easily slip into our bags
Umbrella rods are made of fiberglass or plastic, not metal, so you're not any more likely to get hit by lightning that you would without an umbrella, and you shouldn't be walking around outside when it's thundering and lightning anyway
Cosmo on the DisBoards says making fun of the "poncho people" is a favorite Disney pastime for his family:
I know I'm going to get in trouble for this, but we actually make fun of the "poncho people." We have a game where we try to be the first to spot a "poncho person" at the first sprinkle of rain.

Those little folding umbrellas are less than a foot long, fit in a pocket (if you're wearing cargo shorts) and fold up easily when you enter a building so you're not bumping into people in your wet nasty poncho (MAJOR pet peeve).

I don't have to struggle getting a poncho on and off, the umbrellas are not hot, and i don't feel like a processed meat product wrapped in plastic.
And then there are a few crazy folks who say they don't use umbrellas or ponchos, but rather just embrace the wetness and have a great time.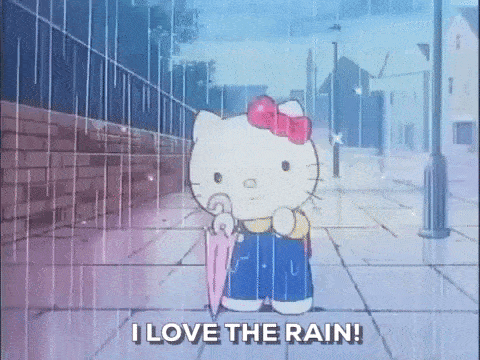 I admit that we've never used an umbrella at Disney World. However, there are some pretty compelling reasons for using an umbrella instead of (or maybe in addition to) a rain poncho).
After reading this post, you'll be an expert on:
All the advantages of bringing an umbrella to Disney World, so you can decide if that's a good option for your family
The best compact travel umbrellas, whether you need one for a Disney trip or just life in general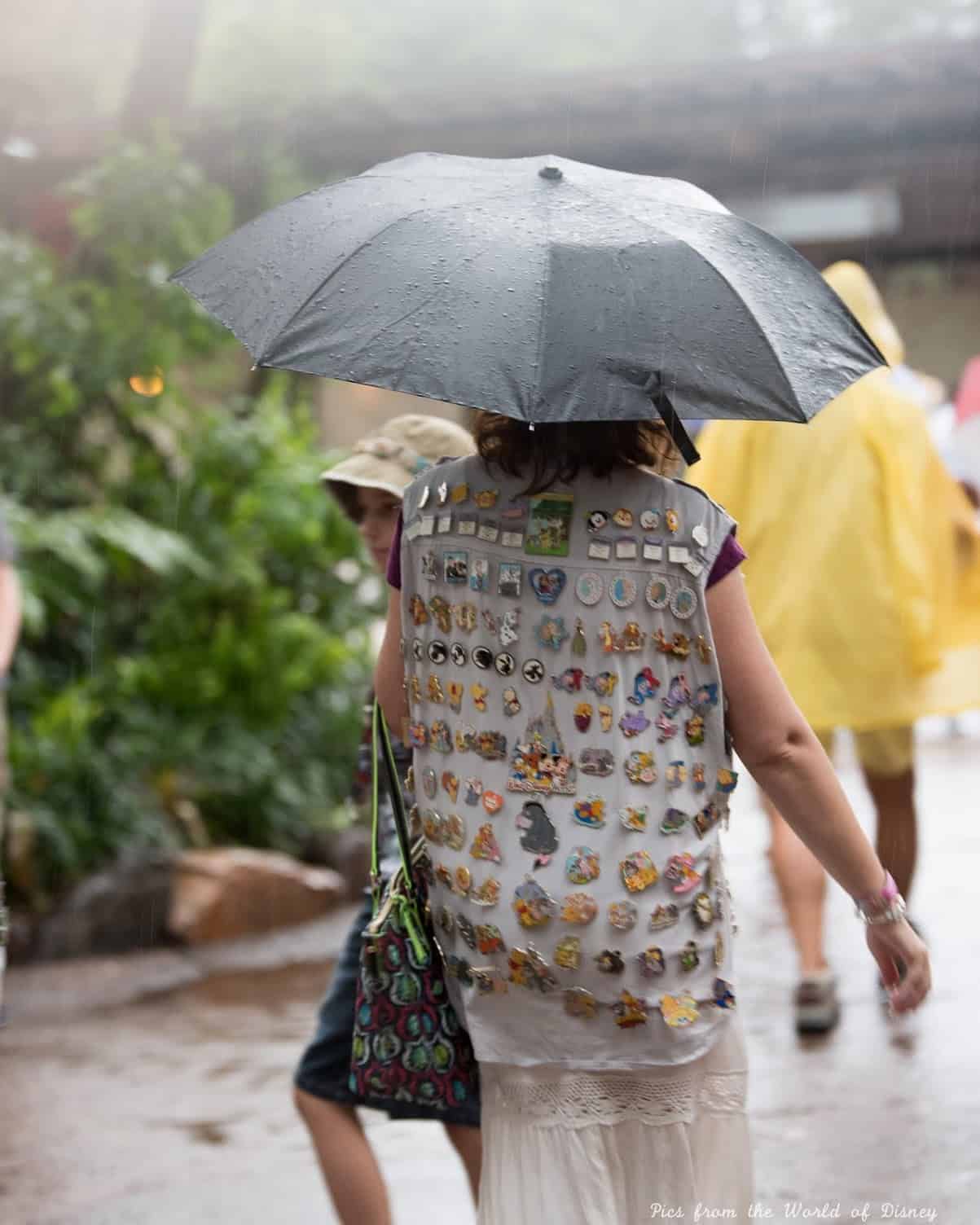 Are Umbrellas Allowed in the Disney Parks?
Yes. There is no rule forbidding umbrellas or specifying what sizes or types are allowed. You can click here to see the list of prohibited items for the parks.
Umbrellas can protect you from the sun
It's no secret that staying cool at Disney World is a challenge, especially when you're walking through the World Showcase or standing on Main Street waiting for the parade in the middle of the afternoon.
Typically, people wear sun hats to try to get a little shade on their face and protect their scalp from sunburn.
However, wearing a hat can have the problem of trapping the heat inside your head. I've heard people say they actually feel hotter wearing a hat in the sun.
That's where the right kind of umbrella comes in. It gives you your own "portable shade" without making making your head hot and sweaty.
Here are two highly-rated umbrellas that were designed for the purpose of sun protection.
One is a "rain or shine" umbrella, and the other is a parasol that is only for using in the sun.
Estwell Travel Umbrella for Women
Estwell Compact UV Protection Umbrella for Women
The Estwell Travel Umbrella is Amazon's Choice for "Sun Parasol UV Protection."
It has a strong aluminum center pole and fiber-glass ribs so that huge gusts of wind don't break your umbrella and suddenly leave you drenched.
It has a UPF of over 50, to protect you from the sun, and the canopy is made of water-repellant fabric to protect you from the rain.
It's only 9 ½ inches when folded.
Click here to see a photo of this umbrella folded up and in its case.
Amazon Reviewer Vox says she "love, love loves her sunbrella":
I love my sunbrella! It's pretty, it's light, and it does a great job keeping my marshmallowyness marshmallowy (I'm a pale gal)!

I can feel the temperature difference from using a regular umbrella, this blocks UV. It doesn't fold up as tight and small as I'd like, but eh — considering it keeps me out of the sun I can deal with that. I also love that it's dual purpose…rain or shine!
Honeystore Vintage Lace Folding Sun Parasol
Honeystore Vintage Lace UV Sun Folding Parasol
This parasol is not meant to be used in the rain. It's for sun protection only, and has a black lining that's really effective in providing shade.
And boy, is it pretty! It comes in over 25 beautiful colors and designs and has a lovely "vintage" look to it.
It also comes with a matching carrying pouch. (It's worth noting that some reviewers said it was a bit difficult getting the umbrella folded up and back into the case.)
This would be the perfect parasol if you're concerned about protecting yourself from the sun in "real life" and not just during your Disney trip.
Women who needed to be out of the sun for medical reasons, or who lived in very sunny climates, loved using this parasol when they were out and about. Not only did it keep the sun off, but they received lots of compliments and it made them feel pretty and feminine while going about their daily tasks.
This would be a fantastic accessory to use for outdoor family photos at Disney, especially if someone else in your family had the same parasol in a different color.
And of course it would be a must if you were getting your photo taken with Mary Poppins!
Amazon reviewer StagWoman says this parasol is perfect for sunny days:
This parasol is both lovely and functional. In my part of the U.S., the summers are hot and humid. This parasol makes it possible for me to go outside anyway.

The outside is VERY glittery–if you're not into sparkle, then it's not for you. And yes, it is lined with solid black vinyl–that actually keeps the sun from shining through. You are taking your own shade with you wherever you go.
Umbrellas aren't hot, sweaty, sticky, and stuffy.
If you've ever worn a poncho in Florida for any amount of time, you know how uncomfortable they can get.
Some people say they sweat so much inside their poncho that they might as well just be getting wet from the rain.
Umbrellas don't leave a huge puddles on a seats.
I never thought about this, and I'm real sorry if my wet poncho ever left a big mess for somebody after me. But yeah, it makes sense that this would be an issue.
If you're worried about sitting in puddles left by nefarious poncho-wearing guests, it's not a bad idea to have a travel microfiber towel in your bag for wiping off seats.
Even better, if you are wearing a poncho, have a towel for wiping up a seat when you're finished.
Umbrellas don't get caught in scooters and wheelchair wheels.
Am I the only person who never would have thought of this?
Simply holding an umbrella sound much more pleasant than having to constantly pull and tug at a wet poncho to keep it from dragging or getting caught.
You don't have to deal with a big, wet piece of plastic when you go inside.
Ugh, this may the worst thing about ponchos. Once the rain has stopped, what do you do with them? They're huge, they're wet, and in my experience, they certainly don't fold easily.
Typically, we use this pack of disposable ponchos, and then just stuff our poncho in the trash when we're done with it.
Yes, that solves the problem, but environmentally-speaking, it isn't a really great solution.
The Best Compact Travel Umbrellas
So now that we now why umbrellas can be handy at Disney World, the question is, "Which is the best one to get?"
The five umbrellas listed below are:
Small, compact, and lightweight
Windproof
Easy to open and close
Repel Windproof Double Vented Travel Umbrella
Windproof Double Vented Travel Umbrella with Teflon Coating
The Repel Windproof Travel Umbrella is Amazon's Choice in the "Umbrella" category.
Not only that, but it's also been featured on Good Morning America and rated by Wire Cutter as the #1 Best Umbrella in 2019.
This is one famous little umbrella!
The umbrella in the image above is black, but the Repel also comes in several other colors, includes yellow, pink, red, rainbow, and "starry night."
This umbrella is great because:
It's 11 1/2 inches long and weighs less than a pound, making it easy to fit in your Disney backpack or sling bag.
Unlike many other umbrellas, it has 9 resin-reinforced fiberglass ribs and a vented double canopy, making it super-sturdy and windproof
It has a Teflon coating, so it dries almost instantly and you don't have to walk around the Main Street Emporium holding a sopping wet umbrella
It has push-button so you can open and close it easily with one hand, leaving the other hand free for either carrying your tired toddler or holding your Dole Whip Float. (Click here to see a video of this umbrella opening and closing.)
It has a lifetime refund or replacement guarantee

Amazon reviewer Valley Girl describes her experience while using the Repel Umbrella on vacation:

We bought these for our Summer trip to Ireland/England, since both tend to have weather changes throughout the day. We only used them for one day in Ireland. It wasn't extreme weather, but it was a consistent heavy drizzle with occasional gusts.

We did see others on our excursion with destroyed umbrellas (though I didn't think the wind was THAT strong). The wind did occasionally invert the outer portion of the canopy, but never did I think the umbrella would fail. The skeleton/frame seemed very strong. Directing the top of the umbrella back in the direction of the wind put it back into place easily.

I was really impressed with the Teflon coating, as the canopy did not get soaked through. The droplets stayed pooled on top of the fabric and I was able to easily shake them off.

I also like the push button open/close. Easy to use and easy to put the cover back on the closed umbrella. Highly recommend.

Honestly, after doing this research, I am pretty sold on the Repel and am planning to buy one sometime this week, as soon as I decide which color to get. (Right now I'm torn between Rainbow and Blue Sky.)

However, it's always good to have choices in life, so instead of stopping there, I'll also share a few more very good options.

Bodyguard Compact Travel Umbrella with Leather Case

Bodyguard Windproof Travel Umbrella with Gift Leather Case

The Bodyguard Windproof Travel Umbrella is Amazon's Choice for the category of "compact umbrella with case."

Two things make it stand out among the other umbrellas on this list:

It has not 8, not 9, but 10 reinforced fiberglass ribs, making it (at least in theory) more able to withstand wind than the other umbrellas.
In addition to have a sleeve for the umbrella, it also comes with a faux-leather case with a shoulder strap, giving it a "polished" look and making it easy to carry.

Reviewers loved how this umbrella was lightweight and easy to both open and close with just the press of a button, so that it's super convenient with you're carrying a child or have an armful of packages.

In fact, Amazon reviewer Shawn D. says this umbrella's auto-close feature is almost a little too good:

I'm a pretty big guy (6′ 1″, 240 lbs), and most travel-size umbrellas just barely keep most of my body dry.

This umbrella is designed different! Using double the number of ribs, and a flatter, wider curve to the canopy, I'm finding I barely get my shoes wet when walking in the rain. Add in the fact it also fits in the "umbrella pocket" in my car door you have another bonus.

The fabric making up the canopy also has a great water repellant quality, so it's fully dry in a couple of minutes, ready to be folded and put away.

The only negative I could find comes in the form of a hair-trigger on the auto-close feature. A couple of times I accidentally drenched myself before I was ready. Now I make sure not to go NEAR that button until I'm completely ready to put the thing away.

Rain-Mate Compact Travel Umbrella with Reinforced Canopy

Rain-Mate Compact Travel Umbrella

The Rain-Mate Compact Travel Umbrella weighs one pound and packs up to 12 inches in length, opening up to a 42 inch canopy. It comes in 7 different colors.

It has an auto open-and-close button, although some reviewers said that you still need to push the umbrella back down into the handle to fully close it.

Here's a video of it opening and closing.

On the downside, the Rain Mate has no UV protection and is described as not as sturdy as some of the other umbrellas on this list.

It also has a lifetime guarantee.
EEZ-Y Windproof Travel Umbrella
EEZ-Y Windproof Travel Umbrella
Thee EEZ-Y Windproof Travel Umbrella comes in 15 different colors, including some with polka dot designs.
It weighs just under one pound, measures 11 inches when folded, and has an open canopy of 42 inches in diameter.
The EEZ-Y Compact Travel Umbrella has a vented double canopy that secures its spot among the best windproof umbrellas. The vents in the canopy allow the wind to blow through the umbrella without inverting it, all while keeping you dry.
It also has a lifetime replacement guarantee
Vumos Compact Mini Umbrella with Case
Vumos Mini Travel Umbrella with Case
The Vumos is Amazon's Choice in the category of "best mini umbrella with case."
It comes in 12 different designs, including ones that are striped, floral, or polka-dot. It weighs less than 8 ounces and opens up to a 35 inch canopy, making it smaller than the other umbrellas on this list, and probably a better choice for women.
It comes with a unique, waterproof carrying case for extra protection. You can see photos of the case here.
It does not offer UV protection
Amazon reviewer Alguth was amazed by how well this umbrella worked, considering its small size:
I purchased this [umbrella] for vacation because of the size and travel case. What was different about this umbrella is it easily fits in my purse.

I was so surprised with not only the strength of the umbrella when opened, but also how easy it was to get back into the travel case. One other callout for this little umbrella is how well it protected both me and my son in the rain. I was amazed how large the coverage was for such a little umbrella. If you're looking for something to keep in a small bag that delivers great rain protection, this is your umbrella.
What's your experience with using travel umbrellas at Disney World?
Now I want to hear from you.
Do you prefer umbrellas or rain ponchos at Disney World?
Have you ever used an umbrella or parasol for sun protection?
What's your favorite travel umbrella?
Let us know below in the comments!
---
---