12 Great Gifts for Kids Who Love to Read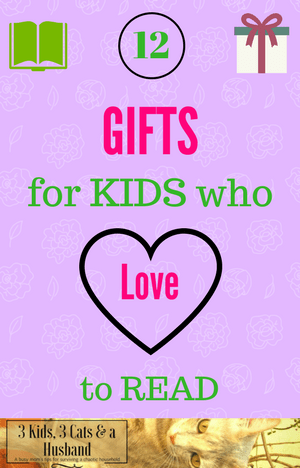 This post probably contains affiliate links. You can read the details about what that means here.
When I was in my late twenties, I looked up one of my sixth grade teachers and wrote her a letter, telling her that I was now a middle school teacher myself, and that I had good memories of her and remembered what a good teacher she was.
"Of course I remember you," she wrote in her reply to me. "My little redhead, always with her nose in a book."
Yup, that was me — a little bookworm.
I somehow learned to read before I even started school, and I was one of those kids who seemed to get along better with books than with other people.
I remember hurrying to get through my schoolwork so I could get back to whatever book I was currently reading. I remember my mother getting frustrated with me because I was reading when I was supposed to be getting ready for school. I went to the library every Saturday morning for many years, from the time I was reading about The Bobbsey Twins and Trixie Beldon to when I was older and enjoying books written by my hero, Judy Blume.
And, like many children who love to read, when I grew up I wrote some books of my own.
Interestingly, none of my three kids are avid readers. But for those of you who have a child who loves reading, you'll enjoy looking at this list 12 great gifts designed just for kids like them. I had so much fun doing the research to choose them. They are unique, attractive, and/or make our book-loving lives a little bit easier, and they all received high customer reviews.
I hope you can find the perfect gift for your own "little one with their nose in a book."
Nonskid Bookends for Kids
These nonskid bookends are so adorable that I think I might like a pair for myself!
They are sturdy enough to hold a good amount of fairly heavy books. (One Amazon reviewers has a photo of them holding seven chapter books plus a volume of Harry Potter.)
The plate at the bottom of four corner have antiskid cloth, to avoid scratching the desktop.
If for some crazy reason your child doesn't like cats, they also come with elephants, fish, or monkeys that are holding bananas.
LED Book Light for Kids
I love my booklight and use it every evening before I go to sleep. But as much as I love my it, it's not nearly as cute and interesting as this one, with its vibrantly colored polka dots. Reviewers described it as "sturdy," "super lightweight," and "lights up a good amount for a small bulb." Kids will love how easy it makes it for them to enjoy the wonderful pleasure of reading in bed before going to sleep.
Kids' Hanging Seat Hammock for Reading
Every reader knows that a cozy, comfy spot to do your reading is mandatory. This "swing chair," or hanging hammock, designed for kids, definitely fits the bill. It comes in pink, green, or blue, and safely supports up to 176 pounds. (It does sound like it would be too small, however, for kids older than about twelve, regardless of their weight.) It includes the swing chair tent, inflatable cushion, nylon rope, mounting bracket, swoop hook, and bolts, and can be hung inside or outside.
In addition to this hammock making a cozy reading nook, it can also be very useful for children with special needs or sensory issues. Amazon reviewer hna says:
Let me start off by saying this is an ESSENTIAL tool in my house!

My son was diagnosed autistic and also with sensory processing disorder, he is a sensory seeker. For him that means he likes to be bundles up and he like to spin and swing to help clam him down when his senses are being overloaded.

This swing is attached to my ceiling that is in between his playroom and my living room. He absolutely loves this swing. He likes to play like every other 4 year old but when he is in overload or in meltdown he gets in his pod as we call it and snuggles up with a blanket and swings around until he has completely relaxed. He also uses it for spinning, he sits inside and twists it up and then lets go while it untwirls.

I am so unbelievably happy with this purchase. Every one that comes over asks about this swing. It is great for when the weather is cold outside but your kids need to get some energy out. I recommend it to other parents all the time.
Kids' Reading Tent
This castle tent also falls under the "cozy spot for reading" category, but it's specifically designed for little girls. It has two side windows and a roll-up door and is decorated with hearts and glow in the dark stars. It is large enough for two, or even three, "little princesses" to have fun in together.
Thankfully (for people like me), this tent doesn't need any tools or fancy accessories to set it up. You simply pop it up and then insert the fiberglass support rods into the concealed sleeves to give it stability.
Another thing I really like about this tent is that it folds up and fits into a zipper carrying case that's only 17 inches in diameter. This makes it a great tent for bringing to grandma's house, the park, or the beach.
Faber-Castell Corner Creature Fold & Decorate Origami Bookmarks
Faber-Castell Corner Creature Fold & Decorate Origami Bookmarks
If your child likes reading and likes crafts (especially things like making paper airplanes or boats), then they will love this origami bookmark kit!
It comes with everything kids you need, including 10 sheets of origami paper, sticker sheet, accessory sheets, paper squares and step by step instructions.
While this is certainly an activity that can be done alone, it's also a great idea for parties.
a href="https://amzn.to/3DIj5OJ" rel="noopener" target="_blank">Click here to see a photo of everything that comes in this bookmark kit.
Bookworm Journal: A Reading Log for Kids
Bookworm Journal: A Reading Log for Kids
When I was about 12 years old, my public library was giving out bookmarks that said, "If you like Judy Blume, try these authors."
I went through every single author on the list and kept a notebook tracking the book I read, a 2-sentence review, and a letter grade. (I honestly think I still have the notebook in my attic — and if not, I know for sure that I kept it for well over a decade.)
By the way, after going through the entire list, my favorite author was this one.
Anyway, this journal would have been right up my alley.
Every time you finish a book, you fill out a journal entry with the title, author and rating of the book. Then you tear off the perforated corner of each page to see the bookworm "eat" his way through the journal.
Click here
to see photos of the pages from this cute reading journal.
Book-Shaped Reading Lamp
This flexible, portable book-shaped lamp works well as a night light, a desk lamp, or a reading light. It has eight different colors (see the photo above) and a soft, grain leather texture which can fold right back on itself to cast a light around 360 degrees.
Amazon reviewer Jolie Lewis explains why this is a great gift:

This item is fantastic! I purchased it for my 15 year old son. He had never seen a product like this and he does love gadgets.

The fact that it changes colors is an added bonus. We liked it so much we purchased another one for my 80 year old father-in-law for his birthday and another one for a hard to buy for friend for his birthday. This is going to be my new go to gift! It is simple to use, unique and looks really nice closes as a book or open as a light. It is fun and function all in one.
Since this reading lamp is rechargeable, not only does it not require batteries, but it gives you the ability to take it with you wherever you go. It's perfect for kids to take when they have a sleepover at a friend's house, or go away to camp. It also works well for family vacations, when one member of the family (usually me) wants to stay up and read after everyone else wants to go to sleep!
Children's Picture Book Rack

Picture Book Rack for Organizing Books

This book racl is one of those things my husband and I talked about getting when our kids were toddlers, but we never got around to it — and the next thing we knew, they weren't toddler anymore. If I could magically go back in time, though, I would definitely get it. (Maybe I'll buy one someday for my grandkids?)
I love how a bookshelf like this "displays" the books, making it not only easier to make a reading selection, but also keeping your book collection a lot neater and more organized than … well, if you're like we were and don't have it.
It has six different nylon pockets, each in a different bright color. It's narrow enough that it doesn't "jut out" into the room, which is definitely a plus. (Our house was built in the 70's and the kids' bedrooms don't give us a whole lot of space to work with.)
Even though this is shown as a book organizer for picture books for toddlers, I believe it would continue to work well as a child gets a little older. Certainly basic chapter books would fit in these pockets, just not as many.
People who love books (like myself) tend to have this weird habit of needing a book or two (or seven) wherever they go. Even if I'm going somewhere that it makes no sense at all that I would be reading, I still bring books … just in case. It's like having a security blanket I carry with me or something.
Children who feel the same way I do (or who make frequent trips to the library), will love this beautiful handmade book bag that was specifically designed by Etsy seller UndertheHawthorn for children who really love to read.
This bag first caught my eye because I loved the teal color (although it is also available in nautical blue). I also like the front pocket (for "stashing a summer reading list"), the hidden pocket made for storing a library card, and the fact that the extra wide shoulder strap was designed to make it more comfortable for a child to haul around a bag full of books.
The bag measures about 12 inches across and 12 inches deep.
Who doesn't love a personalized gift? It makes you feel special and lets you know that the gift-giver took the time to choose something just for you. A child that is particularly proud of their book collection would love being able to "officially" stamp them as their own property. It also comes in handy when you loan out your favorite books to others, or if you should happen to lose a book.
This is available as either a pre-inked stamp or a handle mount with a separate ink pad. (The self inking has more color options, including black, blue, purple, green and red, while the ink pads are only available in three different colors.)
Personalized Bookmark with Tassel
I don't know about you, but I can never have too many bookmarks, partly because I often have several books going on at once! This personalized bookmark with a coordinating tassel is beautiful. The Etsy seller, ThePaperShamrock, also offers several other bookmarks for kids, including themes of sports, owl, and a camo-style bookmark.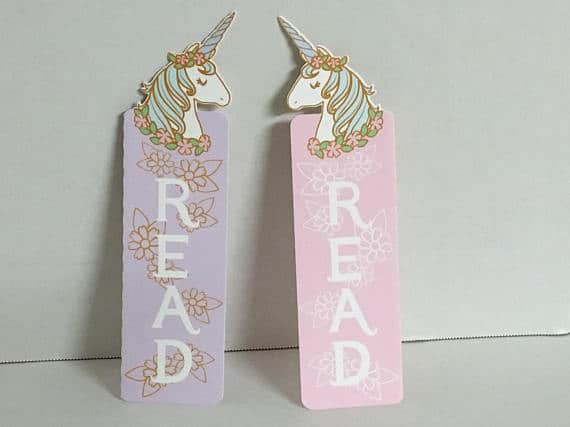 Unicorns are super popular with girls these days (or maybe they always were and I just noticed it?), so these pretty purple and pink unicorn bookmarks caught my eye.
They are acid-free, and you have the option to get them laminated, to make them waterproof.
Personalized Book Caddy
Over the years we've used various book racks to store our books, although none of them were as cute as this one. It is made of wood and is personalized, both with the name and the artwork. This image I choose to feature has a rocket, but Etsy seller My Bambino also makes them with hot air balloons, flowers, or sailboats. It measure 12 1/2 inches wide.
Stained Wooden Bookends for Kids
These wooden bookends are handcrafted from premium FSC pine, then finished, sanded until smooth, and colored with an oil-based stain. Since these are less on the "cutesy," side, I picture them for a boy's bedroom, although they certainly aren't limited to that.
There is a matching wall hook set to complete the look.
More Fun Stuff for Kids
---
---