Best Junior Baking Kits for Kids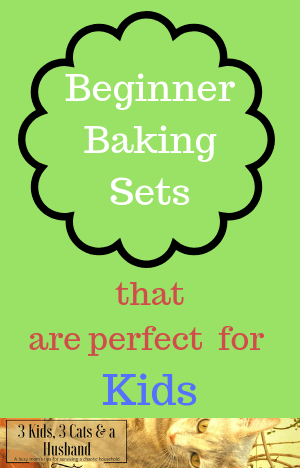 This post probably contains affiliate links. You can read the details about what that means here.
These baking sets for beginners are all geared for girls and boys who want to learn to bake.
I know I've had great memories of making Christmas cookies with my mom, and I still have the specific recipes that we baked together when I was a child.
Similarly, I've done a lot of baking with my own kids, including not just cookies, but also muffins, cakes, and cupcakes. It's a wonderful way to spend time together as well as getting them comfortable with kitchen skills. (Plus it makes the house smell great!)
Baking is also an easy way to open the door to being generous as a family. We've made tins of homemade cookies and delivered them to the fire station and the local library workers (who know us quite well!)
Now that my kids are older, my middle child has become quite a proficient and artistic baker. These Nutter Butter reindeer cookies are just one example of the many neat things she has baked for us and other people.
Here are several baking sets I found that are all sturdy, attractive, and the perfect assortment of the essential tools that beginners need to get started.
Handstand Kitchen Bake Shoppe 25-piece Deluxe Real Baking Set with Recipes for Kids

Handstand Kitchen 17-piece Introduction to Real Baking Set with Recipes for Kids

Curious Chef 30-Piece Chef Caddy Collection

Curious Chef TCC50091 27-Piece Foundation Set, Child, Multicolored

Curious Chef TCC50165 16-Piece Cupcake and Decorating Kit, Child, Multicolored

Real Cooking Ultimate Baking Starter Set – 37 Pc. Kit Includes Sprinkles, Cake & Frosting Mix

Amazon's Choice — Baking Set for Kids
BAKETIVITY Kids Cake Pops Baking Kit
This Cake Pop Baking Kit is currently Amazon's Choice in the "Baking Set for Kids" category.
It comes with pre-measured dry ingredients in color-coded bags for convenience and ease. You will still need water, white vinegar, vegetable oil, and a cake pan.
To make the cake pops, you
Bake the cake in a regular pan and let cool
Orumble up cake and mix in frosting
Shape into ball shapes and stick in cake pop sticks
Freeze for 30 minutes
Heat the included chocolate melts, then dip each cake pop into it.
** This is a one-and-done kind of baking kit with ingredients and instructions, not a kit containing utensils and pans that you will use many times.
Although many reviewers loved this kit, others were horrified at the price. If you typically bake from scratch, then this kit probably isn't for you.
✅ Cupcake Kits for Kids
Who doesn't love making cupcakes? Whether it's for a birthday party or a cupcake decorating contest, these kits are sure to be a hit.
Curious Chef 16-Piece Cupcake and Decorating Kit
This colorful, 16-piece cupcake kit is designed for kids ages five and up.
It includes a 6-cup muffin pan, frosting decorator, six unique decorating tips, six silicone cupcake liners in different colors, a frosting spreader, and a silicone spoon. The pan is a standard size to be used in a regular oven, not an EZ Bake Oven.
The decorating pieces are much easier to use, especially for little hands, than the Wilton cake decorating tools and typical icing bags.

Curious Chef 16-Piece Cupcake and Decorating Kit

Brilliant Baker Cupcake Decorating Kit for Kids
If you're looking for a simple and inexpensive kit so your kids can try their hand at cupcake decorating without any big commitment, this is a good one to consider. It comes with a set of mini muffin tin liners, four plastic squeeze bottles with metal decoration tips including lids, five plastic decorator tips, a plastic spatula, and a pastry bag.
Amazon reviewer Raynee Branch does a great job of clarifying what this cupcake decorating kit is and what it isn't:
When I first opened this to take a look at it I did feel like it was the perfect size for our little guy to handle the squeeze bottles, but they are very flimsy. They have an accordion bottom to make it easier to squeeze frosting but they are so thin I doubt they will last long. The metal tips are nice however. The plastic tips that go into the pastry bag and not the best quality but they are not the worst either. The pastry bag itself is a few steps above a disposable. You could probably get a few uses with it if you wash it very carefully. The spatula is on the small side for adults but perfect for little kid hands … Even though this kit is not amazing quality it is a great value for the price. I would consider it a reusable set but not for unlimited use. I would say you could get 5-10 uses out of it before tossing it.

Brilliant Baker Cupcake Decorating Kit for Kids

Maxi Nature Silicone Cupcake Liners and Decorating Kit
I love the idea of silicone, reusable cupcake liners. Whenever I made muffins at my house, I'm either out of paper liners, have only 3 left, or they somehow got smashed in the back of a drawer or the pantry.
With this set of 24 liners, you won't have any of those problems. Plus they come in really fun, attractive colors!
Another nice thing about this set is that it comes with a "cake corer," which means you can fill your cupcakes with things like pudding, fruit, or mousse. Yes, please!
Bug Cupcake Baking Kit for Kids
Bug Cupcake Baking Kit for Kids
While I have no particular desire to bake — or eat — a "bug cupcake," I know that many kids in my life would!
This kit includes all the dry ingredient, pre-measured and vacuum packed, so you don't have to scramble at the last minute when you realize that you're almost out of flour.
Another nice plus is that the ingredients are color-coded, making it extra easy to keep track of what's what.
The kit also comes with a hat and apron.
Baketivity also makes this type of pre-measured baking kit for
Bagels
Cake Pops
Cinnamon Buns
Granola Bar

Maxi Nature Silicone Cupcake Liners and Decorating Kit


Real Cooking Ultimate Baking Starter Set
With 37 pieces — and including sprinkles and cake and frosting mix — this really is an "ultimate starter set."
This set was designed with young beginner chefs in mind. The bowls have suction-locks to keep them stable and avoid spilling (uh, sometimes I feel like I could use that myself) and there is an egg cracker so that kids can break eggs without making a huge mess (yeah, I think I need that one too).

Real Cooking Ultimate Baking Starter Set

Click here to see photos of the finished cupcakes!
Reviewer Amazon Shopaholic raves about the high quality of this kit:
Got this for my 4 yr old's recent bday. She saw it on YouTube kids and fell in love!
It's very cool, the egg cracker tool is GENIUS! And I even use it to crack my eggs now; fun & NO MESS & No shell in the eggs, perfect crack every time!

This is not cheap. The items are high quality and are exactly as described. Actually BETTER than described!

We love that the bowls anchor to the counter top with the suction cup so it doesn't spill. Making it much easier for little ones to mix without all the spills and accidents.

I don't usually leave any reviews, but I just HAD TO for this neat set!

This is great for kids 4 & up. My daughter can use every item very well without help. Once I showed her how each tool works, she can easily use them all!

This set looks great, works great,(same as items I have/use to bake with) and the mixes actually look & TASTE GREAT!!!

Can't beat this set for Birthday and esp great for CHRISTMAS!!
Share the joy of baking with your little one and get them away from the video games, tablets, phones, tv!!

And teach a lost art..baking, just like our grandparents & parents taught us!
Great price, fast delivery & came just as described. Everything is easily cleaned and is dishwasher safe(top rack).
HIGHLY RECOMMENDED!!!
But some people did not like this kit at all, and almost all for the same reason. You can read all the one-star reviews here.
Video — Easy Cupcake Decorating Ideas for Kids
✅ Sets of Baking Tools for Kids
Curious Chef 30-Piece Chef Caddy Collection
Are you like me that you have a drawer stuffed with kitchen tools that you can't even close half the time? If so, then you will love the idea of this caddy.
This 30-piece set includes a rolling pin, pizza cutter, spatulas, pastry brush, measuring cups and spoons, whisk, cookie turner, frosting spreader, and more!
Amazon reviewer MDRT thought this set was fantastic:
My 5 year old grandson likes to help his mom cook, especially the prep, but unfortunately he cannot yet use a paring knife and his mom's other utensils are too big.

I was going to buy just a few of the utensils but by the time I added them all up for another 15 bucks I could buy this whole set. Had no idea what to expect, but I dove in anyway.

This set is terrific! He loves it and he was able to help chop strawberries for the jam we were going to make, . The knives work really well are a good size and although you have to use a sawing motion I wasn't having to hover over him with the fear that he would cut himself.

The only thing we took out to save for later was the peeler which is too sharp for a little guy. I found myself reaching for the stirring spoon and knives because they were handy in the caddy and they worked really well.

Good quality and so many tools to learn to use. Definitely worth the money. I paired it with the Williams-Sonoma Kids In The Kitchen cookbook for a complete birthday gift. I know he and his younger brother will use them both for a long time.

Williams-Sonoma Kids In The Kitchen cookbook

Curious Chef 11-Piece Kids' Apron and Baking Tools
This 11-piece kit has a pink and green apron, 6-piece measuring spoon set, a whisk, and a silicone spatula. One nice thing about the apron is that is has four short pockets and two longer pockets. The apron also has adjustable straps, so it can work with a variety of ages and heights. A few female reviewers said they were five foot three and used it themselves!
It's worth noting that this set is also available in blue, in case you want to buy it for a boy (or for a girl who just doesn't care for the color pink.)

Curious Chef 11-Piece Kids' Apron and Baking Tools

Curious Chef Beginning Baker 27-Piece Foundation Set

Curious Chef Beginning Baker 27-Piece Foundation Set

Handstand Kitchen 17-piece Kids' Baking Set with Recipes
This is a colorful little baking kit that comes arranged in a box in a way that makes it perfect for gift giving. It is heavier on "baking tools" more than pans, and contains a spatula, pastry brush, mixing spoon, small rolling pin, and whisk, in addition to baking cups and a loaf pan.
It includes includes five recipe cards for apple crisp crumble, chocolate chip cookies, chocolate dipped shortbread cookies, and vanilla cupcakes with strawberry frosting.
It is designed for kids ages six and up.
✅Children's Cooking Knives
StarPack Nylon Kitchen 3-Piece Knife Set
It sounds almost too good to be true: knives will actually cut your food without cutting you?
However, the many, many reviews like this one confirm that it is, indeed the case:
These knives are exactly what I was hoping they'd be. My eight-year-old daughter is very much into cooking and doing everything she can to help in the kitchen. I'm a protective dad leery of letting her do too much…knife work being high on the list of things I was reluctant to allow!

I found these, and they were well-reviewed, so I gave them a shot as part of a birthday gift. They were likely her favorite gift.

She can use them easily (quality, comfortable grip–I actually like the feel better than some of my regular knives). They cut much better than I expected, honestly, given the fact that they do seem to live up to the promise that they won't cut skin (I didn't saw at my own hand or anything, but I certainly did what I could to test them a bit).

So far, they've worked well on fruits and vegetables and other miscellaneous items (my daughter even uses them for brownies when she makes them). Very happy with this purchase.

StarPack Nylon Kitchen 3-Piece Knife Set

Click here to see a video clip of these knives in action!
Tovla & Co. Kids Kitchen Knife and Foldable Cutting Board Set
Here's a set of similar knives that also includes a cutting board. The neat thing about this cutting board is that it folds, so that when you transfer the cut food into a bowl or pan, it has "edges" so the food doesn't spill off the sides of the board and all over the counter.

Kids Kitchen Knife and Foldable Cutting Board Set

Video — Easy Way to Teach Kids to use Knives
✅Kids' Chef Hat and Apron
If you're going to bake, you really need an apron. A hat isn't a bad idea either, especially if you have long hair. So why not have fun with it and get a cute set to wear while you're working in the kitchen?
Personalized Embroidered Kids' Apron and Chef Hat Set
This apron comes in two sizes: one for little kids, and another for tweens. You can have your child's name embroidered on both the hat and apron at no additional cost.

Personalized Embroidered Kids' Apron and Chef Hat Set

Curious Chef Hat, Apron, and Oven Mitt Set for Boys
A lot of baking products designed for kids are girly and pink, so it's nice to see this blue and green apron that would be very appropriate for a boy who loves to bake. The matching oven mitts are also a nice touch.
Click here to see photos of kids wearing this set.

Curious Chef Hat, Apron, and Oven Mitt Set for Boys

JaxoJoy Hat and Apron Set for Toddler Girls
When I first saw this, I thought it was a toy, but the utensils are described as "fully functional." I think it could double as either something to wear while cooking or as a costume.

JaxoJoy Baking Set for Toddler Girls

Odelia Kids' Child's Chef Hat Apron Set
If you're less concerned about "cute" and more concerned about durable, high-quality fabric that will last a long time, this is the apron and hat to get.
But hat's not to say they aren't attractive. They come in 4 different sizes and 7 different solid colors, including blue, tangerine, and black. The hat has a velcro fastener, so your child won't outgrow it after a year or two. And this is another great choice for a boy chef.
Click here to see photos of kids wearing these aprons in the different colors.
✅Little Girls' Toy Baking Sets
Let's shift gears for a moment and talk about a different kind of baking set — play baking sets for very little girls!
Melissa & Doug Wooden Christmas Cookie Play Baking Set
We've had more Melissa & Doug toys in our house over the years than I can count. You can always count of them for well-made, durable toys that have a lot of "play value."
This cookie set is no exception. It has a cardboard cylinder that holds all of the "cookies" and the "frosting," a wooden knife, a spatula, a cookie sheet, the cookies and frosting, and a little oven mitt. The velcro always kids to "cut" the cookie dough, which I think is so clever! (The same concept is used in this toy that was very popular at our house.)

Melissa & Doug Wooden Christmas Cookie Play Baking Set

Melissa & Doug Wooden Make-a-Cake Mixer Set
Instead of slicing and baking cookies, this play set lets kids mix and bake a pound cake. It includes a mixer, bowl, sliceable wooden egg and butter, loaf, cake pan, pretend cake mix box, cake pan.
Click here to see a photo of a little guy having a great time with this set!
Kids' Baking Sets on Etsy
What could be more motivating to a young beginner baker than having a customized set of kitchen tools with their own name? The items in this set are laser engraved with both your child's name and a little cupcake design on the cutting board.
This set would make a great Christmas gift and is intended for younger children, as the utensils are "mini" versions.
It includes four different Christmas cookie cutters and a mini rolling pin, spatula, and pastry brush. It also has a wooden spoon, cookie sheet, and a cookie container with a handle and illustrations of Santa on the outside.
There is an option to also purchase a container of gingerbread cookie mixture wrapped in a ribbon to go along with it, if you like.
These solid wood baking utensils can be personalized with any message you like up to a max of 30 characters. The examples in the photos are "Happy baking, Emily" and "Baked with love by Emil
It contains a rolling pin, spoon, spatula and pastry brush, all wrapped up together with a pretty gender neutral ribbon, making it appealing to both boys and girls.
The cotton drawstring bag accompanying the set features a pretty color transfer in a cranberry wreath design, making it not only handy for storage, but also a pretty addition to your kitchen.
This etsy seller, RocketandFox, has several different baking sets. Some intended for young children and others, like this one, have full-sized utensils, making it a good choice for tweens. You might want to take a peek at her shop to see some of her other options.
You might also like:
✅Baking Cookbooks for Kids
Now that your beginner chef has all the kitchen tools to get started, they need some great recipe! Here are some popular cookbooks created just for kids.
Hint: Pairing a baking set with a kids' cookbook is a great gift idea!
Kid Chef Bakes: The Kids Cookbook for Aspiring Bakers
This cookbook for tweens includes 75 recipes with a total of 65 photos, including tips for prep and set-up and tutorials for basic skills like measuring liquids or cracking eggs. One Amazon reviewer describes it as a "great cookbook that bridges the gap between too simple recipes for little kids and a high quality baking book."

Kid Chef Bakes: The Kids Cookbook for Aspiring Bakers by Lisa Huff

American Girl Baking: Recipes for Cookies, Cupcakes & More
My oldest daughter was a huge American Girl fan when she was about seven and eight years old. She owned countless AG books, both fiction and non-fiction, and made recipes and even planned parties from their magazine.
True to American Girl standards, this cookbook has "real" recipes from scratch, as opposed to ones that use processed, pre-made ingredients.
Click here to see the Raspberry Chocolate Tartlets that a 7 year old made!

American Girl Baking: Recipes for Cookies, Cupcakes & More

The Nerdy Nummies Cookbook: Sweet Treats for the Geek in All of Us
One of my daughters was a huge fan of YouTuber Rosanna Pansino a few years ago, back when she was a "tween." She begged me to pre-order this cookbook before it even came out, and I was happy to do it.
One of the things I like about this cookbook is how visual it is. (I can't stand cookbooks that have no photos of the recipe — how am I supposed to know whether or not I want to make it?)
Not only does The Nerdy Nummies Cookbook have tons of step-by-step photographs (6 photographs oer recipe), but there are also templates and lists of all the tools you need. Very easy to see, at a glance, what's involved.

The Nerdy Nummies Cookbook: Sweet Treats for the Geek in All of Us by Rosanna Pansino

Video — Nerdy Nummies: Making Unicorn Cupcakes
Easy Baking Recipes for Kids
If you're looking for some final inspiration, here are some fun and colorful treats that I found on Pinterest:
Minion Cupcakes Made with Twinkies
Chocolate and Peanut Butter Crispy Bars
Easy Confetti Pie
Pizza Monkey Bread
Baking Class: 50 Fun Recipes Kids Will Love to Bake!

Kid Chef Bakes: The Kids Cookbook for Aspiring Bakers

Good Housekeeping Kids Bake!: 100+ Sweet and Savory Recipes (Good Housekeeping Kids Cookbooks)

Junior Baker (Williams Sonoma)

The Baking Cookbook for Teens: 75 Delicious Recipes for Sweet and Savory Treats

MasterChef Junior Cookbook: Bold Recipes and Essential Techniques to Inspire Young Cooks

My First Cupcake Decorating Book: Learn simple decorating skills with these 35 cute & easy recipes: cupcakes, cake pops, cookies

Kid Chef Junior: My First Kids Cookbook


---
---