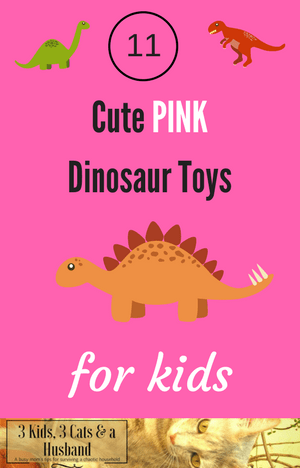 Through no particular prodding or encouragement on our part, our kids always followed gender roles in their choice of toys when they were little. While my son Benjamin was crazy about toy cars and garages, (and little else), my two daughters loved princesses, dolls, Minnie Mouse, dresses …
And the color pink!
If you're curious (or in a hurry):
Click here to see all my favorite pink dinosaur toys from Amazon at a glance.
I searched through both Amazon and Etsy and found these eleven pink dinosaur toys. Unlike some dinosaur toys, these dinosaurs are not meant to be scary or destructive. Rather, they are cute, friendly, and fun. Little girls would love these toys, but at least two of them would be completely appropriate for adult females who like dinosaurs — the color pink.

Plush Pink Toy Dinosaur with Polka Dots

This polka-dot dinosaur is so cute! It (she?) stands at 18 inches tall, has a yellow neck and belly, purple feet, and green, orange, and blue polka dots. The colors are bright and it is soft and cuddly. It ships vacuum-packed, and arrives looking flattened, but don't worry — it fluffs right back up within a few hours.
Not only did this dinosaur get voted "Amazon's Choice" for pink dinosaur toys, but the customer reviews were overall very positive, saying it is "adorable," "as cute as can be," and has "vibrant colors."
✅ Read a 5-star customer review with photos.
However, not everybody liked this little guy (girl?), giving a ONE star review.
Amazon reviewer Lauren Osborne said that the dinosaur itself "would be absolutely amazing" if not for the poor packaging it was in. Her daughter was disappointed in the result.
✅ Read Lauren's review with photos showing the problem.

Pink Triceratops Stuffed Pillow Pet

Pillow Pals are great. They're a stuffed animal that doubles as a pillow. Not only are they cute, but they're particularly handy for kids to take along with them to a sleepover, or even to make a long car ride more comfortable.
This pillow pal is a pink triceratops that fastens with a velcro closure. It's machine washable, fluff dry. This is the kind of toy that can be for any age. I'm not ashamed to say I even have a pillow pet myself.
✅ You might also like: 5 Colorful and Cozy Dinosaur Pillow Pets

Personalized Pink Dinosaur Stuffed Animal

Here's a pink dinosaur soft toy that you can have embroidered with your name (or maybe the dinosaur's name?) You can choose between five different font styles and fifteen different font colors. There is room for up to fourteen characters. The dinosaur is easily washable and has two pods through the bottom zipper that the stuffing comes out of. It also comes in blue, if you're shopping for siblings and don't want the colors to be identical.
Can Stuffed Animals Help Children with Stress and Anxiety?
We all know that stuffed animals are cute and fun, but studies show that they might also significantly help your child's well-being and development.
According to an article in Psychology Today, people who feel excluded or lonely have both a rise in positive emotions and friendlier behavior (such as being generous to others) after spending some time holding a stuffed animal.
Stuffed animals — especially ones with full cheeks, large foreheads, and/or maladjusted limbs — bring out the nurturing and caring side in humans.
And the most interesting thing I found was that stuffed animals can help inspire your child to read!
A Japanese study had children bring their stuffed animals to a "sleepover" at the library, where photos were taken of the animals gathered together and "reading" certain picture books. (Is that totally cute, or what?)
The next day, the children were not only given copies of these adorable photos, but they also were given a copy of one of the books their animals "chose" to read.
Sure enough, the children started reading the book to their stuffed animal!
So consider taking one of these dinosaurs along the next time you and your child go somewhere to pick out books.
And if you're looking for a great book that your child and their dinosaur will want to read together over and over, this one was a favorite of ours:
This is one of the many books our family loved written by Sandra Boynton. Like all of her books, it's cute, silly, and has adorable and colorful illustrations. We owned at least six of her books when my kids were little, and used to regularly get many more from the library.
✅ See all Sandra Boyton's books here.

Webkinz Pink and Purple Stuffed Dinosaur Toy

My kids were all crazy about the Webkinz stuffed pets when they were about seven or eight years old. Each one comes with a special "adoption code" that kids can enter in the Webkinz website and play games, take quizzes, and even "virtually buy" food, furniture, and toys for their pet. Even if you're not crazy about the idea of your kid spending time online and skip that part of it, this is still a good choice as a soft, washable pink dinosaur for little ones. It is seven inches long, which many reviewers described as being the perfect size — not too big and not too small.
✅ Click here to see all the best-rated Webkinz dinosaurs on Amazon.
How Do You Clean Stuffed Dinosaurs?
At some point, you're going to have to take your child's beloved dinosaur friend away for a little while so they can take a bath. But the last thing you want you to do is damage it. How do get it clean without causing unneeded wear and tear?
First of all (and I admit that I never did this myself), you should regularly vacuum your kids' stuffed animals. Even if they look clean, they're collecting dust and mites, so rub them a little with a cloth to loosen the dust, then give them a quick once-over with your vacuum hose and attachment.
Most stuffed animals can go in the washing machine and dryer, as they as they don't have a music box, glitter, delicate clothing or hats that can't be removed, glitter, or a styrofoam ball inside (I'm looking at you, Beanie Babies.) You also might want to avoid machine-washing animals that have been so well-loved over the years that they look too weak to withstand the machine.
I often washed my kids' stuffed friends in a pillow case, but these dryer bags also protect them well and come with a special set of "wash balls" which rub your clothes (or animals) gently while they're being washed. They come in handy for other things too — the biggest bag in the set can hold a sweater, dress, or blanket.

Safely wash your stuffed dinosaur in these laundry bags!

So what if you have a stuffed animal that can't be put through the washing machine? Well, here's a little trick I just learned: Put it in a big plastic bag, pour in about half a cup of baking soda, shake it and let it sit for about 15 or 20 minutes.
When time is up, shake it off and vacuum it if you'd like. Voila! Your child's stuffed friend is clean and sweet-smelling! Is there anything baking soda can't do?

Pink and Purple Triceratops Dinosaur Pendant

This adorable pink dinosaur pendant comes in a hinged, velour gift box that is pretty enough to be a lovely decoration in and of itself.
The necklace itself has an 18 karat gold finish and is lead safe. It is listed as being for ages 3-15, but one adult Amazon reviewer who loves dinosaurs raved about it being a great gift that she got from her husband.
✅ Click here to see a similar pendant as a brontosaurus.
This dinosaur bank isn't exactly a "toy," but it is pink and cute and definitely something that would make a girl happy. It is twenty inches tall and made of high gloss painted wood. The dinosaur "eats" the coins when you put it in his (her?) mouth, and you can watch it travel down the track into the clear, belly, which can later be opened by unscrewing the center bolt. Being able to see the money accumulate over time is a great incentive for saving. This would be a great gift for a girl who has just started receiving an allowance or who is saving up for something special.
✅ Click here to see this dinosaur bank in other colors.
I found this handmade dinosaur over at Etsy. It's made of hot pink minky fabric and has colorful ribbons made into loops, specifically designed to entertain babies who like the sensation of rubbing smooth fabric and find it soothing. (My younger daughter has always been very much into rubbing and fingering things!)
It is stuffed with hypo-allergenic stuffing and is machine washable.
Who doesn't love a gift that's customized with their own name on it? This jigsaw (which is also available with a blue dinosaur) includes a child's name of up to 12 characters. It is made of study cardboard with a glossy finish.
My favorite part? It comes in a matching, personalized canvas storage bag!
Do you have a dinosaur-loving child? They might enjoy sporting this cute canvas tote bag to carry things around in. It has a black bottom and gray lining. There's a pocket on the outside fabric and three more pockets on the inside, so small belongings won't rattle around and get lost.
This 7-inch tall crocheted dinosaur is made with acrylic yarn and safety eyes, so it's perfect to give to a baby. It is pink with stripes and has both a chubby tummy and stubby arms that makes it extra adorable.
The girl in this photo kinda cracks me up! She is showing her dino love by wearing a 100% cotton t-shirt. It's available in sizes from 2T(oddler) to 2Y(outh).
I hope one of these cute dinos will be a great choice for your little girl — or big girl! — who loves the color pink.