8 of the Best Unicorn Toys and Gifts for 5 and 6 Year Old Girls [2022]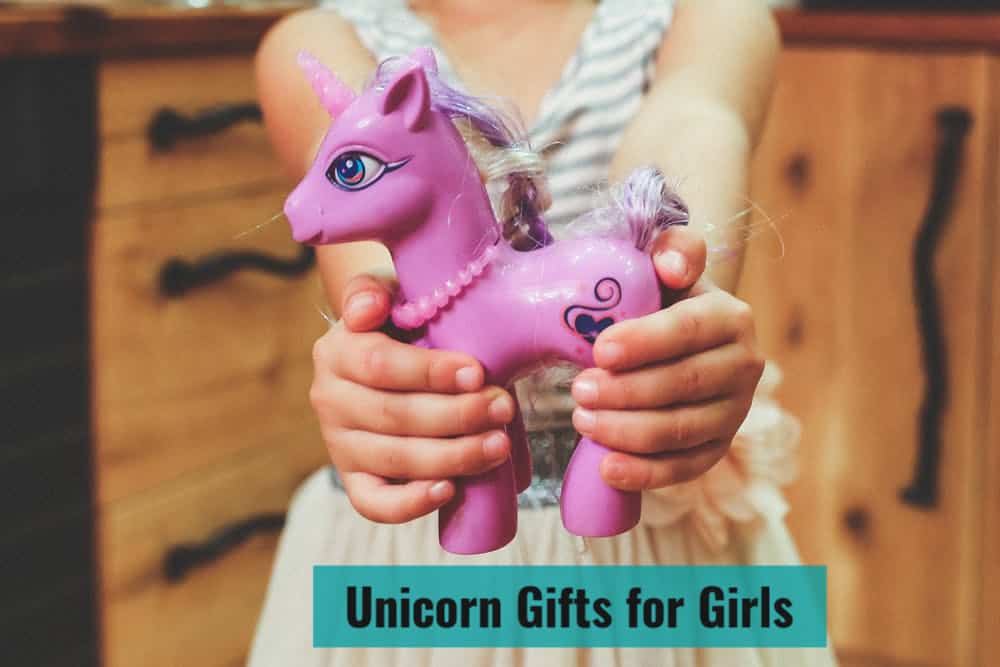 This post probably contains affiliate links. You can read the details about what that means here.
Unicorns are big right now. Chances are, if you know a little girl who is in around kindergarten or first grade, about the age of 5 or 6 years old, they are probably a huge fan of unicorns.
Whether you're shopping for a birthday party gift, a present for Christmas or Hannukkah, or something special "just because," this post is sure to help you find the perfect gift for the unicorn lover in your life.
✅ Personalized Unicorn Birthday Book
Personalized "Royal Birthday Adventure" Book
Everybody likes hearing and saying their own name. Personalized gifts are a way to make your favorite unicorn-loving girl feel extra special.
And what could be better than reading a book starring … yourself?
This 26-page hardcover book with beautiful illustration tells the tale of your child riding a magical unicorn to a magical kingdom, where they are crowned birthday royalty.
Reviewers loved the high quality of this book and the fact that the child's looked like it "belonged" and wasn't just awkwardly forced in.
When I first saw this book, I assumed that the personalization was just the child's name and birthday … but it's actually more than that.
You can include the names of family and friends who are invited to the "royal ball" to celebrate the birthday. (This is optional.) And the dedication page can say not only who the gift is from, but also mention the child' best qualities.
DIY Light-Up Terrarium Kit
Girls can use their imagination and creativity to create their own unique unicorn terrarium is a miniature garden.
The terrarium comes with LED string lights, turning it into a beautiful night light. There's a sturdy handle on the lid so that girls can easily carry the light at night.
Not only are batteries are included, but there's also another backup string of lights.
This Kit Includes:
Clear jar with handle
Two led string lights (batteries included)
colored preserved moss
sparkly colored and transparent crystals
miniature mushrooms
white pebbles
a cute flying unicorn
unicorn-themed greeting card and detailed user manual
Amazon reviewer Chakita said this kit was a big hit with her daughter:
The decorative items that came with this terrarium are cute and good quality. The moss is squishy, my daughter loved it! She loves the unicorn and for me, the little mushrooms are a cute addition.

We love the lights and so happy it came with 2 strands of lights! We only needed to add one so it's good to have an extra in case they stop working. She left the lights on all night one the first night and the lights are still working …
✅ Unicorn & Vet Set Interactive Toy
Rainglow Unicorn Vet Set – Interactive Pet Unicorn
Do you know a girl who wishes they had their own pet unicorn? Then this is the gift for her!
Amazon reviewer Katherine M. did a much better job of reviewing this toy that I ever could, so I'll simply share with you what she said:
This unicorn is absolutely adorable! My 6 year old daughter loves her and hasn't stopped playing with her. I have to say I wasn't sure when I saw the picture online because I thought her face looked kind of weird but she is really sweet in person if you have the same concerns.

Her eyes are a sparkly blue with little hearts. My daughter loved finding out that she has horseshoes on the bottom of her feet. Her fur is especially soft and my daughter loves having her on her lap to pet where she makes sweet happy sounds like a happy cat. Her eyes blink which really makes her seem very alive and endearing …

There is a switch to change modes from from normal to vet mode where you can care for her which is my daughter's favorite setting. Her horn changes colors so you can see how she is feeling. My daughter is loving caring for her.

She comes with accessories to use and interact with her.

The "Furmometer" is a thermometer that goes in her mouth and she closes her eyes and makes sucking sounds.
She has a bottle with "uni drops" that you can also give her and she will make happy sounds.
The "Sparkle Scope" when placed on her heart will make machine like beeps.
Her "Dream Cream" when applied to her heart-shape boo-boo will make her giggle.
She also comes with a bandage cuff to apply to her leg.

… This toy has really impressed me. It is a lot of fun and my daughter absolutely loves it. This Unicorn is absolutely endearing and magical to watch. This would make a great gift and I could see it being a hugely popular Christmas gift.
✅ Remote Control Toy Unicorn Robot with Interactive Gestures
Remote Control Toy Unicorn Robot with Interactive Gestures
Here's a remote control unicorn "robot" that neighs, sits, prances, dances to the beat, performs tricks, walks around the room.
There are 3 different play modes:
Blue Eyes/Remote/Gesture Mode: Unicorn follows remote control commands and simple hand-gestures.
Red Eyes/Adventure Mode: Unicorn can avoid obstacles and navigate a room all on its own.
Purple Eyes/Treat Mode: Unicorn can be programmed to perform a specific sequence of moves.
This toy includes:
Robo Pet Unicorn
Remote Transmitter (Batteries Not Included)
6 Program Treat Keys
Treat Dish
Mini Toy Comb
USB Charging Cable
NOTE: Some reviewers said that it was a little too difficult for their 5 or 6 year old to understand the programming function of this toy. Others said it was no problem. So just something to keep in mind. Depending on your child, you may want to bookmark this toy for next year, or purchase it now with the understanding that 1) They might some help with it; and 2) It's a toy they'll be able to "grow into."
✅ Rock Painting Kit with Unicorns, Mermaids, and Butterflies
Rock Painting Kit with Unicorns, Mermaids, and Butterflies
Unicorns … mermaids … butterflies … have I gotten your attention yet?
This 150+ piece rock painting kit will keep your little one (and probably also their older siblings) creatively busy for hours. Itincludes:
10 Multi Sized River Rocks
8 Color Acrylic Paint Set
2 Fine/Medium Tip Paint Brushes
1 Bottle Craft Glue
5 Unicorn & Narwhal Horns
2 Mermaid Tails
5 Pair Eyelashes
5 Multi-Colored Glitter Glue Pens
10 Popsicle Sticks
35 Diamond Stickers
10 Googly Eyes
30 Assorted Feathers
20 Pom Poms
10 Pipe Cleaners
10 Colored Cotton Balls
String of Pink Yarn (12 Inches)
Instruction Manual
Amazon reviewer Amberly said this kit was a big hit with the entire family:
I bought this for my 8 and 5 (almost 6) year olds. I wasn't sure how my 5 year old would do, but with a little help from myself and the tutorial videos, he did amazingly! It's super easy to access the tutorial videos with the QR code in the package. The videos are easy to follow and there is a video for each of the cute characters you see on the box.

There are tons of fun craft items to put on the rocks too. My older child even had fun making up their own rock characters since there are plenty of rocks provided, and its easy to go outside and find more if you need them. My entire family enjoyed doing this activity together. Bonus: the paint washed off easily! I highly recommend for anyone looking for a fun craft for their kids with all of the prep work already taken care of …
Magic Wooden Stable Playset with 6 Unicorns
Magic Wooden Stable Playset with 6 Unicorns
Breyer Farms Unicorn Magic Wooden Stable Carry Case is a high quality wood stable that is home to six unique unicorns. The stable doors slide open to the stalls, the windows open for the horses to stick their heads out, and the roof opens so you can access the stalls easily. The handle on top makes it easy for little girls to carry.
The stable measures 6 by 9 by 2.5 inches and each unicorn is 3.5 by 3 inches.
Reviewers liked that this stable set was easy to put together and very sturdy once it was assembled.
Unicorn Baking Set for Girls
Ages 5 or 6 is a great age to start learning how to bake (I remember when I was about six I wanted an EZ Bake oven more than anything.) Little girls will love how these baking tools are just the size to fit their hands.
This kit includes:
5 cookie cutters (unicorn, rainbow, cloud, ice cream cone, and magic wand)
Machine-washable children's apron
Child-size roller
2 stainless steel frosting tips
2 plastic frosting couplers
2 reusable frosting bags
Amazon reviewer Nancy Jackson was impressed with the quality of the pieces:
Bought the Unicorn set and the Fox set for my grandkids and they LOVED, LOVED, LOVED them!!

The sets are so cute and the quality is great – something you would expect from a high end children's boutique. Comes with everything you need! They saw the Snowman [set] and definitely want that one for Christmas. These are great gifts! I highly recommend.
No-Sew Fabric Unicorn Purse Craft Kit
Create A No Sew Fabric Unicorn Purse
Little girls can make their own unicorn bag with this kit that includes:
Soft fabric purse
Snap on unicorn horn
2 soft ears
Clip on bow
Rainbow yarn
Yarn lacing tool
2 self adhesive wiggly eyes
Felt stickers
Metallic stickers
Instructions
Amazon Vine Voice Reviewer Peter Weyland loved how this craft kit was uncomplicated and mess-free:
We love doing arts and crafts with our Little One. But as any of you know if you're a parent, cleanup can be a bit of pain. That's why we love this do-it-yourself unicorn purse. We worked together on making her purse, without it being too complicated, and with zero mess involved.

Our daughter is fascinated with unicorns (her last birthday party was unicorn-themed). So this was something we knew she'd love. And she was thrilled with it. The finished product is soft and safe. Our LO loves to put her little toy animals in the purse (so they can go "night night.") She can carry them around in her purse from room to room, or when we go on a playdate somewhere with other kids …
Click here to see a photo of two adorable little girls showing off their new unicorn bags.
Unicorn Gift Set with Picture Book & Stuffed Animal
Unicorn Gift Set – Includes Book, Stuffed Plush Toy, and Headband for Girls
This is the perfect gift for a girl this age who is just crazy about unicorns.
This 3-piece set comes in a polka-dot gift box with a pink satin ribbon and includes:
A rhyming book called If I Were a Magical Unicorn
A super-soft plush unicorn
A child-size adjustable unicorn headband
---
---