Unicorn Toys and Gifts for Girls: From Toddlers Through Teenage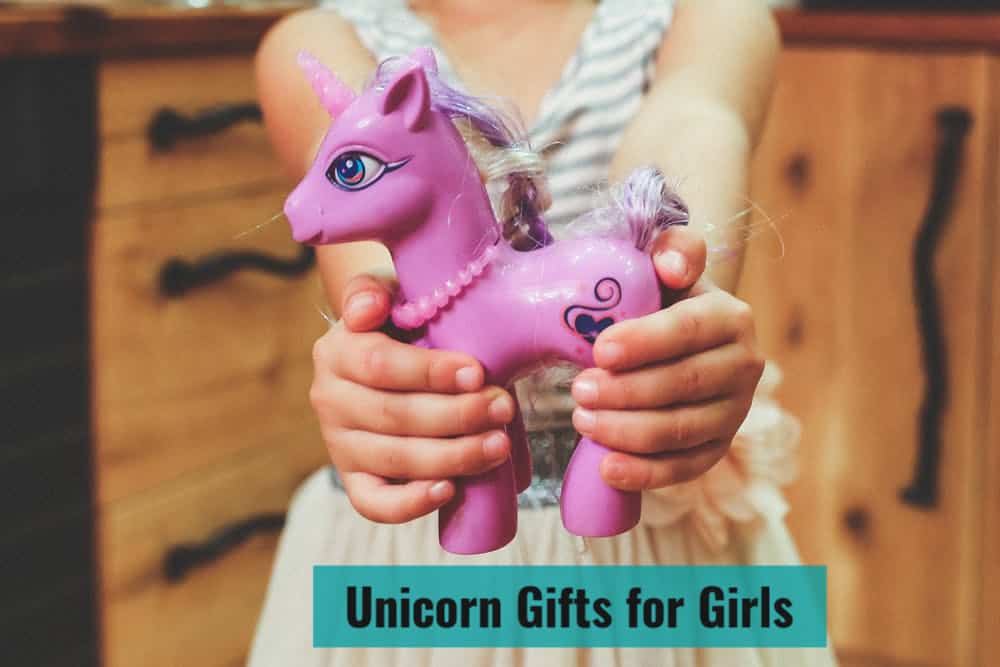 Unicorns are big right now — and so are the chances that you know someone who is crazy about them.
Whether you're shopping for a baby shower gift or for a teenage girl's birthday present, this post is sure to help you find the perfect gift for the unicorn lover in your life.
✅ Personalized Unicorn Gifts for Girls
Personalized Unicorn Sequin Pillow with Name,
Blinking Unicorn Blinking Personalized Mug
Custom Unicorn Reversible Sequin Pillow
Uniquely Personalized Birthday Book
Dabbing Unicorn Coffee Mug with Name
Personalized Magical Rainbow Unicorn Blanket for Kids
Everybody likes hearing and saying their own name. Personalized gifts are a way to make your favorite unicorn-loving girl feel extra special.
Personalized Birthday Book
Personalized "Royal Birthday Adventure" Book
What could be better than reading a book starring … yourself?
This 26-page hardcover book with beautiful illustration tells the tale of your child riding a magical unicorn to a magical kingdom, where they are crowned birthday royalty.
Reviewers loved the high quality of this book and the fact that the child's looked like it "belonged" and wasn't just stuck in.
When I first saw this book, I assumed that the personalization was just the child's name and birthday … but it's actually more than that.
You can include the names of family and friends who are invited to the "royal ball" to celebrate the birthday. (This is optional.) And the dedication page can say not only who the gift is from, but also mention the child' best qualities.
Personalized Rainbow Unicorn Blanket
Personalized Magical Rainbow Unicorn Blanket for Kids
This super-soft blanket is made from 100% washable fleece that can also be put in the dryer. Even better, it's made with premium dye-sublimation materials, so the print won't fade over time.
The blanket comes in 3 different sizes:
Toddler — 30 x 40 inches
Child — 50 x 60 inches
Adult – 60 x 80 inches
Personalized Dabbing Unicorn Mug
Personalized Dabbing Unicorn Coffee Mug with Name
Isn't this mug totally cute? And guess what — the artwork is on both sides of the mug!
Oh yeah, and it gets better: it also comes with a matching coaster, giving it the feel of a "complete gift package."
Reviewers were thrilled with both the quality of this mug and how much their gift recipients loved it.
This mom even caught her daughter sleeping with her mug!
Reversible Sequin Throw Pillow
Custom Unicorn Reversible Sequin Pillow
✅ Unicorn Toys for Babies & Toddlers
You're never too young to enjoy unicorns! These adorable toys would make great gifts for a one or two year old's birthday.
Baby GUND Princess Castle Plush Playset
Baby Rocking Horse Unicorn, Ride On Toy for 1-3 Year Old
Wooden Stacking Rings Toy with Unicorn Topper
Bright Starts Rock & Glow Unicorn Toy
Stuffed Princess & Castle Playset
Baby GUND Stuffed Princess Playset
This is such an adorable gift for a baby girl. It's safe, soft, and self-contained. I always like how all the pieces have a different sensory element to them.
The pieces include:
Princess crinkle doll
Magic mirror
Squeaker wand
Unicorn that "neighs" when you squeeze him
They all fit inside a plush pink castle that fastens shut, making it easy to pack up and take it all with you.
Baby "Rocking Horse" Unicorn
Baby Rocking Horse for 1-3 Year Old
This cute ride-on toy is designed with babies in mind and has a 3-side seat with a belt so little ones won't lose their balance.
Yes, this is a bit of a pricey gift, but many reviewers, like Shelby, said it was worth every penny:
Can I give it 10 stars?

I bought this for my daughter's first birthday present because of how much she loves to rock. I could barely put it together before she started trying to get on it. I kept having to tell her no and finally had to get Daddy to run interference so I could get it screwed together. She absolutely loves it. More than any of her other toys. I've already recommended this to others twice.
Wooden Stacking Ring Toy with Unicorn Topper
Montessori Wooden Stacking Toy with Unicorn Topper
This is a much higher-quality, more visually pleasing, and slightly smaller version of the plastic Fisher Price toy that many of us had as kids.
It helps babies and toddlers develop fine motor skills, hand-eye coordination, and a sense of order.
The rings, and the unicorn topper, are made with real wood and coated with non-toxic varnish and waterborne paint.
Unicorn Snuggle Baby Blanket
Carter's Unicorn Snuggler Blanket
This is a sweet, soft gift for a girl baby shower.
I know from experience that babies and toddlers will love rubbing their thumb and fingers against the silky smooth pink edging, and teething on the gold unicorn to soothe themselves.
Rock and Glow Unicorn Toy
Bright Starts Rock & Glow Unicorn Toy
What a clever idea — a toy that a crawling baby can chase!
This interactive toy has 2 settings:
"Learning Mode" lets children activate different lights, music, and sound.
"Chase Me Mode" has the unicorn rock and gallop around in different directions.
Amazon reviewer Familyof6 says this is a great toy for a baby girl around 6-12 months old:
We got this for our 6 month old daughter for Christmas and couldn't be happier with the purchase! When she received it she couldn't yet crawl, but is crawling now.

I would say this is probably her favorite toy right now. She loves that it lights up, plays music, rocks, and gallops!

I like that you can switch it from hard floor mode to carpet mode, because we have both. I also like that you can play with it stationary (for precrawlers) and galloping for older babies. In gallop mode, it goes QUITE far, and gently turns when it meets an obstacle.

It's actually pretty smart for a toy- gives my Roomba a run for it's money in not getting stuck in awkward places, haha. Overall I'm a very big fan, I would highly recommend it.
Plush Unicorn Chair
Sweet Seats: Teal Unicorn Children's Plush Chair
This adorable pink and teal chair is 14 x 19 x 20 inches and lightweight enough that little girl can carry it from room to room.
Several reviewers said that were surprised at how cute and durable this chair is, especially considering it's about a fraction of the price of a children's chair at Pottery Barn.
Amazon reviewer Angelique D. says this is her daughter's favorite chair:
We were looking to purchase a chair for our daughter to sit in while reading her books. She currently has a fixation on all things unicorns. This chair has checked both of these boxes. She uses the chair multiple times throughout the day to read her multiple books.

The chair is made of a plush material that is soft and washes well. I recommend cutting off the tags so as to not be something kids see as a toy. Our daughter is weighing 25 lbs. and is 32 inches tall. There is plenty of room for her to continue to grow into this chair.
Unicorn Toys & Gifts for 3-6 Year Old Girls
Plush Unicorn Rainbow Carrier
Large Inflatable Hopping Pink Unicorn
Baby and Mommy 4-piece Unicorn
Unicorn Apron & Cookie Cutter Baking Set
Unicorn Foam Pogo Jumper for Ages 3 & Up
Unicorn Gift Set – Includes Book, Stuffed Plush Toy, and Headband
Unicorn Baking Set for Girls
This is a great age to start baking, and little girls will love how these baking tools are just the size to fit their hands.
This kit includes:
5 cookie cutters (unicorn, rainbow, cloud, ice cream cone, and magic wand)
Machine-washable children's apron
Child-size roller
2 stainless steel frosting tips
2 plastic frosting couplers
2 reusable frosting bags
Amazon reviewer Nancy Jackson was impressed with the quality of the pieces:
Bought the Unicorn set and the Fox set for my grandkids and they LOVED, LOVED, LOVED them!!

The sets are so cute and the quality is great – something you would expect from a high end children's boutique. Comes with everything you need! They saw the Snowman [set] and definitely want that one for Christmas. These are great gifts! I highly recommend.
Pink Pogo Stick for Preschool Girls
Have you ever thought a pogo stick looked so much fun, only to be disappointed when you tried and fell right off after one or two hops?
Well, this foam pogo stick was created so that little kids could jump with no problem, either indoors or outdoors.
This toy squeaks every time your child jumps … which they might love, but you might not.
Click here to see a video clip of this pogo stick in use.
Magical Unicorn Gift Set
Unicorn Gift Set – Includes Book, Stuffed Plush Toy, and Headband for Girls
This is the perfect gift for a girl this age who is just crazy about unicorns.
This 3-piece set comes in a polka-dot gift box with a pink satin ribbon and includes:
A rhyming book called If I Were a Magical Unicorn
A super-soft plush unicorn
A child-size adjustable unicorn headband
Unicorn & Vet Set Interactive Toy
Rainglow Unicorn Vet Set – Interactive Pet Unicorn
Do you know a girl who wishes they had their own pet unicorn? Then this is the gift for her!
Amazon reviewer Katherine M. did a much better job of reviewing this toy that I ever could, so I'll simply share with you what she said:
This unicorn is absolutely adorable! My 6 year old daughter loves her and hasn't stopped playing with her. I have to say I wasn't sure when I saw the picture online because I thought her face looked kind of weird but she is really sweet in person if you have the same concerns.

Her eyes are a sparkly blue with little hearts. My daughter loved finding out that she has horseshoes on the bottom of her feet. Her fur is especially soft and my daughter loves having her on her lap to pet where she makes sweet happy sounds like a happy cat. Her eyes blink which really makes her seem very alive and endearing …

There is a switch to change modes from from normal to vet mode where you can care for her which is my daughter's favorite setting. Her horn changes colors so you can see how she is feeling. My daughter is loving caring for her.

She comes with accessories to use and interact with her.

The "Furmometer" is a thermometer that goes in her mouth and she closes her eyes and makes sucking sounds.
She has a bottle with "uni drops" that you can also give her and she will make happy sounds.
The "Sparkle Scope" when placed on her heart will make machine like beeps.
Her "Dream Cream" when applied to her heart-shape boo-boo will make her giggle.
She also comes with a bandage cuff to apply to her leg.

If you are careful opening up all the packaging there is a small cardboard doctor bag that can be used to store her smaller accessories. She also comes with a small Get Well Certificate.

This toy has really impressed me. It is a lot of fun and my daughter absolutely loves it. This Unicorn is absolutely endearing and magical to watch. This would make a great gift and I could see it being a hugely popular Christmas gift.
Unicorn Hooded Bathrobe and Slippers
Unicorn Hooded Bathrobe and Matching Slippers
Unicorn Picture Books for Preschoolers
Picture books are always fun, in my opinion. They can also make a nice companion piece to go with the "bigger" gift.
Here are several unicorn books to choose from:
Never Let a Unicorn Scribble!
How to Catch a Unicorn
I Turned My Mom Into a Unicorn: A funny thankful story
Goodnight Unicorn: A Magical Parody
I'm a Unicorn (Little Golden Book)
Unicorn Day
✅ Unicorn Toys/Gifts for ages 7-11
Paint Your Own Unicorn:, Includes Acrylic & Metallic Paints, Gemstones, Glitter, Sticker Sheet, Paint Brush
Unicorn Vet Set – Interactive Pet Unicorn
Craft-tastic String Art Kit – Unicorn Edition
Unicorn Slime Kit
Monopoly Unicorns Vs. Llamas Board Game
No-Sew Unicorn Pillow Kit
Paint & Decorate Your Own Unicorns Kit
Paint & Decorate Your Own Unicorns Set
This set comes with two plaster unicorns (one a unicorn head and the other a full unicorn and rainbow), so it could make a nice activity for sisters to do together, or a fun "Mom & Me" project.
The set contains 2 paintbrushes, metallic and neon paints, stickers, glue, glitter, sequins, and gemstones — so there's plenty of room for creativity.
Unicorn String Art Craft Kit
String Art Kit – Unicorn Edition
This is a different kind of craft that also makes a nice wall hanging when you're finished.
It comes with two different canvases, one with a unicorn design and the other with a heart design. Also includes are different types and colors of thread and yarn, string, glitter paper, felt — and push pins, so you don't need to use a hammer or nails to display the finished artwork.
No-Sew Unicorn Pillow Kit
Unicorn Pillow Kit – Cute Colorful Fleece Knot Pillow with Stick-On Flowers and Eyelashes
This pillow makes a cute piece of bedroom decor and is easy enough that a tween girl can make it herself without any adult help.
The kit includes:
Pillowcase with metallic fabric gold horn and ears
Pastel fleece tassels
Decorative flowers
Unicorn eyelashes
Polyfill stuffing
Step-by-step instructions
Unicorn Slime Kit
** This kit is Amazon's Choice in the category "Girl Gifts Age 8." **
The kit contains:
Glue
Clay for Butter Slime
Floam beads
Food Coloring
Scents
Flake glitter
Snow powder
Borax
Cutting and mixing tools
Storage Containers
In addition, you're given access to online video instructions as well as written instructions.
Amazon reviewer NikiNerdette was impressed by the quality and customer service:
I ordered this product for my 8 year old daughter and her best friend for a slumber party and we were blown away by the quality. We have since purchased all the other slime kits from Original Stationary, they provide exceptional customer service by answering all emailed questions, and the how-to books included in their kits are top-notch.

Everything needed comes in the box, and the box is great for storage, we now have a stack in our crafts area. Will definitely order more in the future, as you can see from the attached picture, my daughter is a slime making pro now (gloves and all)!
Unicorns vs. Llamas Monopoly Board Game
Monopoly Unicorns Vs. Llamas Board Game
This cute version of the classic board game has Team Unicorn playing against Team Llama with pastel-colored tokens. Instead of buying properties, your team claims titles like "Most Huggable," Most Charming," or "Twinkliest Eyes."
Amazon reviewer Tiffanie says this is a fun game for the entire family:
This is a really fun game. I'd say it's best for ages 7+ The were a few things that weren't explained well in the rules, but we were able to decide the rules ourselves and move on with the game.

Compared to original monopoly, game play is faster and more competitive, players are sorted into teams, and there were lots of laughs as chance cards include fun ways to get ahead or bring the opposing team down.
Musical Unicorn Jewelry Box
Musical Jewelry Storage Box, Rainbow Unicorn Design
Unicorn Gifts for Teen Girls
4-Pack Rainbow Unicorn Earrings, Ring, Necklace, Bracelet
Unicorn Bath Bomb Gift Set
Sterling Silver Unicorn in Heart Necklace for Women Teen Girl Gift
8-piece Unicorn Gifts for Teen Girls
Hey, there's nothing wrong with still loving unicorns once you're a teenager (or even an adult, for that matter.)
Several of the gifts in this section would probably make good gifts for younger girls as well, but I put them here because they wouldn't be too childish for a teenager.
4-Piece Unicorn Jewelry Set
Rainbow Unicorn Earrings Ring Necklace Bracelet Jewelry Set
This set includes a:
Necklace
Bracelet
Pair of earrings
Ring
all inside a cute gift box.
The jewelry in this set is mad of premium alloy with stainless steel chains, so it won't make your skin turn funny colors or itch. The pendants are decorated with sparkling rainbow crystals.
Unicorn Flower Planter Pot
Sweet Unicorn Porcelain Flower Planter Pot
I love this planter pot — it's so sweet and practical. At four and a quarter inches tall, it's just the right size for cacti, succulents, mini flower plants, or even an indoor herb garden. (The plants are not included.)
Mystical Effects Lipstick in Unicorn Tears
Too Faced La Creme Mystical Effects Lipstick in Unicorn Tears
If you know a teenage girl who loves both unicorn and experimenting with makeup, this is the perfect gift for them.
If you're like me and wondering what "unicorn tear lipstick" is, it's a glittery lipstick with a blue/pink shimmery hue.
Here's a clip of a detailed review left by Amazon reviewer Hope Pusher:
… The color is mostly a frosted cotton candy pink/light lavender color with lots of shiny, sky blue glitter particles that shimmer brightly in the light … I love the beautiful iridescence and smooth sheen of this lipstick.

… it's a lot of fun, particularly if you're going out for the night with friends, or if you have a date to impress …

… Unicorns, pastel colors and iridescence are a super popular theme right now and this lipstick is one of the best representations of that. I made a short video for you guys so you could see what the lipstick really looks like when you apply it on your bare lips.
More Toys & Gift Ideas for Kids
---
---