Easter Gifts for Babies, Toddlers, & Older Children (both Christian and Non-Religious)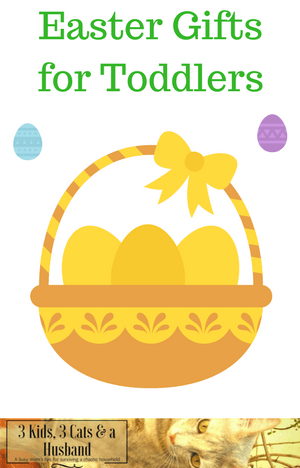 I have so many fun memories of my kids when they were toddlers.
We used to color eggs, go on Easter egg hunts with other families at the park, and decorate the house with stuffed bunnies (which we still do.)
And my mother always bought the girls new Easter dresses — and sometimes Easter bonnets as well.
What can I give my kids for Easter instead of candy?
Filling a child's Easter basket with is tons of fun, but if you're not careful, it's easy to have it filled with nothing but chocolate, jelly beans, and other candy if you're not careful.
How can parents find gifts that are more creative, have better longevity, and aren't lousy for our kids' health?
After reading this post, you'll be so excited to buy the perfect items for your children this Easter, whether you want fun, "bunny and chick" gifts, gifts that teach children about the Christian significance of Easter — or a little bit or both!
Easter Printables Make a Great Basket Filler
A super-easy and cheap Easter basket filler are printable games and coloring pages.
I have a bunch of cute ones in my Etsy shop.
The great thing about printables is that you buy it once and can print as many copies as you like. So you can print a coloring page set or maze for ALL your kids — and maybe even print a few extras for your best friend's kids!
Click on the links below for:
What can I put in Easter eggs that are not candy?
Want to have an Easter egg hunt, but don't want to have a ton of eggs filled with candy?
Here are just a few ideas of non-candy items you can put inside plastic eggs:
Coins/Money
Toy cars
Mini nail polish
Bookmarks
Lip Gloss
Goldfish crackers
Fun Non-Religious Easter Gifts for Babies & Toddlers
These toys are just plan fun and cute, and focus more on the "spring" aspect of Easter.
Baby GUND Plush Toy Bunny
Baby GUND Chub Bunny Stuffed Animal
Of course you have to include a stuffed bunny in a list of toddler Easter gifts — and as soon as I saw this one, I knew it was the one I needed to include.
This chubby bunny is almost seven inches high and looks so soft and cuddly! Can't you just picture a toddler taking it everywhere they go? Plus it's made by Gund, which has been around forever and has always made quality stuffed animals.
Hide & Squeak Toy Eggs for Babies and Toddlers
TOMY Toomies Hide & Squeak Eggs for Matching & Sorting
This is a really cute clever toy for toddlers and older babies, whether it's Easter time or not. The carton contains six white eggs which come apart and reveal a colored egg that squeaks when you push it.
The bottom of each egg has a different protruding shape, like a star, heart, or circle, that fits into the specific matching shape in the bottom of the egg carton. In addition, each egg has a different face on it which matches to a certain shell.
Babies and young toddler can learn cause and effect and have fun making the eggs squeak, while older toddlers and preschoolers can practice their gross motor skills and shape recognition.
I can easily picture children giving the eggs their own names, personalities, and even voices. Fun!
Vinyl Easter Finger Puppets
Fun Express Easter Finger Puppets
These vinyl bunny and chick finger puppets make great gifts, either for an Easter basket or, because they come in a pack of two dozen, for being part of an Easter egg or party favors. (Do note, however, that they do not fit inside a standard-sized Easter egg.)
Amazon reviewer Stephanie S. Hinderks explains how, for the parent of toddlers, these puppets are the gift that keep on giving:
My toddler loves these little puppets. And so do I! Tough plane flight? Stuck on line with your antsy toddler? Just whip out one of these little guys. "Ohhh! Pink bunny! Blue bunny!" she says, and the fun begins.

These little bunnies (and the chick) saved our Disneyland trip. Every we waited on line and my toddler started getting fussy, we would play games with a few of these little puppets. I carried a dozen of them each day in my bag. When my daughter inevitably lost these, I just whipped out a replacement. They kept her content through many, many lines.

They also were great for my older child at the pool. We had forgotten pool toys, but I had these. He threw them in the pool, they sunk to the bottom and he dove to pick them up. Being brightly colored and small, they were easy to spot.
In the interest of fairness, I went looking for the 1-star and 2-star reviews on Amazon to see what some of the negative comments were.
But guess what?
There weren't any!
Bunny Bedtime Game for Toddlers
Bunny Bedtime — The "Make a Choice Game" for You and Your 2 Year Old
One mistake I definitely made when parenting toddlers was not having enough routines.
Bunny Bedtime is a simple bedtime game all about helping a bunny make choices about his bedtime routine. Players put shapes in puzzle slots on the board and make a choice:
Will Bunny use the big potty or the small potty tonight?
What bath toy will Bunny play with tonight?
What pajamas will Bunny wear?
Even though this is advertised as a game for 2 year old, reviewers say that kids as young as 18 months and as old as 4 years old have also enjoyed it.
Girls' Easter Bunny Backpack
Girls Backpack Easter Bunny Backpack with Plush Bunny
Wow, is this adorable or what?
This super-soft toy can either be a bedroom decoration or used as a backpack for daycare, preschool, or family outings. It's so soft that it can even be used as a pillow for long car rides.
Easter Lift-the Flap Board Books

Easter Egg Lift the Flap Book for Toddlers

Wow, seeing this book brought back memories — all good ones!
My kids all loved lift-the-flap books like this one when they were little and never seemed to get tired of them. Available in both hardcover and board book format, the story has Baby going on an Easter egg hunt where lifting the flaps reveals items like
Jelly beans
Bunnies
Easter bonnets
More Easter Lift-the Flap Board Books for Babies and Toddlers
Hoppity Hop Peekaboo!: Touch-and-Feel and Lift-the-Flap
Easter Chunky Lift-a-Flap Board Book
Spot's First Easter Board Book (Spot Lift the Flap)
"My First Easter Basket" for Babies
Baby GUND My First Easter Basket Playset
This is an adorable Easter gift that is safe for even the youngest babies and toddlers. It includes a bunny that rattles, and egg that crinkles, and a chick that chirps. All the pieces are super-soft.
Since the basket is pretty small (just under seven inches tall) and there isn't a whole lot to do with the different pieces, I would recommend this for babies about twelve months and under.
Even though the age recommendation goes up to age three, I would think many three year olds would get bored with it quickly.
Christian Easter Gifts for Kids
If you prefer giving children Easter gifts that stress — and teach — the religious significance of Easter, then you're sure to find something below that you like:
Easter Egg Set with Religious Figurines
Resurrection Eggs 12-Piece Easter Egg Set with Religious Figurines Inside
I remember at least one of our kids got these at church at one year, although I'm embarrassed to say that the different pieces all got lost and we couldn't use it for future years as we had planned.
(Lesson: Don't let young children have access to this one on their own.)
This is a carton of twelve plastic eggs, each filled with a small figurine that represents some part of the Easter story. Included are a donkey, a cross, a stone … and of course the last egg is empty to represent the empty tomb!
Amazon reviewer Karla Slager describes why this was a big hit at her house:
This was a perfect fun way to discuss the Easter story with my 7 and 4 year old. They had so much fun doing a hunt for the eggs first and then we went through the book which I thought was very good.

Of course, I added some of my own explanation and asked them questions along the way so I wasn't just reading something. We opened up one egg at a time for each part of the story. The items were a lot of fun for them to hold and put a visual to each part of the story. Very good quality! I also love the plastic case that the eggs store in.
Christian Story Egg: The Easter Colorful Nesting Toy with Resurrection Book
The Easter Colorful Nesting Toy with Resurrection Book
This is unique toy that easily could become a yearly family tradition. (It also makes a lovely Easter decoration.)
It includes 7 beautiful nesting eggs and a hardbound book with 7 stories (each with its own Bible verse) that correspond to the eggs.
They suggest 2 possible ways to use these eggs:
Read the whole book and open every egg in one sitting
Starting on Palm Sunday, open one egg and read the story that goes with it every day until Easter Sunday
One reviewer described it as "An Advent calendar for Holy Week."
The egg stories are:
Palm Sunday
House of Prayer Monday
Teacher of Love Tuesday
Give and Take Wednesday
Last Supper Thursday
Good Friday
Holy Saturday
Easter Sunday

God Gave us Easter — Gift Book for Toddlers

I tend to be biased toward anything involving bears, so I was immediately drawn to this book where a Papa polar bear explains Easter to Little Cub as the two of them take a walk around the Arctic. It is a beautifully illustrated book using watercolors and colored pencils. Reviewers say that it's a bit on the wordy side, so this is more of book that you would to four and five year olds, and not so much to two year olds.
It's worth noting that this book attempts to explain God's plan of Easter without specifically mentioning the cross or the crucifixion. Instead, Papa Bear uses items found along their walk, such as an uprooted tree and a pinecone, to explain how Jesus came to die and to rise again so that we would have the chance to go to heaven and see Him face-to-face. I can appreciate the author leaving out the gruesome details, but I'm sure many Christians would find that incomplete and disappointing.
The Berenstain Bears and the Easter Story
The Berenstain Bears and the Easter Story: Stickers Included!
I can't even imagine how many times I must have read various Berenstain Bears books to my three kids over a span of about ten years while they were little. They were big big hits, particularly with my son. And they are so many of them in the series!
If you're mostly familiar with the earlier books, you may not be aware that the Bears have their own line of specifically Christian books.
Apparently Mike Berenstain, Stan and Jan's son, starting helping out with the family business in the mid-1980's and took over the writing part of the book series in 2005 after his father's death, while his mother still continued the illustrating side.
In 2006, both Mike and his mother Jan realized that they were getting a huge amount of fan mail from devoted Christian families.
They went to their publisher and suggested the idea for a new line of Berenstain Bears books specifically geared for religious Christian families.
These titles tend to be particularly popular with Christian homeschool families and includes such titles as:
The Berenstain Bears: Kindness Counts
The Berenstain Bears and the Joy of Giving
The Berenstain Bears and the Forgiving Tree
The Berenstain Bears Patience, Please
The Berenstain Bears Do the Right Thing
The Berenstain Bears Love Their Neighbors
VeggieTales: 'Twas the Night Before Easter
Like The Berenstain Bears, Veggie Tales is another series that we spent a lot of time with when the kids were younger.
(Actually, fun fact: We owned some Veggie Tales videos before we even had kids, just because we thought they were so funny.)
The plot of 'Twas the Night Before Easter involves Larry and the gang putting on a musical.
I wanted to share two different Amazon reviewers so you can make the right choice for your family, depending on what you're expecting from an Easter show for toddlers:
First, Abigail N. Reilly says:


My kids and I LOVE VeggieTales. This is a fun and entertaining story that reminds us that the bunny and all the candy is fun but that isn't the true meaning of Easter.

Bob and Larry explain Easter in simple words that kids can understand and they are hilarious while they do it. I've never been disappointed with Veggie Tales. They are always fun and always appropriate.
However, Kelly V. strongly feels the opposite:


This episode was barely about Easter, well perhaps Easter in the secular sense, but it did not handle Resurrection Day at all. The resurrection is the climax of the Gospel, and the story of Easter cannot be divorced from the Gospel and the fact that it is our sins that separate us from God, and that only the blood of Jesus can cleanse us.

This movie did not handle the Gospel message of the cross whatsoever, and simply emphasized good moral behavior, i.e. serving one another, forgiveness, kindness, humanitarianism, etc. Don't get me wrong, these things are all good and traits I want to see in my children, but not what I was looking for in a Easter/Resurrection Day episode.
✅ Click here to read all the ONE star reviews of 'Twas the Night Before Easter.
The First Easter (Beginner's Bible)
The Very First Easter (The Beginner's Bible)
This book is a simple, yet effective, way to teach your young child the story of Easter.
It includes several different subjects, including
Jesus's miracles
Palm Sunday
Jesus washing the disciples feast
The Last Supper
Jesus's crucifixion and Resurrection
so with very young children especially, you might wish to break the book down into just a couple sections at a time.
Easter Gifts for Sunday School Students
I taught Sunday School for several years … and I imagine some day I'll do it again!
It's always nice to have cute (but cheap trinkets) to give out to your students. These idea would also be great if you're giving the Children's Message at church.
Colorful Crystal Cross Necklaces
These set comes with 48 plastic necklaces, so not only will you have plenty for your own Sunday school, but you can share them with the teachers down the hall.
The necklaces include a clasp, so you don't have to just tie the string and end up with a bunch of knots!
Some reviewers said they also looked nice hanging against a window.
Assorted Religious Stampers for Kids
I love stamps. For a few years I taught middle school music, and whenever I graded a quiz, I would the stamp the "A" grades with a bear playing the piano.
The great thing about these plastic stamps is that each one comes pre-inked. Not only do you not have to go buy a separate ink pads, but you don't have to worry about little kids making a huge mess.
This is a great alternative to stickers for some toddlers who don't have the fine motor skills to peel off backings just yet.
Religious Multi Point Pencils
TINYMILLS 24 Pcs Religious Multi Point Pencils
Kids who are a little bit older will love these colorful pencils, whether they're given out on Easter or as Sunday School prizes. There are 6 different colors and 3 different designs, so even if a child already has one, they'll still look forward to getting another!
Blue and red pencils — Crosses and rainbows
Yellow and orange pencils — Hearts, crosses, and Jesus fish
Purple and green pencils — Hearts that say "Jesus loves me"
Video — Religious Easter Craft for Children
This folding coloring card that tells the Easter story can be used at Sunday School, put in Easter baskets, or used for Easter Egg hunts or with your own children.
---
---