9 Animal Themed Snacks & Party Food Ideas
This post probably contains affiliate links. You can read the details about what that means here.
When my kids were younger, we had lots of fun in the kitchen together.
Sometimes they would just be my assistant and hand me things while I was making dinner.
But the best times were when was we made "decorative food."
Here are 9 animal-themed sweet treats that you and your kids will love making as well as eating.
Cotton Child Aprons with Pocket
4-Piece Child Chef Set for Girl or Boy
Chocolate Teddy Bear Cupcakes
Who can resist an adorable teddy bear cupcake?
These sweet bears are made with a delicious chocolate frosting recipe and a few quick decorating tips. Even kids will easily be able can decorate them.
from Kristy at On My Kids Plate.
Healthy Fruit Bug Snacks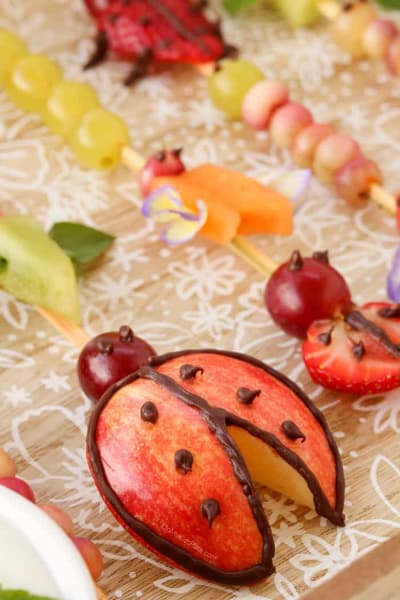 My kids (and I) love fruit — and here's a way to make fruit even more fun (and tasty!)
Using a mixture of chocolate chips and coconut oil, plus some mint leaves, you and your kids can easily create:
Grape Caterpillars
Apple Beetles
Strawberry Ladybugs
Strawberry Banana Beetles
Melon Butterflies and Dragonflies
from Kristy at On My Kids Plate
Owl Cookies with Oreos
These owl cookies are incredibly easy. No baking required!
Ingredients:
Graham crackers
Green candy eyes
candy corn
Oreo cookies
White candy melts
From Alli at Dancing Through the Rain.
Shark Cool Whip and Jello Dessert Cups
Looking for Shark themed food for a shark birthday party or a beach-themed summer party?
These fun shark snacks are made with yogurt and jello and topped with a gummy shark.
Ingredients:
Tub of Cool Whip whipped topping
Vanilla yogurt
Package of Jell-O (and boiling water)
Graham cracker crumbs
Gummy sharks
from Mommy's Fabulous Finds.
Ladybug Chocolate Pudding Dirt Cups
Celebrate spring with this adorable twist on classic chocolate dirt cups. Ladybug dirt cups are simple to make and are a huge hit with the kids!
Ingredients:
Chocolate pudding
Oreo cookies
Green frosting (and a leaf piping tip)
Red Candy Melts
Black decorating gel
Small candy eyes
Flower sprinkles
From Alyssa at Arts & Crackers.
Mini Marshmallow Sheep Face Cookies
These adorable no-bake sheep graham cookies are perfect for little lunch boxes, kid parties, school snacks or fans of Shaun the Sheep!
Ingredients:
Graham crackers
White frosting
Mini marshmallows
Black candy melts
Small candy eyes
From Alli at Dancing Through the Rain.
Chocolate Hedgehog Cupcakes
This cute and easy cupcake decorating idea isn't just for kids: they're perfect for anyone who wants to make an adorable cupcake but has never used a piping bag before.
Ingredients:
Plain cupcake
Chocolate frosting
Slivered almonds
Hershey Kiss
Black decorating gel
From Jacinda at Northern Nester.
Chocolate Covered Nutter Butter Penguin Cookies
These penguin cookies are an irresistible combination of chocolate and peanut butter and perfect for a holiday or winter-themed party.
Ingredients:
Nutter Butter cookies
Ghiradelli chocolate melting wafers
Ghiradelli white chocolate melting wafers
Small edible eyes
Mike & Ike candy
Sour Patch Kids candy
Tootsie Rolls
From In the Kids Kitchen
Rainbow Dragonfly Pretzels with M&Ms
These cute and colorful Rainbow Dragonfly Pretzels are a delightfully different summer kids recipe.
Ingredients:
Thin pretzel sticks
Mini pretzel twists
White candy melts
Sixlets candy
Black rope licorice
From In the Kids Kitchen.
Now that you've found the perfect treat, have fun with your kids in the kitchen!
You might also like:
Super Simple Baking for Kids: Learn to Bake with over 55 Easy Recipes
Kid Chef Every Day: The Easy Cookbook for Foodie Kids
The Complete Baking Book for Young Chefs
---
---