Christmas Ornaments for Book Clubs and Book Lovers
This post probably contains affiliate links. You can read the details about what that means here.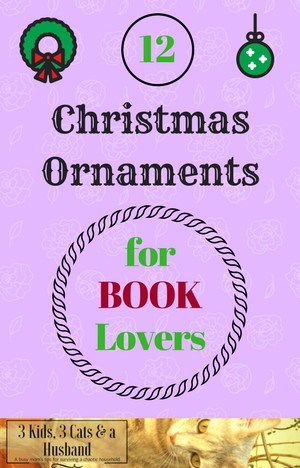 Stuck on what to give as a Christmas gift for somebody? Consider an ornament!
Almost everybody, regardless of their religious persuasion, does some sort of decorating in December. In addition to being hung on trees at home, ornaments can be used to decorate office desks, classrooms, and even porches.
Every winter when we decorate our tree I am reminded of special people in my life — childhood friends, college roommates, relatives who have passed on, and former students — who gave me ornaments many years ago, many of them personalized with my name and the year.
As nice as an ornament gift is, it's even better when it's chosen around someone's specific interests and hobbies. It makes it more likely that your gift will be unique, and it proves that you really know someone and took the time to carefully choose something especially for them.
Being a book lover myself ever since childhood, I had a great time searching for these literary Christmas ornaments. I hope you enjoy looking through them as well.
Stack of Books Christmas Ornament
This ornament is made by a company called Old World Christmas, who specializes in creating hand-crafted, hand-painted ornaments that are made out of molten glass mouth-blown into exclusive molds. This particular ornament features a stack of books in glittering colors of blue, red, and gold.
It comes packaged in a special gift box, making it ideal for Christmas gift-giving.
Gone with the Wind Christmas Ornament
A couple years ago I watched the movie Gone With the Wind with my husband and oldest daughter and was inspired to re-read the book. (I "had" to read it during my sophomore year in high school.)
I was struck by how complex and deep the book was, and with how much I learned about the time during and after the American Civil War. It is so much more than a "love story," as so many people of it as, and probably one of my favorite non-children's books.
This Hallmark ornament of Rhett Butler and Scarlett O'Hara is titled "Almost a Kiss" and has a sturdy enough base that it be used as a figurine as well as an ornament. The facial expressions are quite detailed, and the red and green colors of the hat and box are a nice contrast against the dark clothing.
Polar Express Christmas Bell Ornament
I'm sure I'm not the only adult book lover who has a special fondness for children's books. The Polar Express by Chris Van Allsburg, which was the 1986 Caldecott Medal Winner, is one that we read every December.
This ornament (another Hallmark Keepsake) is a metal sleigh bell with a faux-leather hanger with attached "The Polar Express Round Trip" ticket charm. The bell actually jingles (of course).
It comes in a seasonal holiday gift box that is nice enough to keep use for storage purposes.

Polar Express Christmas Bell Ornament

Winnie the Pooh Hallmark Keepsake Ornament

Winnie the Pooh Hallmark Keepsake Ornament

A. A. Milne's stories have been a favorite of mine since I was child and my mother read The House at Pooh Corner out loud to my older brother and I. The Disney version of Pooh and his friends is a little different, but still delightful, and The Many Adventures of Winnie-the-Pooh is one of our families very favorite Disney movies.
This ornament, titled "A Visit from Piglet," is the first in a library series that also includes "Honey Time" and "A Blustery Day". Each ornament in the series opens and closes like a real book. You can display it either to highlight the book cover or to show the story and characters inside, giving it instant versatility.
The inside scene has Pooh and Piglet together with honey pots. The opposite "page" reads:
"Thanks for the honey!" said Pooh. "Is there more?"
Piglet smiled and said, "What are friends for?"
Goodnight Moon Christmas Ornament
If you've ever been the parent of a toddler, you probably know all about "the great green room" with "the comb and brush and a bowl full of mush." I have to admit that Margaret Wise Brown's Goodnight, Moon was never one of my very favorite books, but it does bring back some very distinct memories of the days when children were very little, which makes it very special.
This ornament captures that infamous bunny bedroom in beautiful — and accurate — detail. Children who love this book will probably treasure it for years to come. This strikes me as a particularly poignant gift for a grandparent to give to their grandchild.

Goodnight Moon Christmas Ornament

Alice in Wonderland Christmas Tree Ornament
I'm sure you've already noticed how many ornaments I've chosen that represent children's books. Yeah, I can't help it … there are so many good ones, and children's book have so many good, lasting memories for me.
Alice in Wonderland (and the lesser known Through the Looking Glass, which, contrary to what Disney would have you believe, is a completely separate book and different story) were always favorites of mine.
When I was in fifth grade, my school chorus put on a production of the Disney musical. Then the next month was my birthday and one of my best friends, Kim, gave me a beautiful hardcover copy of the two "Alice" books combined, with her personal inscription in it. I still have the book, decades later.
There are so many great quotes from Lewis Carroll's books, not the least of which is, "Why, sometimes I've believed as many as six impossible things before breakfast."
The ornament itself reads "May your days be merry and bright" and features Alice examining a new Christmas ball while playing with her kitten, Dinah.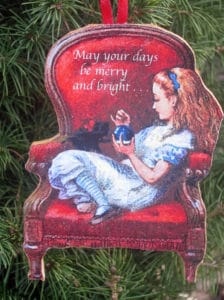 Anne of Green Gables Doll Ornaments
I about squealed when I saw this ornament kit on Etsy! Anne of Green Gables clothespin dolls of Anne Shirley and best friend Diana Barry … does it get any better than this? I would have snatched these up in a second and made them with my girls back in the days when they were about seven or eight years old. (Well, either these or the set with Laura and Mary Ingalls. Oh, heck — I would have gotten both!)
The kit comes with all supplies needed, including two dollpins, felt, doll hair, lace, a coordinating ribbon, materials for a "slate" and a silver basket charm, one pattern sheet and two instruction sheets. The finished products can be hung from the tree or stood on a shelf year-round.
The Etsy seller, regencyaustentation, has several other kits in her "Classic Literary Pairings" series, including Rhett and Scarlett, Anne and Captain Wentworth, and another squeal-worthy one of Meg, Jo, Beth, and Amy.
Personalized Book Club Christmas Ornaments
If you love books, you've probably been in a book club at one time or another. I haven't been in one for a long time, but I was in one for about two years when I was pregnant with my second child and when she was a baby. We met one Saturday every two months for breakfast, and I absolutely loved it. One of the great things about it was that we read books that I normally never would have chosen myself, like Barbara Kingsolver's The Poisonwood Bible, Francine Rivers's Redeeming Love, and P.D. James' The Chidren of Men. They all led to some pretty deep and interesting conversations, far beyond, "Ooh, I really enjoyed this part."
If you have a book club that is near and dear to your heart as well, this personalized ornament is a lovely gift to show the other members how special they are to you — and how special books are to all of you.
Vintage Book Christmas Ornament
Do you ever worry that you'll give someone a present that they already have? Well, that's virtually impossible if you give one of these decorative paper flower pomander balls.
Each flower is hand-folded from a vintage book (the image above shows Emily Bronte's Wuthering Heights, but there are many other choices as well. Etsy seller Greencycledesigns makes paper flowers from Garfield comic books, Disney World park maps, and Beatles sheet music. And if you want to see something super unique, as well as beautiful, check out this amazing Dr. Seuss paper flower wedding bouquet.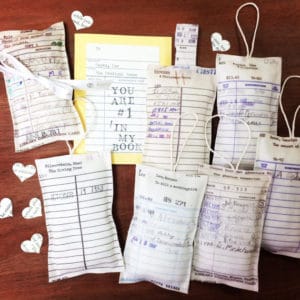 Generally speaking, teachers tend to like reading books. If you're looking for a special gift for your child's teacher this year, this rustic apple ornament is a nice choice. Each one is uniquely made from a book that was "rescued from a recycle bin" and given new life. It can stand alone on a desk top as well as being hung as an ornament.
Each ornament is packaged inside a white gloss paper box complete with cream-colored crinkled paper, making it both a perfect gift box and storage box.
I have a theory about why so much of us claim that Harper Lee's To Kill a Mockingbird was our favorite book from high school English. (Mine actually was Catcher in the Rye, but TKAM was a very close second.)
It's because we could actually relate to it. I don't know about you, but at fifteen or sixteen I couldn't identify with the Buchanan's problems, or anything that Hemingway had to say. But Scout Jem, we understood.
This clear glass ornament is filled with the dainty hand-cut and curled strips of damaged and vintage books. An ivory satin ribbon hanger is included to give it a "shabby chic" feel.
You can also have this ornament made with vintage copies of other books, including Peter Pan, A Tree Grows in Brooklyn, and The Secret Garden.
I hope you were able to find a great ornament for the book lover in your life, your book club buddies — or maybe even one that you'd like to treat yourself to!
---
---