The Best Disney World Printables From Etsy: Planners and Surprise Letters and Tickets
This post probably contains affiliate links. You can read the details about what that means here.
Digital products are great.They satisfy our need for instant gratification, because you get them within
seconds
after clicking a couple buttons.
Make a mistake?
Want copies for everyone in the family?
No problem! Just go print some more.
And did you ever buy a book or planner that had pages of things you didn't need, but not enough space for the stuff you did need?
Not a problem with a digital product! Just leave out the things you don't want and print extras of what you need more of.
After reading this post, you'll have the perfect printables in your hot little hands within seconds, ready to make your next Disney World vacation more fun and less stressful.
Are you overwhelmed by seeing how much Disney World has changed since you were a kid?
Are you starting to feel like you need a "Disney degree" to make sense of it all?
Do you like to be organized and have a plan, but you've read soooo much about Disney World that now you just feel lost and stressed with everything?
Yup. Been there, done that.
Which is why I created a way you can plan a magical Disney vacation that your family will be talking about for years to come …
… but without having to stay up til all hours of the night, stressing about how you can hit all the best rides and still have time to meet all your kids favorite characters.
The "Practically Perfect" Park Planner includes:
2 different cover designs
A page for all your travel information — flight, hotel, car rental, etc — so you can refer to important stuff quickly
A vacation planning timeline, so you know which important tasks need to be done when
A page for keeping track of your vacation budget — because there's nothing magical about a credit card bill that's bigger than what you expected
A packing checklist, so you don't forget anything important
A list of Fastpass rides for 4 parks, with the best Fastpass options marked
Your own personal Fastpass tracker, so you know at a glance exactly where and when you need to be
A list of Disney characters in the parks, so you know exactly where to find your children's favorite characters
A list of all Disney character meals in the parks, including where they are and who you'll meet, so you can make the best choices for where to eat
A list of all Disney character meals in the resorts
A character meet and greet wish list, so you don't get distracted from meeting the characters that your children's heart are set on
Your own personal vacation bucket list, to keep your most important goals top of mind
A list of all rides with height requirements, so there are no sad surprises for little ones
Your own personal Advance Dining Reservations (ADR) tracker
A day planner for each of the 4 parks
Lists of the best snacks in each of the 4 parks, plus where to find them
Lists of all restaurants in each park
Just click here to get ALL those items churning out of your printer in no time — and at a discounted price!
Surprise Trip Tickets for the Kids
We never did this, but I love the idea. Instead of just telling the kids you're going to Disney World, have a customized ticket make the announcement.
You could play this out in various ways, between setting them on the breakfast table to actually mailing them to your home.
Speaking of surprise Disney reveals, I've personally never been a big fan of "Hey, we're going to Disney World … right now!" type of reveal.
For one thing, whether my kids were four or fourteen, a big part of the fun was planning, shopping for, and discussing the trip for the weeks (or months) leading up to it. They would have missed a lot if we just sprung it on them at the last minute.
Second — and more importantly — some kids can get understandably upset if you play the game of, "Hey, everybody, let's get in the car and head to [somewhere that is not Disney.]."
So I know those don't-tell-the-kids-til-we're-on-the-road reveals have worked well for many people, but I personally wouldn't recommend it.
Regardless of when you choose to tell your kids, I think these printable tickets are adorable.
Etsy seller SimoneMadeIt has this ticket just for Christmas: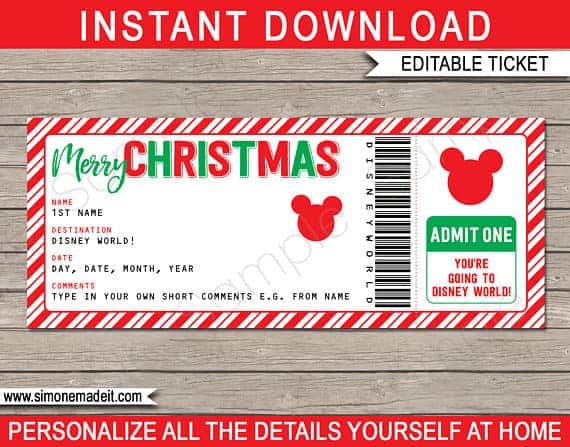 Seller MyLittleStarStore has a Christmas ticket as well: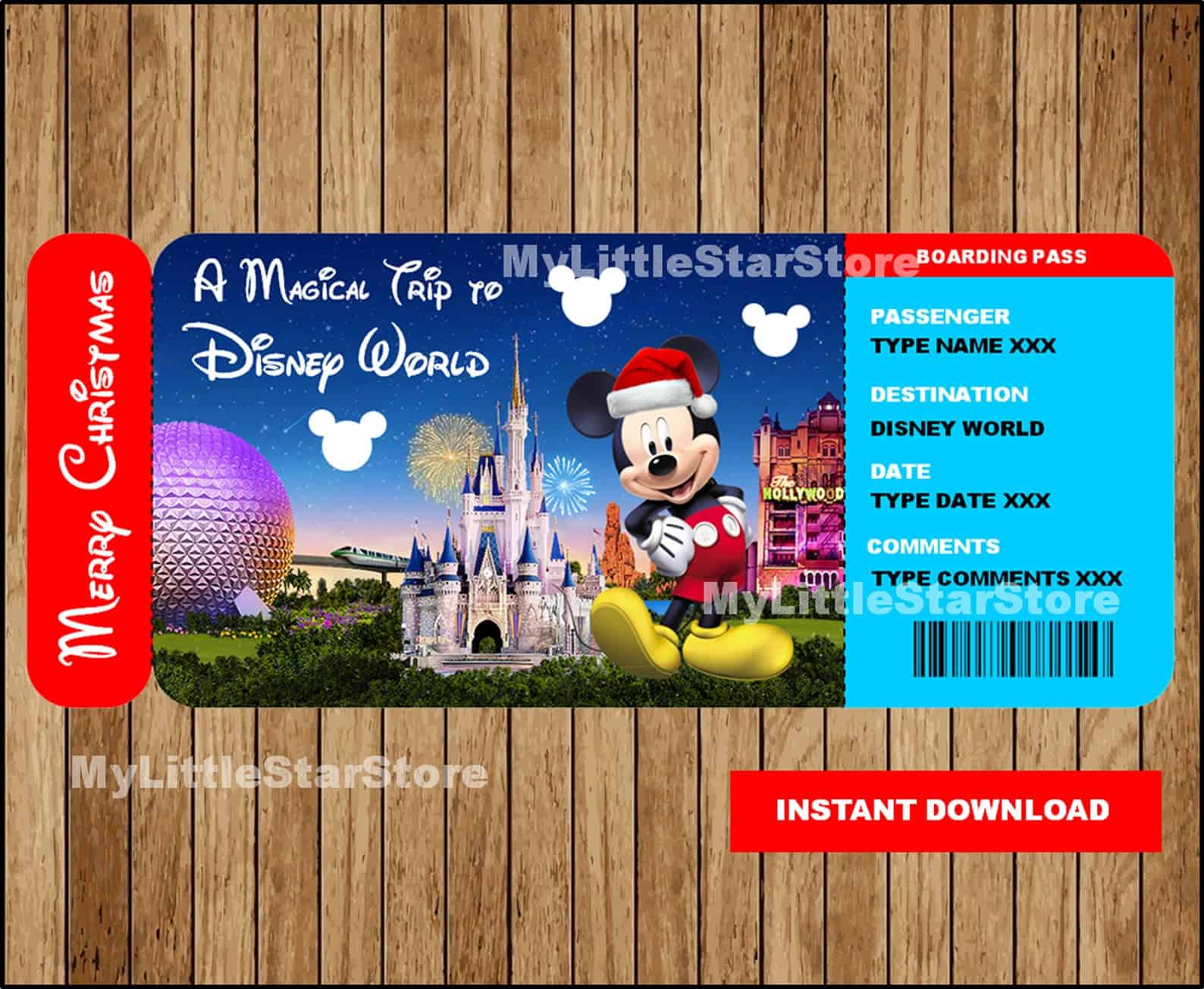 Rachael at LoveAndWishesDesign has some beautiful tickets that can be used any time of year: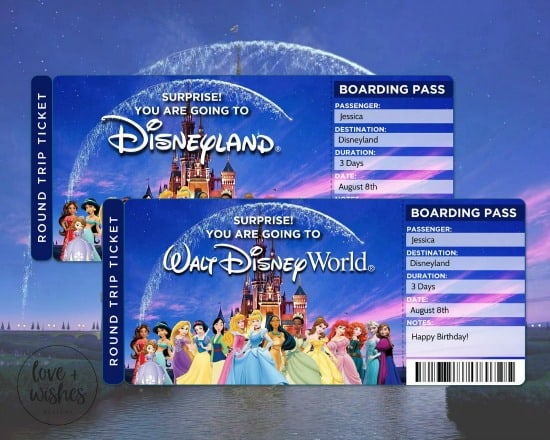 "Surprise — You're Going to Disney World!" Letters
What could more exciting to a kid that getting a personalized letter from their very favorite Disney character telling them that they're going to Disney World?
I absolutely love this idea! They can be used either alone or together with one of the above tickets.
Etsy seller TinksTravelCards has several letters to choose from, including these two: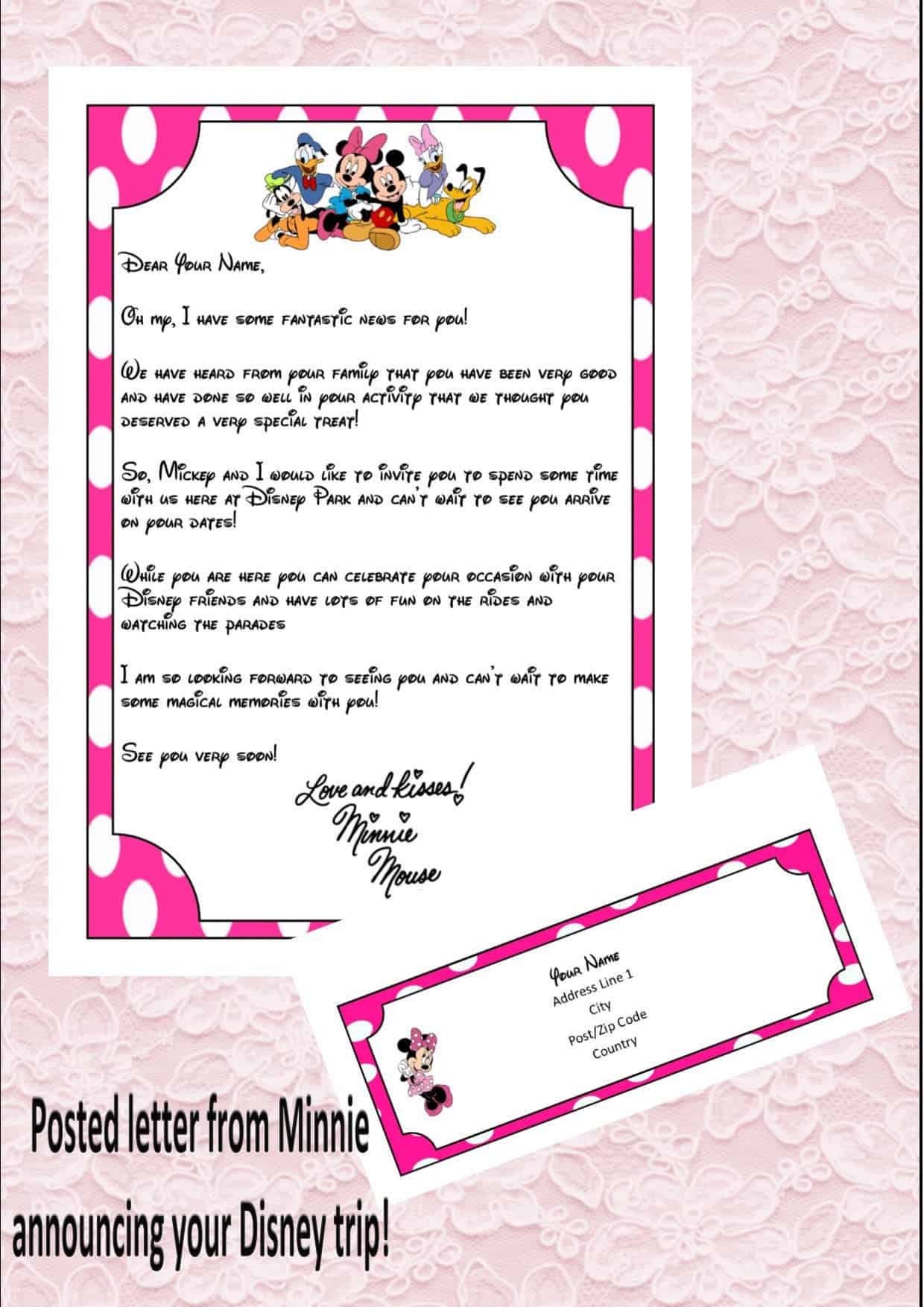 Amy at Theory5Designs has these letters from Minnie and Mickey:
Disney Vacation Printable Planners
My husband Rob thinks it's so strange that, with all the apps and devices available to us, I often choose to — gasp! — write things down.
But there's just something about writing, and being able to flip through a book to look at my notes, that works better for my brain then clicking through screens. If you're the same way, you know exactly what I mean.
These printables are great for having everything you need to plan your Disney trip all together in one spiral notebook. Depending on the specific package, they include things like:
Countdown of tasks to do before your trip
Packing lists
Budget trackers
Dining Reservation tracker
FastPass Reservacations
and lots more!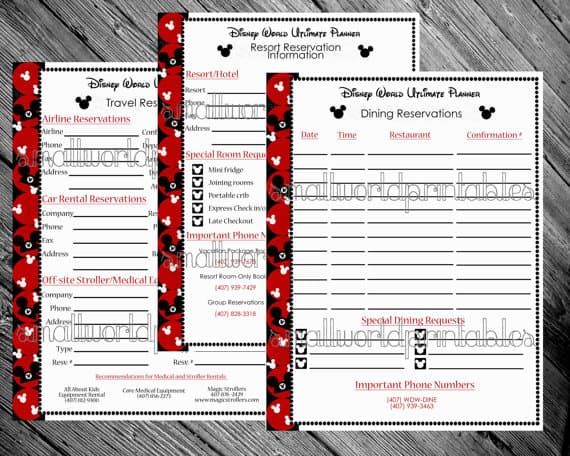 Disney Travel Journal Printables
Both the teacher and the writer in me love this idea. What fun is an amazing trip if you don't savor the best moments by writing about them?
Most of these are designed for kids, although some are more of an adult/child combo.
It lets kids track each day, writing a little bit about:
Favorite thing they did that day
What they ate
Souvenirs they bought
Countries they visited at the Epcot World Showcase
Etc
I liked the idea of a printable travel journal so much, that guess what?
I created my own.
You can check MY travel journal out here.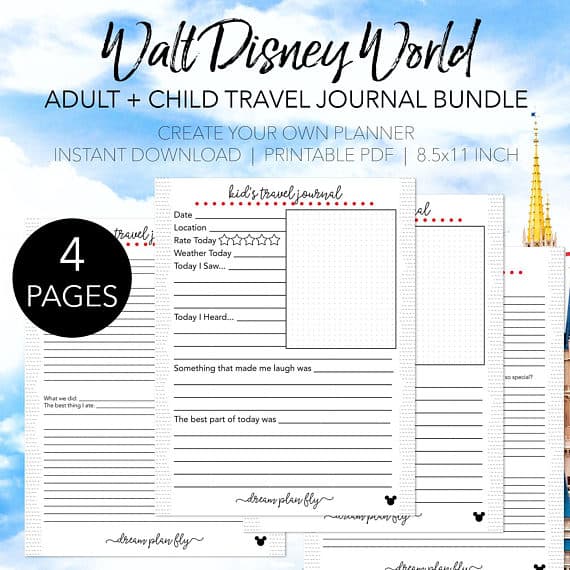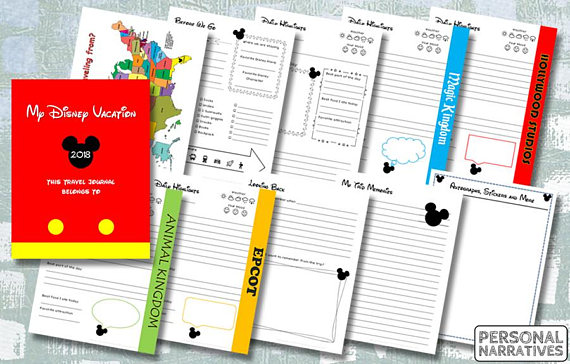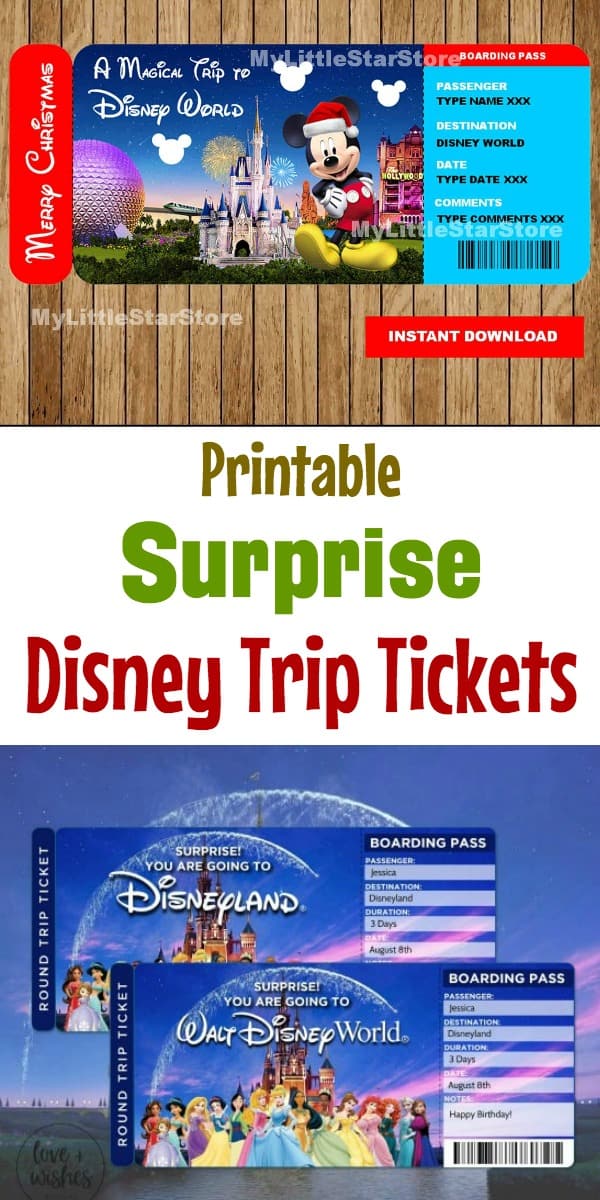 ---
---