How to Make Jamie Deen's Award-Winning Chili Recipe with Beer
Rachael recently attended a huge church teen event that had a Chili Cook-Off, and she informed me that not only did I need to make chili more often, but I needed to try making different kinds of chili.
Fair enough. I'd been making the same type of chili for at least five years now, so it was time to try something new.
I discovered that Jamie Deen (one of Paula Deen's sons, of course) has a very popular award-winning chili recipe. And his cookbook Jamie Deen's Good Food: Cooking Up a Storm with Delicious, Family-Friendly Recipes, has some really great reviews on Amazon, including ones calling it "normal food for normal families" and "delicious and didn't have me searching all over town for obscure and expensive ingredients!"
Jamie Deen's Good Food: Cooking Up a Storm with Delicious, Family-Friendly Recipes

Y'all Come Eat

The Deen Bros. Take It Easy: Quick and Affordable Meals the Whole Family Will Love: A Cookbook

Need to Freeze Your Chili?
One of the great things about chili is that you can make extra (and this recipe makes a lot!) and freeze some or all of in portion sizes for future meals. One of the things I like to do is wake up one morning about a month later, dump the frozen leftovers into the crockpot, and turn it on low. Pretty easy way to make dinner, huh?
The only problem is that packing up and storing those leftovers can be kind of a pain. Big Tupperware-like containers take up too much space in the freezer (and I've even had some containers crack from the cold temperature).
Freezer bags work better, but getting the chili into the bag is usually a two-person job that ultimately makes a mess no matter how I do it.
That's why I was excited to find these really cool plastic racks for filling storage bags.
Baggy Rack – (4 Pack) Sandwich Bag Racks, Clip Food Storage Bags Onto Holder

It makes the job much easier — and a whole lot less messy! You fasten the freezer bag under the clips, which makes the bag "stand up" and stay open so you can easily pour your chili in.
And if you like to clean and re-use your baggies, it also doubles as a drying rack!
✅ CLICK HERE to see a video demonstration of how these cool baggie racks work.
And now presenting …
Jamie Deen's Award-Winning Chili Recipe
The Ingredients
2 tablespoons olive oil
1 large red onion, diced
1 medium red bell pepper, diced
1 medium yellow bell pepper, diced
4 cloves garlic, chopped
1 pound lean ground beef
8 ounces Italian sausage, casing removed
1/4 cup chili powder
1 tablespoon ground cumin
1 tablespoon dried oregano
One 4-ounce can tomato paste
One 12-ounce bottle beer
One 28-ounce can diced tomatoes
One 14-ounce can diced tomatoes
One 15-ounce can black beans, drained and rinsed
One 15-ounce can kidney beans, drained and rinsed
One 15-ounce can pinto beans, drained and rinsed
The Directions
Add the olive oil to a large Dutch oven over medium-high heat.
Once hot, add the onions and peppers and saute until soft, about 4 minutes.
Add the garlic and saute until just fragrant.
Stir in the beef and sausage, breaking it up with the back of a wooden spoon, and cook until browned, about 6 minutes.
Drain the beef mixture through a colander. Add it back to the Dutch oven and stir in the chili powder, cumin and oregano. Cook for about 2 minutes.
Stir the tomato paste into the beef mixture; this will "toast" it and give the chili more flavor.
Add the beer and stir up any browned bits on the bottom of the pan.
Bring to a simmer, and then add the diced tomatoes and beans.
Simmer on medium-low for 2 hours, stirring on occasion to keep the bottom from sticking.
We topped it with cheddar cheese, sour cream, and Fritos. Rebecca made mini corn muffins on the side.
We also like to make rice to go with our chili. For one thing, my oldest daughter Rachael loves rice and will eat an entire bowl by itself and call it a meal. Plus I like the fact that it's an inexpensive way to make stretch the chili out and make it last longer.
I use the Aroma 8-cup rice cooker.
Aroma 2-8-Cups (Cooked) Digital Rice Cooker and Food Steamer, Stainless Steel

One thing that's nice about the rice cooker is that it has a delay timer, so you can set up your rice, and then begin making the chili and forget all about the rice, knowing it will ready when you need it.
Almost everyone in my familyagreed that this was better than my usual chili.
The one exception was my middle daughter Rebecca. However, Rebecca dislikes sausage (for some crazy reason), so that could be why. I'm sure one could easily substitute the sausage for more ground beef, or even ground turkey, if they wanted to.
Cuisinart 650-26CP Chef's Classic Nonstick Hard-Anodized 5-Quart Chili Pot with Cover

Andaz Press Laser Engraved Wooden Mixing Spoon Trophy Award Prize, 12-inch, Best Chili, 1-Pack

TheLinenBazaar Fine Quality Waffle Weave Kitchen Towels, Decorative Dish Cloth Set of 4, 100% Cotton Tea Towels, Super Absorbent, 18 by 24 Inch – Red Chili Peppers

Custom Engraved 14in Chili Cook Off Wood Spoon Prizes (Set of 3)

First Place Chili Cook Off Champion White Bib Aprons

Individual French Onion Soup Crock Chili Bowls with Handles and Lids, Ceramic 16 Ounces 4 Pack

Want More Chili Recipes?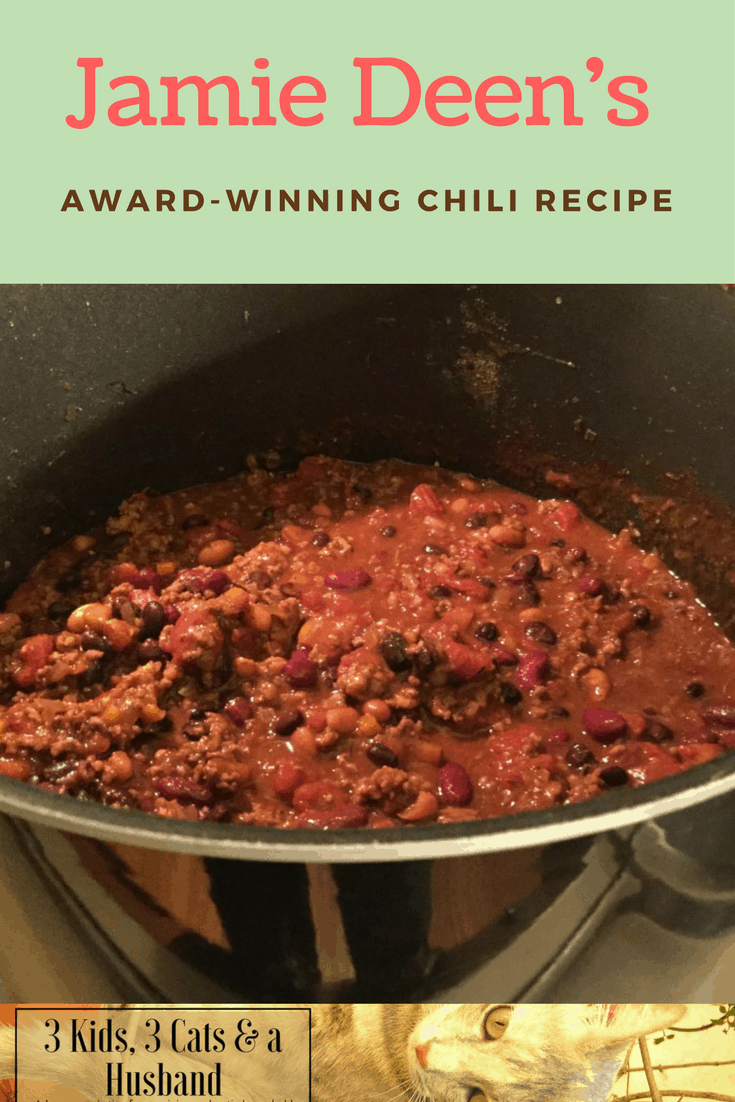 ---
---