The Best Waffle Makers with Removable Plates
This post probably contains affiliate links. You can read the details about what that means here.
It started a few weeks ago I went out to breakfast with my oldest two kids and ordered a Belgian waffle with strawberries (and a Toffee Crunch Latte).
It was good. Like, really good. And I couldn't help thinking, "We need to get a good waffle maker so we can eat like this without having to leave the house!"
I'm ridiculously lazy when it comes to cleaning.
The idea of trying to squeeze a sponge in and around every little square of an appliance sounds so unpleasant that I could picture myself opting for cold cereal some mornings just because I didn't want to have to deal with it.
Fortunately, I discovered that some waffle makers come with removable plates that you can put in the dishwasher. (Call me slow, but I honestly did not know this until just last week.) so it was a no-brainer that I which sounds much more pleasant than trying to clean in between each little square yourself.
If you're curious (or in a hurry):
We haven't made a purchase yet, but here are some waffle makers I found that look promising. They each serve a slightly different purpose, depending on your needs.
Once you've read the reviews and chosen the waffle maker that's best for you, you can scroll down to the bottom of this post and read my update on the secret (there are two secrets, actually!) for making perfect Belgian waffles.
In addition, at the end of this post I have some troubleshooting tips for making great waffles, plus some embedded waffle recipe videos.
Best Belgian Waffle Makers with Removable Plates
In our family, Belgian waffles are clearly the way to go! They're fluffy and fun, they let us pretend we're on vacation, and the big holes are great for filling up with syrup or jam.
Top 3 Picks for Belgian Waffle Makers:
Secura 360 Rotating Belgian Waffle Maker w/Removable Plates

Hamilton Beach Flip Belgian Waffle Maker with Removable Plates (26030)

KRUPS Belgian Waffle Maker, Waffle Maker with Removable Plates

Secura 360 Rotating Belgian Waffle Maker w/Removable Plates
* Amazon's Choice in the category of Waffle Irons With Removable Plates
The plates to this round waffle maker pop off when you press a button, making clean-up a breeze. It has "Cool Touch" handles for safe and easy turning, plus a "Locking Clip" to ensure even distribution of the waffle batter as well as less leakage

Secura 360 Rotating Belgian Waffle Maker w/Removable Plates

Amazon Reviewer Ashley describes what she loves about the Secura Belgian Waffle Maker:
I took a risk on buying this product without any prior reviews, but I'm glad I did. The waffle maker is nice and sturdy and doesn't feel cheap. The directions explain that upon first use the unit may smoke and have an odor for 15 minutes or so, and it did so I'm glad that I expected it and wasn't alarmed.

I made a batch of waffles and found that a full cup of batter is the right amount to make a complete waffle. There is no annoying beep to tell you the waffle is done (luckily) but it does have a green light that turns on.

The lighter waffle in the picture is what you get if you open it right when the light comes on, and it's cooked well. I like my waffles darker than most and when I tried leaving the waffle in for 6 minutes I got the darker waffle in the pictures. Somewhere in between is probably perfect.

The best part about this waffle maker (and the reason I bought it) is that the top and bottom plates detach for easy cleaning. I can attest that they are very easy to remove and reinstall, I had no trouble at all. I really don't have any complaints about this product and I hope to use it for years to come.
Cuisinart WAF-300 Belgian Waffle Maker with Pancake Plates
This Cuisinart Belgian waffle iron includes both Belgian waffle plates and pancake plates. (Note that if you use the pancake plates, you cannot adjust the size of your pancakes.) The timer starts automatically when you close the lid, and you can adjust the settings to make the waffles either more or less crispy.
✅Click here to watch a video demo of the Cuisinart WAF-300 Belgian Waffle Maker with Pancake Plates.

Belgian Waffle Maker with Changeable Grids

Amazon reviewer NBC pointed out a clever way that this waffle maker avoids making a big mess:
The bottom of the waffle maker is angled inward!! I had no idea how cool this was until I accidentally made it overflow with batter (my fault, not the waffle maker's). The batter dripped onto my counter top instead of baking onto the outside of the waffle maker like it did with my previous waffle makers. The counter top is exponentially easier to clean than the side of the waffle maker, so this is more helpful than I could have ever dreamed.
Some reviewers said the plates were too shallow to truly make Belgian waffles — they were more like regular waffles — but overall the reviews were very high and there was a lot of love for this appliance.
Hamilton Beach Flip Belgian Waffle Maker with Removable Plates
Whenever our family stays in a hotel, we try our darndest to find a La Quinta, simply because we love their free breakfasts with the rotating Belgian waffle maker!
This Hamilton Beach waffle maker doesn't have the industrial strength that the one at La Quinta, but it does have removable plates that are dishwasher safe. Amazon chose it as their "Amazon's Choice" 2018 Winner in the category of Belgian Waffle Makers with Removable Plates.

Flip Waffle Maker with Removable Plates

So why do some waffle makers flip, anyway?
We all know it's fun to flip the waffle maker (well, our family thinks it's fun, anyway) — but did you ever wonder why some waffle makers flip?
And more importantly, is a rotating waffle maker better than a standard one? In other words, does flipping make a better waffle?
Supposedly the flip feature ensures that the waffle will spread and therefore cook more evenly — the end result being that you won't end up with soggy or burned spots.
What's interesting is that apparently this feature is more important in commercial settings (like La Quinta and other hotels). Not only is it more important that the finished waffle "looks perfect," but the expansion and spreading of the batter means that you get a thick, fluffy waffle with less batter than you might need to make a thick waffle in a traditional waffle maker.
So is the flipping feature important if you're just making waffles at home? It may just be a matter of preference.
The reviews for this Belgian waffle maker were overwhelmingly positive. People liked the plastic drip tray that catches excess batter that spills out, as well as the flip handle that folds up for easy storage. They also loved how the waffles themselves came out. One reviewer described them as "crispy and golden on the outside, fluffy and perfect on the inside," while another said that they were "Nice FAT thick yummy delicious Belgian waffles."
✅ Click here to watch a customer video review of the Hamilton Beach Flip Belgian Waffle Maker.
On the other hand, there were a few people who didn't like this waffle maker at all and gave only gave it ONE star. THE main complaint in these negative reviews was that it didn't heat up enough to cook the waffles all the way through.
But wait! It turns out that these people may have simply gotten a defective product, which they could have returned in exchange for a decent one.
Amazon reviewer Thomas C. Corcoran bought three of the same waffle maker, with different results, claiming "the product is outstanding if you get one that works."
In his 5-star review he discusses his experience and gives a way to test your waffle maker right away so you'll know whether or not it's defective and needs to be returned.
✅ Click here to read Thomas's review and troubleshooting suggestions.
KRUPS GQ502D Adjustable Temperature Belgian Waffle Maker

Belgian Waffle Maker with Adjustable Temperature

The KRUPS GQ502D Adjustable Temperature Belgian Waffle Maker with Removable Plates makes four waffles at a time, making it a good choice for people who often have a lot of folks to feed at the breakfast table.
Another plus is that it has 5 adjustable browning levels, so if your waffle super-crisp (or not), you can adjust the temperature to make your waffle as light or as dark as you want.
This is also a good choice for people who just want a quick-and dirty waffle maker. This is one of the less expensive ones on the list (you can check the current price here), and it just makes waffles. There are no pancake plates, it doesn't dub as a sandwich maker, and it doesn't grill a chicken. It just makes waffles.
If you have your heart set on a true Belgian waffle, then this is NOT the waffle maker for you.
Even though it calls itself a "Belgian waffle maker," and claims to "bake waffles with extra-deep pockets," its waffles are thinner and more similar to traditional waffles. (One negative review describes them as "more like Eggos".)
Also, at 12 x 16.5 inches and weighing just over 9 pounds, some reviewers disliked that this waffle maker was "big and bulky." It is, however, built in a way that you can easily store it vertically, so at least there's that.
On another note, Amazon reviewer Smart Consumer, left a long and detailed 5-star review which, among other things, includes his recipe for Belgian waffles which he describes as "the bomb."
✅ Click here to read Smart Consumer's review and see their waffle recipe.
All-Clad Gourmet Digital Waffle Maker with Removable Plates
All-Clad Gourmet Digital Waffle Maker with Removable Plates
If you have a big family, enjoy making waffles, and/or love hosting brunch, you might want to consider investing in this All-Clad Waffle Maker.
This heavy-duty waffle maker weighs 17 pounds and has a beautiful stainless exterior.
It allows you to make four waffles at a time. It has 7 different toasting levels, so you can choose a light waffle, a dark waffle, or somewhere in the middle. Its steam vent keeps the outside of the waffles crisp and the inside soft.
It also has settings for different kinds of waffles, such as classic, Belgian, berry, chocolate, buttermilk, and gluten-free. (However, several reviewers were diappointed that there was no recipe booklet or guidelines to tell you, say, the different between a "classic" and a "buttermilk" waffle.)
Reviewers loved how the waffles didn't stick and were perfectly browned and evenly crispy.

What to Put on Belgian Waffles?
In our house, we usually top our waffles with melted butter and maple syrup (although we have been known to raspberry jam, particularly when we run out of syrup!)
But there are some other toppings that also taste great, if you want to be more adventurous. Some of the most popular include:
Nutella
Powdered Sugar
Strawberries and Whipped Cream
Caramelized Bananas
Video — Caramelized Bananas and Coconut Run Sauce Waffle Toppings

Stonewall Kitchen Syrup Collection

Smucker's Boysenberry, Strawberry, and Blueberry Fruit Syrups, Variety Pack of 3, Gift Box Set

Crown Maple Organic Grade A Maple Syrup, Amber, 12.7 Ounce

Runamok Maple Gift Box of 4 – 60ml Bottles of Barrel-Aged + Infused Maple Syrups

The Secret to Making Perfect Belgian Waffles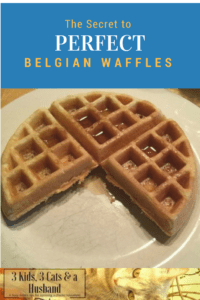 Oddly enough, when we bought a waffle maker, we — and my husband Rob in particular — were disappointed with the results. The waffles came out find, they didn't stick to the plates, they looked fantastic.
But they just tasted … bland. They were not nearly as good as the ones we'd enjoyed at La Quinta's.
Me being me, I decided that tasteless waffles — or worse, giving up — was not acceptable and the answer had to be out there somewhere.
It turns out that La Quinta uses Carbon's Golden Malted Original Waffle and Pancake Flour, and being a desperate man in search of a good waffle, Rob immediately ordered a package to see if it worked.

The Waffle Flour that the hotels use!

Guess what? It did work! Instead of our waffles being tasteless and bland, they were perfect, and exactly like we remembered them being at the hotel breakfasts.
Problem solved, right?
Except … no.
The price was about TRIPLE what a regular boxed pancake mix costs. Sure, you could argue that it was worth it because it was exactly what we wanted. But if the entire family wanted to enjoy waffles a couple times a week … well, that price was too steep for us to maintain this lavish waffle-eating lifestyle.
I knew there had to be a way you could make good waffles without a special mix, so I went back to the Internet and did some more research.
It turns out that is a "secret ingredient" that you can add to your waffle mix (either boxed or from scratch) that makes your waffles both fluffy and tasty.
Ready?
It's beer.
Yup. A heavy, dark beer. Don't try something like Bud Light (yuck). Rob used Michelob AmberBock, but Samuel Adams Boston Lager would work well too.
The idea is that the replicates replicates the yeast typically found in "real" Belgian waffle batters, but missing from our "lazy American" version that uses baking soda and/or powder.
Rob was skeptical that just adding beer to our previously bland waffle batter could make much of a difference, but he reluctantly decided that it was at least worth a try. And sure enough, that did the trick.
So now you have not one, but two ways to go forth and use your new waffle maker to make perfect waffles — just like the ones at the hotels!
Are Belgian Waffles Really From Belgium?
According to HuffPost, the answer is "Yes" — but apparently we Americans eat them a lot differently than than Belgians do.
In Belgian, the waffle is a "street food" that you eat with your hands.
During the 1964-1965 World's Fair in Queens, New York, Belgian native Maurice Vermersch and his family served the waffle two different ways: in traditional, plain fashion, and topped with strawberries and whipped cream.
Guess which one was crazy popular, thus introducing the Belgian Waffle as we typically know it?
❓What do Consumer Reports reviews say about waffle makers?

After their own in-depth testing and independent review process, Consumer Reports also chose the Cuisinart WAF-300 as their favorite, saying that it "served up plate after plate of Belgian waffles that were nicely and evenly cooked on both sides, whether on low or high heat."
(Consumer Reports also suggests that you check out the recipe book for the Sour Cream Blueberry Pancakes, because they are gooood.)
Waffle and Sandwich Makers with Removable Plates
You don't need to get a waffle maker that gets put away when breakfast is over! These grill and waffle maker combo also make hot sandwiches — and some even grill hamburgers and steaks!
The Top 3 Picks for Waffle and Sandwich Makers:
T-fal Waffle and Sandwich Maker with Removable Dishwasher Safe Plates

BLACK+DECKER 3-in-1 Waffle Maker with Nonstick Reversible Plates

George Foreman GRP4842P Multi-Plate Evolve Grill With Ceramic Grilling Plates and Waffle Plates

T-fal SW6100 Sandwich and Waffle Maker with Removable Plates
If you're looking for a waffle maker that can also make a ham and cheese "hot pocket" type sandwich, this T-fal sandwich and waffle maker might be just what you're looking for.
There is a green light that tells you when it's heated and ready to cook, but it does not have a light or timer that will tell you when the waffles are done, so you'll have to set a kitchen timer yourself when you pour the batter (reviewers say that three minutes work for them).
Amazon reviewer Rowni described their first experience with the T-fal waffle maker this way:
Washed and inserted the waffle plates, plugged it in, waited for the green light to appear and it was ready for use. Since I was anxious to try this appliance and didn't want to start making batter from scratch, I used a can of Batter Blaster that I had in the fridge. (This happens to be a great product for waffles and pancakes!)

I put it on the griddle, closed the lid and set the timer for 3 minutes. Three minutes is the right amount of time for waffles. They were excellent, easily removed from the plate and ready to make the next batch. I was going to season the plates with oil before using it initially but the instructions didn't call for it so I didn't…and there was no need to do so…NO STICKING!

And when I was done, I let the unit cool and took the plates out and put them into the dishwasher…couldn't be easier. I haven't tried the sandwich plates yet but am looking forward to doing so! I would definitely recommend this item to anyone looking for a waffle maker…and the fact that it has a duel purpose and can make sandwiches too…you can't beat it!

T-fal SW6100 Sandwich and Waffle Maker with Removable Plates

Some reviewers comments that, while the plates themselves were very easy to clean, while cooking the food tends to leak down into the heating elements and into spaces where the clips hold the plates that food has found its way down into. One reviewer even said they removed the screws so that could get some of the "gook" out. However, this product has lots of 4 and 5 star reviewers, so that must be a big problem for everyone. It sounds like a machine that you have to be careful not to overflow.
Black & Decker 3-in-1 Waffle Maker and Grill Combo with Interchangeable Plates
The Black and Decker 3-in-1 Waffle Maker and Indoor Grill and Griddle makes one large 8×8 inch square waffle which divides into four 4×4 inch waffles, making it great for large families where everybody wants their waffles right away instead of having to make a few different batches.
Reviewers described these as "old-school waffles" or "just like my Grandma's waffles!"
Amazon reviewer Robert Dumon Photographer elaborates on why this makes "normal waffles":
We also have one of those a Belgium waffle irons, but I HATE those deep pockets it creates. How the heck is a guy supposed to butter THOSE waffles?

For me a waffle should look like what you get in a Waffle House… thick enough to taste, but thin enough to be able to spread butter (or jam, or syrup, or whatever) over it without having to fill every one of those goofy Belgium waffle iron deep holes. This product makes great waffles with the proper consistency.
One particularly nice feature I noticed is that the top opens up flat, giving you more surface area to work with. For example, you can cook eggs on the "bottom" side while cooking bacon on the "top" side.
The negative comment that came up many times is that the plates are "flimsy" and that the top plate, in particular, does not always stay in place as well as it should.
While I have not used this waffle maker myself, I can believe that comment to be somewhat accurate, because it is a pretty low price considered it is both a grill and a waffle maker. Just for a point of comparison, the George Foreman electric grill and waffle maker above costs almost four times as much as the Black and Decker on Amazon at the time of this writing.

BLACK+DECKER 3-in-1 Waffle Maker with Nonstick Reversible Plates

Amazon reviewer Vernon L. Jenewein shared some helpful hints about using this waffle maker:
Cooks well and cleanly.

However, be mindful that you need to allow just a little bit of time between taking out the fresh cooked waffle and putting in new batter to cook. If you start the process too quickly, you can get an undone center and the outsides will be done as intended.

Also I found that when it cools down I can wrap the cord around the bottom half and put the cord in that small groove and lock it in with the plug in on the other side.

I use a large pan under it to catch any overage-spill from baking. I have put too much batter in and had it ooze out the sides and drip onto that pan. It breaks right off from the waffle iron when done, and I can easily clean up the drip on the pan underneath. Use aluminum foil and merely dispose of the foil when done. I used NO spray, but relied on the oil I have in my waffle recipe (home style recipe).

I wish there were a cross-element of coiled heating wire to get the centers of the grill more even, rather than the solid heating element. However, this type of heating element will be a lot harder to damage or burn out later on.
George Foreman GRP90WGR Electric Nonstick Grill with 5 Interchangeable Plates
This George Foreman electric grill and waffle maker with 5 removable plates makes not only waffles (both regular and Belgian, and they are big ones, too!), but also sandwiches, bacon, steaks, hamburgers, paninis, and kebobs. You can even use the baking pan to make chocolate chip cookies! It comes with two drip trays, two spatulas, and a cleaning sponge.

George Foreman GRP90WGR Electric Nonstick Grill with 5 Interchangeable Plates

The great thing about a waffle maker like this is can it replace a bunch of kitchen appliances at once. Amazon reviewer Gadget Fanatics says,
It replaced a toaster oven, two waffle makers (one regular, one belgian) and a grill someone gave us eons ago … We're even getting rid of the rotisserie oven (we never used it much anyway). With the baking pan we've been able to toast bread, english muffins, toaster pastries and reheat pizza and meat patties. The grill plates cook great sandwiches, bacon (really great and drains a lot of fat), steaks, hambergers, franks, sausage, shrimp (we did kebobs with vegetables).
It's also great for making food for a crowd. Reviewer Heather B. says, "I am able to make waffles, cook bacon & eggs for a great Suday breakfast for a family of 6."
The cons of this waffle maker are that 1) You may not want one that makes sandwiches and steaks; and 2) It can be a challenge to store all the different plates.
✅ Does the Breville Waffle Maker have Removable Plates?
This question comes up a lot because Breville is such a popular, high-quality brand. The answer requires a little more depth than a simple yes or no.
Breville BWM520XL No Mess Stainless Steel Waffle Maker does not have removable plates.
But it's worth reading what a customer has to say about this in the Q&A section:
… I wanted removable plates initially, but my experience with that feature was that the plates are not held securely – they slide or move and the clips to fasten them aren't designed well. How can you bake a nice waffle even cooked if the plates aren't held in place correctly to transmit the heat evenly.

I like that the Breville is a sturdy, solidly built machine, and has one dedicated function which is to make a perfect waffle. And it is easy to clean …Make one or two more waffles and it will clean itself.
However, if you're not convinced, and you really want to be able to take off those plates and stick them in the dishwasher (and I don't blame you) — Breville sells a pair of removable waffle plates.
But!
These plates only fit the Breville Sear and Press Grill. And at the time of this writing, the Sear and Press Grill is "currently unavailable" on Amazon. But you can find it at William-Sonoma, and I'm sure some other places as well.
Can you use Pancake Mix in a Waffle Iron?
Surprisingly (to me), the answer is no — or at least not as is. With a little modification, though, you can "transform" your pancake mix into waffle mix.
It turns out that waffle batter has more fat in it than pancake batter does, in order to make it thick enough to take shape and not stick to the inside of the waffle iron. Several people have had good results by adding a couple tablespoons of butter or coconut oil to the mix.
Another additional trick is to separate the eggs, beat the whites to stiff peaks, then fold them gently in at the end. to insure that their waffles are light and crispy.
Some pancake mixes even have a specific recipe for waffles right on the box.
Stonewall Kitchen Pancake and Waffle Mix, Buttermilk, 16 Ounce

Golden Malted Waffle and Pancake Flour, Original, 33-Ounce Can

Simple Mills Almond Flour Mix, Pancake & Waffle, Naturally Gluten Free, 10.7 oz, Pack of 3

Golden Malted Pancake & Waffle Flour, Original, 33-Ounce Cans (Pack of 3)

Krusteaz Pancake Mix, Complete, Buttermilk 5 lb (Packaging May Vary)

Trader Joes Pumpkin Pancake and Waffle Mix

Aunt Jemima Pancake & Waffle Mix, Original Complete, 50 Servings Box

Are you Supposed to Spray a Waffle Maker with Pam or Other Cooking Spray?
No.
From what I read, non-stick sprays can cause a build-up on the waffle maker plates that is almost impossible. Over time, it actually makes the plates sticky — in effect, causing the actual problem you were trying to solve by using the spray.
Most waffle makers currently have a non-stick surface eliminating the need for cooking spray anyway.
One popular alternative I've seen is to dip a silicone basting brush in melted butter and "paint" your waffle iron plates with it.
The brush makes it easy to get into all the nooks and crannies, and you can just throw it in the dishwasher when you're done.
When in doubt, check the instructions on your particular waffle maker for what, if anything, you should coat it with before adding any batter.
Are Waffle Makers Allowed in College Dorm Rooms?
Since my oldest daughter, believe it or not, is now a junior in high school and we're starting to think about things like college visits and SAT scores, I started to wonder if students were typically allowed to have their own waffle makers in student housing. They sure would come in handy, especially one like the T-Fal above that also makes sandwiches!
I did some research, and the short answer is: Check with your college. I saw one campus that stated "All appliances should be UL listed and have an automatic shutoff." ("UL Listed" means that it has been tested and meets certain requirements.) Another college website listed waffle makers as an "approved appliance." A third college stated that "any cooking appliance with a heating element" was not allowed."
Of course, let's be honest here. I distinctly remember a guys I knew in college finding clever ways to hide their "illegal" microwave in their dorm room. And drinking was definitely not allowed anywhere on my college campus, but … well, we won't go there.
But generally speaking, if you're like me and generally like to follow the rules, especially where safety is concerned, then check with student housing to see what, if anything, is allowed before you make your purchase.
Why are my Waffles Not Fluffy?
According to Baking Kneads, there are two main reasons why you're waffles are coming out too heavy, as opposed to light and fluffy:
You're using the wrong flour (for example, a bread flour) instead of all-purpose flour.
Your waffle mix needs some egg whites! Beat your egg whites separately first until they form into peaks, then fold them into the rest of your batter. Make sure you don't over-mix them.
Should You Let Waffle Batter Rest?
The Baker Mama suggests letting the batter rest in the fridge for about 10 minutes while your waffle maker preheats. Not only will this give your waffles a more tender texture as they cook, but it also helps keep the insides from overcooking while the exteriors get nice and crisp.
 Video — Best Waffle Iron Recipes
It turns out your waffle iron can make a lot more than just waffles. Watch this video to see three non-waffle recipes that you prepare in even the simplest of waffle irons.
I hope this post has helped you find the best waffle maker for you to have a great, relaxing breakfast with your family in the morning!
Need some great waffle recipes? Check out these:
Waffle Cookbooks
Looking for some new and creative ideas to use with your waffle maker? Check out one of these cookbooks!
Will It Waffle?: 53 Irresistible and Unexpected Recipes to Make in a Waffle Iron

Waffle Iron Genius

Mini-Waffle Cookbook

The Ultimate Waffle Cookbook: 31 Simple and Delicious Waffle Recipes

The Best Belgian Waffle Cookbook: Tons of Amazing Recipes to Make the Perfect Belgian Waffles

Waffle Cookbook: Top 50 Waffle Recipes

Waffles (Revised Edition): Sweet and Savory Recipes for Every Meal

Waffles: Sweet & Savory Recipes for Every Meal

---
---