7 Delicious Chocolate Waffle Recipes Made From Scratch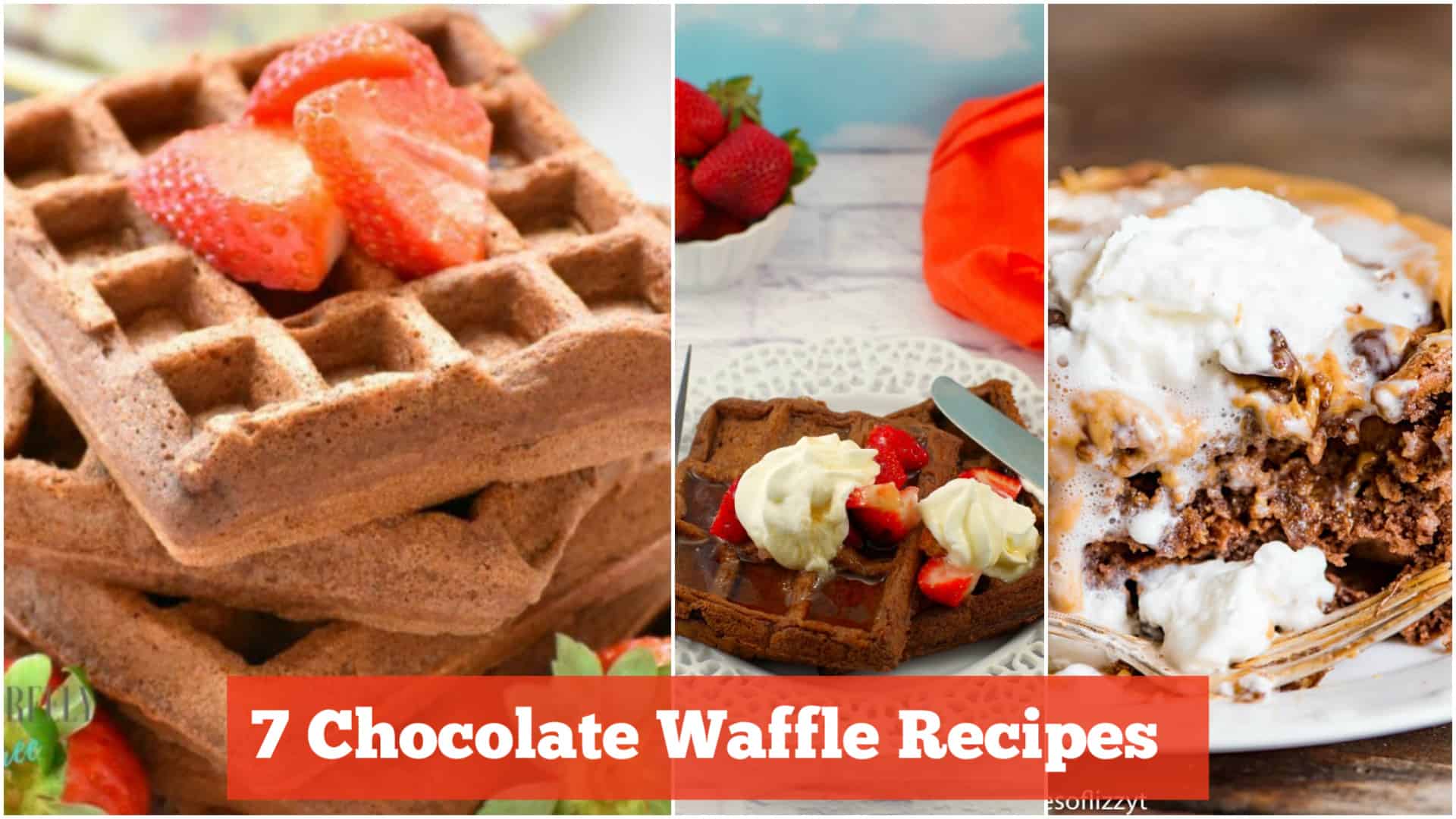 This post probably contains affiliate links. You can read the details about what that means here.
Chocolate for breakfast?
Sure — if it's one of these yummy chocolate waffle recipes!
What Do You Eat with Chocolate Waffles?
Basically, anything you want!
Here are some topping ideas to get you started. You can easily mix and match a few of these.
Butter
Maple Syrup
Nutella
Bananas
Strawberries
Sliced coconut
Vanilla yogurt
Granola
Nut Butter
Whipped cream
Ice cream
Don't Have a Waffle Maker?
If you don't already have a waffle maker, I would highly recommend getting one that has removable plates that you can put into the dishwasher.
That way you don't have to worry about getting every little square and crevice clean by hand.
Fluffy Chocolate Waffles with Ricotta Cheese
These fluffy chocolate waffles are made with ricotta cheese, which makes them really rich and boosts the flavor. They freeze well, so you can just pop them in the toaster for a quick breakfast.
From Julie, Maddie, and Kinslee at Tastes of Lizzy T.
Chocolate Death Star Waffles with Strawberry Sauce
Planning a Star Wars marathon? Serve waffles made in a Death Star waffle maker.
Made with dark cocoa powder and coffee, these chocolate waffles have a deep chocolate flavor without being too overly sweet. That means they're perfect topped with fruit and whipped cream — or, if you prefer, ice cream and chocolate or caramel sauce!
From Michelle at Smart Savvy Living.
Belgian Chocolate Waffles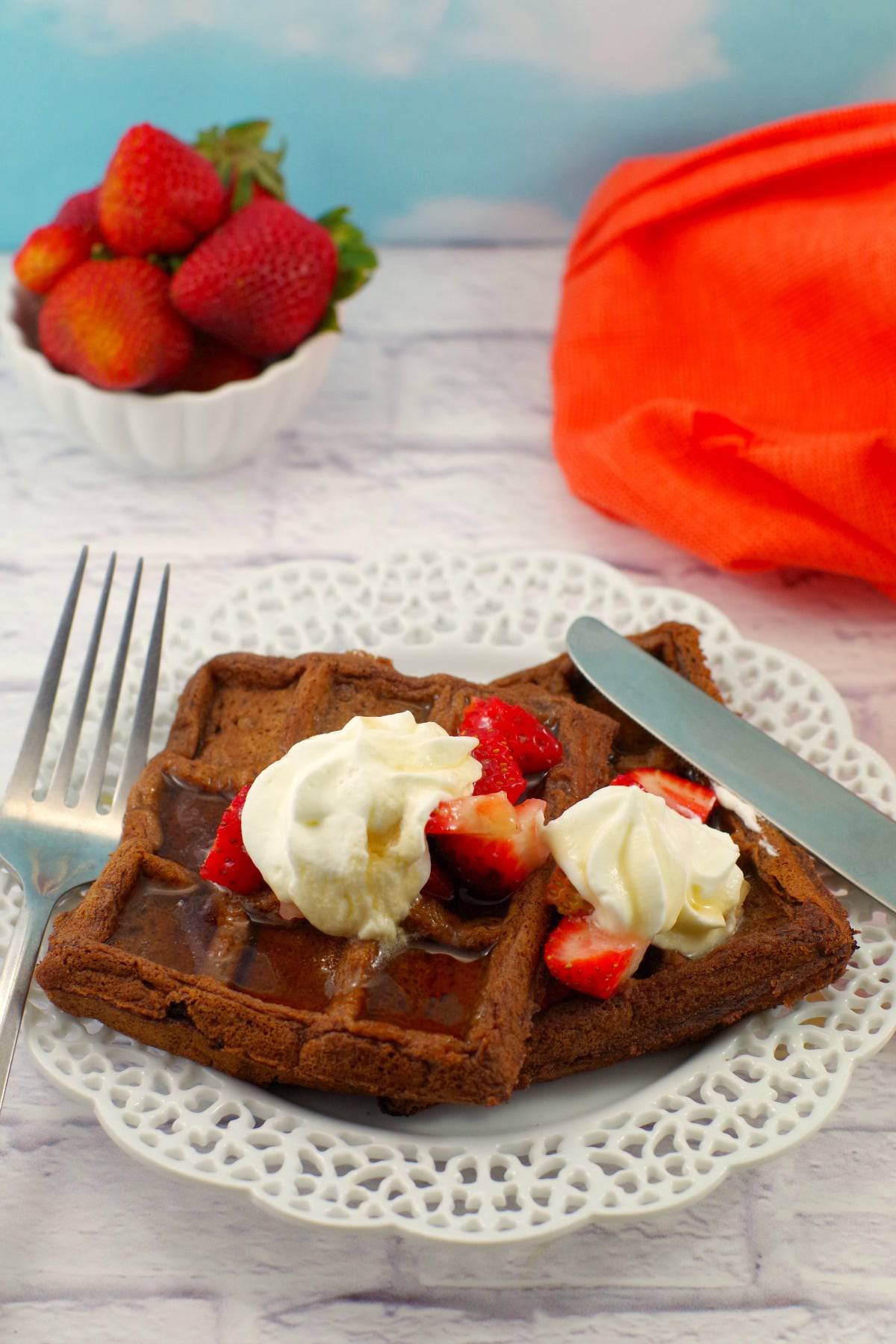 These scrumptious Belgian chocolate waffles are a delicious and simple brunch or breakfast idea, The magic is in the addition of the whipped egg whites, which make them extra light and airy. They can be made ahead, frozen and popped into the toaster for a quick breakfast! They are also kid friendly and Weight Watchers friendly.
From Terri at Food Meanderings.
Chocolate Belgian Waffles without Eggs
Light and fluffy in the center, crispy on the edges, chocolaty in every bite –- you'll be amazed that these are eggless chocolate waffles.
From Sushma at Spice N Flavors.
Chocolate Oatmeal Waffles
These chocolate waffles have a "secret ingredient" of Gerber Oatmeal Cereal, which means they're full of nutrients — six B vitamins, Vitamins E and C, iron, zinc, and calcium.
From Gena at Ginger Casa.
Healthy Chocolate Waffles
These healthy chocolate waffles are easy to make and gently sweetened with maple syrup.
From holistic nutritionist Maria Ushakova.
Paleo Chocolate Waffles
These waffles are gluten-free, dairy-free — and delicious! They are so decadent that they can be eaten as dessert with ice cream on top, but they are healthy enough to start your day off right with some sliced fruit and maple syrup.
From Jenn at Living Freely Gluten Free.
EZ Grab and Lift Silicone Waffle Tongs
Aroma Bakeware Silicone Waffle Tongs
Want More Waffle Recipes?
---
---