6 Homemade Belgian Waffle Recipes (Fluffy and Delicious!)
Is there anything else quite like a homemade Belgian waffle?
Crisp and golden on the outside … light and fluffy on the inside … it's huge pockets filled with your favorite toppings.
It makes me hungry just thinking about it.
In this post you'll learn about the history of the Belgian waffle, get suggestions for delicious sweet and savory waffle toppings, and discover six different Belgian waffle recipes that you can make at home.
What is the difference between a Belgian waffle and a regular waffle?
Here's I think of it: If it looks like an Eggo waffle, then it's not a Belgian waffle.
Compared to regular waffles, Belgian waffles:
Are fluffier
Are larger in size
Are less Dense
Have a richer texture
Have deep grids or "pockets"
Often use yeast or egg whites in their batter
To me, it's that combination of fluffiness and deep pockets that can hold a lot of maple syrup that makes Belgian waffles soooo good.
Why is it called a Belgian waffle?
According to Wiki, Belgian waffles made their debut in Brussels in 1958.
They were first brought to the United States in 1962, where they were served with whipped cream and strawberries at the Century 21 Exposition in Seattle.
The waffles became even more popular at the 1964 New York World's Fair in Queens, New York.
At that time Maurice Vermersch, who was from Brussels, Belgium, decided to change the name from the "Brussels waffle" to "Bel-Gem Waffle" because he noticed that many Americans didn't know that Brussels was the capital of Belgium.
Can you make Belgian waffles in a regular waffle maker?
Belgian waffles are thicker and often larger than regular waffles because they are made with a waffle iron that has deeper grids. These deep pockets are perfect for holding delicious pools of syrup!
While both varieties of waffle makers can be made in different shapes, there are however, some differences between the two makers.
Because the Belgian waffles are made with yeast, the maker must have deeper grooves to accommodate the rise in the batter.
Regular waffles on the other do not have this problem, so their grooves are smaller. This difference in grooves makes regular waffle irons heat up a lot faster than Belgian waffle irons. This also means that you waffle will cook faster in regular waffle maker than in a Belgain waffle maker.
Regular waffles irons come in different shapes and sizes. Some are square, others are rectangular, wedgy or even circular. It is up to your preference how you want your waffles to look. You can even find regular waffle makers designed to produce waffles that look like cartoon characters or movie characters. Some popular examples of this are the Star War Death Star waffle maker and the Micky Mouse waffle maker. You really have no limit to the shape of the regular waffle.
On the other hand, because of their bigger grooves and size, it is more difficult to produce Belgian waffle makers in different shapes and fashion. So unlike the regular waffle makes, your choices of shapes are limited when it comes to choosing a Belgian waffle maker.
What are some great Belgian Waffle Toppings?
The sky's the limit and there are no rules when it comes to waffle toppings!
Here are a bunch of ideas to get you started. Feel free to mix and match.
Melted butter and Maple Syrup
Nutella
Powdered Sugar
Ice Cream
Caramelized Bananas
Strawberries
Whipped cream with sprinkles
Yogurt
Honey
Granola
Chopped nuts
Applesauce
Nut butter
Bacon
Fried or scrambled eggs
Salsa
Avocado
Lox
How Do I get waffles out of the waffle maker?
If you've ever made waffles before, I know you've struggled with getting your beautiful, finished waffle out of the maker without either burning yourself, scratching up the waffle iron, or decimating your poor waffle.
These mini silicone easy-grip waffle tongs are your answer!
These tongs are just the right size, won't damage your waffle iron, and are easy to clean. They also work well for making hamburgers and hot dogs on the grill.
Easy Belgian Waffles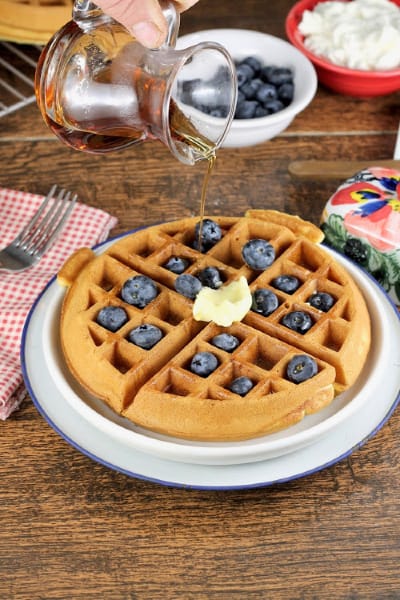 These Belgian Waffles are surprisingly simple to make from scratch for any morning of the week or for a weekend brunch. Top with butter and maple syrup or fresh berries and whipped cream.
From Missy at Miss in the Kitchen
Easy Gluten-Free Waffles
Crisp and golden brown gluten-free Belgian waffles … These lighter than air waffles are so good, no one has to know how easy the prep is!
From Christine at Gluten-Free Bread.
Belgian Waffles with Cherry Sauce and Whipped Cream
These thick and crispy Belgian waffles at home, a perfect Sunday breakfast or a really decadent dessert when served with cherry sauce and whipped cream.
Adina at Where is My Spoon.
Homemade Belgian Liege Waffles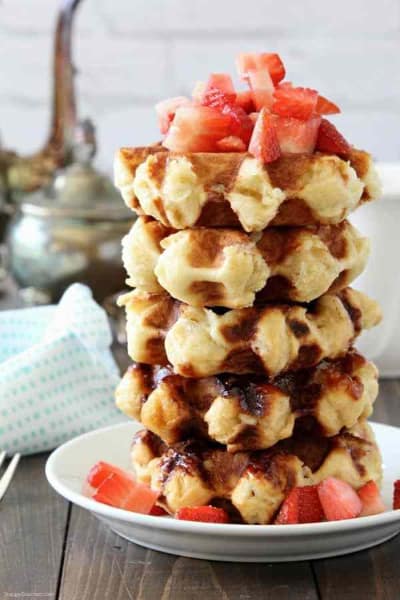 This easy from scratch Belgian sugar waffle recipe results in the best crispy Belgian waffles that are soft on the inside. Perfect with your favorite toppings!
From Lisa at Snappy Gourmet.
Classic Belgian Waffles with Yeast
With this Belgian Waffle recipe, you can count on feather light waffles that are crisp on the outside and tender on the inside. With the make ahead batter, you'll have fresh waffles in minutes for up to 3 days (or freeze the cooked waffles to toast later)!
From Marissa at Pinch and Swirl.
Applesauce Belgian Waffles
These waffles are sweetened with applesauce, instead of sugar. You can use either homemade or store bought applesauce.
It can also be made dairy free for those of you who need to avoid dairy of just prefer milk alternatives.
From Valerie at Mama Likes to Cook.
So which of these waffles do you think you'll make for breakfast this week?
I think the "easy" recipe at the top of the post is my favorite. I can picture loading it up with maple syrup and some fruit … yum!
---
---