This post probably contains affiliate links. The full disclosure policy is pretty boring, but you can see it here
This recipe for crockpot spaghetti is probably my husband's favorite dinner, and it's super-easy.
What makes this recipe unique and pretty cool is that you put the uncooked noodles straight into the crockpot.
I know, I know, it's not like boiling noodles is this arduous and complicated task. But then again, it kinda is. It means another pot to wash, and having the wash the colander, and babysitting it to make sure the water doesn't boil over, and then cleaning it up when it inevitably does anyway (at least for me).
Let's face it: I'm just lazy when it comes to the kitchen.
And speaking of lazy … doncha hate having to soak and scrub and scrape your crockpot when you're finished using it? Especially when you make something like spaghetti sauce that really gets caked on.
Enter the Reynolds slow-cooker liners to the rescue! They are durable, BPA-free … and get the job done!
✅ Click here to read a review and see photos of these slow-cooker liners in action.

Skip the scrubbing with these slow cooker liners!

Interestingly, I got this recipe (mine is a very slightly modified version) from Fix It and Forget It, a cookbook that I no longer even have because, frankly, I didn't like it all that much other than this one recipe.
Why didn't I care for it? Well for one thing, cookbooks without photos always give me a little bit of the heebie-jeebies. And for another — although this may sound like a weird complaint — there were too many of the same type of recipe. I don't want a book to throw 15 different chili recipes at me; I want them to pick the best two or three. Especially when there are no photos of any of them!
Still, a lot of people loved that cookbook, Amazon reviewer Erik Winsor said, "The great thing about this book is that you can modify the recipes to really make them your own, and since there are usually a few variations of the same type of dish included, you can compare recipes and mix and match until you find your own perfect recipe."
✅ Click here to read the many 5-star reviews from people who loved this cookbook.
So different strokes for different folks, right? I will say that this is a great cookbook to give as a gift to someone who is completely new to using a crock pot (which is exactly what it was for me).

Fix It and Forget It: Feasting with Your Slow Cooker

Anyway, on to the spaghetti, the one and only recipe from Fix It and Forget It that I continued to make often!
The Ingredients
1 pound ground beef (I have also used ground sausage, but we prefer beef)
1 small onion
3 cups tomato juice
8 oz can of tomato sauce
Various spices (I like garlic powder, oregano, and Italian seasoning)
8 oz uncooked spaghetti
Directions
1. Chop the onion
2. Brown the ground beef in a skillet with the chopped onion
3. Put beef/onion mixture, tomato sauce, tomato juice, and seasonings into a sprayed crockpot
4. Cook on High for three hours, OR Low for six or seven hours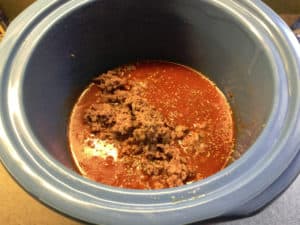 5. Break up uncooked spaghetti into 3-4 pieces each and add it to the pot.
6. Cook on High for 30 minutes, stirring about every 8-10 minutes
My husband really likes his spaghetti with bread, so depending on what mood I'm in, I either make something in the bread machine or heat up some frozen garlic bread from the store.