Easy Crockpot Spaghetti Recipe — With Uncooked Noodles!
Can you put raw pasta in a slow cooker?
You sure can.
This recipe for crockpot spaghetti is probably my husband's favorite dinner, and it's super-easy.
What makes this recipe unique and pretty cool is that you put the uncooked noodles straight into the crockpot.
I know, I know, it's not like boiling noodles is this arduous and complicated task.
But then again, it kinda is.
It means another pot to wash, and having the wash the colander, and babysitting it to make sure the water doesn't boil over, and then cleaning it up when it inevitably does anyway (at least for me).
Let's face it: I'm just lazy when it comes to the kitchen.
And speaking of lazy …
Doncha hate having to soak and scrub and scrape your crockpot when you're finished using it? Especially when you make something like spaghetti sauce that really gets caked on.
Enter the Reynolds slow-cooker liners to the rescue!
These liners are durable, BPA-free … and they get the job done! Now instead of scrubbing and soaking, just gather up the bag and throw it in the trash.
Ta-da! Clean-up finished.
Amazon's Choice


Check Price on Amazon
Makes clean-up a breeze!
✅ Click here to read a review and see photos of these slow-cooker liners in action.
Interestingly, I got this recipe (mine is a very slightly modified version) from Fix It and Forget It, a cookbook that I no longer even own because, frankly, I didn't like it all that much other than this one recipe.
What didn't I like?
Well for one thing, it has zero photos.
And for another — although this may sound like a weird complaint — there were too many of the same type of recipe.
I don't want a book to throw 15 different chili recipes at me; I want them to pick the best two or three. Especially when there are no photos of any of them!
Still, a lot of people loved that cookbook. You can read all the 5-star reviews for it here.
So different strokes for different folks, right? I will say that this is a great cookbook to give as a gift to someone who is completely new to using a crock pot (which is exactly why I had it).
Fix-It and Forget-It Revised and Updated: 700 Great Slow Cooker Recipes
Fix-It and Forget-It Slow Cooker Diabetic Cookbook
Fix-It and Forget-It 5-Ingredient Favorites: Comforting Slow-Cooker Recipes
Fix-It and Forget-It Cooking Light: 600 Healthy, Low-Fat Recipes
Anyway, on to the spaghetti!
Crockpot Spaghetti Ingredients
1 pound ground beef (I have also used ground sausage, but we prefer beef)
1 small onion
3 cups tomato juice
8 oz can of tomato sauce
Various spices (I like garlic powder, oregano, and Italian seasoning)
8 oz uncooked spaghetti (I usually add a little more … I just eyeball it
Recipe Instructions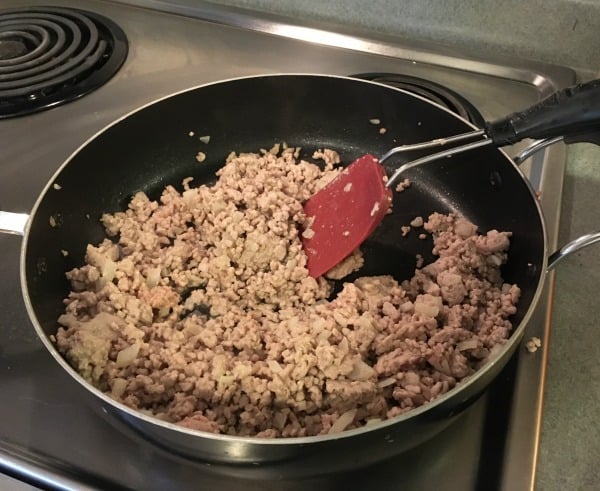 Chop the onion
Brown the ground beef in a skillet with the chopped onion
Put beef/onion mixture, tomato sauce, tomato juice, and seasonings into a sprayed or lined crockpot
Cook on High for three hours, OR Low for six or seven hours

Break up uncooked spaghetti into 3-4 pieces each and add it to the pot.
Cook on High for 30 minutes, stirring about every 8-10 minutes
We used to always eat this with bread — either garlic bread from the frozen section of the supermarket, or homemade bread from the bread machine.
These days, we rarely eat bread. A side salad is plenty to make this meal complete.
How do you keep noodles from getting mushy in a Crock Pot?
Notice that once you add the spaghetti, you need to turn your Crock Pot to the High setting. A higher temperature keeps the noodles from getting too mushy.
Can I Keep Spaghetti Warm in a Crockpot?
Yes.
You can keep freshly-cooked spaghetti warm using a crockpot.
But re-heating pasta from, say, the day before, in a crockpot is not a good idea.
All you have to do is the drain the cooked spaghetti, pour it into a greased (or lined) crockpot, stir in the sauce of your choice, and then set to the Warm or Low setting.
If for whatever reason you don't want sauce on it at this point, you can just add a little olive oil to keep it from sticking.
It's a good idea to check on it every 30-60 minutes and add a little more sauce, or at least some water, so the noodles don't dry out.
Bringing Your Crockpot Spaghetti to a Party?
Of course, one of the great things about a crockpot is that you can bring it to a potluck or party and have it stay warm or finish cooking at the event.
However, transporting a pot of cooked food can be a challenge.
Do you hold it on your lap while someone else drives, and if so, is is going to spill on you? Burn your legs? Do you have to find a box to put it in?
Fortunately, there are insulated travel cases made just for slow cookers:
Amazon's Choice


Check Price on Amazon
Has slots on the sides so you can hol
The Hamilton Beach Crock Caddy above is insulated, flexible, and made to hold various size slow cookers from 4 to 8 quarts. (It has a mesh net so that smaller slow cookers will stay put, instead of rattling around all over the place.)
And with handle openings on both sides and sturdy straps, you can choose how to carry it.
Reviews loved how:
Their crockpots fit inside "like a glove" with room to spare
The front velcro opening made it easy to just slide the crockpot inside
Amazon reviewer Aries Dragon calls this bag a "MUST have":
This is an amazing product! … It fits all my slow cookers including my largest 8qt. Kept it hot so reheating was really quick.

Surprisingly nothing spilled out inside like I expected ( part of the reason I bought was expecting it to spill bc of overflow, but rather it spill in this then all over my car). I have a bad habit of overfilling my cookers… this is very well built and can't wait to use it again!
---
---